Word has spread about the Family Reunification Program, and Clean & Safe's outreach workers have become a well known on the streets of Downtown San Diego.
The Family Reunification Program – sponsored by the San Diego Housing Commission, Sharp HealthCare, and many other generous donors – has assisted many individuals in returning home to friends and family.
As various programs work to get homeless off the streets and into better living situations, we thank our outreach coordinators for their dedication and consistent efforts toward reducing homelessness in our community.
---
 Since 2011, the Family Reunification Program program has helped more than 1,700 people return to their support systems across the United States. Every person's story is different. Some of the people we've helped include survivors of domestic violence, pregnant women, seniors, young adults, as well as people with mental and physical disabilities. Other participants came to San Diego on the promise of a job or housing that never came to pass. Read some of the testimonials below from individuals who have benefited from the program.
---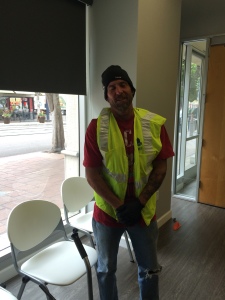 Calvin Horney
Calvin, a 47-year-old homeless individual who suffers from a severe mental health illness, came to San Diego for a fresh start and adventure from Baltimore, MD. He receives income benefits due to his mental health and physical health condition, including vision impairment. With lack of medication and money, he found himself sleeping on the streets of Downtown for over 2 months. With no sufficient income and no support system, he was unable to afford a room. At the time, Calvin was using illegal drugs worsening his mental health condition and neglecting his health. Tired of living on the streets, he decided to reach out to the SDPD Homeless Outreach Team, and learned about the Family Reunification Program. Clean & Safe outreach coordinators assisted Calvin with reconnecting with his family. The Clean & Safe homeless outreach department was successful in connecting Calvin with his sister, Gwenn in Baltimore, MD. Calvin's goal plan is to find a primary physician for his mental health and increase his income.
---
Arley Oswald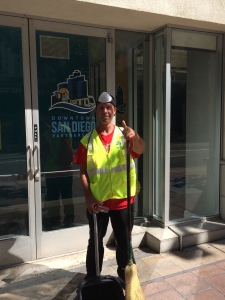 Arley was homeless for 2 months in Downtown San Diego. His depression and alcohol abuse led him to be homeless. Arley came to downtown San Diego looking for better job opportunities and programs to treat his physical and mental illnesses. Arley spent the two months on the streets trying to connect with a support system, but was unsuccessful. With no support system in town and no income, he reached out to the Clean and Safe outreach workers for travel assistance. The Clean & Safe Homeless Outreach Coordinators helped Arley reconnect with his brother, Simon in Oklahoma City. Arley volunteered with the maintenance crew to give back to the downtown San Diego community.
---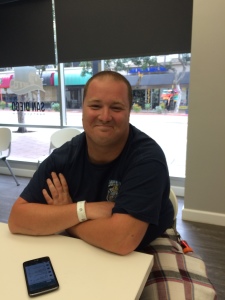 Lester
Lester came to San Diego from Nampa, Idaho looking for better living opportunities. Lester traveled with some savings, but quickly spent it all in motel fees. With no money and long waiting lists for a shelter bed, he didn't have any other option than to transition to the streets. Lester spent one month sleeping on the sidewalk by the greyhound station in Downtown San Diego hoping someone would help him with his bus ticket to travel home. Lester's physical and mental health deteriorated and he ended up at the hospital due to physical seizures caused by high levels of stress. During his time in the hospital, his case manager educated him about homeless services around the San Diego area. He found out about the Family Reunification Program and thought he might be eligible for this service. Lester called the homeless outreach coordinators asked for assistance in returning to Idaho. Lester's plan is to travel back home with his wife, Jennifer and go to employment services for job assistance.
---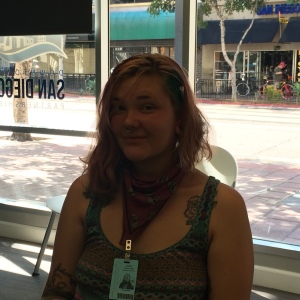 Lily
Lily and her friend traveled from Salt Lake City to San Diego. Lily thought it was a great opportunity to explore the city and meet new people. When they arrived, Lily found herself in a difficult place and was soon stranded in Downtown San Diego. Lily slept on the streets for a couple of weeks until she was contacted during street outreach by the San Diego Police Department Homeless Outreach Team. The HOT team linked her to a triage bed at Saint Vincent de Paul. She slept there for 10 days until she realized that her best option was to return back home. Lily's case manager referred her to Clean and Safe's Homeless Outreach Department.
The Clean and Safe outreach workers met with Lily and learned that she didn't have any income or support system in town. Clean & Safe assisted her with Family Reunification Program. Lily got her bus tickets and will be traveling to Salt Lake City, UT to live with her cousin and get back in her feet.
---
Martha and family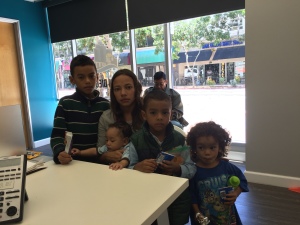 Clean and Safe Homeless Outreach Coordinators met with Ana Sanchez and her four children to assist her with the Family Reunification Program. Ana and her family arrived from Honduras to the San Ysidro Port of Entry on June 5. Ana and her four children had been sleeping on the streets for two weeks before Immigration officers unsuccessfully reached out to her family in Honduras. Later, Immigration Custom Enforcement officers contacted the Clean and Safe office for travel assistance. After multiple attempts to contact her family, outreach workers found Ana's aunt in Jacksonville, FL, who was unfortunately unable to assist them with the traveling cost. With the Family Reunification Program, Ana and her four children will be traveling to Jacksonville, FL to stay with her aunt, Martha.
---
Maria was homeless for year in Downtown San Diego. Maria has suffered with crippling depression and anxiety disorders for most of her adult life. Maria is an honorably discharged Navy veteran who proudly served her country. Her struggles with mental illness and substance abuse led to her homelessness. When she reached out to Clean & Safe for assistance, we were happy to help her reunite with her family back in Jacksonville, Florida.
---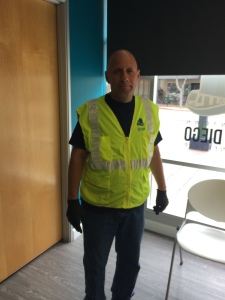 Jeffrey
Jeffrey is an honorably discharged veteran who was homeless for a month in Downtown San Diego. His struggles with alcoholism led to be unemployed, and homeless. Jeffrey traveled from Springfield, MO to San Diego with the plan to find treatment for his addiction.
Jeffrey spent days with nothing but a blanket and hope for things get better. He heard about the Family Reunification Program through St. Vincent de Paul and connected with the Clean and Safe Homeless Outreach Coordinators for assistance.
Clean and Safe outreach workers assisted him to reunite with his family and connected him to House Incorporated a veteran's treatment program in Missouri.
---
The Clean and Safe Program Homeless Outreach workers met Llyris several months ago during street outreach. He reported to the outreach workers that he needed help to transition from the streets to a substance abuse treatment program. Llyris's plan was to enter a program, then travel back to his hometown to reconnect with his family. During his time in treatment he remained in contact with the outreach workers and after six months, he returned to the office to get travel assistance with the Family Reunification Program. Llyris completed and graduated the treatment program and now he is moving in with his family at Nashville, Tennessee.
---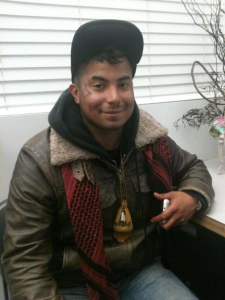 Jonathan
Jonathan Ramos traveled to San Diego with plans to live with a friend. His friend passed away and as a result, Jonathan became homeless sleeping at Santa Fe Depot for 7 months. Desperate for help, he reached out to Clean & Safe's Homeless Outreach Team.
Jonathan was able to get in touch with his uncle who was willing to assist him in getting back on his feet. He now has his own place and works full time as a tattoo artist. Jonathan offered to pay back the travel expenses, stating, "The Family Reunification Program saved my life. I'll never forget what you all did for me."
---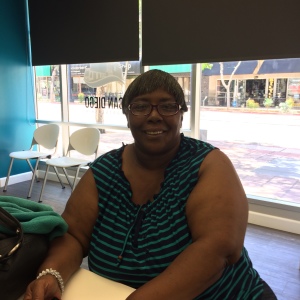 Charlotte Cook
On Monday May 23rd the homeless outreach team assisted Charlotte Cook through the Family Reunification Program. Charlotte reported that she has been residing at Rachel's Women Shelter approximately for 3 months. Charlotte receives SSI income but with the lack of affordable housing she was no able to relocate to a livable place. The homeless outreach workers learned that Charlotte was going to school to finish her Alcohol and Other Drugs certification. Clean and Safe staff was happy to assist her reuniting with her son, Alphonso at Houston, Texas. Charlotte reported she was excited to know that she will going to meet her grandsons.
---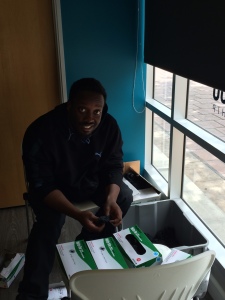 Brandon Taylor
Brandon came to Clean & Safe asking for assistance in reconnecting with his mother in Columbia, South Caroline. Brandon served in the Navy for 3 years and was discharged without benefits.  He fell in love with San Diego, and wanted to stay to start a new life in California. Brandon stated that initially everything was going great, he had a full time job at a hotel and was able to pay his rent.  Unfortunately, he was laid off from his job, and without a support system, Brandon became homeless. He began working 2 jobs to try and save up for an apartment, however could not afford what was available. Brandon attempted to go to Tijuana to find available rooms, but it proved unsuccessful. The photo above shows Brandon working in the Clean & Safe office folding gloves for the Maintenance Ambassadors. We appreciate Brandon's hard work and are happy the Work Your Way Home was able to provide a ticket for Brandon to return to Columbia, South Carolina.
---
The Family Reunification program helped Tara Roche and her son, Tyrone Washington returns to Louisville in January. Tara and Tyrone were housed through Section 8 but an error from her case manager caused to lose her house. Tara explained Homeless Outreach Worker, Kelly and Arturo that she was lucky not to lose her Section 8 voucher. Tara and Tyrone spent the next two months sleeping in a community church and couch surfing. Tara's plan is to apply for housing and enroll her son in school. Tara's family agreed to provide support until they get back on their feet. Tara and Tyrone were so happy to find out they were leaving to stay with her grandmother!
Downtown Partnership Reunites 1,000 Homeless Individuals With Loved Ones
The Downtown San Diego Partnership and its Clean & Safe Program are proud to announce an exciting milestone reached today by the Family Reunification Program, sponsored by Sharp HealthCare. Through this comprehensive program, 1,000 homeless individuals in Downtown San Diego have been reunited with friends and family across the nation.