Keeping Downtown's sidewalks and public spaces clean and beautiful. 
The Property Business Improvement District – otherwise known as the Downtown Partnership Clean & Safe program – has provided enhanced services beyond those otherwise available to keep 275 blocks of Downtown neighborhoods clean, safe, and thriving for more than 20 years. This means that if you live, work, or play in the area managed by Clean & Safe, services like sidewalk pressure washing, trash pickup, landscaping, graffiti removal, beautification, and more are provided as unique benefits to benefit Downtown.   
About Maintenance Ambassadors
The Downtown Partnership Clean & Safe program includes a passionate team of maintenance ambassadors who are dedicated to keeping Downtown looking its best. Ambassadors work 24 hours a day, seven days a week to provide enhanced maintenance services including trash collection, sanitation, debris pickup, landscaping, dog bag station maintenance, graffiti cleanup and a variety of other tasks. 
Maintenance Stats FY21 To Date
Grow Urban is a joint initiative by the Downtown Partnership and URBAN INTERVENTIONS to replace all of Downtown's missing trees and help our urban canopy thrive.
Grow Urban Total Tree Planted as of today 395 Trees
Power washing schedule, that is! Click below to see the regular schedule of power washing cleanings in your neighborhood.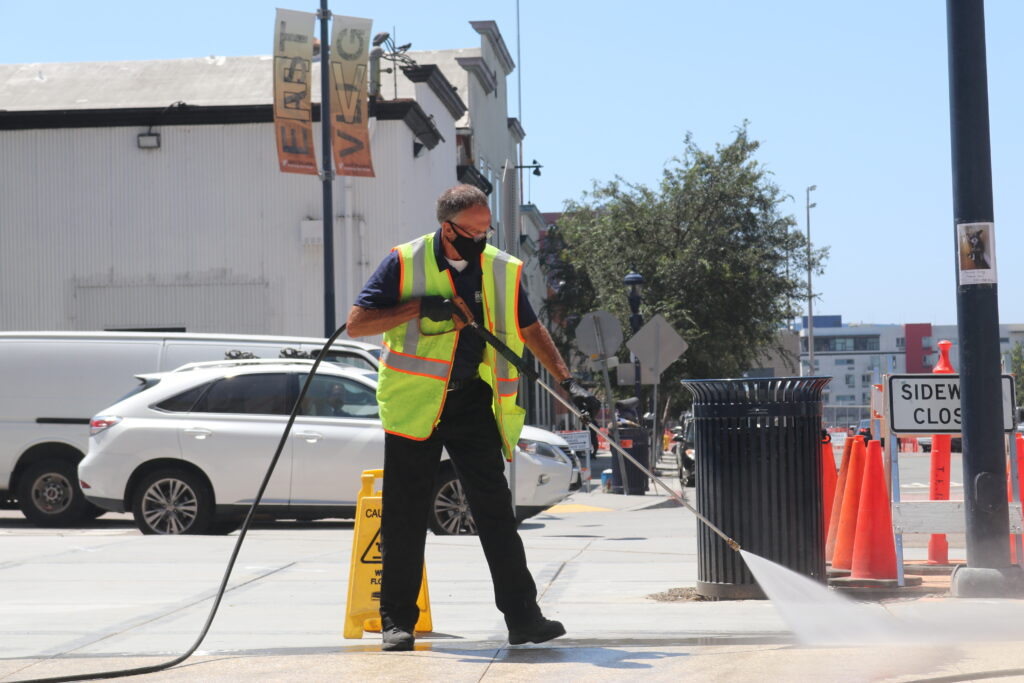 Before & After Enhancement Photos
City of San Diego Street Sweeping
See the City of San Diego's schedule for street sweeping in your neighborhood 
City of San Diego Tree Trimming
Tree trimming is considered a baseline service provided by the City of San Diego. Request services and learn more.
Need C&S safety services?  
Call 619-234-8900, text 619-414-2698, or file a service request below. 
We're looking for good people who want to give back to their community.