Fed & Educated: Session 1 – Postponed
In accordance with directive from the State of California and information released on March 12, 2020 by the County of San Diego, all Downtown San Diego Partnership events and meetings for the month of March will either be postponed or conducted digitally. This includes Fed & Educated, scheduled for March 17th which has been postponed.
For those who have already registered or purchased tickets for the event, your registration will be refunded. We will be in touch with new session details soon.
You will be able to find additional guidance for this and other DSDP events here.
---
the premise
School is officially in session. Introducing FED&EDUCATED, a series of workshops designed to provide education, resources, and networking opportunities. This program has been created to help businesses thrive, by engaging industry experts to share their knowledge and offer turnkey solutions to some of today's most prevalent business challenges.
the deets
Sessions: Spring, Summer, Fall
Schedule: 11:30 am Lunch & Networking // 12:00 pm Program // 1:15 pm Q&A
Location: DSDP (401 B Street, Ste 100, 92101)
Cost: Free to members // $25 for nonmembers
the material
SESSION I
TBA – POSTPONED
11:30 am – 1:30 pm
Iris L. Kristoff, Attorney, Dunn DeSantis Walt & Kendrick, LLP
Kaitlin Payne, Employee Lifestyle Director, H.G. Fenton
AVOID LAWSUITS & ATTRACT TALENT
This interactive session will focus on understanding employment law and using it to inform business decisions with the company and employee in mind. We will provide an overview of new 2020 employment laws, and also cover topics relating to hiring, separating, training, and employee onboarding. We will then do a deep dive into company culture – What is it? How do company leaders define and cultivate it? And how does culture matter in attracting and retaining quality employees? You'll leave with a bigger picture outlook on the employment environment today, and what's on the horizon!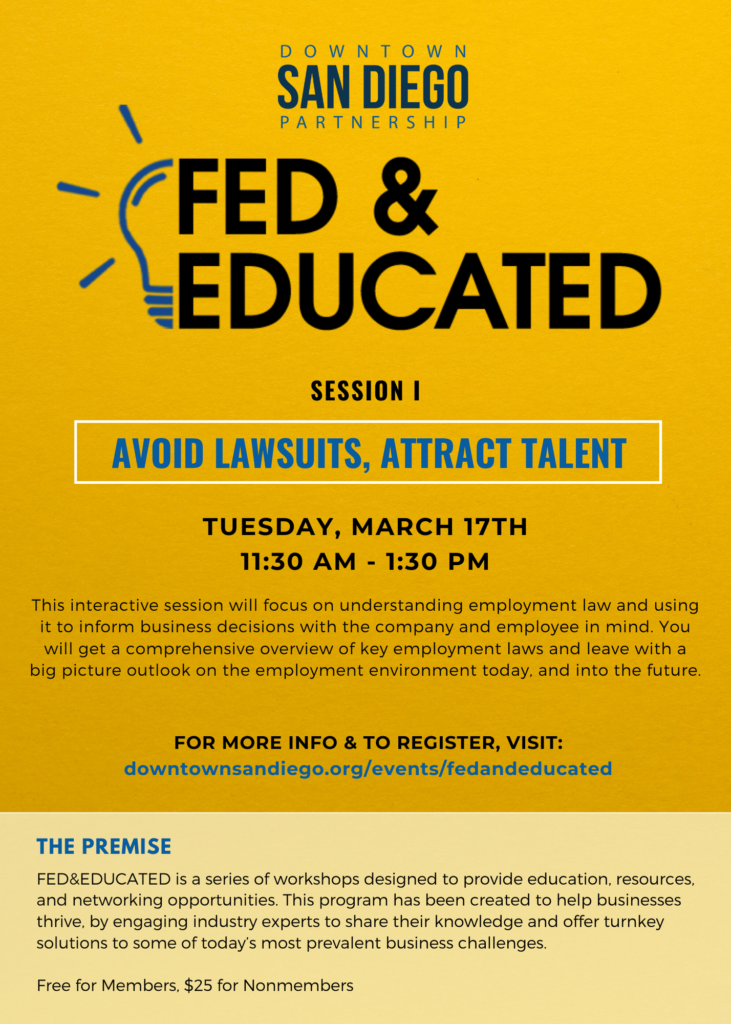 ---
SESSION II


Summer 2020
11:30 am – 1:30 pm
ELECTIONS 101
Candidates and bills and props – oh my!
The election – it's all you'll hear about in 2020. Heck, it's probably all you heard about in 2019! The 2020 ballot will be packed full, and we think we speak for everyone when we say there's not enough time in the day to research each one. We're calling in the experts to give us a concise and informative overview of what to expect in the 2020 election.
---
SESSION III


Fall 2020
11:30 am – 1:30 pm
LEADERSHIP PRESENCE & BUILDING YOUR BRAND
If you don't define your personal brand, others will.
Your personal brand is all about who you are and what you want to be known for. Building a strong personal brand is a choice that takes time, effort, and energy. This session will teach you how to take control of your professional reputation so you can think, act, and plan like a leader.