Keeping Up Positive Employee Morale & Company Culture in a Virtual Environment
The Downtown San Diego Partnership and Intesa Communications invite you to pull up a chair to the digital table for our next session of Fed & Educated. It's hard to find a workplace that hasn't been changed by COVID-19. As many continue to work from home in some capacity or find more of their work conducted virtually, leaders and decision-makers are wondering how best to invest their time and attention to support their teams in this new environment. Join regional experts to learn more about what you can do to continue building positive company culture and boost employee morale among your digital and in-person teams.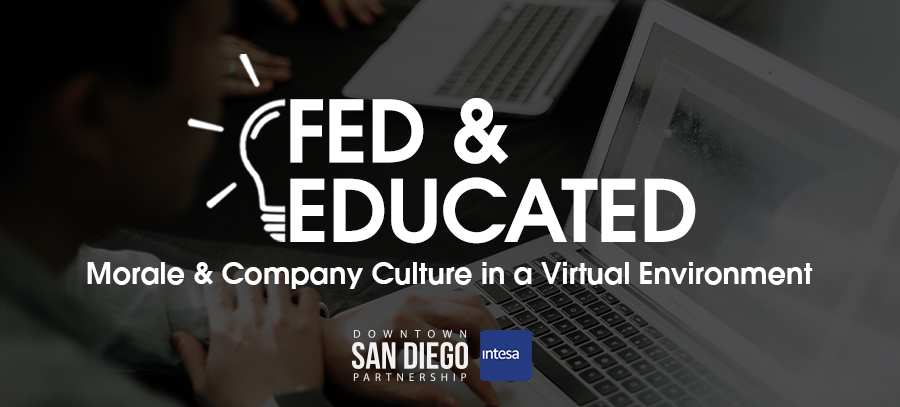 ---
RESOURCES: Take advantage of the resources and programs mentioned during the session.
CONTACT: Get in touch with our panelists
Interested in participating in these types of programs and benefiting from additional opportunities to network and grow your business all year long? To learn more about membership opportunities with the Downtown San Diego Partnership, visit
downtowonsandiego.org/apply
Thank you to our sponsor

Intesa Communications Group is a San Diego-based communications and government relations firm doing our best work for people and causes we believe in. Intesa understands the power of relationships, storytelling, and the best channels for you to engage with the right audiences– on paper, among people, and in pixels. Our award-winning project managers and strategists help corporations, non-profits, and business leaders achieve their strategic goals, while generating the most value for society and the bottom line.