Interested in sharing exciting news about your company?
Members at the corporate level or above are invited to participate in our Member Spotlight, a program developed to highlight our members' successes. The spotlight is featured via the Member Monday e-blast, newsletter, hosted on our website, and highlighted through our social media channels. If you are interested in being featured, we will ask you to provide a newsworthy article or press release, a brief paragraph about your company, a company logo, company or project photo(s), and why you chose Downtown as a location to grow your business.
Please select a date that falls on a Monday.
---
MEMBER SPOTLIGHT

Union Bank is a full-service bank with a rich history of investing in our clients, communities and colleagues throughout the West Coast for more than 150 years. Union Bank provides a wide range of personal and business banking products as well as wealth management services. With more than 300 branches in California, Oregon and Washington, Union Bank remains committed to serving the needs of its local communities. As a member of the Mitsubishi UFJ Financial Group (MUFG), one of the world's largest financial institutions, Union Bank holds our clients' best interests to heart and remains committed to investing in their success.
San Diego Downtown News readers selected Union Bank as best of downtown this past year.
Follow us on social:
---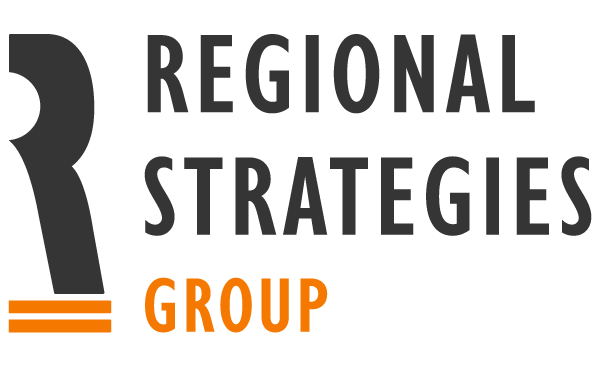 Regional Strategies Group (RSG) is a high-performance public affairs and marketing consultancy run by Tomas and Frank Urtasun. The firm's focus is on helping our clients implement high-level public affairs strategies, modern digital media communication programs, outreach, coalition-building, and results-driven marketing and lead generation efforts.
Established in 2019, RSG is proud to work with local nonprofits, governmental, energy, agriculture, construction, development, and other private companies. Through strategic partnerships with leading land use, branding, and creative specialists, we offer a professionally coordinated, full-suite of services depending on each client's needs.
RSG brings each engagement a personalized, family-run touch. We have over 40 years of experience in developing governmental and local stakeholder outreach programs supported by years of work in the community through Sempra, San Ysidro Health, and numerous local organizations. We treat each client with an individualized, nuanced personal approach to achieving their goals.
Authentic Connections. Actionable Strategies.
---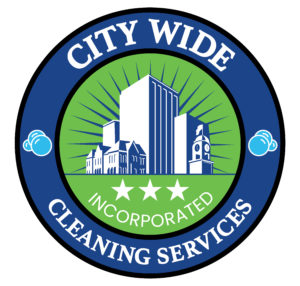 As 2021 begins, the need for a business to keep their facilities clean is essential. Whether it be residential communities, commercial buildings, restaurants or construction areas, City Wide Cleaning Services offers many cleaning service options that allow us to customize our clients' experience. Some of those options are turnover cleaning, janitorial services, power washing, day porter services, window washing, housekeeping services, carpet cleaning and COVID-19 sanitization. City Wide Cleaning Services has humble beginnings, starting in San Diego.
We have grown from a small operation to now include an extensive list of clients. City Wide Cleaning Services (CWCS) began in 2018 and is a part of City Wide Group of Companies, which also include City Wide Protection Services. The company was founded by Hojjat Tom Tamar, Lukas Zareba and Sam Malik. City Wide Cleaning Services is headed by Executive Vice President, Sophie Rosado, and Operations Manager, Siria Tafoya.
Sophie and Siria have over 45 years of experience of property management combined, of which includes time spent at Pinnacle Property Management and Valor Property Management. Sophie started with CWCS in May of 2020 and Siria joined our family shortly after, in September of 2020. As the pandemic grew, Sophie recognized the need to help others with cleaning and disinfecting needs and swiftly jumped to action.
City Wide Cleaning Services played a vital role during the 2020 pandemic. As more and more businesses cleaning needs changed, CWCS adapted to accommodate the large influx of COVID-19 related disinfections. We immediately began to contact our clients in an effort to bring them peace of mind. We held weekly Zoom calls and assisted our clients in transitioning and adapting to the new cleaning needs and State Guidelines. For City Wide Cleaning Services, it is critical that we look at what is changing within the cleaning industry to adapt to the ongoing pandemic.
We re-assessed how we were to serve our clients. We immediately changed our products to include additional disinfectants and sanitizing equipment. We added training and additional cleaning supplies. It is important that CWCS adapt to the new "normal" to give our clients what they need. We are proud that City Wide Cleaning Services is one of the very first in San Diego County to use innovative UV technologies that eliminates 99.9% of viruses.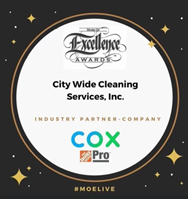 City Wide Cleaning Services was recognized by the Southern California Rental Association in 2020 with the Mark of Excellence award for Industry Partner of the Year. We are also proud members of the Downtown San Diego Partnership, East County Chamber of commerce and the aforementioned Southern California Rental Housing Association. As 2020 closes and 2021 begins, City Wide Cleaning Services looks forward to catering to your cleaning and sanitation needs.
---
Previous Member Spotlights

Falck is excited to share it has been selected by the City of San Diego to move forward in exclusive negotiations as the City's chosen emergency ambulance provider! After two competitive bidding processes for a five-year contract, Falck looks forward to bringing an enhanced level of emergency medical services to residents.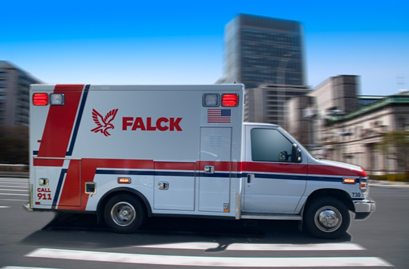 With proven success in large California 911 systems, Falck brings both the expertise and resources to meet San Diego's unique needs. Falck is the Southern California leader in EMS services representing 80% of EMS service in Orange County and 40% of EMS service in Los Angeles County. The company covers 911 EMS service in Southern California for a population exceeding 5 million. Falck has a historic record of providing unrivaled service to all its service regions.

With approximately 1.4 million residents, San Diego is the eighth-largest city in the U.S. Its 911 emergency ambulance calls total approximately 145,000 annually. As a world leader in emergency ambulance services, Falck is committed to safeguarding the health and safety of every San Diegan.

Falck's leadership team has ties to San Diego and is excited to begin operations. Dannie Wurtz, the Director of Clinical Operations, is an alumna of Southwestern College and began her career in EMS as a paramedic in San Diego. She has led courses as an instructor at her alma mater and San Diego Miramar College. Even Falck USA's CEO, Matt Gallagher, has roots in San Diego! The team looks forward to providing care for their hometown.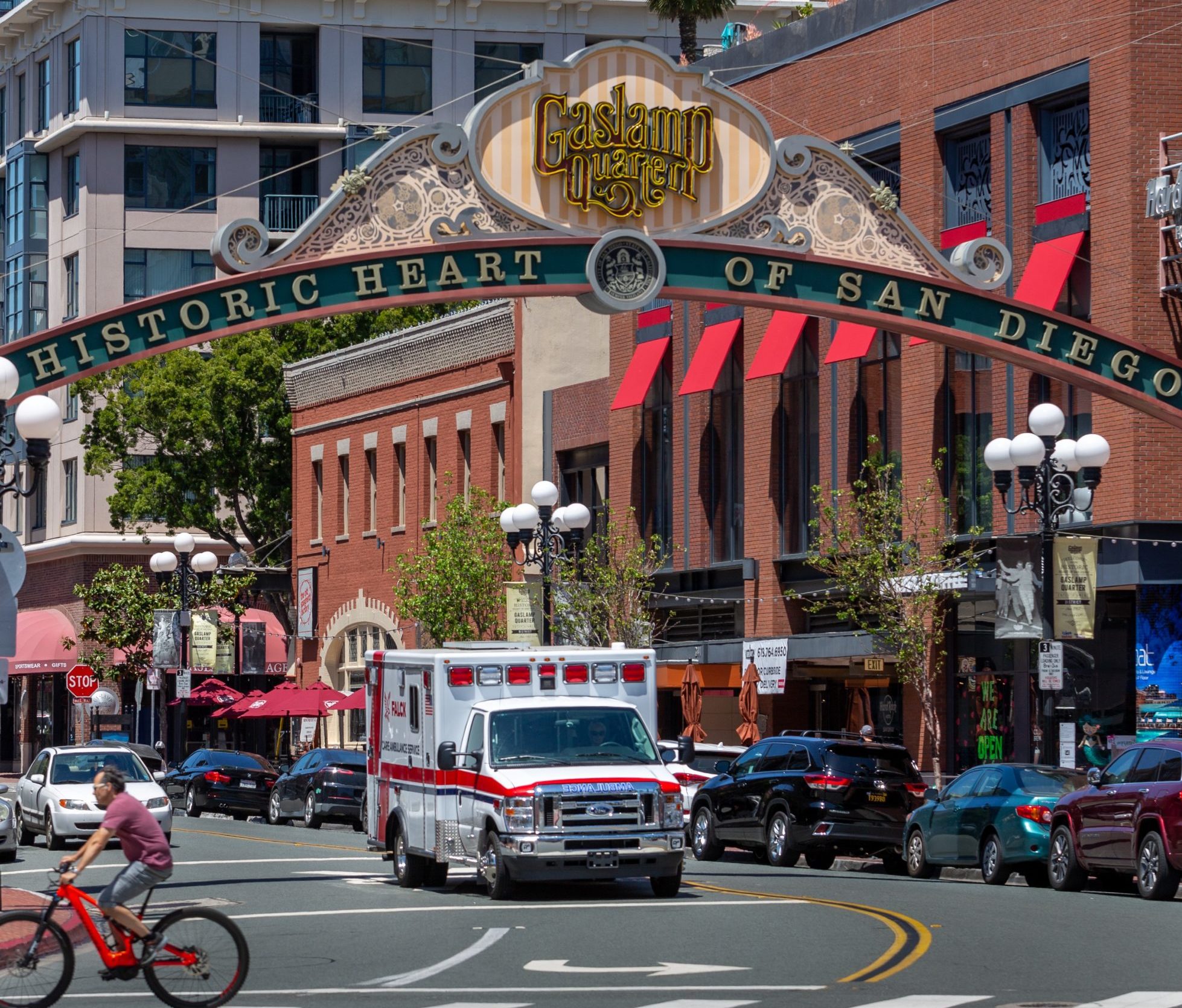 Falck gives back to its service communities and is already busy making an impact throughout the region. In September, Falck donated ambulances to both Southwestern College and San Diego Miramar College to enhance their accredited Emergency Medical Technician (EMT) and paramedic programs. By investing in the education and development of the future EMT and paramedic workforce, Falck helps ensure that students are trained on the latest equipment and are prepared to address patients in the San Diego region after graduation.

In June, Falck contributed to several San Diego nonprofits aimed at tackling growing food insecurity in the region. In March, the Lundbeck Foundation, the majority owner of Falck, pledged $4.4 million toward research projects targeting the coronavirus outbreak. Falck's move into San Diego will allow them to build and expand partnerships like these to support the city's diverse communities.

Falck's leadership team is looking forward to connecting with other members of the Downtown San Diego Partnership and additional organizations throughout the region. To learn more about Falck, visit their website and like their Facebook page for news about their recent and upcoming activities.

Work from Anywhere Trend Good for Business at Downtown Works

San Diegans tired of living at work (aka working from home) find flexible alternative with modern coworking options in Downtown San Diego and Carlsbad

As we move into seven months of the COVID-19 pandemic that forced companies throughout San Diego County to shutter offices and professionals to commute on foot to work at their home office (or dining table), many are feeling isolated and craving a safe place to work away from home. Downtown Works seized the opportunity to demonstrate how it is possible to create an inspiring and safe office environment that provides the space, community and amenities today's professionals need to do their best work.

Constructed to model a tech campus with state-of-art technology, art and furnishings that encourage creativity, dynamic problem-solving and productivity, Downtown Works' two locations – one in Little Italy San Diego on West B Street and its newest location in Carlsbad on Palomar Airport Road – give professionals flexible office options, enabling them to rotate between home and office in a safe physical-distancing environment. Still other members choose to lease a private office at Downtown Works fulltime where they can enjoy quiet solitude while feeling the buzz of an office around them.

"For some on our team, their living situations didn't support work from home, whether it was having kids simultaneously homeschooling via Zoom or roommate challenges. So, we looked to Downtown Works to provide flexible office spaces we could rotate among those team members," said Mercato CEO Bobby Brannigan. "It's working even better than anticipated. And we have access to some incredible amenities, including contemporary meeting rooms outfitted with state-of-the-art A/V that support our video conferences throughout the day."

When the pandemic started, Downtown Works quickly made changes to ensure its members felt safe and comfortable. It put in medical-grade air purifiers; cold plasma generators to kill viruses and bacteria, and health and safety measures such as touchless doors for restrooms, keyless entry, limited seating capacity and mandatory masks in common areas – measures applauded by San Diego Mayor Kevin Falconer last May. This approach, coupled with a variety of flexible office options, has many San Diego-area companies and solo-preneurs looking to Downtown Works to provide an alternative to living at work.

Downtown Works in Downtown San Diego's Little Italy provides an airy, comfortable and quiet place to focus and create.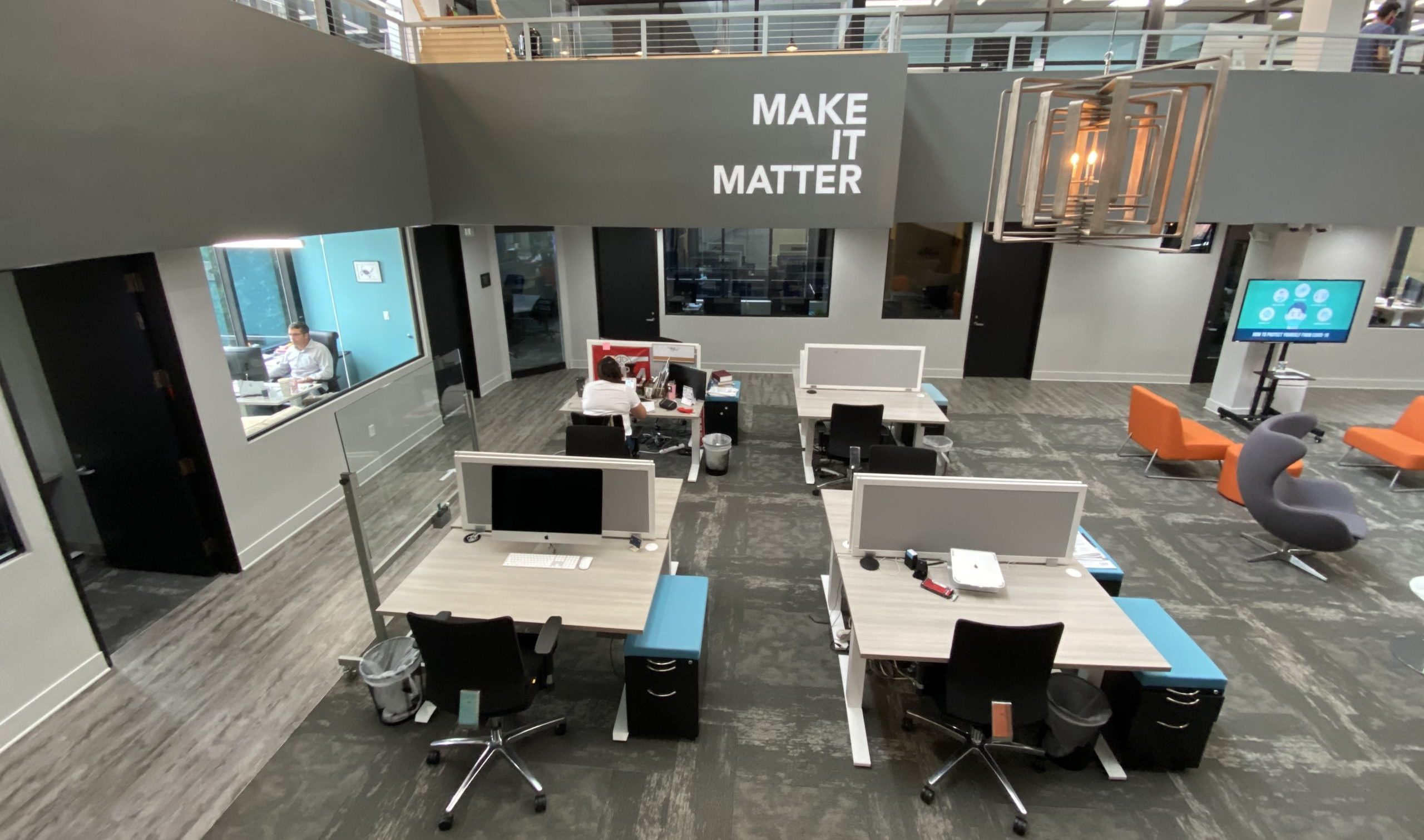 Downtown Works in Little Italy San Diego has about 33,500 square feet of private offices, open desks, lounge areas and meeting rooms. Carlsbad has 20,000 square feet and plentiful outdoor space. Both are dog-friendly, too.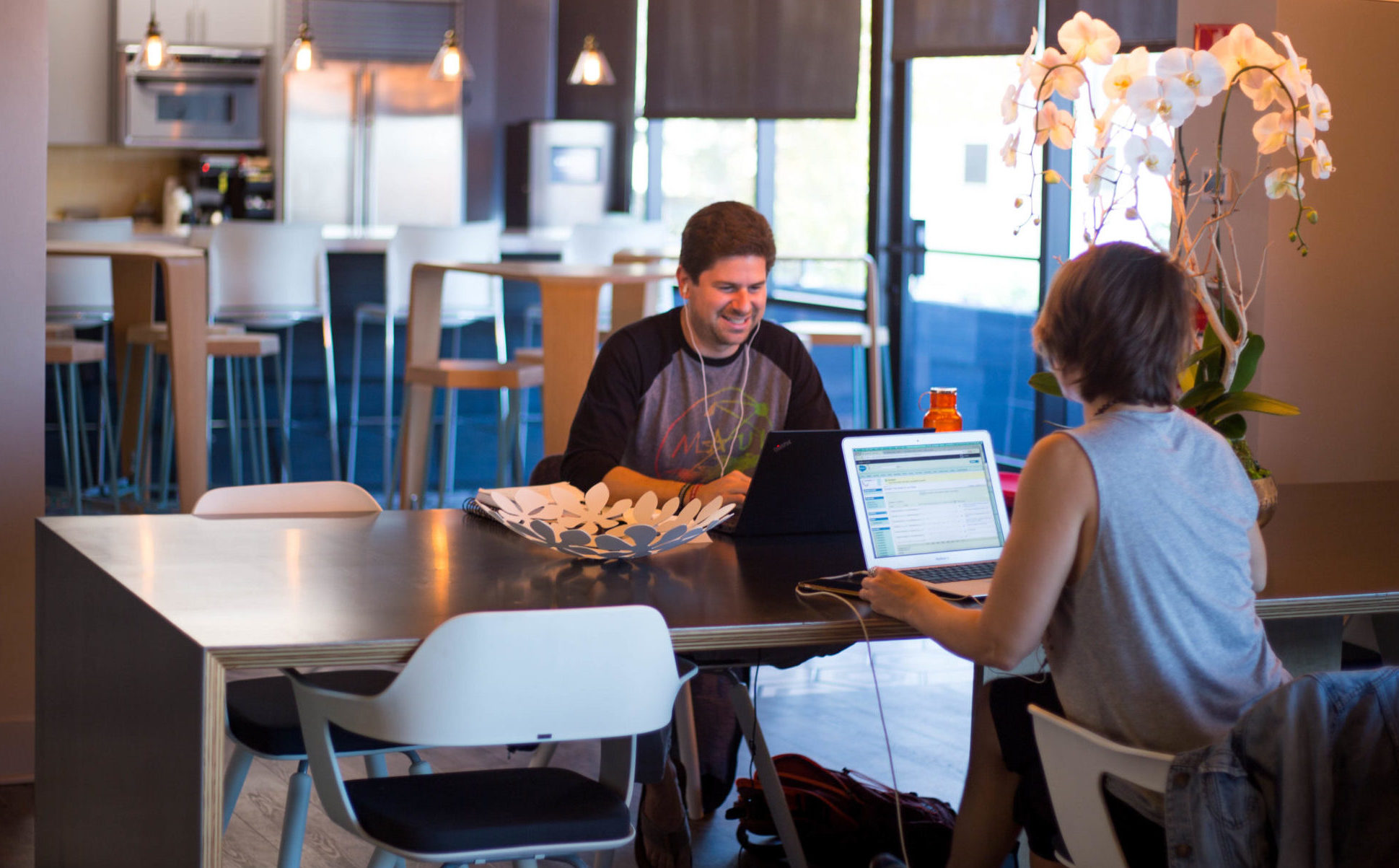 Team collaboration and meetings are easy and relaxed at both Downtown Works locations with kitchens, tables, and complimentary snacks, coffee, and craft beer.
Downtown Works in Little Italy San Diego offers private offices, open desks, and meeting rooms throughout its approximate 33,500 square feet of creatively designed space, and has become a hub for creatives and successful startups including Mercato, Boomr, Times of San Diego and Startup San Diego, among many others.

Downtown Works Carlsbad has about 20,000 of coworking office space on 4.9 acres. The space is contemporarily designed, features 43 furnished offices with flexible, stand-up optional desks, numerous plexiglass-separated workstations, a video/podcast studio, and plentiful outdoor workspaces.

Both Downtown Works locations provide flexible options – including virtual memberships – for those looking for a workspace other than, or in addition to, home. Offices, desks and outdoor workstations and meeting areas can be rented by the month, week, day, or hour. Downtown Works is dog-friendly, too.

"We're clearly moving to a 'work from anywhere' culture – you might work from home one day, a coworking space the next, and then plan an all-hands Zoom conference by end of week," said Downtown Works Managing Partner Wolf Bielas. "When COVID-19 hit we pivoted to create a tech-rich environment for professionals who crave the convenience and community of an office. We also incorporate strict safety protocols to instill peace of mind so they can do their best work."

For more information about flexible coworking spaces in Downtown San Diego and Carlsbad visit www.DowntownWorks.com
---
AMR teams up with the Padres for Special Showing of "Minions" for Families of Rady Children's Hospital

It was a special night just outside Petco Park on Sept. 3 as AMR and the San Diego Padres teamed up to transform the Premier Lot at Petco Park into a movie theater. There they hosted a FREE Drive-In Movie Night for more than 120 Rady Children's Hospital families and friends, including children who have been treated at the hospital.

"AMR was excited to give back to the community by sponsoring this wonderful drive-in event Downtown," said Madeleine Baudoin, Government and Public Affairs Manager for AMR. "With social distancing measures in place, we've had to get creative. Bringing everyone together to make it happen for these families was a very special thing."

"Minions," an animated comedy, was released in 2015 and features the voices of Sandra Bullock, John Hamm, Michael Keaton, and Allison Janney. Before the show, a few popular "Minions" characters roamed the parking lot, entertaining the children in attendance.

American Medical Response, Inc., America's leading provider of medical transportation, provides services in 40 states and has been serving the San Diego region for more than 70 years. The company is the largest ambulance provider in the region, employing more than 1,100 local AMR paramedics, EMT's, RNs and other professionals who provide emergency and non-emergency medical transport to the local community, as well as providing service to four major hospital systems across the region. Over the course of several months, AMR operations have been hard at work dedicating countless hours to providing quality patient care, medical aid, and support to the community in response to the COVID-19 outbreak.

In addition to their diligent 9-1-1 service, AMR has been a strong community partner in Downtown San Diego. AMR paramedics and EMT's work hand in hand with the DSDP Clean & Safe team and help support the Resource Access Program (RAP), a strategic social arm of the San Diego Fire-Rescue Department that provides outreach and resources to vulnerable residents, including the homeless. AMR also supports several other community engagement activities and social programs which benefit the Downtown community, including Yoga in the City and the All Black Lives Matter banner program.

For more information about AMR, visit www.amr.net and follow American Medical Response on Facebook @AMR_Social on Twitter and Instagram.

---
U.S. Bank Named "Most Essential Bank" During the Time of COVID-19

Company continues to power human potential across San Diego amidst pandemic

As Southern California attempts to stop the spread of COVID-19, U.S. Bank continues to provide essential services in branches and online, while also supporting the local business and nonprofit communities.

U.S. Bank was named among the "2020 World's Most Ethical Companies" and "The Most Essential Bank Amid COVID-19", the latter according to the Harris Poll which ranked U.S. Bank the No. 64 company overall, and No. 1 amongst all banks due to the company's "resolve, trustworthiness, responsiveness and overall positive performance" during the pandemic.

Responding to the needs of San Diego during the public health crisis in a variety of ways, U.S. Bank is helping customers, employees and communities, including modifying personal and small business products for customers; instituting a premium pay program for front-line employees; expediting community giving programs; and conducting community service activities where the need for support is the greatest within the region.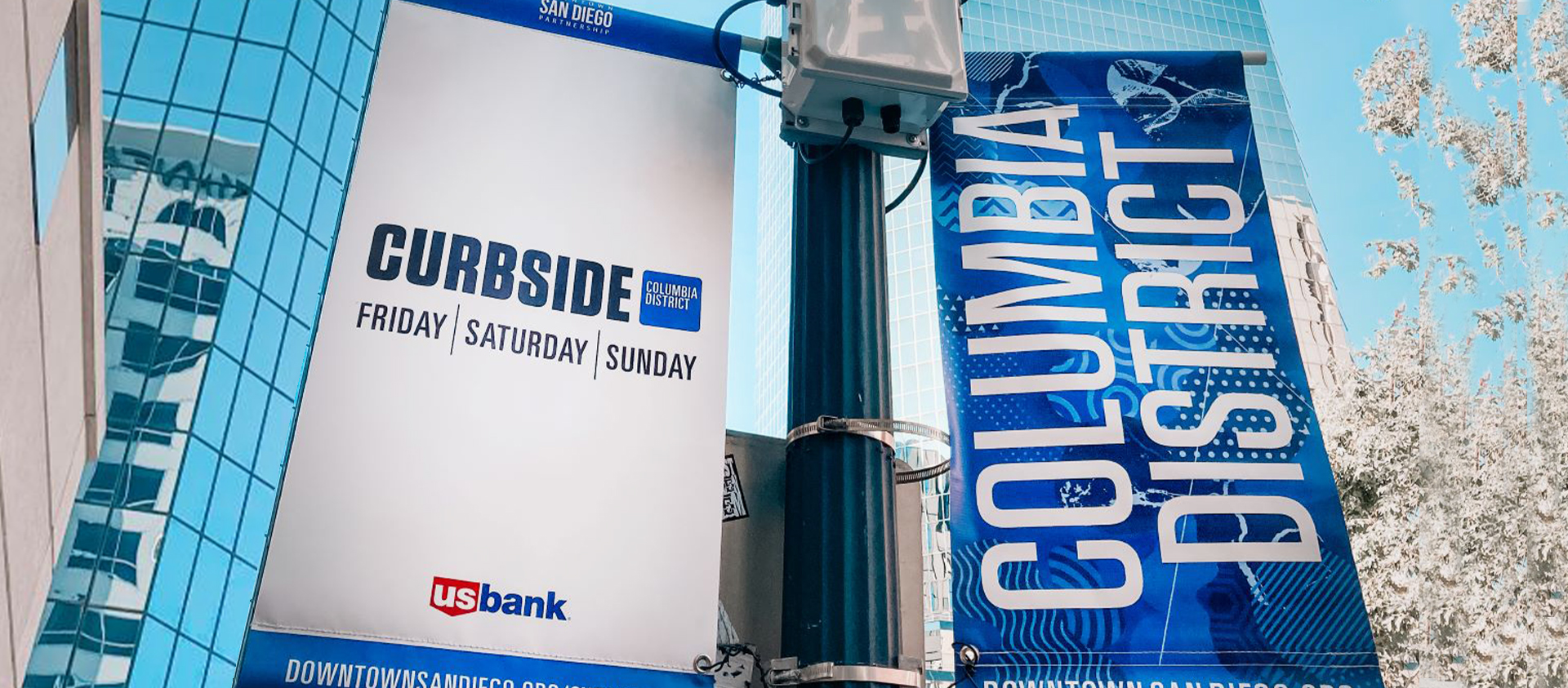 An extremely active corporate philanthropist in Southern California, U.S. Bank has contributed both team member volunteer hours and grant funding in order to meaningfully help the region's community-focused organization and nonprofit network.

One such recent initiative includes Curbside San Diego with the Downtown San Diego Partnership which reflects U.S. Bank's commitment to helping small businesses by facilitating economic growth while supporting a creative social distancing solution.

The bank team has also spearheaded several efforts to deliver fresh food boxes and care kits during COVID-19. Donation and volunteerism with the USO of San Diego at their mobile "drive through" food distribution; working with Support The Enlisted Project to provide active duty military and veteran families with fresh produced boxes and family care items; and delivering food and personal care boxes to home-bound Serving Seniors residents.

U.S. Bank, along with foundation and corporate partners like the San Diego Padres, stepped up to support local black-owned businesses through the Central San Diego Black Chamber's Black Business Relief Fund; provided a $25,000 Market Impact Fund grant to the San Diego Foundation's COVID-19 Community Response Fund; and worked with the Local Initiatives Support Corporation (San Diego LISC) to help City Heights businesses recover from the economic impact of COVID-19.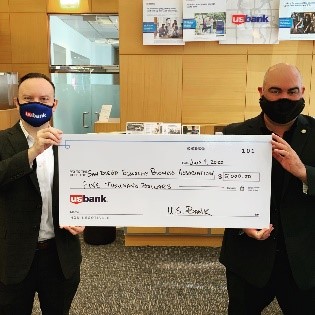 U.S. Bank is also making "Community Possible" through online financial literacy workshops, mentoring and community service; and most recently demonstrated support for the LGBTQ community during PRIDE month, serving as one of 2020 Pride's corporate sponsors and supporting the San Diego Equality Business Association, which provides resources and promotional support for local LGBTQ and ally businesses.

U.S. Bancorp has more than 70,000 employees and $543 billion in assets as of March 31, 2020 and is the parent company of U.S. Bank National Association, the fifth-largest commercial bank in the United States.

Blending its relationship teams, branches and ATM network with mobile and online tools U.S. Bank allows customers to bank how, when and where they prefer. U.S. Bank is committed to serving its millions of retail, business, wealth management, payment, commercial and corporate, and investment services customers across the country and around the world as a trusted financial partner.

Additional information about how U.S. Bank has responded to COVID-19 is available at usbank.com/covid-19 and more information about the bank at usbank.com.
---
MEMBER SPOTLIGHT: Wildfire Preparedness with SDG&E and COX

Wildfire Preparedness: How Our Members Work Together to Keep Communities Safe and Connected
Wildfire preparedness has become a reality for those of us who call Southern California home, and preparing for a potential wildfire is the first step in protecting your family, business and property.

For essential businesses like local utilities and telecommunications providers, preparing for the wildfire season is a year-round effort that includes close coordination with community members, local and state agencies, municipalities and first responders.

For DSDP members San Diego Gas & Electric (SDG&E) and Cox Communications, wildfire preparedness and resiliency efforts are focal points of their businesses. Learn how the two are working to protect our communities during wildfire season.

San Diego Gas & Electric (SDG&E)

In California, one of the greatest challenges we face is the year-long presence of potentially devastating wildfires. Climate change and shifting environmental conditions have altered the severity of wildfires, and how we help protect our customers, employees and the communities we serve.

For over a decade, we have been working hard to address this new reality and enhancing our infrastructure to protect against escalating environmental changes and potential natural disasters. Since 2007, we have invested nearly $2 billion in electric system enhancements, weather technology and communications efforts to protect against infrastructure-related wildfires and keep our communities well informed and safe.

In instances where weather conditions put our region at increased or extreme risk of a potential wildfire, we may enact a preventative measure known as a Public Safety Power Shutoff (PSPS). This last-resort tool is when we proactively shutoff power to a certain area to help keep our communities safe.

Turning off power isn't a decision we take lightly – decades-long experience and multiple real-time factors go into the decision-making process. Whatever the circumstances, we will make every effort to communicate with our customers and the general public in advance.

If we anticipate the power to be off for an extended period, we will open Community Resource Centers (CRC) in affected areas where residents can get water and snacks, charge their phones, and get up-to-date information on outages. During this time, we also work closely with our transportation and telecommunications partners, like Cox Communication, to ensure our customers have the resources necessary to overcome the impacts associated with PSPS.

In addition to the work we are doing to help protect our communities, there are things you can do at your home or business to prepare for a natural disaster or power outage. Begin by putting an emergency plan and kit together for you and your household or business. To learn more about preparing an emergency plan and kit, preparing for the upcoming wildfire season and PSPS protocols, please visit https://www.sdge.com/our-commitment-wildfire-safety.

Cox Communications

Keeping our residential and business customers connected is always a top priority for us. We have a business continuity plan that we review and practice throughout the year in the event of a PSPS, wildfire or other natural disaster.

During wildfire season, when the power company may need to implement a PSPS, they notify business customers such as Cox so that we can plan accordingly, notify customers of a potential impact to their services, and keep our network up and running in a way that is safe for our employees, customers and community.

Throughout a PSPS or wildfire, Cox stays in close contact with SDG&E and public safety agencies to monitor the situation on behalf of our customers.

We encourage customers to download Cox apps prior to a PSPS or natural disaster in case they need to access their Cox services remotely. We'll also post service updates and other important information on Twitter at @coxcalifornia. Visit www.cox.com/CaliforniaAssist for more information.
---
MEMBER SPOTLIGHT: San Diego International Airport (SAN)

During these unprecedented times, San Diego International Airport (SAN) has continued to adjust to the impacts of COVID-19. The airport has remained open as a critical piece of the nation's transportation infrastructure, helping to move much-needed supplies and cargo, and assisting those with essential travel needs.

We want you to know that when you are ready to return to the airport, we are ready with a series of modifications and protocols to help ensure the health and safety of our passengers and employees.

Here's what we are doing to keep you safe:

At SAN, we are constantly adjusting our operations to better ensure health and safety in light of COVID-19. We've implemented a number of health and safety measures including:
Plexiglass sneeze guards in certain public spaces.
Floor decals to queue the six-foot social distancing consideration.
Increased signage throughout the terminals that serves as a reminder to practice preventive health measures.
Per the San Diego County Health order, facial coverings are required for all passengers, visitors, tenants, contractors and employees while on airport property, excluding those with a medical or mental health condition, or developmental disability that prevents wearing a face covering.
Continued increased cleaning of high touch points.
PA announcements throughout the terminals that remind everyone of the facial covering and social distancing requirements.
Per San Diego County Health, employees are required to do a personal health screening and cannot come to work if they have any of the listed CDC COVID-19 symptoms.

Here's what you can do to travel safely:
If you have an essential travel need, it is important to stay in close contact with your airline as the date of your flight approaches. Airline schedules have been fluctuating unpredictably, some airlines require facial coverings to board, and some airlines are conducting temperature checks on passengers. Make sure you have a clear understanding of your airline's expectations are before arriving at the airport.
Thank you for wearing a facial covering as it is a San Diego County health order and required on airport property. Visit our COVID-19 FAQ page for more information on what constitutes a facial covering. If you do not have a facial covering, some of our concession partners have them available for purchase.
Although there are no crowds at the airport, please leave ample time to get to the airport and pass through security. Please visit the TSA COVID-19 webpage for more information about the security process and what is allowed.
Concessions are limited – some have closed and others have changed their hours – so please plan accordingly. Dining facilities are open and all employees and patrons must comply with social distancing requirements.
If picking up a friend or loved one, please note that the cell phone lot is temporarily closed, however, you can wait for 10 minutes at no charge in the terminal parking lots.
We're here to support you on your journey through SAN

We are confident San Diego will always be a desirable place to live, visit and do business. When you're ready to fly again, we'll be ready to serve you. Let's go safely.

---
MEMBER SPOTLIGHT: Cox Communications

How Cox prepares for wildfire season

May is National Wildfire Awareness Month, but for Southern California businesses and residents, protecting and preparing your home and business in the event of a wildfire is a daily reality.

The top priority for Cox during a wildfire or other natural disaster is to keep customers connected at home so they can stay informed, check in with family and friends, and have access to their shows and movies even when they're away from home.

And we work hard to keep business customers, including hospitals, Offices of Emergency Services and first responders connected so they can continue to serve their customers and the public.

Wildfire season now begins earlier and ends later than in years past, so we prepare all year long, reviewing our business continuity plan and running through mock wildfire events so employees in all facets of our operations will be prepared and know their role and responsibilities during a natural disaster.

When strong winds and other weather conditions create an increased risk for wildfires, the local power company may notify their customers like you and Cox that they need to implement a Public Safety Power Shutoff (PSPS). This means your Cox services may be interrupted if you're in a neighborhood where power will be shut off.

Similar to powering devices in your home, Cox needs commercial power for our network to run. In some cases, when our network is without power, we will deploy a portable generator to power our network if we can safely do so. But if your home is without power or backup power to turn on your TV or computer, you may not be able to utilize your Cox service.

During a wildfire or PSPS, we work closely with the power company and public safety agencies to monitor the situation and ensure the safety of our network and facilities so that we can keep our residential and business customers connected. If our services are interrupted, we work diligently to restore service to first responders as soon as safely possible to make sure our emergency personnel are able to help San Diegans through this difficult time. This is all part of our Cox PSPS plan and how we ensure we can keep our employees safe and our customers connected.

In the event of a Public Safety Power Shutoff, wildfire or other natural disaster, Cox will post service outage updates and other important information on Twitter, so be sure to follow us at @coxcalifornia.

There are also some things customers can also do to help better prepare for an unexpected event, such as downloading Cox apps that will provide updates and notifications, and enable customers to access their Cox services on a mobile device while away from home:
Cox app – Manage your account; receive notifications from the app when there's an outage in your area and when the outage is over.
Cox Contour app – Turn your smartphone or tablet into a portable TV; access programming available with your Cox subscription.
Cox Voice Everywhere app – Your home phone away from home.
Customers whose residential telephone service is impacted during a state of emergency declared by the California Governor's Office or the President of the United States may be eligible to receive disaster relief protections such as a waiver of one‑time activation fee for establishing remote call forwarding, remote access to call forwarding, call forwarding features and messaging services. For information about these consumer disaster protections, click here.

For more helpful information and tips, visit cox.com/CaliforniaAssist.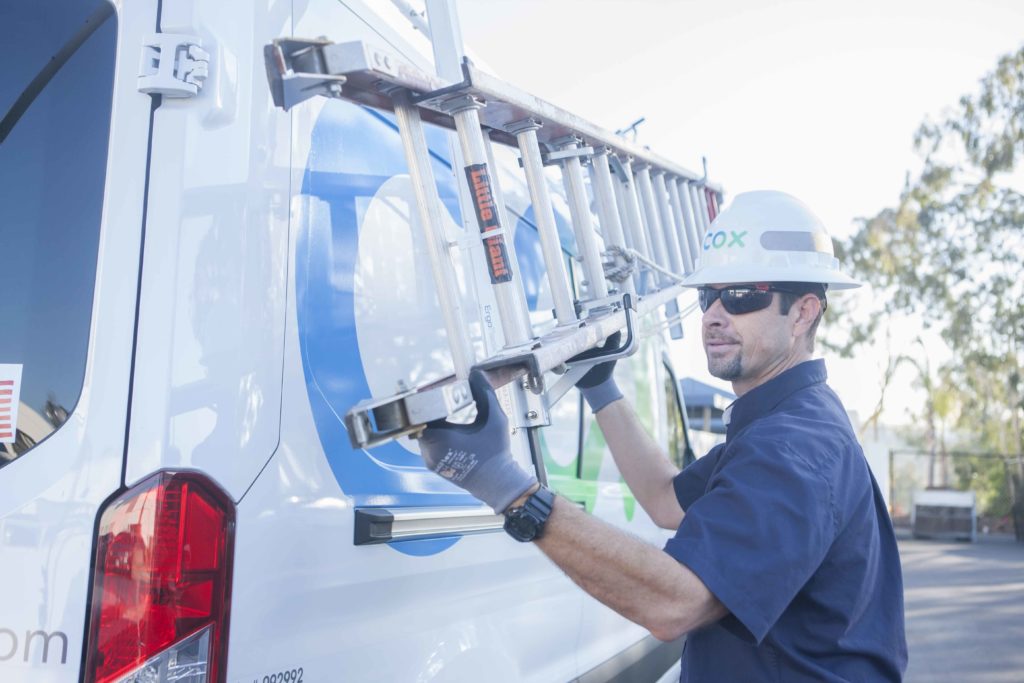 ---
MEMBER SPOTLIGHT: Republic Services

Frontline Workers Keeping Our Communities Clean

Republic Services, a proud Downtown Partnership member company, is helping its San Diego business customers and taking good care of its employees and their families through a $20 million company-wide initiative launched in April. Republic's "Committed to Serve" program recognizes its 28,000 essential frontline workers around the nation who have never stopped picking up trash, recycling and keeping our communities clean. In the San Diego region, Republic has more than 370 employees who are being treated to lunch from local restaurants and small businesses, plus taking home family meals for employees every Friday. In addition, $100 gift cards are being distributed bi-weekly to help cover family essentials and say "thank you" to workers who have an important role in community health and safety.

"Republic is very proud of our team members who are coming in every day to keep our neighborhoods clean, take that extra trash and recycling that everyone is generating at home, and also supporting the local businesses that are our customers and neighbors," said Neil Mohr, Republic Services San Diego area General Manager. So far, the company has spent nearly $20,000 at local businesses to provide weekly meals and bi-weekly $100 gift cards for its team members at the Sycamore Landfill, Otay Landfill and the waste/recycling hauling division. Gift cards to local businesses are targeted to get money back in to help rejuvenate small businesses with local spending. "We are part of this community, and it's a win for all when we can show appreciation to our employees and their families, and help support our customers and local business through this challenging time."

Trash, recycling and yard waste collection has shifted away from commercial to much more residential volume due to stay at home orders and business closures. Republic's essential employees have stepped up to manage the change while implementing strict health and safety protocols to protect themselves and the public. The company is following CDC, State and local public health orders and OSHA guidelines, providing employees with necessary personal protective equipment, cleaning and disinfecting trucks, equipment and facilities multiple times per day, and ensuring proper social distancing.

Nationwide, Republic's Committed to Serve program is providing employees with a total of $11 million in gift cards and $6 million to local restaurants, and contributing $3 million to Republic's charitable foundation to support the rebuilding of small businesses. For more information, visit: RepublicServices.com/CommittedToServe #CommittedToServe
---
MEMBER SPOTLIGHT: Pandr Design Co.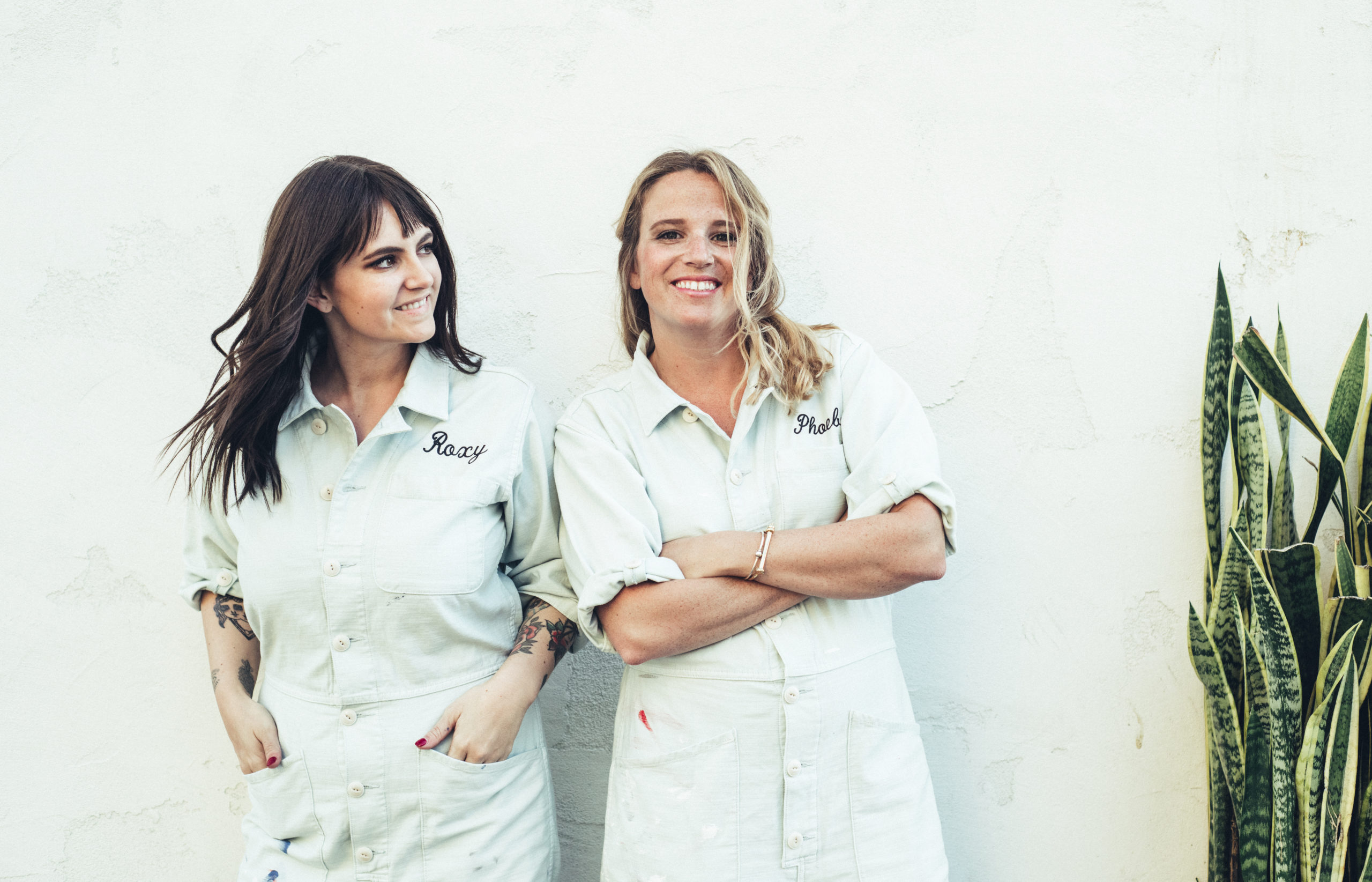 We are a team of designers that specializes in creating custom murals for businesses. Working in a wide variety of mediums and methods helps us to tailor our work to any brand strategy, and accurately tell your company's story. No matter the size of a business, we can spread your message via unapologetic, bold statement pieces. We've worked with companies such as Tillys, Visa, Target, the Minnesota Vikings, the Phillies, Lululemon, Visit San Diego, and we'd love to work with you! Have an interior or exterior wall that could use some pizazz? Feel free to reach out! Find us at pandrdesignco.com or on social @pandrdesignco.

Aside from Pandr, we also run the 501c3 Ladies Who Paint. We are dedicated to empowering female artists and beautifying the city of San Diego. You may have seen some of the murals that are located in the East Village. Want to contribute to our 2020 event? Head to our GoFundMe!

---
MEMBER SPOTLIGHT: Kaiser Permanente

Kaiser Permanente Kicks Off Third Year Program for Small Business Growth

Are you a business owner from San Diego and surrounding communities looking to build capacity, get access to capital and contracts, and hire more employees? Then you might be interested in joining the upcoming 2020 class of San Diego small businesses participating in this year's Inner City Capital Connections (ICCC) program.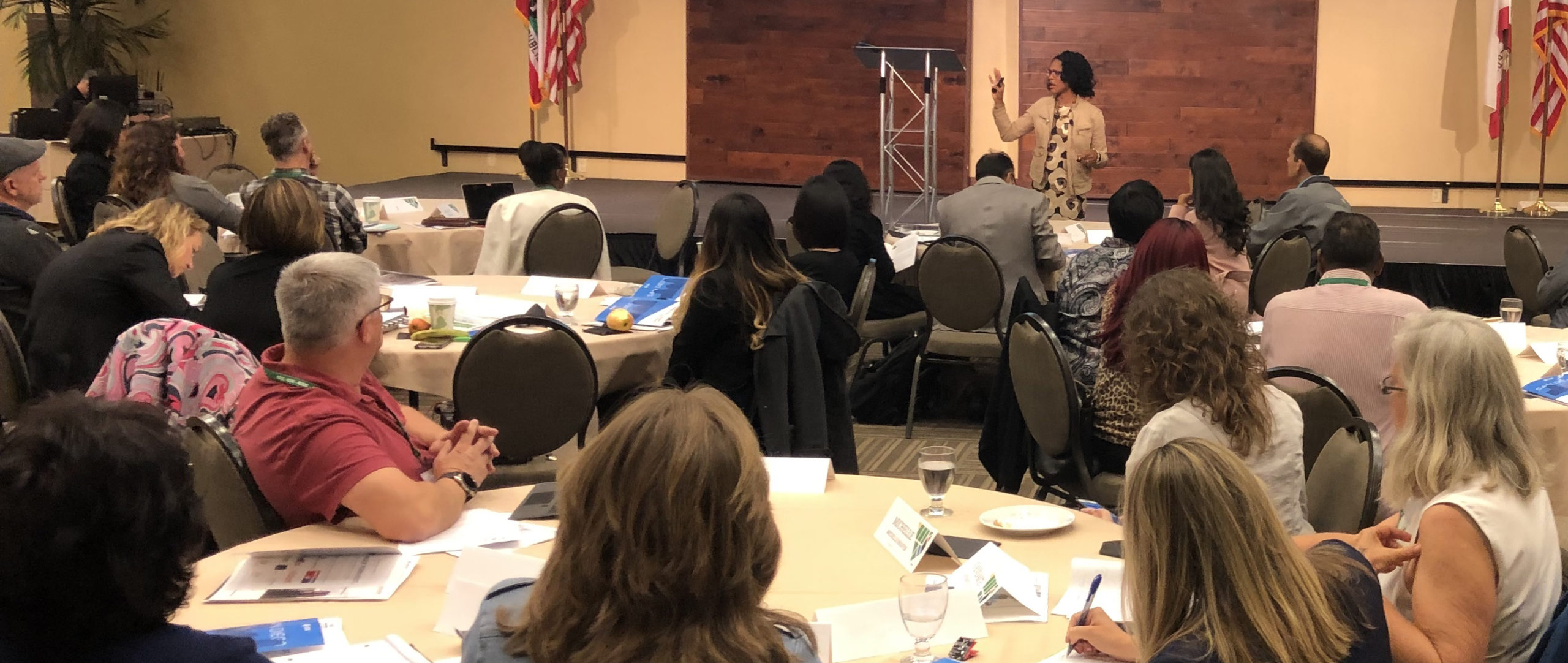 In partnership with Kaiser Permanente, ICCC is returning to San Diego for a third time in 2020. San Diego is home to 110 ICCC alumni, and since their participation they have averaged 73% growth in revenue and raised $2.8M in capital.

Growing a small business can be difficult, especially for entrepreneurs in under-resourced areas who cite lack of knowledge and relationships as key barriers to gaining needed capital. Beginning with the opening seminar, the ICCC program pulls together professors from esteemed institutions such as Harvard Business School, and executives from established companies like Bank of America, to provide the executive education. Personalized coaching sessions wrap up the more than 10-hour day.

But the learning doesn't stop there. The small business participants receive another approximately 32 hours of coaching and webinars. A culmination event is held in the fall where these participants can network and make pitches to capital providers.

"This program is the marriage of socioeconomic growth and wellness in the San Diego community," said Jane Finley, senior vice president and area manager, Kaiser Permanente San Diego County Area. "Health care is one component of the overall health in the community. For us to fulfill our mission of improving not only the health of our members, but also of the communities we serve, we must help our small businesses grow and create more jobs."

2020 San Diego cohort is accepting applications

Kaiser Permanente San Diego has partnered with ICIC to encourage businesses to enroll in the 2020 Cohort. If you know of a business that might benefit, you can nominate them or small businesses can self-nominate by visiting the San Diego Nomination Website. The in-person Education Session is scheduled for Tuesday, May 19. Nominations should be completed by Friday, April 24.

When businesses thrive, more individuals and families can afford nutritious food, secure housing, obtain health care, and acquire a good education.
---
MEMBER SPOTLIGHT: Suffolk

Suffolk has had the privilege of building the country's most iconic and complex projects, from the first guitar-shaped hotel casino to a carbon-neutral high-rise research center, and the most luxurious resorts and residential projects on the West Coast. Now, Suffolk can harness what we've accomplished in construction to propel the company into the future as an iconic builder. This month, Suffolk unveiled a nationwide diversification strategy, focused on leveraging its core competency of construction and expanding into additional service lines to create a fully integrated platform that adds value for clients across the entire building lifecycle. As part of the strategy, Suffolk launched a contemporary brand positioning and identity that reflects the company's forward-thinking outlook, reflects its broader future ambitions, and differentiates the company and its unique business model and capabilities.

These new capabilities come during an important time for the San Diego market, where new development has been booming. Suffolk has recently completed a number of high-profile projects in the region including Palisade at UTC, Westfield's first residential project, as well as Stella and Bluewater, San Diego's newest affordable housing development. Currently underway is the Alila Marea Beach Resort, a luxury boutique hotel situated atop cliffs with stunning views of the Pacific.

Suffolk's diversification strategy will focus on expanding services beyond its core construction capabilities into vertical service lines, positioning it as an end-to-end business capable of delivering on its value proposition: "Invest. Innovate. Build." Suffolk's knowledge of every project phase, proven constructability expertise and integration across adjacent vertical service lines will unlock synergies in each step of the construction process, delivering faster, better outcomes for clients.

Suffolk's new vertical service lines include real estate funding, design, technology investment, and research and development:
Suffolk Capital, the company's real estate funding service line, will invest alongside developers and draws upon Suffolk's preconstruction design and estimating expertise to improve project feasibility and drive synergistic value for clients. Suffolk Capital will also strategically invest in sophisticated technology start-up companies and entrepreneurial ventures that will help fuel its innovation eco-system to drive the pace of change in the industry.
Suffolk's design-assist vertical will leverage technology to incorporate cost and constructability insights into conceptual designs to create efficiencies in the design process and shorten the development cycle. This approach can be seen in-action at Suffolk's Southern California CoLab in downtown Los Angeles.
Suffolk's existing self-perform arm will continue offering general requirements, equipment rentals, concrete services and drywall services to projects and regions where the company can provide the most value and best outcomes for clients.
Furthermore, Suffolk plans to eventually launch vertical service lines including enterprise risk management and insurance, supply chain management and facilities management.
As a result of its diversification strategy, Suffolk will be positioned to add value across the entire lifecycle of a building, from investing at the earliest stages of development to design, materials purchasing, risk management, construction management and self-perform services during the design/construction stage and facilities management after the building is completed and operational.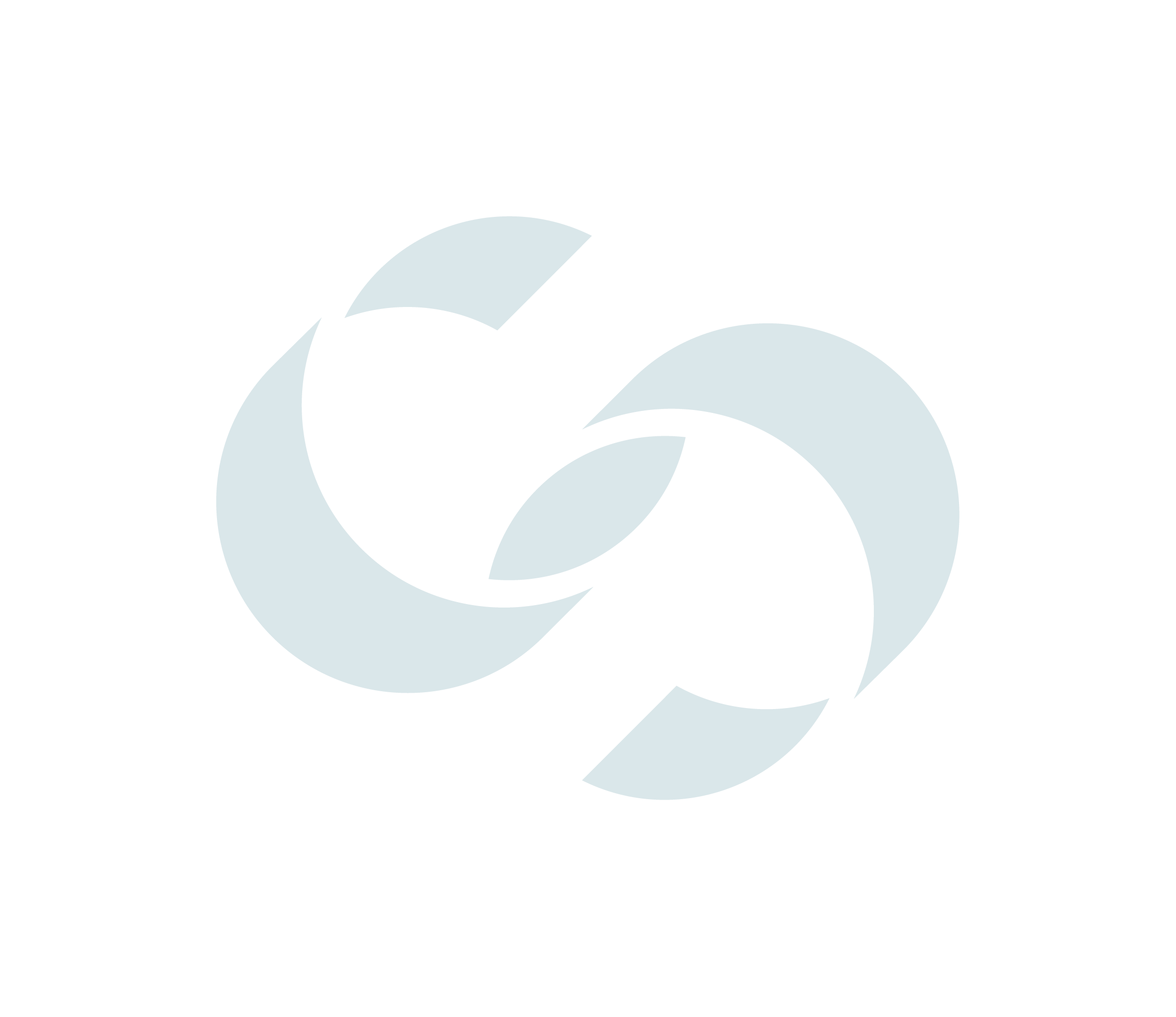 ---
MEMBER SPOTLIGHT: Colliers International
At Colliers International, our urban team's focus is enhancing and shaping Downtown neighborhoods through real estate services. From Luma and 2100 Kettner in Little Italy to Shift in East Village, our urban experts have helped Downtown San Diego evolve into the vibrant epicenter it is today. You can experience the impact of our work in San Diego when getting a coffee at Starbucks in Little Italy, viewing a beautiful new apartment at Luma, buying a pair of Vans shoes in Gaslamp, or breaking a sweat at The Boxing Club in East Village.

We work collaboratively to provide expert advice and services to maximize the value of property for real estate occupiers, developers, owners and investors. And we've got the Downtown San Diego success stories to prove it!

Shift Retail

In record time, Colliers International's Urban Property Team fully leased the 18,840 square foot ground-floor retail space at LENNAR's Shift, a residential tower in East Village. Despite a high vacancy in the neighborhood with nearby projects still in development, Colliers International was able to bring 100 percent of the retail space under contract within four months of completion of construction.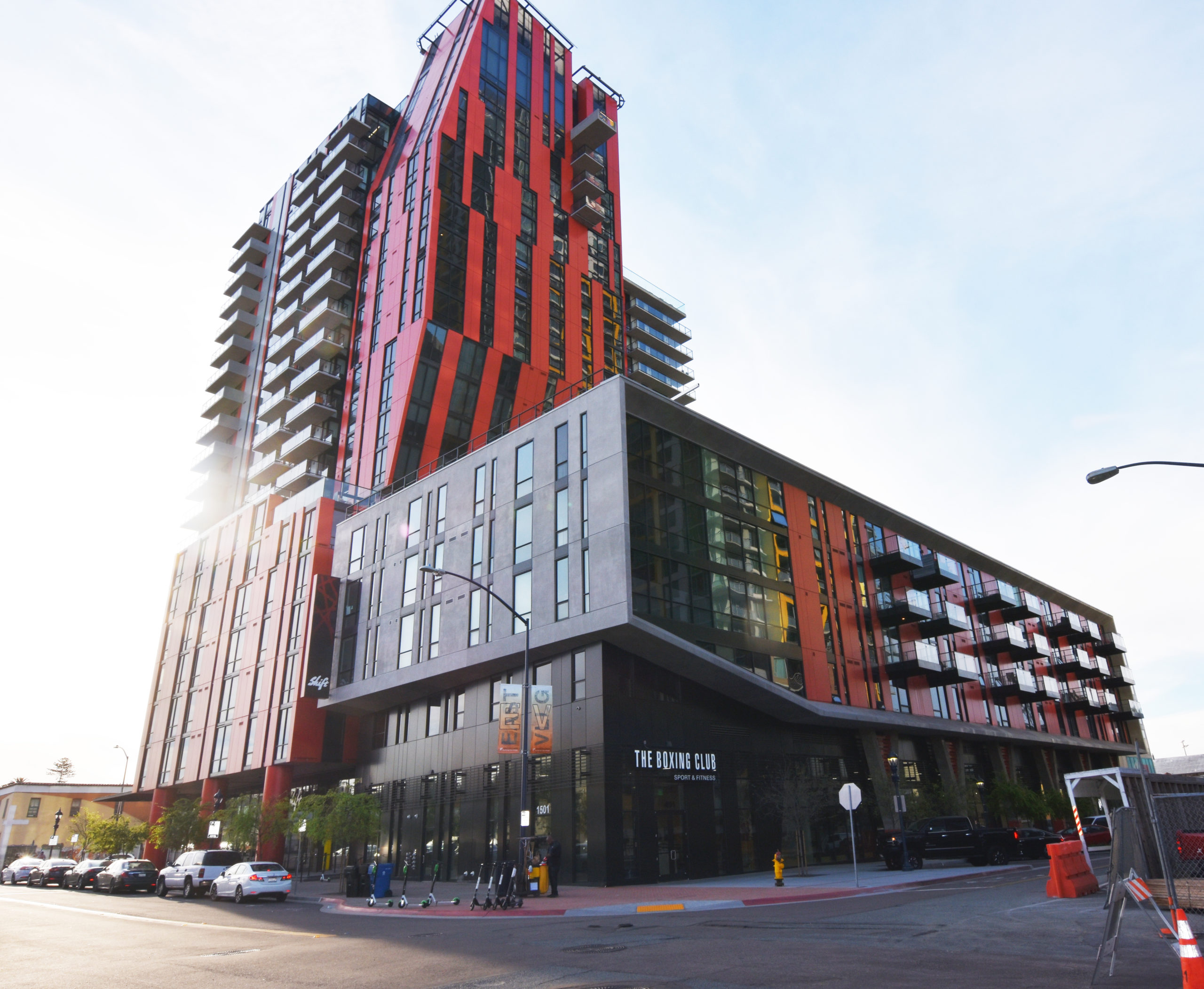 2100 Kettner Avenue

Colliers International's Victor Krebs represented the sellers of a full city block to Kilroy Realty at Kettner Blvd & Hawthorn Street in Little Italy. The block had been previously owned by the same families since the early 1920's. Colliers International worked with the three property owners to market all three parcels for sale together, enhancing the sale offering. As a result, Colliers International generated 15 offers and selected Kilroy Realty as the buyer. Kilroy Realty is currently under construction on a Class-A, 172,000 square foot office building that will be the first new office space in Little Italy in more than 20 years.

310 West Ash Street

Colliers International's Victor Krebs represented LENNAR in acquiring a rare off-market site in Little Italy. LENNAR has since completed construction of its 220-unit Luma luxury tower and created a best-in-class residential community. Colliers International's Urban Property Team was then selected by LENNAR to handle leasing for the ground-floor retail space, securing a more than 4,500 square foot Starbucks that will be opening later this year.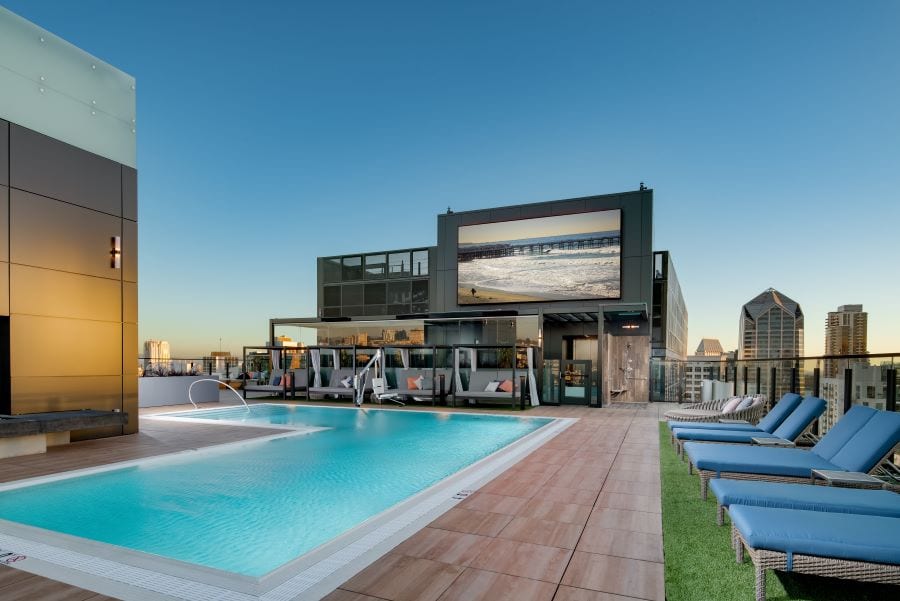 Fifth & G Retail

Colliers International's Urban Property Team facilitated the more than $19 million sale of the retail corner on Fifth & G in Gaslamp in February 2018. Following the close of the sale, the team also secured Vans to join long-time tenants Ghirardelli Cafe and Urban Outfitters. Through their local expertise, the team was able to complete the leasing trifecta, capitalizing on the strong demand for high street retail and resulting in one of Downtown San Diego's most active shopping corners.

Contact us today!

Bill Shrader 858-677-5324 Bill.Shrader@colliers.com

Victor Krebs 858-677-5334 Victor.Krebs@colliers.com

David Maxwell 858-677-5343 David.Maxwell@colliers.com

Serena Patterson 858-677-5307 Serena.Patterson@colliers.com
---
MEMBER SPOTLIGHT: SLP Urban Planning
Over the past 10 years, SLP Urban Planning has been behind many of downtown San Diego's most innovative projects and experiences, from Makers Quarter to this coming week's Ocean Optimism Art Installations at Seaport Village. Each of these efforts demonstrates a tactical urbanism approach to optimizing city life, integrating placemaking, strategic activation, economic development, thought leadership, sustainability, and urban planning.

Started in 2006 by Stacey Lankford Pennington (SLP), the initial work involved traditional public and private sector projects, including the public realm and outreach efforts for Lane Field, which is now BRIC, as well as formerly CCDC's Public Open Space Implementation Plan. Around 2011, through a process to conceptualize the future of Makers Quarter, a neighborhood in Downtown San Diego, SLP tested a new model for community engagement and urban evolution, inspired by the nexus between the traditional 'top down' development style of developers and architects and a rigorous 'bottom up' value system anchored by the site, the context, and the community. This model is the foundation for SLP's current work.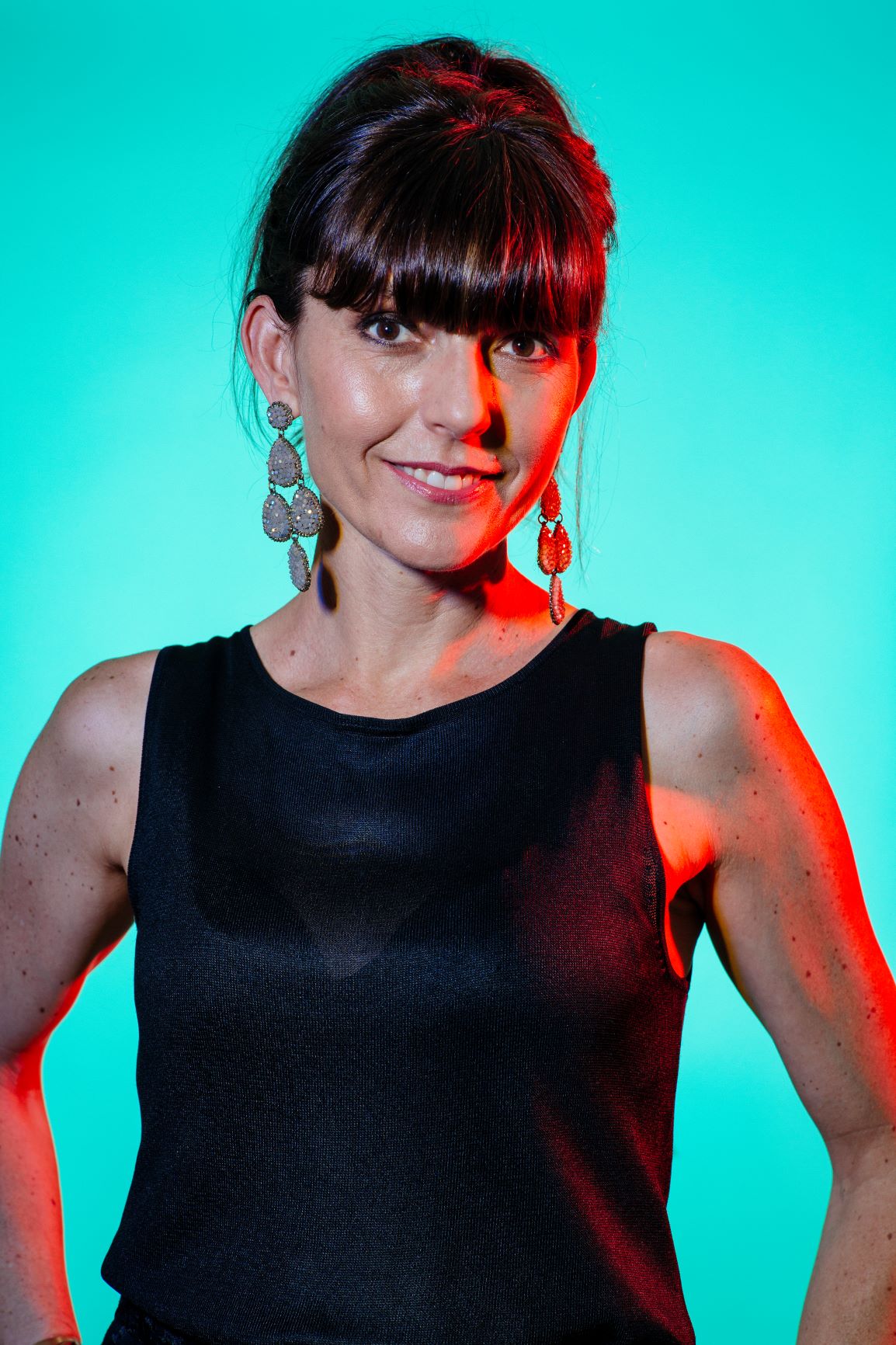 One of SLP's current efforts, together with the Port of San Diego, is an excellent example of the firm's practical and academic yet creative approach: Ocean Optimism – Art Interpreting Science. From February 16th to 21st this 'immersive art extravaganza' will showcase a series of visual, performance, and participatory artwork created by artist Jessica Ling Findley with input from scientists at the Scripps Institution of Oceanography. The art tells stories that can inspire us all to work together for a sustainable future and invites audiences to think about the future of our oceans in new and creative ways.

Given Seaport Village's ideal proximity to the convention center and draw for tourists and locals alike, it is a great location for the programmatic confluence of science and art.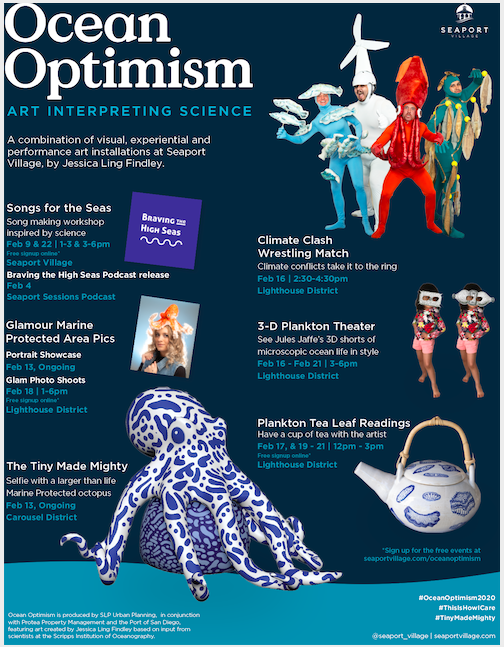 It's not just this week that Seaport Village is worth a visit. Over the past year, SLP Urban Planning has been at the center of a strategic activation effort to infuse new life and energy into this charming 1980's meandering village by the bay. A new 'urban beach' with colorful chairs is now a mainstay for locals and tourists – it's hard to find a free spot! The new Seaport Studio hosts the weekly Seaport Sessions podcast(tune in for a special Braving the High Seas series tied to Ocean Optimism programming), and the Oslo the Sardine Bar pop-up "combines performance art with seafood snacks."

SLP Urban Planning's signature project to date is the urban planning, activation and community engagement framework for Makers Quarter, a work/live/play district in Downtown's Upper East Village. The Tactical Urbanism model that SLP has refined employs short-term interventions to test long-term ideas, at various scales. Makers Quarter is a great testament to the success of this approach, which works well when thoughtfully connected with the local community while balancing the longer-term goals for the development team. L2HP, which includes Lankford & Associates, HP Investors and Hensel Phelps, understood the importance of this unique approach for a neighborhood like Makers Quarter, which planted the seeds to gradually transition a somewhat neglected part of Downtown into a thriving one, anchored by Punch Bowl Social, 10 Barrel, Broadstone Makers Quarter, SPACES in Block D, BASIC Agency, Invictus, You & Yours Distillery and others.

Makers Quarter has also provided a case study for the importance of starting a neighborhood building and development process with a well articulated vision, planning principles and a strong communications framework, stitched together by a brand. In this case, BASIC Agency developed the brand for the neighborhood to celebrate makers of all kinds and establish an ethos that believes in the power of individuals and businesses to contribute to the evolution of the neighborhood. Bottom-up; inside-out, while also driven by market forces and land use.

Now, the Makers Quarter Neighborhood Association, a 501c6, has been established to further the evolution of the area.

The SLP Urban Planning team includes Stacey Lankford Pennington, Founder/President, Ron Troyano, Director of Strategic Activation, Chloe´ Lauer, DIrector of Special Projects, Kathryn Link-Oberstar, Urban Planning Associate and Tiffany Hohnmann, Content Manager.
---
MEMBER SPOTLIGHT: H.G.Fenton Company

H.G. Fenton Company's Vici Community and Piazza della Famiglia Honored as 2019 Building Industry Association Award Recipients
Outdoor space and web presence impress as Vici takes Community of the Year

SAN DIEGO, CALIF. – The Building Industry Association honored H.G. Fenton Company's Vici Luxury Rentals and San Diego's beloved public community feature, Piazza della Famiglia, with awards recognizing the value of the outdoor lifestyle amenity and the Vici website's exceptional expression of the luxury Vici vibe. The Vici community also received the prestigious Community of the Year award, a recognition of the five-star living experience available at the Little Italy property which opened in 2018.

H.G. Fenton Company is honored to have received the following Building Industry Association Awards:

Best Outdoor Living Space
Piazza della Famiglia, H.G. Fenton Company

Best Website for a Company or Community
Vici Luxury Rentals, H.G. Fenton Company

Community of the Year
Vici Luxury Rentals, H.G. Fenton Company

The Piazza della Famiglia is a 10,000sf European-style piazza located in the heart of Little Italy. The Piazza anchors the development, which includes 125 apartment homes at Vici Luxury Rentals and Amo Apartments plus 16,000sf of retail space including eateries such as Little Italy Food Hall, Farmer's Table, Morning Glory, and Frost Me Café and Bakery. The piazza also hosts popular weekly farmer's markets, giving residents and visitors the opportunity to shop local. With beautiful bay views and a walkable neighborhood, it's no wonder the development has received attention and accolades from the Downtown San Diego Partnership, the San Diego Business Journal, Circulate San Diego, and others.

"It's been a pleasure to watch Vici and the Piazza become a focal point for the Little Italy neighborhood," said John La Raia, Vice President. "H.G. Fenton Company is excited for the next phase of this project, as the Little Italy Food Hall grows in 2020."

About H.G. Fenton Company
H.G. Fenton Company, a family-owned San Diego real estate company, has proudly entered its second century of service providing quality working and living experiences through responsible development and management practices. H.G. Fenton Company creates lifestyle opportunities where employees flourish, residents live well, and businesses succeed for over 1,100 businesses, and across 16 apartment communities totaling over 3,300 homes in San Diego County. For more information, visit http://www.hgfenton.com.

Delivering the highest level of service, every time.

Pacific Building Group (PBG) started as a one-man operation specializing in tenant improvements and today employs more than 150 individuals who work together to complete diverse ground-up, tenant improvement and facilities maintenance projects across various industries. Built on a foundation of excellent customer service, safety, integrity and taking a personal approach to business, the firm is now celebrating 35 years in business.

As one of San Diego's largest and most respected locally-based and locally-operated general contracting firms, PBG takes great pride in delivering the highest level of service, every time. Some of the firm's recent work includes Portside Pier at the San Diego Embarcadero, five law offices including two downtown, and a new amenities building for NuVasive in Sorrento Valley.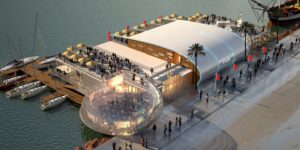 In partnership with the Port of San Diego and The Brigantine, Inc., PBG is helping to transform one of Southern California's iconic, flagship waterfront restaurant sites: 1360 North Harbor Dr. along the North Embarcadero. Portside Pier will offer new dining options, a second-floor public walkway and viewing deck with panoramic views of the San Diego Bay, and dock-and-dine accommodations.

What does it take to transform one of San Diego's most iconic and busy piers? Coordination…and lots of it.

To drive the pier's 52 piles, upon which the Brigantine, Miguel's Cocina, Ketch Grill and Taps and Portside Coffee and Gelato will sit, PBG executed a highly-coordinated effort with water quality advisors, biologists, fellow builders and designers and the Port of San Diego.

This is just one of the many ways PBG is transforming the waterfront while keeping the crew, residents, tourists and sea life safe.

Always putting safety first, PBG is accustomed to working in bustling, occupied work environments, while ensuring the safety of those working at the project site.

The firm recently completed construction on five leading San Diego-area law firms' offices: Kilpatrick Townsend; Perkins Coie; Sullivan Hill; Robbins Arroyo; and Schor Vogelzang. Much of the work was done in occupied buildings, which meant PBG was particularly mindful of noise, dust and traffic.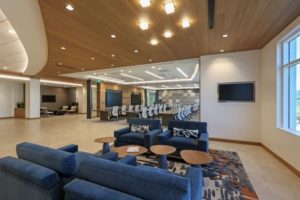 Two of the law firm projects are located downtown, including:

Schor Vogelzang turned to PBG for a complete remodel of its 4,350-square-foot office at 2170 Fourth Ave. The project features structural upgrades to allow for a modern, open-area concept, a new conference room, break area and private offices.

PBG's work at Sullivan Hill's office expanded one full floor in a downtown San Diego high-rise at 600 B St. The project includes upgraded finishes throughout common areas, conference rooms, hallways and partners' offices as well as upgrades to the existing common-area elevator, lobby and restrooms.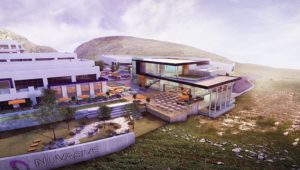 PBG's diverse skills extend to both tenant improvement and ground-up projects including recently completing another project for NuVasive. Perched high above the I-805/I-5 merge in Sorrento Valley is NuVasive's stunning new amenities building. The project consists of new ground-up construction of a 28,000 square-foot building to expand upon their existing and growing campus.

For more information about Pacific Building Group, please visit pacificbuildinggroup.com or call

(858) 552-0600.

A New Vision for Sycuan Casino Resort Breathes New Life into the Competitive San Diego Resort Market

As the saying goes: "Vision without action is merely a dream. Vision with action can change the world." Or, more appropriate in this case, "can change the competitive landscape of San Diego hospitality and entertainment."

That is exactly what Sycuan Casino in El Cajon, CA, owned by the Sycuan Band of Kumeyaay Nation, has achieved–a blue-sky vision realized as Sycuan Casino Resort's stunning evolution, from small bingo hall, to locals' casino, to major destination resort that capitalizes on the idyllic climate and natural beauty of its mountain valley location.

The March 2019 opening of Sycuan's $226 million, 500,000 SF resort expansion has delivered vibrant new upscale amenities to the regional hospitality market, tailored for appeal to diverse guest interests. Top 5 nationally recognized hospitality and entertainment designer, HBG Design, based out of San Diego and Memphis, TN, led the visioning, planning and design for the project. HBG Design's partnership with Sycuan has helped the property grow their regional presence over a 10+ year period, by providing a fresh perspective on market positioning and design that shapes the guest experience.

New additions include a striking 12-story, 300-room hotel tower, exciting new gaming offerings, a new collection of fresh upscale concept-driven dining options to suit every culinary taste, and a spectacular 4-acre garden pool environment complete with lazy river.

Embarking on a large-scale interior renovation in 2011 served as the first bold step in implementing Sycuan's strategic vision. "By elevating the quality level and adding new high-end non-gaming amenities during that renovation, the stage was being set for Sycuan's transition from a locals'-only casino, to their current high-profile, forward-thinking AAA Four-Diamond resort experience," says Rob Jurbergs, AIA, HBG Design Principal.

"Sycuan knows their customers better than anyone and provided a wealth of market and customer information," adds HBG Design's Jurbergs. "In approaching the recent expansion project, this helped inform design opportunities, innovative branding ideas and diverse choices for resort and "staycation" guests, like pool side concert events, a full-service luxury spa, and elevated night life venues.

To help shape a new strategic mix of unique relatable and upscale dining opportunities, Sycuan engaged renowned boutique hospitality branding company, Clique Hospitality. Clique has been shaping the dining and nightlife landscape of Las Vegas for almost 20 years and was the branding brain behind the dining venues at The Pendry in San Diego.

Together, HBG Design and Clique conceived a repositioning and rebranding of Sycuan's former GameDay sports bar; the result is the Rank & File brew house, the latest addition to the burgeoning craft beer scene. Promising a warm meal and a cold brew, Rank & File is a vintage-industrial inspired nod to our armed services with a philosophy of serving classic American comfort food and 30 taps in a friendly, never pretentious setting.

Boasting dramatic views of the lush new pools, gardens and mountain landscape, the posh, edgy craft cocktail lounge, Elicit Lounge and Bar, engages guests seeking breezy indoor/outdoor dining and vibrant night life entertainment. Elicit's design provokes the senses with Far Eastern design influences and warm, low-lit ambience designed to complement the fresh hand-rolled sushi and small plate cuisine offerings.

The level of detail customized for the guest experience is what sets HBG's design of the Sycuan property apart from the competition. Each new venue not only transforms the hospitality and entertainment experience at Sycuan Casino Resort but also meets a distinct need for approachable elegance in Southern California.

Contact Information:

Dike Bacon, Principal, HBG Design, dbacon@hbg.design

Joe Baruffaldi, Principal, HBG Design, jbaruffaldi@hbg.design

Photography:

Photos by Chad Mellon

Photos by Peter Malinowski / Insite Architectural Photography

Photos by Clique Hospitality / Spearhead Media
---
MEMBER SPOTLIGHT: WONDERFRONT
A highly-anticipated 10+ stage, 100+ bands, 3-day music, culinary and arts festival is coming to downtown San Diego from Broadway Pier to the Bayfront Park. The festival offers diverse attractions including yacht parties, water sports, art installations, after-parties, a craft beer village and plenty of local flavors.

Wonderfront festival's re-entry policy encourages festival-goers to customize their weekend experience and truly integrates the city into the fabric of the festival. In its inaugural year, Wonderfront will synthesize the city and the sea in a way that no music festival has ever done before.

This is a music lovers festival! It will bring a broad diversity of music genres with rock, indie rock, hip hop, edm, rap, reggae, americana, and more. The inclusion of latin stages, with a full lineup of top latin artists highlights the festival's goal of community inclusion to help make the Wonderfront Festival a city-wide celebration. Confirmed artists include Miguel, Slightly Stoopid, Ben Harper & The Innocent Criminals,Migos, MGMT, Walk the Moon, Dimitri Vegas & Like Mike, Nicky Jam, Don Omar, Vince Staples, Tyga,Big Gigantic, Los Angeles Azules, Los Tucanes de Tijuana, Phantogram, X Ambassadors, Michael Franti, Lil Dicky, Pennywise, and many more.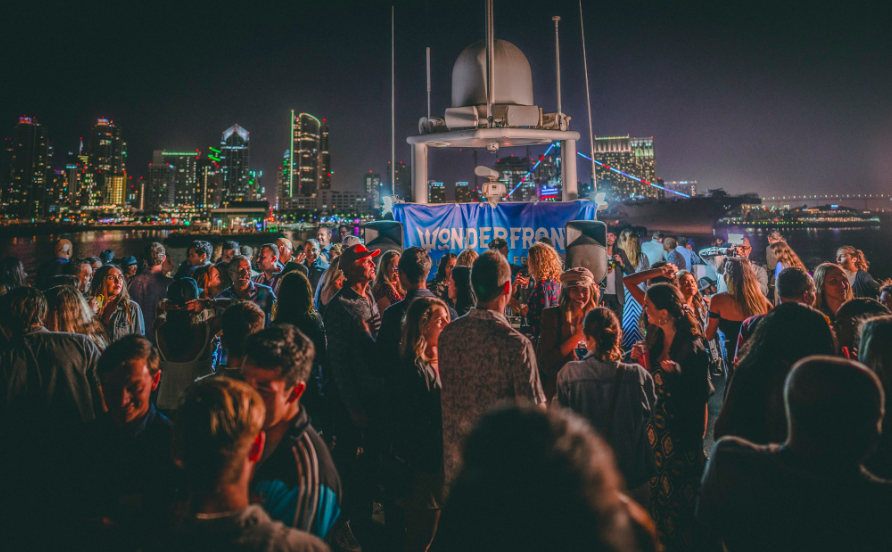 ---
MEMBER SPOTLIGHT: FALCK

Falck is proud to be a new member of the Downtown San Diego Partnership. As the largest Emergency Medical Services (EMS) provider in the world, Falck has the unique position of having access to resources that no other ambulance provider can offer. With more than 112 years of experience, Falck tailors its service delivery model to different regions around the globe, across California and the US.

"We know that every municipality is different and a one-size-fits-all approach does not work for every system," said Dannie Wurtz, Director of Clinical Operations for Falck and a member of the San Diego leadership team. "Our workforce recruitment model is centered on hiring from within the different communities we serve, which ultimately allows for the best response times and ability to retain staff."

Operating as Falck in counties throughout the Bay Area and as CARE Ambulance Service throughout Los Angeles and Orange Counties, the company continues to provide unparalleled service throughout California. Falck is clearly the Southern California leader in EMS services, representing 80 percent of EMS services in Orange County and 40 percent in Los Angeles County. They respond to more than 350,000 9-1-1 calls each year and serve more than 5 million people – in Southern California alone. Most recently, Falck successfully secured a contract to provide EMS services throughout Alameda County, serving 1.7 million people across 740 miles, and a contract to serve Aurora, Colorado, serving over 370,000 people across 154 square miles. In Aurora alone, the company prepares to respond to 30,000 9-1-1 calls each year.

Today, Falck is making a huge impact in San Diego. The local leadership team has been partnering with numerous organizations around the city to support and bring awareness to different causes. From supporting the Girls Empowerment Camp with the San Diego Fire Rescue Foundation in April, the Burn Institute's Spirit of Courage Awards in May, the Equality Awards in June, San Ysidro Health Center's Anniversary Gala in August and the September 11th Memorial Stair Climb last month, Falck has been diligent in building meaningful and long-standing relationships throughout San Diego.

The local leadership team is thrilled and honored to be a new member of the Downtown San Diego Partnership and is looking forward to more opportunities to connect with different organizations throughout San Diego.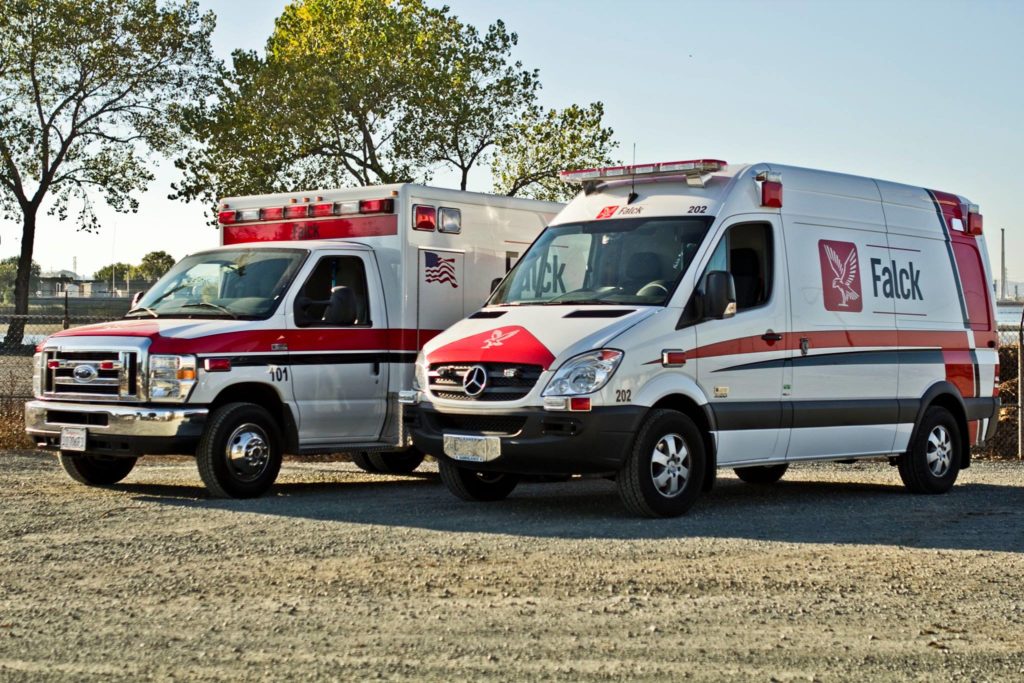 ---
MEMBER SPOTLIGHT: BORETTO + MERRILL CONSULTING, LLC

Boretto + Merrill Consulting remains on the forefront of restoration and new development throughout San Diego.

Colleen Boretto and Angela Merrill, the principals at Boretto + Merrill, have been furthering development in downtown San Diego since 1998, working on major projects such as Petco Park, Omni Hotel, The Park at Banker's Hill, M2i, Doma, Broadway 655, and most recently entitling Broadway Block and completing 625 Broadway and 1836 Columbia Street.

As Project Managers and Owner's Representatives, Boretto + Merrill provides a full-service partnership opportunity for developers who want to supplement their staff or add expertise to their team. Boretto + Merrill has over 20 years of experience working with City Staff and former Civic San Diego staff including multiple major entitlements, building permits, and substantial conformance reviews in and around downtown San Diego.

Recently, Boretto + Merrill have found their niche outside of residential development and have been working on a variety of historical renovation projects including the previously mentioned 625 Broadway, the Hotel Del Coronado, and multiple projects at Liberty Station. In addition, Boretto + Merrill recently completed The Conrad Center for Performing Arts in La Jolla, a world class performance venue, new home to the La Jolla Music Society and recipient of The People's Choice Orchid for San Diego. La Jolla Music Society | The Conrad has also won a 2019 Best Projects Award from Engineering News-Record in the Cultural/Worship category- ENR California Region.

Boretto + Merrill is a Project and Construction Management firm that specializes in residential, commercial and hospitality projects including historical renovation. Focusing on dense urban areas, Boretto + Merrill offers expertise in project management, acquisition, entitlements, programming, estimating, value engineering, construction management and project close out.
Why San Diego?
Boretto + Merrill chose San Diego because San Diego offers one of the best urban platforms in the United States; an urban environment with perfect weather, immediately adjacent to a major port, and of course, international tacos. 

Boretto + Merrill is a woman owned business and is Caltrans DBE certified, City of San Diego SLBE Certified, and SBA certified. For additional information please visit borettomerrill.com.

In addition to the above, current projects include:

* XPO (21 townhomes in Banker's Hill)

* Historical renovations at the Hotel Del Coronado.

*North Parking Structure and Co-Gen renovation at the hotel Del Coronado

* Celsius (101 apartments in in Lemon Grove)

* Liberty Station Tenant Improvements

* Azure (9 semi-custom homes in Encinitas)

Click on here to Watch Installation Video of Modular Elevator
---

MEMBER SPOTLIGHT: VOICE OF SAN DIEGO
Voice of San Diego is an award-winning nonprofit news organization that digs deeply into local issues and organizations that affect the public and reports on its findings. Our mission is to deliver ground-breaking investigative journalism for the San Diego region and to increase civic participation by giving residents the knowledge and in-depth analysis necessary to become advocates for good government and social progress.

VOSD reaches close to 200,000 people each month through our website, daily email newsletters, podcasts, partnerships with NBC TV and KOGO, and public events. We have readers across San Diego County, with strong foundations in central and northcentral San Diego. VOSD is supported by almost 3,000 individuals, as well as national and local foundations and corporations. Sign-up for our newsletters at https://www.voiceofsandiego.org/newsletters/

On October 26, 2019, Voice of San Diego will convene its public affairs summit, Politifest. No greater challenge faces the San Diego region – and California in general – than the cost of living here. Rents are soaring and the concept of buying a home is unfathomable to many residents. But the economy is booming, jobs are being created and babies are being born, both of which drive up the demand for homes. This affects everything. The economy, quality of life, health care, education and the environment. If people can't afford to live in our cities, it will cripple local economies for decades.

Housing is intricately connected to transportation and San Diego leaders have touched off a major, if not historic debate about the future of transit and highways in the region.

Join Voice of San Diego for a daylong journey through these critical subjects at Politifest 2019. We'll begin the day with a keynote speaker, followed by a range of sessions led by subject matter experts, as well as several debates among candidates for elected offices. Panelists will discuss housing supply, homelessness and potential solutions, the future of transit, and new tax and policy proposals.

Politifest provides a platform for residents to raise their voices, ask tough questions, and delve into these important issues.

Learn more at https://www.voiceofsandiego.org/politifest/

---

MEMBER SPOTLIGHT: LOWE
Lowe is a private real estate investor, developer and manager. Founded in 1972 by our Chairman Robert J. Lowe, our company is owned by active and retired employees. Over the past 47 years, Lowe has acquired, developed or managed over $32 billion of real estate assets. We have offices in San Diego, Los Angeles, Irvine, San Francisco, Denver, Seattle and Washington, DC.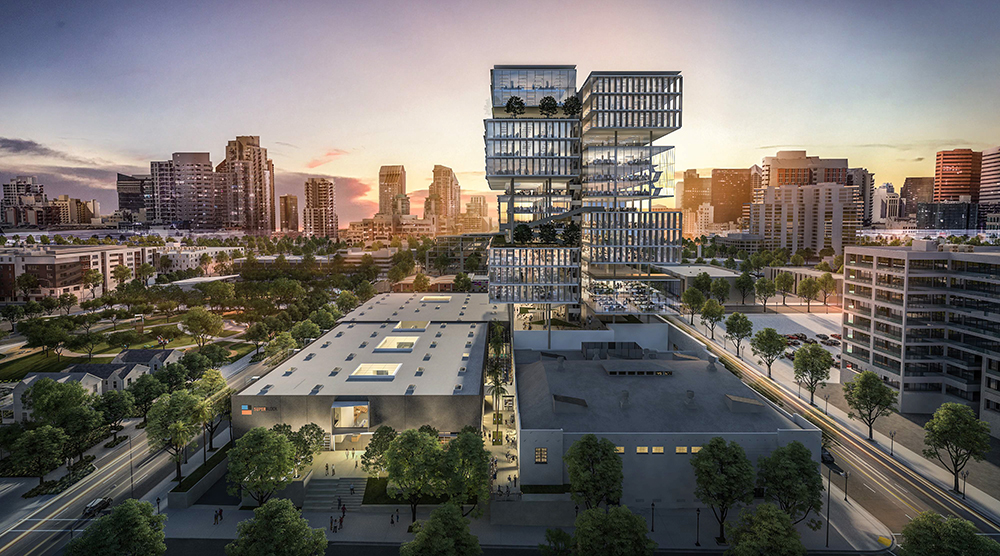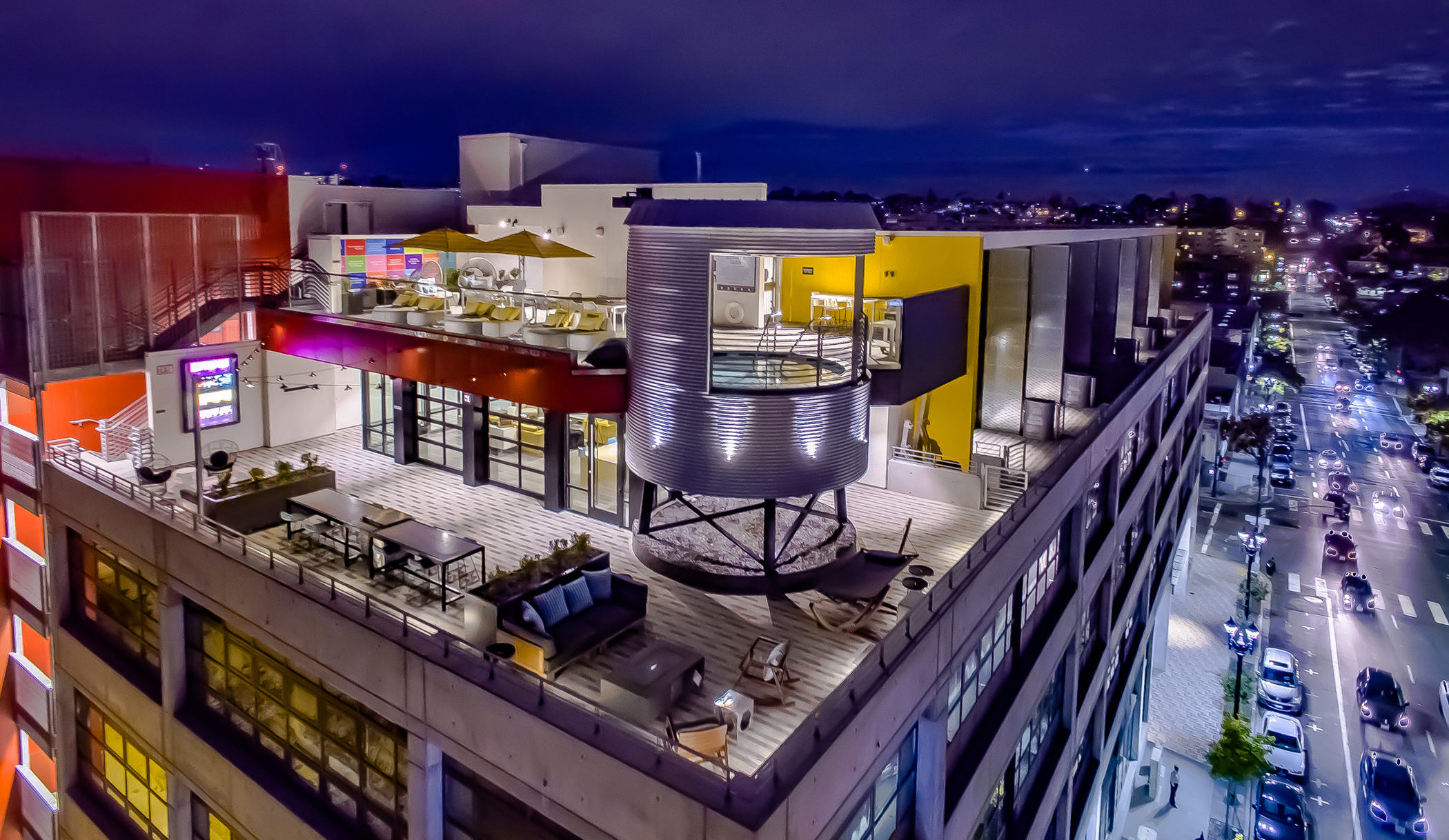 Lowe uncovers and delivers value beyond what might be expected from a traditional real estate company. We value collaboration and partnership with others, welcoming new ideas and perspectives. Lowe is committed not to a single service, property type or location, but to mastering the process of building value in real estate. We develop, we invest, we manage. We create commercial properties, hotel properties, multifamily properties, and retail properties. Often, we get the opportunity to combine all of these skills to create a new mixed-use environment. Through our foundation of steadfast values and innovative real estate services we strive to bridge meaningful and positive human experiences with financial performance. We tailor our approach to the needs of each asset and the goals of each partner and find opportunity in complex challenges.

We are proud members of the San Diego community with the IDEA1 mixed-use community in East Village, the County Operations Center and the redevelopment of the Town and Country, San Diego among our recent local projects.

As a company we share core beliefs that guide and shape all of our interactions. We believe that's what encourages good people to make their careers at Lowe and forges the lasting relationships we value so highly with our partners. We believe that people – the people who work with us, the people who use our properties, and the people we serve – are the most valuable asset in real estate.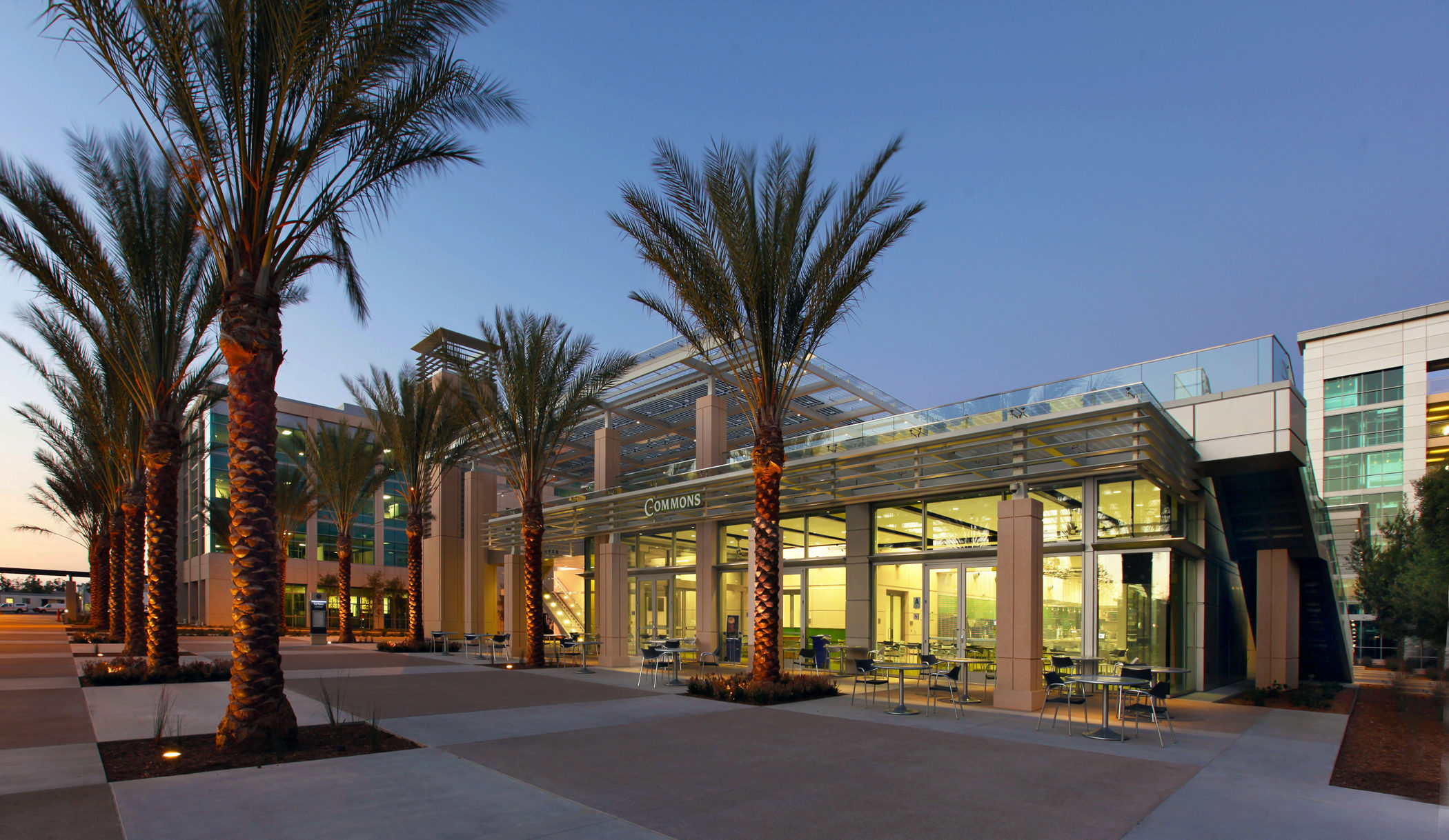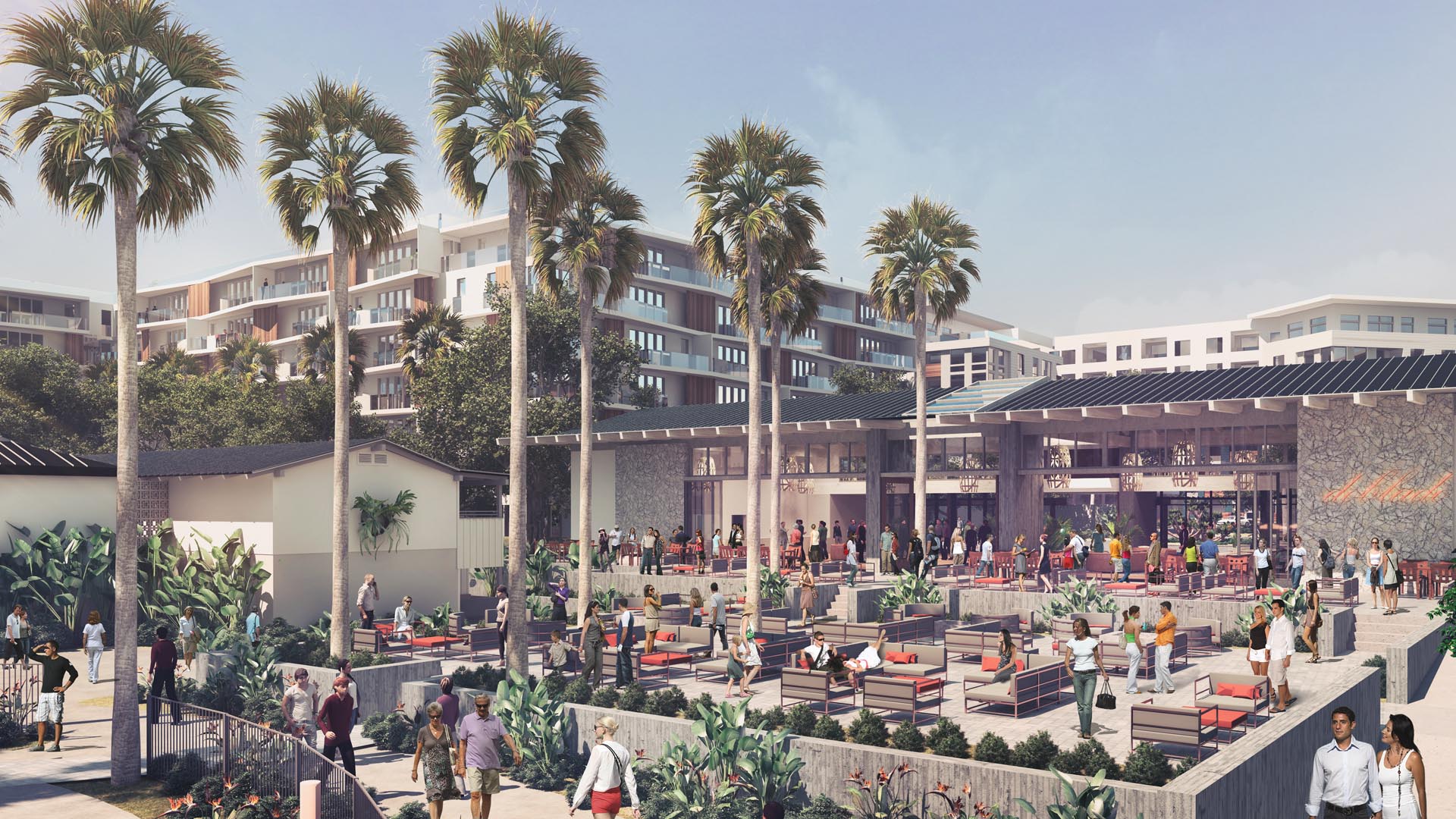 ---

THE POWER OF BIG. THE VALUES OF SMALL.
davisREED Construction Inc. is a San Diego-based, sought-after general contractor that reaches across the west coast with offices in Sacramento, Los Angeles, Palm Springs, and even Napa. From high-end hotels to educational institutions, multi-family to commercial office, we have the crews and construction know-how to bring your plans into reality. Cultivated partnership with our clients, vendors and trade contractors have led to countless project success stories. Our driven staff is saturated with a diversity of experience, and from project executive to laborer – are dedicated to the project they are on and truly the heart of the company.
LOCAL LEADERSHIP
Derek Davis, President
Dan Dalry, Executive Vice President
Erik Kissner, Vice President
AREAS OF EXPERTISE
Hospitality
Education
Historic
Wineries
Multi-Family/Residential
Office/Industrial
Sustainable

Partnership is more than a buzz word for davisREED

davisREED's approach to general contracting and philosophy toward our relationships with clients, designers and trade contractors can be summed up in the word "partnering." Often our industry will assign a new-fangled title to a process or a concept that may be new to some, but to others (such as davisREED), has been a proven process and method of doing business for many years. Whether referred to as "partnering" or another buzz word, davisREED bases our approach to sound execution on the practice of delivering a negotiated, fast-track project during which the contractor is involved in the development of a project from the conception to the end.

Through "partnering" davisREED fosters effective relationships with our owners, architects, consultants and trade contractors, and these relationships are intentionally designed to support and promote our mutual project goals. We have found that partnering is the most successful business ethos that davisREED can foster in unifying the fragmented nature of a project. Partnering ultimately unites owners, architects, engineers, construction managers, trade contractors and vendors. Because the success of the whole project depends on the performance of each entity, partnering requires the cooperation of everyone to support and encourage each partner's project sphere of influence.
FEATURED PROJECTS
The Carte Hotel | San Diego CA

The Carte Hotel is taking shape as davisREED nears completion on this 15-story, 246-room hotel downtown. There are guestrooms on 11 levels, a FIT Gym on level 2 & 3, a pool on level 3 with meeting rooms, and two levels of underground parking. Hotel amenities Level 1 include a 4,100 SF restaurant, 1,500 SF wine bar and an expansive Urban Outdoor Space at the ground level. Level 15 includes a rooftop bar.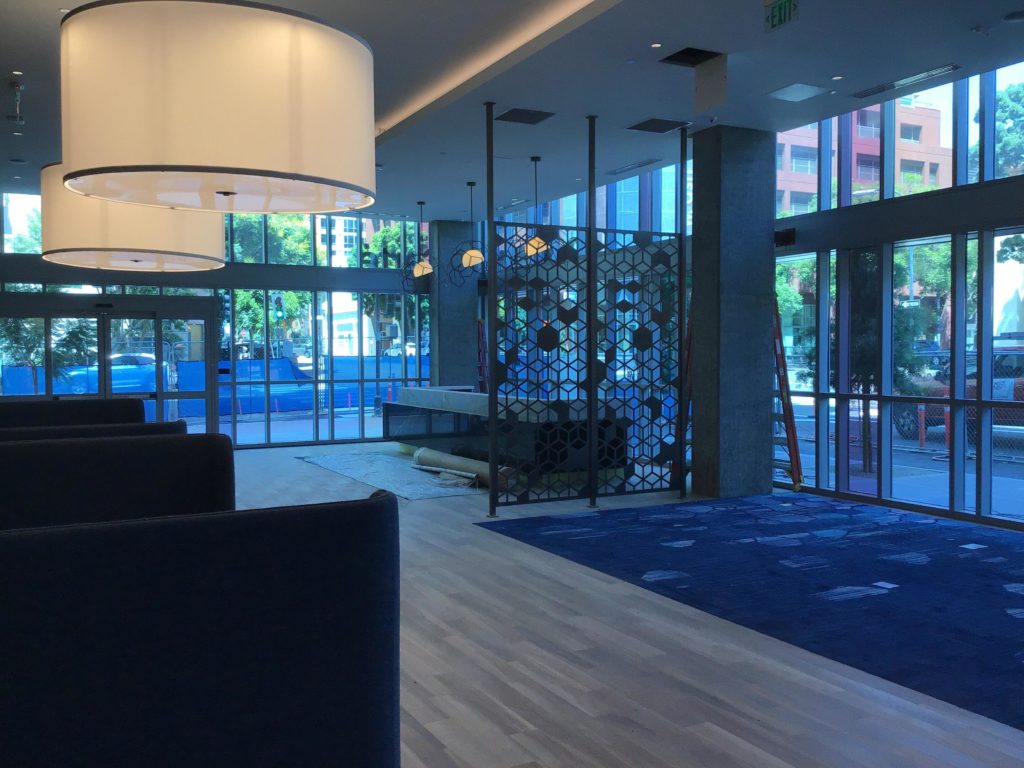 The Guild Hotel | San Diego CA

Construction was recently completed on the 92,535 SF Guild Hotel. The 162-room, seven-floor Marriott Tribute Portfolio Hotel was converted from the historic Army-Navy YMCA building in downtown San Diego. The property, originally developed in the 1920s, features a lobby bar, outdoor restaurant, outdoor gardens, a private penthouse with a rooftop deck and a grand ballroom that was once the gym's basketball court.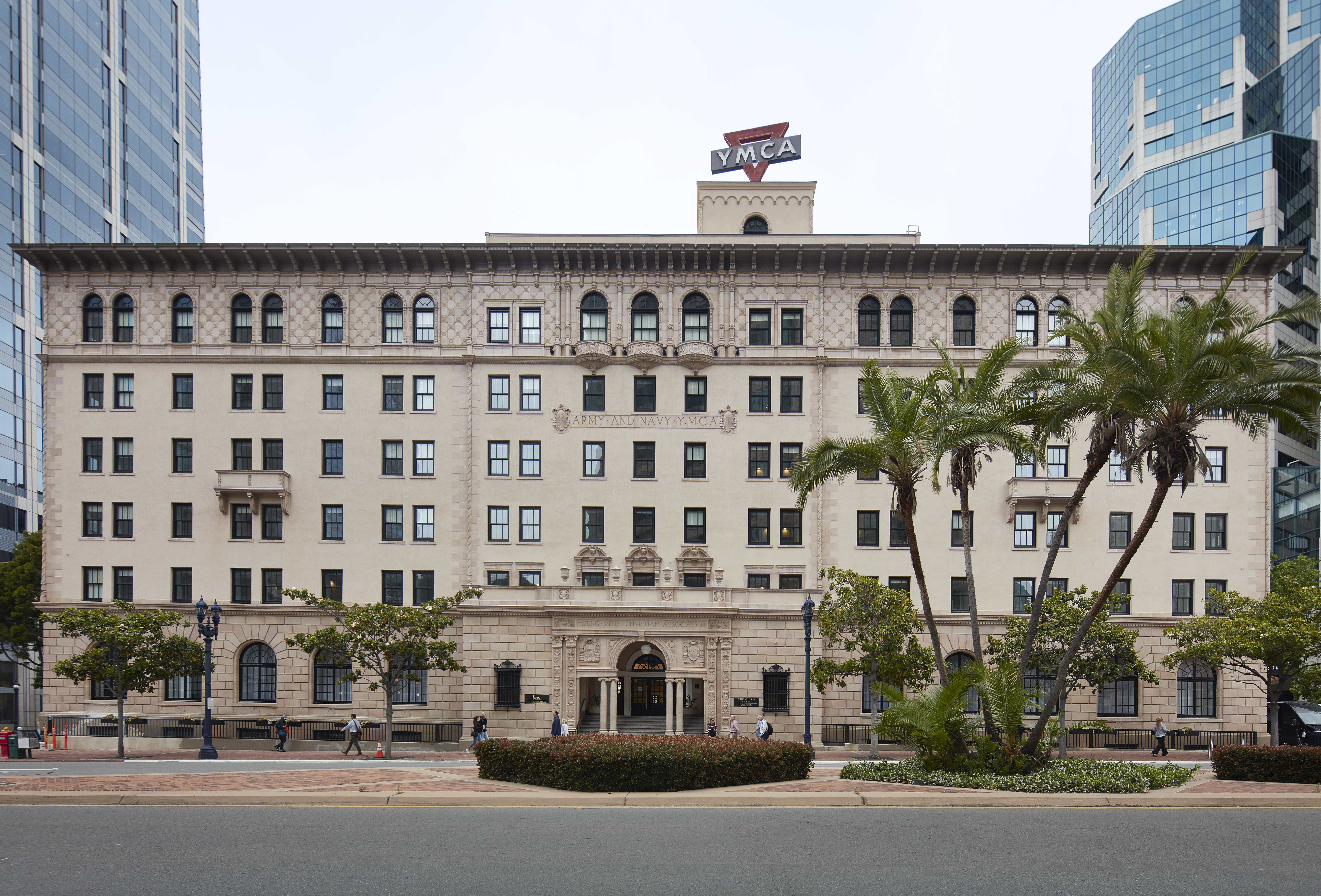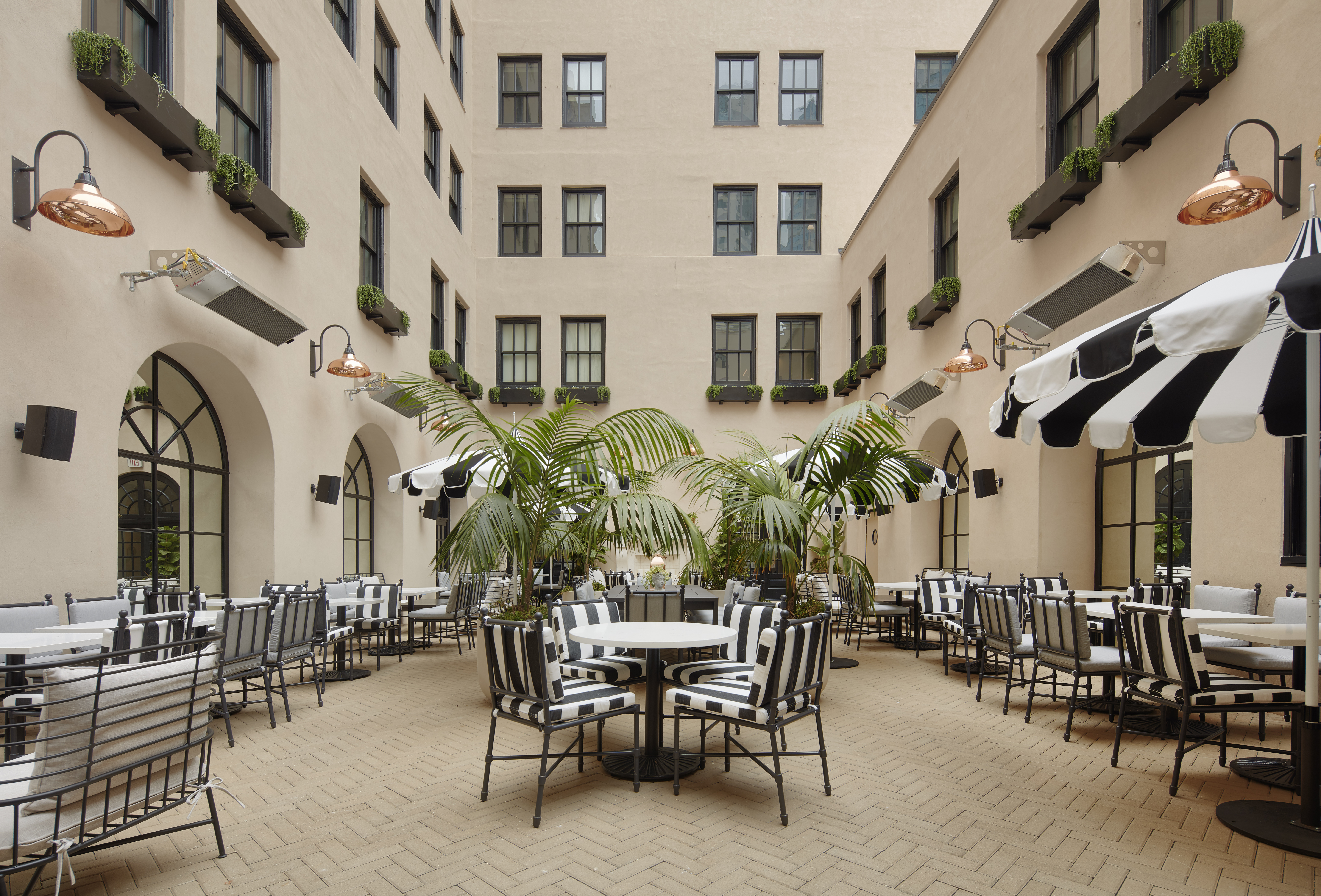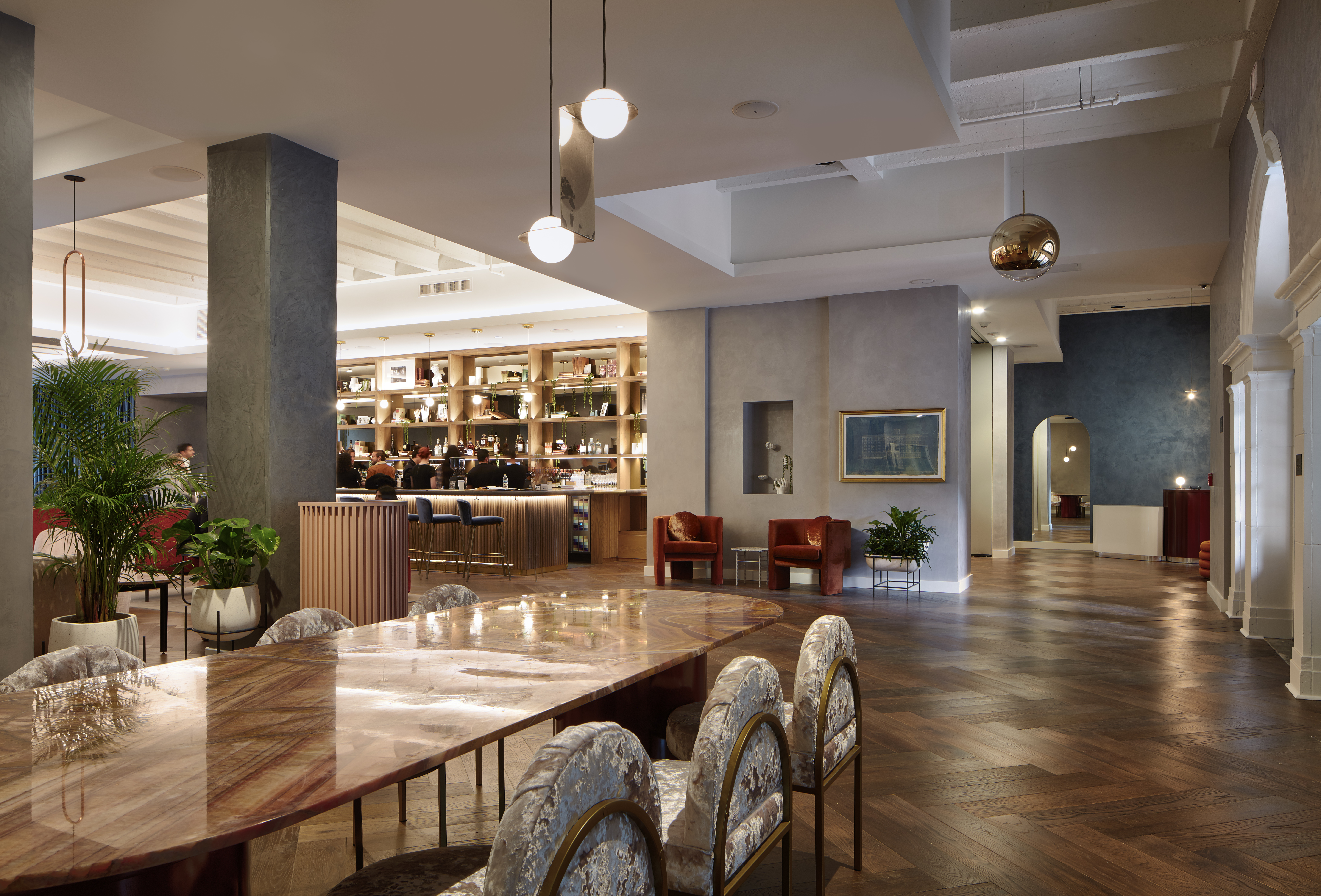 COMMUNITY
davisREED believes in doing more than just building project within a community. We believe in actually building up that community as well! Recently, a handful of davisREED employees and family members once again had the opportunity to cook and serve a BBQ lunch to Seanys Camp Reach for the Sky daycamp. This amazing non-profit offers FREE camps to kids (and their families) that are battling or surviving in the aftermath of cancer. For more information: www.theseanyfoundation.org.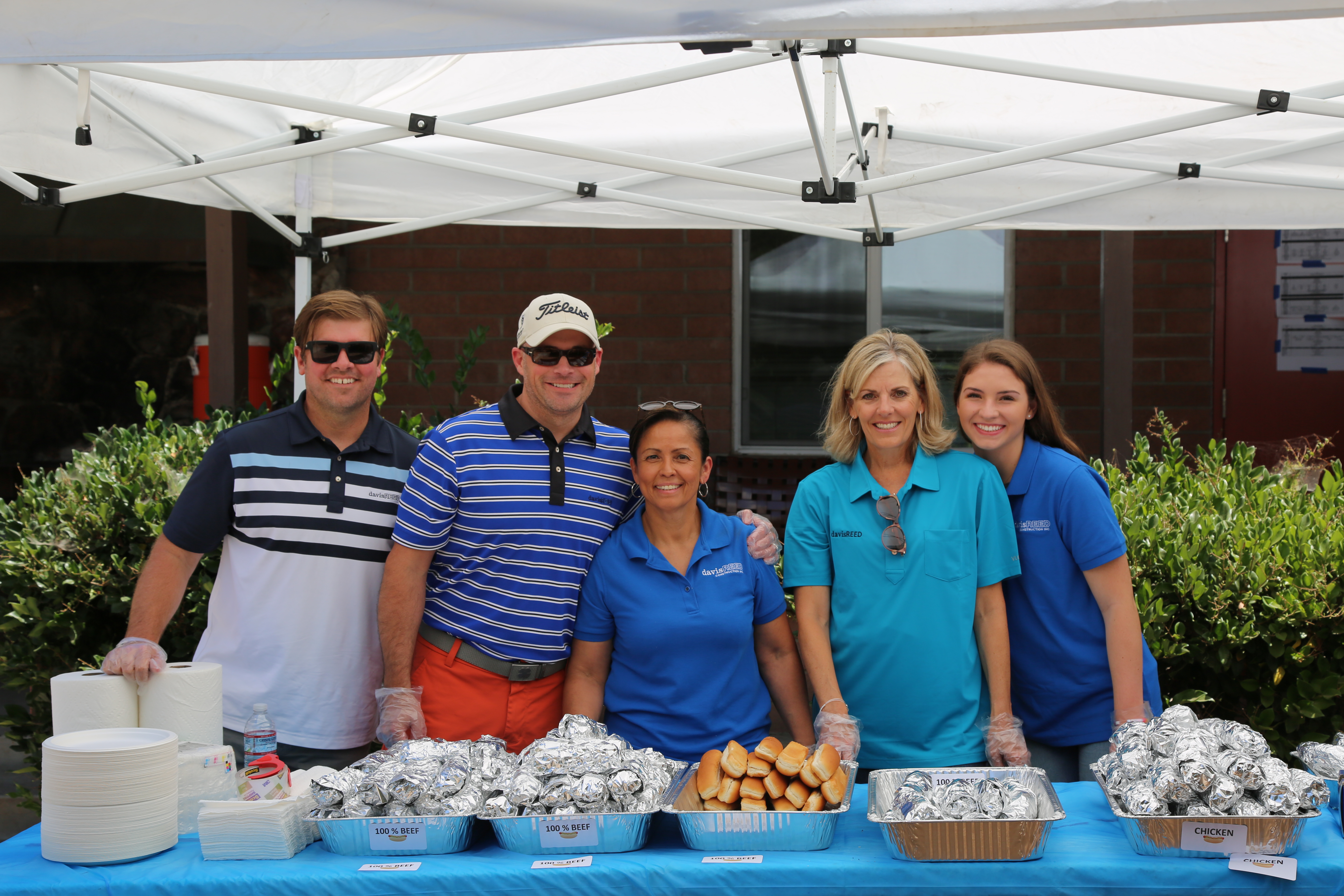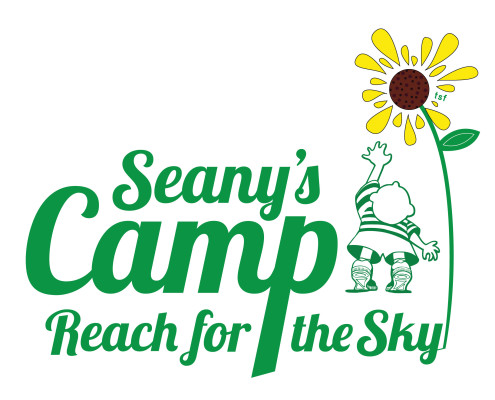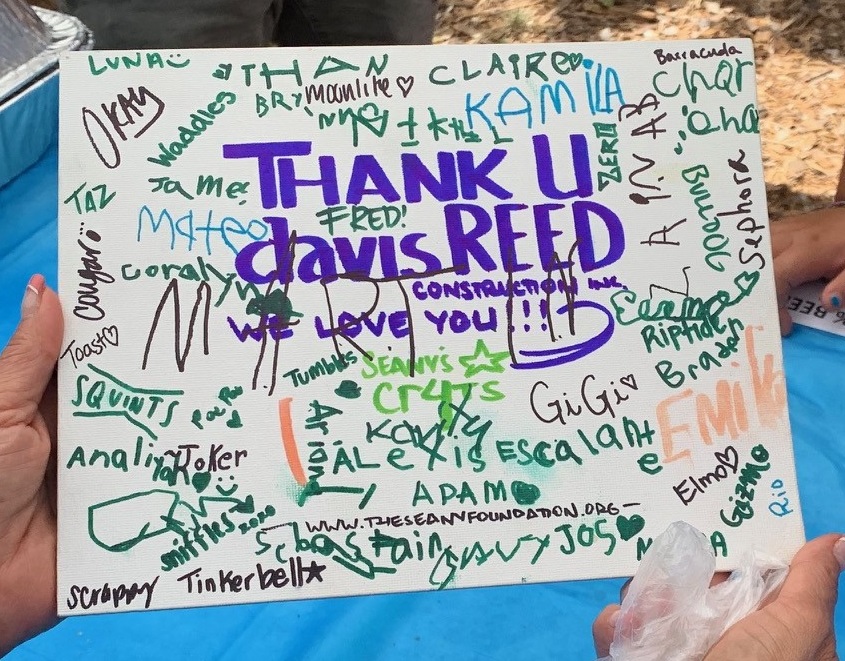 To discover more about davisREED or partner with us on an upcoming project, visit www.davisreedinc.com
---

Member Spotlight
PORT OF SAN DIEGO'S 8TH ANNUAL
U.S. SAND SCULPTING CHALLENGE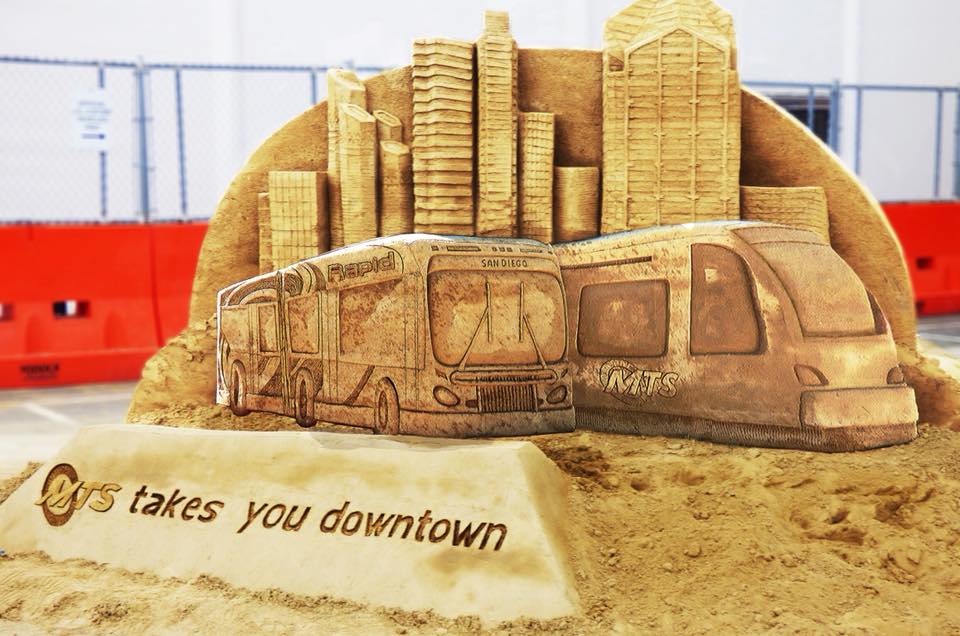 San Diego's largest Labor Day weekend celebration is one of the world's most prominent sand sculpting competitions, and it's right here on Broadway Pier and Landing in downtown San Diego on Saturday, August 31 – Monday, September 2. It is the focal point of activities that draw over 200,000 visitors to the beautiful Embarcadero. 12 World Master Sculptors carve solo for four days to create museum-quality sculptures reaching up to 15 ft. tall and weighing over 20,000 lbs.
Transportation and Parking is Easy
NEW transportation and user-friendly parking options make getting to and from the event easy. MTS trolleys and buses, the North County Coaster and Amtrak trains all take event goers within 2 blocks of the Broadway Pier. The Coronado Ferry disembarks next door! Lyft and Uber drop event goers at the festival's front door.
New Features
San Diego Seals lacrosse stars make special appearances to take photos with fans and sign autographs.

The annual Dimensional Art Exposition runs alongside the Sand Sculpting Challenge. Shop from more than 2,000 items such as hand-made clothing and accessories, wood carvings and metal designs, beautiful gourds, glass art, jewelry, quilled greeting cards, ceramics and much more!

EXPANDED Kid Zone features sandcastle building lessons from Master Sculptors, and rides such as European Bungie, Bubble Fun, Bounce Houses and more!

Families can picnic on the bay with food and drink from over a dozen gourmet food trucks and vendors including: Cousins Maine Lobster, Eat Your Heart Out, The Habit Burger Grille, Matheny's Wagon Works, Lolita's Mexican Food, Sophia's Kitchen, Pomodoro Rosso, Kettle Masters Kettle Korn, Cruising Cones, Goodness Baked Cookie Co., Old School Shave Ice, and Maui Wowi.

Live entertainment from bands paying tribute to the Beatles, Beach Boys, Dylan, Journey and other greats. Special appearances by Elvis on Saturday and Sunday nights!

Get your tickets NOW at www.ussandsculpting.com.

About
3D Art Expo LLC is a San Diego based event marketing company specialized in turning arts and culture into fun for the whole family. Its principals have been involved in creating and implementing promotional marketing campaigns for Fortune 100 companies for more than four decades, and have won national and international awards for their work from the American Marketing Association, Advertising Age and others. For the past 8 years, the company has produced the U.S. Sand Sculpting Challenge and Dimensional Art Exposition on the downtown San Diego waterfront, an event that has hailed as Best U.S. Labor Day Event in 2018 by CNN Travel, a Top 20 "Must See" seaside festival in the world by American Express and USA Today's 10 Best.

San Diego offers an unusually creative environment on a pier downtown, with skyscrapers to the East and the beautiful bay on the West. On top of that, tall ships on the water, a perfect climate, mass transit just 2 blocks from the site and more.
---

Member Spotlight
RESOURCE ACCESS PROGRAM (RAP)
HELPING PEOPLE GET THEIR LIFE BACK
Earlier this year Mayor Kevin Faulconer and County Supervisor Nathan Fletcher announced a new partnership to increase staffing capabilities to the City of San Diego Resource Access Program (RAP).

The expanded RAP program is a mental health initiative which consists of two American Medical Response (AMR) paramedics, two San Diego Fire-Rescue staff, and two clinicians from the county's Psychiatric Emergency Response Teams (PERT). The RAP team provides resources and navigation services to vulnerable residents who use 911 emergency services in disproportion to the general public. Many of the individuals suffer from complex circumstances, mental illnesses, substance abuse problems, and/or chronic homelessness.

"Collaboration is key when it comes to helping vulnerable people with complex health issues and AMR is excited to continue its involvement with RAP," said Madeleine Baudoin, Government and Public Affairs Manager for AMR. "It's a great program that works to get people the help they need, while reducing the strain of unnecessary 911 calls."

Since its launch in May, the RAP team has helped 16 individuals – 13 of which were homeless, while the others were at immediate risk of homelessness. Of the 13 that were homeless, RAP has so far secured housing for seven of them.

"If it wasn't for the RAP team, I wouldn't be sober and back on my feet today. They are a blessing," said a RAP client.

About American Medical Response (AMR):

With more than 70 years of caregiving throughout San Diego County, American Medical Response serves more communities and patients than any other private ambulance provider. As part of the community, AMR enjoys a long and proud history of rapid response, and caring for San Diegans in need. We employ approximately 1,100 employees locally, and respond to over 200,000 emergency medical calls annually. AMR has a single mission: to make a difference by caring for people in need. We are proud to be an employer that champions diversity and inclusion. We are caregivers, first and foremost. Our promise to you is that we will treat our patients, customers and team members with the utmost respect. AMR wants to remind you to: Stay Healthy San Diego.
---
Member Spotlight: General Dynamics NASSCO
National Steel and Shipbuilding Company

On Saturday, June 15, General Dynamics NASSCO launched and christened the largest containership built in San Diego. The Lurline is an 870-foot-long, 3,500 TEU, 44,200 deadweight metric ton, combination containership/roll-on, roll-off ("ConRo") vessel.

Lurline is the lead ship of a two-vessel contract being built for Honolulu-based Matson at General Dynamics NASSCO. Thousands of NASSCO employees had a role in constructing the Lurline. The design of the ship provides the capability to transport containers, automobiles and rolling stock, including trailers.

The construction and operation of the Lurline is aligned with the Jones Act, requiring ships that carry cargo between U.S. ports be built in U.S. shipyards, further protecting hundreds of thousands of American jobs in the domestic American maritime industry.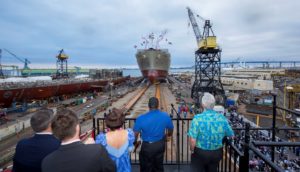 "The launch of the Lurline represents a journey of challenges, learning and transformation. It's a celebration of an entire team coming together for a common purpose," said Kevin Graney, president of General Dynamics NASSCO. "NASSCO is proud to build the Lurline and her sister ship for Matson."

"The great speed, capacity and environmental improvements of this new ship position us well to serve the needs of our communities in Hawaii for many years to come," said Matt Cox, Matson's chairman and chief executive officer, at the shipyard ceremony.

As part of the ceremony, the ships sponsor Ms. Constance Lau, christened the ship with the traditional break of a champagne bottle on the ship's hull. Ms. Lau is the President, CEO and Director of Hawaiian Electric Industries, Inc., as well as a member of the Board of Directors for Matson.

NASSCO serves as the only major shipyard on the West Coast of the United States designing, constructing and repairing ships for the U.S. Navy and commercial customers.
---
Member Spotlight: Higgs Fletcher & Mack LLP | 80 Years New

Although it is now in its 80th year of serving the legal needs of individuals and businesses in San Diego and beyond, Higgs Fletcher and Mack (HFM) considers itself to be "80 Years New." While the Firm was founded in 1939 by attorneys Dutch Higgs and Ferd Fletcher, who met while representing clients on opposite sides of a lawsuit, HFM has evolved to become the quintessential modern-day law firm. This year alone, HFM has refreshed its brand and unveiled a new logo, completely remodeled its office suites, introduced a new enhanced user-experience website, and added its stamp to the city skyline, with the Firm's name prominently positioned atop the building at 401 W. A Street, the Firm's home.

Today, HFM is comprised of nearly 80 of the city's top attorneys, with a breadth of experience and expertise across nearly all areas of law and with clients in a variety of industries. As the Firm continues to grow and change with the needs of its clients, value and service remain the core tenets of the Firm's success. Paramount to HFM's approach to each client matter are the Firm's guiding principles. HFM attorneys take on their clients' issues and challenges as their own, engage in their clients' success through creative solutions to complex problems, and are always prepared, loyal, honest, responsive and above all, professional.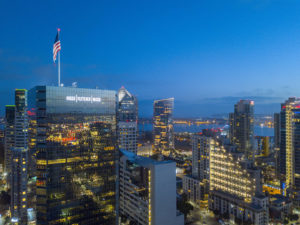 According to HFM's Managing Partner, Steve Cologne, the Firm is committed to honoring the legacy of its founders while adapting to changing business practices and adopting strategies that will ensure the Firm's continued success. The Firm also maintains its commitment to serving the community and its efforts to improve diversity in the profession, attributes that will continue to guide the Firm well into the future.

"Higgs Fletcher and Mack has worked diligently to serve businesses, individuals and our broader business and legal community. We aim to always pay homage to those who have made HFM the success it is today, while also addressing modern law firm needs."

As the Firm looks to the future, it will prioritize planning for the future and highlighting the strengths of the attorneys who comprise the Firm, many of whom have practiced at HFM for over twenty years and have made HFM their professional home. Throughout the remainder of this year, and beyond, HFM will shine a spotlight on the attorneys and clients who have contributed to the Firm's success and will continue to seek out ways to better serve its clients and the community.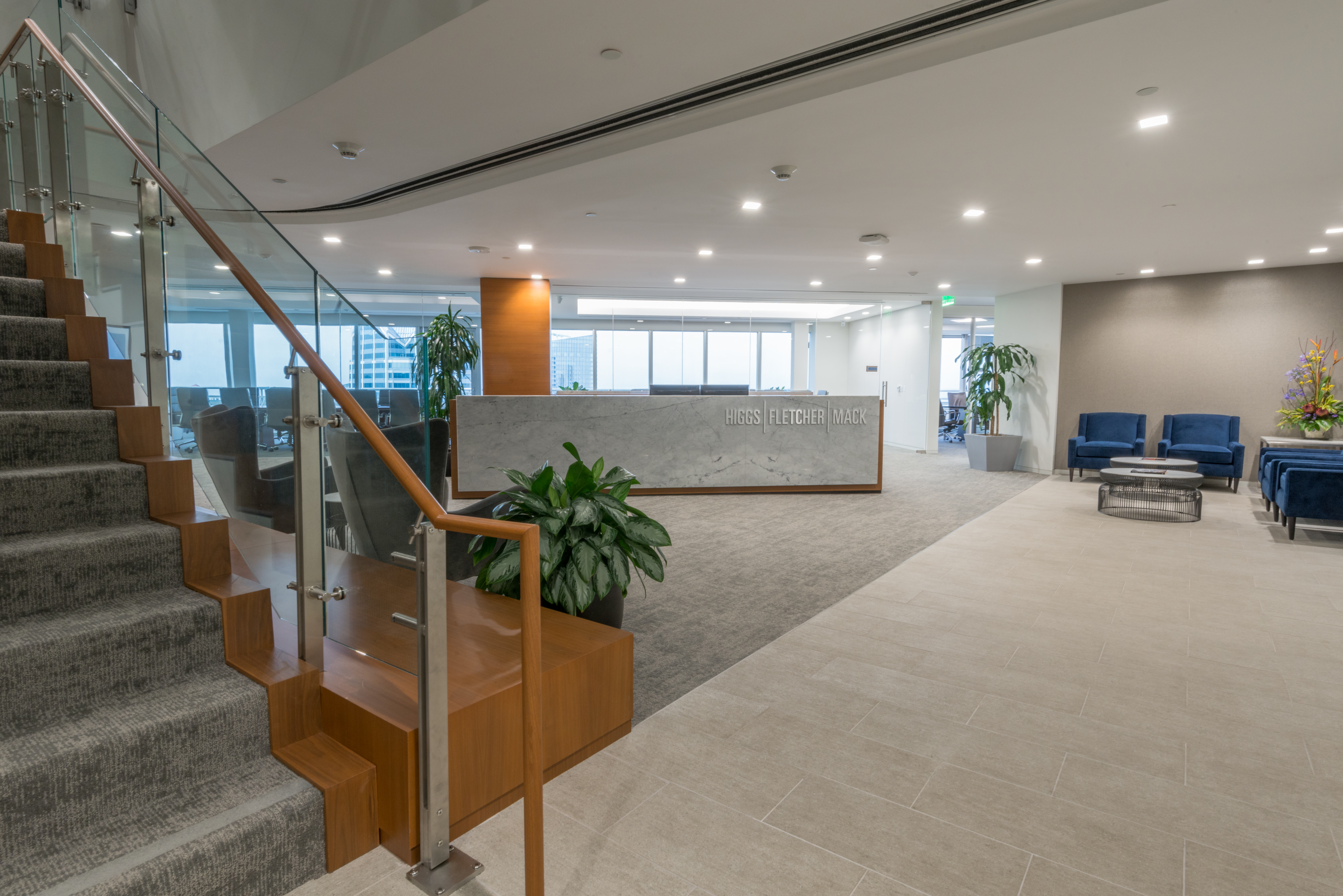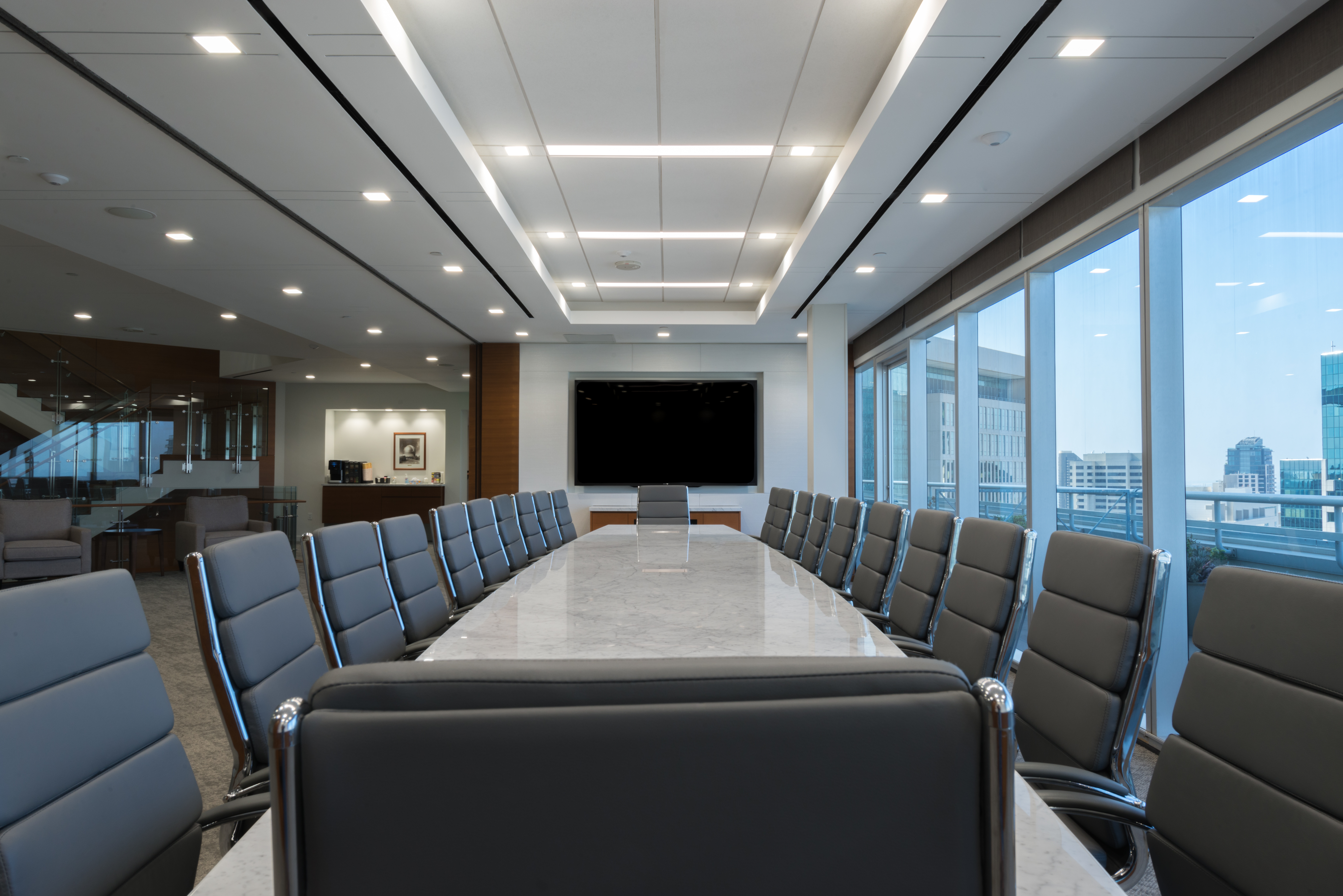 WHY DOWNTOWN:

While HFM serves clients throughout the county and the state, we appreciate being a part of the evolution of San Diego's downtown business environment and enjoy practicing law from a location at the center of the city's legal community, in close proximity to our State and Federal courthouses.
---
Member Spotlight: JCJ Architecture

JCJ Architecture is a planning, architecture and interior design practice that offers comprehensive services to clients in the private and public sectors. Formerly known as Wheeler, Wimer Blackman, the firm has been a part of the San Diego community for over 70 years. JCJ's engaged process brings together a methodology of active and alert advocacy with our wide ranging experience as design professionals . JCJ creates environments that are respectful of contextual and relate specifically to the needs of each unique client.

Local Leadership:

Bob Gdowski – Design Principal and Director of Hospitality Design
Paul Hamel – Principal, Managing Director of the Western Region

The firm's work stretches back decades and includes the planning, architectural and interior design of many local facilities including work at Balboa Park, Chula Vista Library, Mission Valley Library, the US Grand Hotel, and projects for clients such as the San Diego Unified School District, Cisterra Partners, RAR Hospitality, Paragon Real Estate Investments, the City of San Diego, San Diego State University, and the University of San Diego.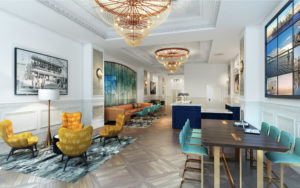 JCJ's extensive work nationally with Tribal Nations has informed our collaboration with many local Tribes including the Viejas Band of Kumeyaay Indians, Pauma Band of Luiseño Indians, Pechanga Band of Luiseño Indians, Pala Band of Mission Indians, the Agua Caliente Band of Cahuilla Indians, and the San Pasqual Band of Mission Indians.

Areas of Expertise

Adaptive Reuse
Arts & Culture
Community, Non-Profit
Corporate, Commercial
Civic
Entertainment
Higher Education
Historic Preservation
Hospitality
Independent K-12
Mixed Use
Public K-12
Public Safety and Justice

Comprehensive Services

Pre-Design Feasibility and Planning
Architecture
Interior Design
Project Management
Construction Documents
Construction Administration
Regulatory Approvals
Sustainable Design
Graphic Design/Environmental Branding
---
Member Spotlight: Park 12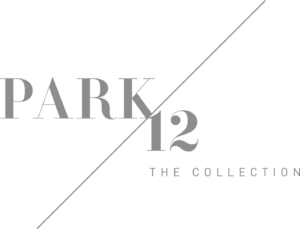 New Retail and Residential Complex in East Village Offers a Range of Activities and Services

Construction is now complete on Park 12 – The Collection, a $400 million four-building luxury apartment and retail community featuring dramatic modern architecture and design, located at 100 Park Plaza overlooking San Diego Bay and Petco Park.

Situated on a 3.5-acre triangular site, Park 12 is comprised of one high-rise and three mid-rise buildings – all owned and operated by Greystar, a global leader in the investment, development and management of rental housing properties. The complex encompasses 371 luxury apartments in a 37-story tower and 347 units in one six and two seven-story midrise buildings — for a total of 718 rental homes. Residences include studio, one-, two- and three-bedroom floor plans – as well as penthouse suites – with square footage spanning from 518 to 2,824 square feet, with direct access to Petco Park for San Diego Padres baseball games and other special events.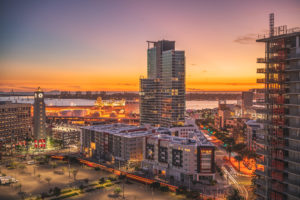 The apartment homes, all of which are designed to condominium standards, feature a classic, modern feel – with plank flooring, private patios or balconies, stainless steel appliances, quartz countertops, polished chrome fixtures and full-size washer/dryers. Rents start at $1,909.

According to Jerry Brand, senior managing director of west coast development for Greystar, Park 12 – The Collection was built to create a sense of community, with high-end amenities designed to fuel camaraderie and engagement.

"Today's residents are all about interaction and amenities and as a result, landlords have upped the amenity game significantly in recent years," Brand said. "Apartment dwellers expect more today. We are working hard to stay abreast of evolving demands and to meet tenants' diverse needs, and this is evidenced at Park 12, one of downtown San Diego's most amenity-rich communities."

High-end perks at Park 12 include a nearly 5,000 square foot entertainment hub – complete with a karaoke room; a movie theater; shuffleboard, ping pong, poker, chess and billiards tables; a virtual golf simulator; six TVs; multiple arcade games and a mini bowling alley.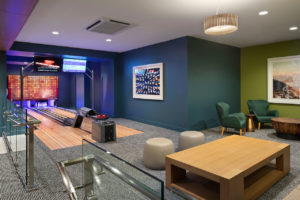 Residents also have free access to a beautifully designed co-working space, complete with private offices and multiple conference rooms.

Additional amenities include an indoor/outdoor fitness center featuring top-of-the-line equipment; two pools with a sundeck and spa; underground gated parking with 1,216 spaces; a clubhouse with kitchen; resident lounge; multiple rooftop terraces with outdoor seating, fire pits and outdoor kitchen and grilling areas. Two dog runs – one for small and one for big dogs – are outfitted with a dog washing station and pet drinking fountains. An expansive lobby includes 24-hour concierge services.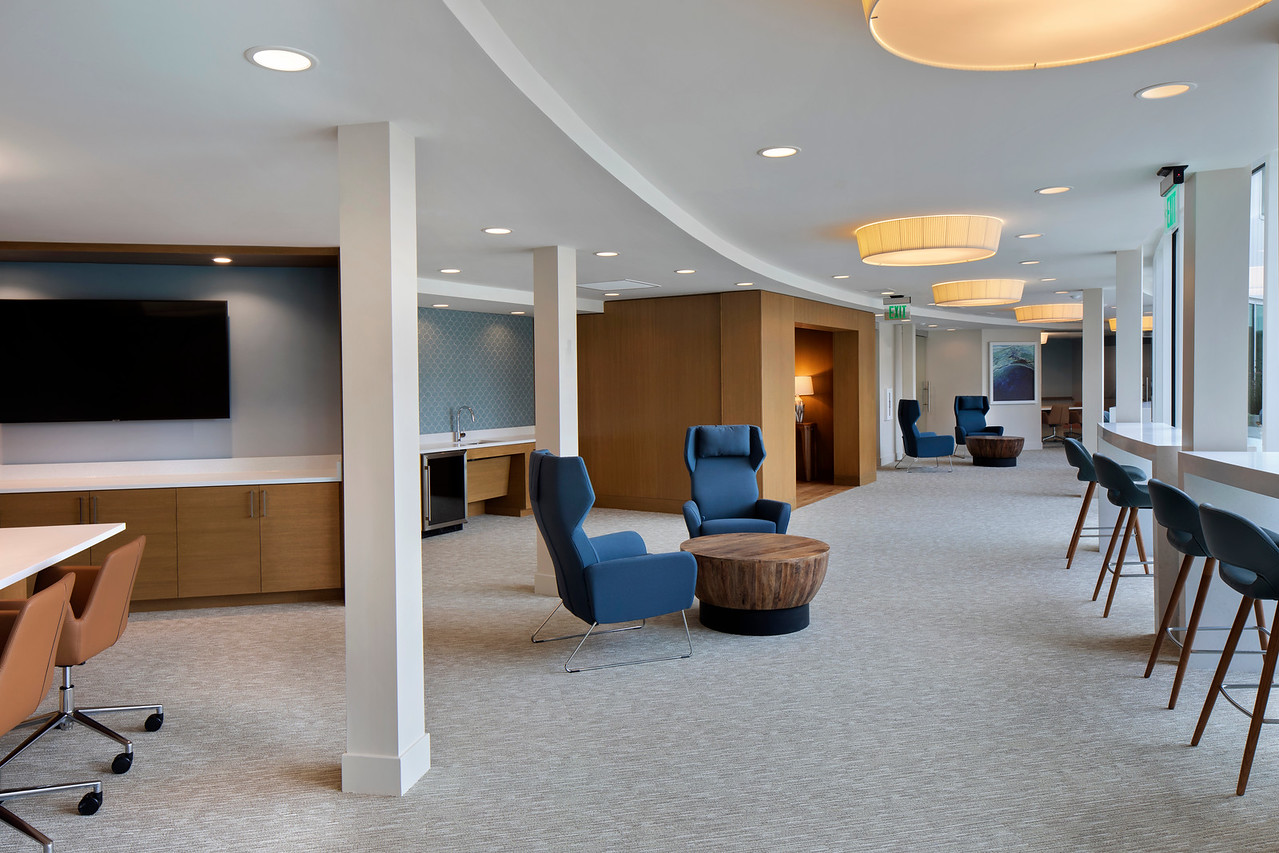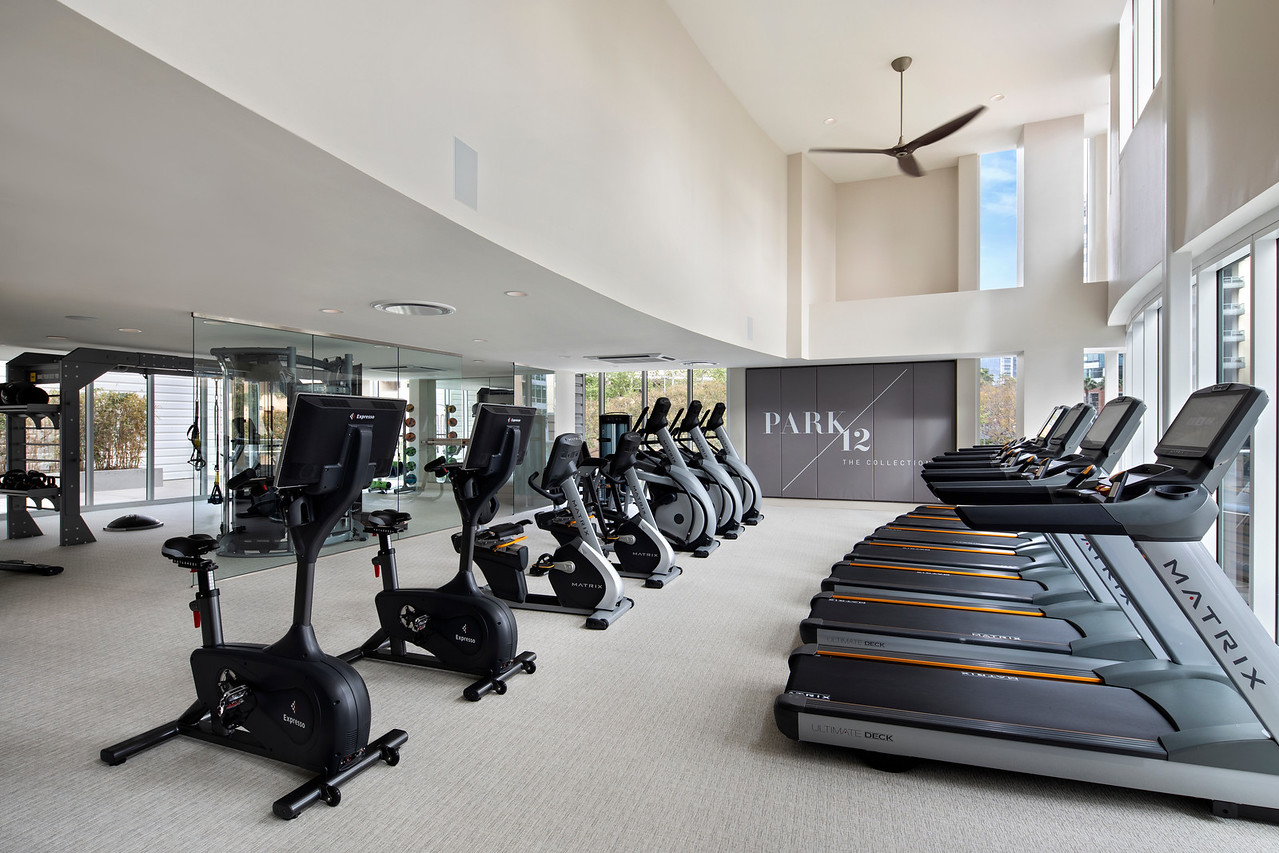 For more information, visit https://livepark12.com.
---