Interested in sharing exciting news about your company?
If you are a Corporate level or above member, we would love to highlight your successes though our Member Spotlight platform. The spotlight is featured in the weekly newsletter, housed on our website, and highlighted through our social media channels. If you are interested in being featured, please provide a newsworthy article or press release, a brief paragraph about your company, company logo, company or project photo, and why you chose Downtown as a location to grow your business to kphillips@downtownsandiego.org.
---

Member Spotlight
RESOURCE ACCESS PROGRAM (RAP)
HELPING PEOPLE GET THEIR LIFE BACK
Earlier this year Mayor Kevin Faulconer and County Supervisor Nathan Fletcher announced a new partnership to increase staffing capabilities to the City of San Diego Resource Access Program (RAP).
The expanded RAP program is a mental health initiative which consists of two American Medical Response (AMR) paramedics, two San Diego Fire-Rescue staff, and two clinicians from the county's Psychiatric Emergency Response Teams (PERT). The RAP team provides resources and navigation services to vulnerable residents who use 911 emergency services in disproportion to the general public.  Many of the individuals suffer from complex circumstances, mental illnesses, substance abuse problems, and/or chronic homelessness.  
"Collaboration is key when it comes to helping vulnerable people with complex health issues and AMR is excited to continue its involvement with RAP," said Madeleine Baudoin, Government and Public Affairs Manager for AMR.  "It's a great program that works to get people the help they need, while reducing the strain of unnecessary 911 calls."
Since its launch in May, the RAP team has helped 16 individuals – 13 of which were homeless, while the others were at immediate risk of homelessness.  Of the 13 that were homeless, RAP has so far secured housing for seven of them. 
"If it wasn't for the RAP team, I wouldn't be sober and back on my feet today. They are a blessing," said a RAP client.
About American Medical Response (AMR):
With more than 70 years of caregiving throughout San Diego County, American Medical Response serves more communities and patients than any other private ambulance provider.  As part of the community, AMR enjoys a long and proud history of rapid response, and caring for San Diegans in need.   We employ approximately 1,100 employees locally, and respond to over 200,000 emergency medical calls annually. AMR has a single mission: to make a difference by caring for people in need. We are proud to be an employer that champions diversity and inclusion.  We are caregivers, first and foremost. Our promise to you is that we will treat our patients, customers and team members with the utmost respect. AMR wants to remind you to: Stay Healthy San Diego. 
---
Member Spotlight

: General Dynamics NASSCO

National Steel and Shipbuilding Company

On Saturday, June 15, General Dynamics NASSCO launched and christened the largest containership built in San Diego. The Lurline is an 870-foot-long, 3,500 TEU, 44,200 deadweight metric ton, combination containership/roll-on, roll-off ("ConRo") vessel.
Lurline is the lead ship of a two-vessel contract being built for Honolulu-based Matson at General Dynamics NASSCO. Thousands of NASSCO employees had a role in constructing the Lurline. The design of the ship provides the capability to transport containers, automobiles and rolling stock, including trailers.
The construction and operation of the Lurline is aligned with the Jones Act, requiring ships that carry cargo between U.S. ports be built in U.S. shipyards, further protecting hundreds of thousands of American jobs in the domestic American maritime industry.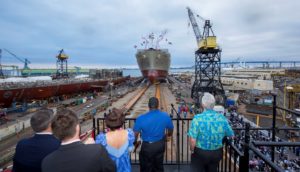 "The launch of the Lurline represents a journey of challenges, learning and transformation. It's a celebration of an entire team coming together for a common purpose," said Kevin Graney, president of General Dynamics NASSCO. "NASSCO is proud to build the Lurline and her sister ship for Matson."
"The great speed, capacity and environmental improvements of this new ship position us well to serve the needs of our communities in Hawaii for many years to come," said Matt Cox, Matson's chairman and chief executive officer, at the shipyard ceremony.
As part of the ceremony, the ships sponsor Ms. Constance Lau, christened the ship with the traditional break of a champagne bottle on the ship's hull. Ms. Lau is the President, CEO and Director of Hawaiian Electric Industries, Inc., as well as a member of the Board of Directors for Matson.
NASSCO serves as the only major shipyard on the West Coast of the United States designing, constructing and repairing ships for the U.S. Navy and commercial customers.
---
Member Spotlight

: Higgs Fletcher & Mack LLP | 80 Years New

Although it is now in its 80th year of serving the legal needs of individuals and businesses in San Diego and beyond, Higgs Fletcher and Mack (HFM) considers itself to be "80 Years New." While the Firm was founded in 1939 by attorneys Dutch Higgs and Ferd Fletcher, who met while representing clients on opposite sides of a lawsuit, HFM has evolved to become the quintessential modern-day law firm.  This year alone, HFM has refreshed its brand and unveiled a new logo, completely remodeled its office suites, introduced a new enhanced user-experience website, and added its stamp to the city skyline, with the Firm's name prominently positioned atop the building at 401 W. A Street, the Firm's home.
Today, HFM is comprised of nearly 80 of the city's top attorneys, with a breadth of experience and expertise across nearly all areas of law and with clients in a variety of industries. As the Firm continues to grow and change with the needs of its clients, value and service remain the core tenets of the Firm's success. Paramount to HFM's approach to each client matter are the Firm's guiding principles. HFM attorneys take on their clients' issues and challenges as their own, engage in their clients' success through creative solutions to complex problems, and are always prepared, loyal, honest, responsive and above all, professional.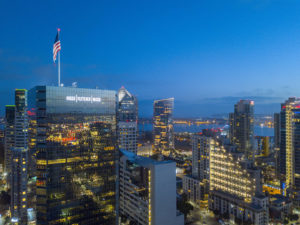 According to HFM's Managing Partner, Steve Cologne, the Firm is committed to honoring the legacy of its founders while adapting to changing business practices and adopting strategies that will ensure the Firm's continued success. The Firm also maintains its commitment to serving the community and its efforts to improve diversity in the profession, attributes that will continue to guide the Firm well into the future.
"Higgs Fletcher and Mack has worked diligently to serve businesses, individuals and our broader business and legal community. We aim to always pay homage to those who have made HFM the success it is today, while also addressing modern law firm needs."
As the Firm looks to the future, it will prioritize planning for the future and highlighting the strengths of the attorneys who comprise the Firm, many of whom have practiced at HFM for over twenty years and have made HFM their professional home.  Throughout the remainder of this year, and beyond, HFM will shine a spotlight on the attorneys and clients who have contributed to the Firm's success and will continue to seek out ways to better serve its clients and the community.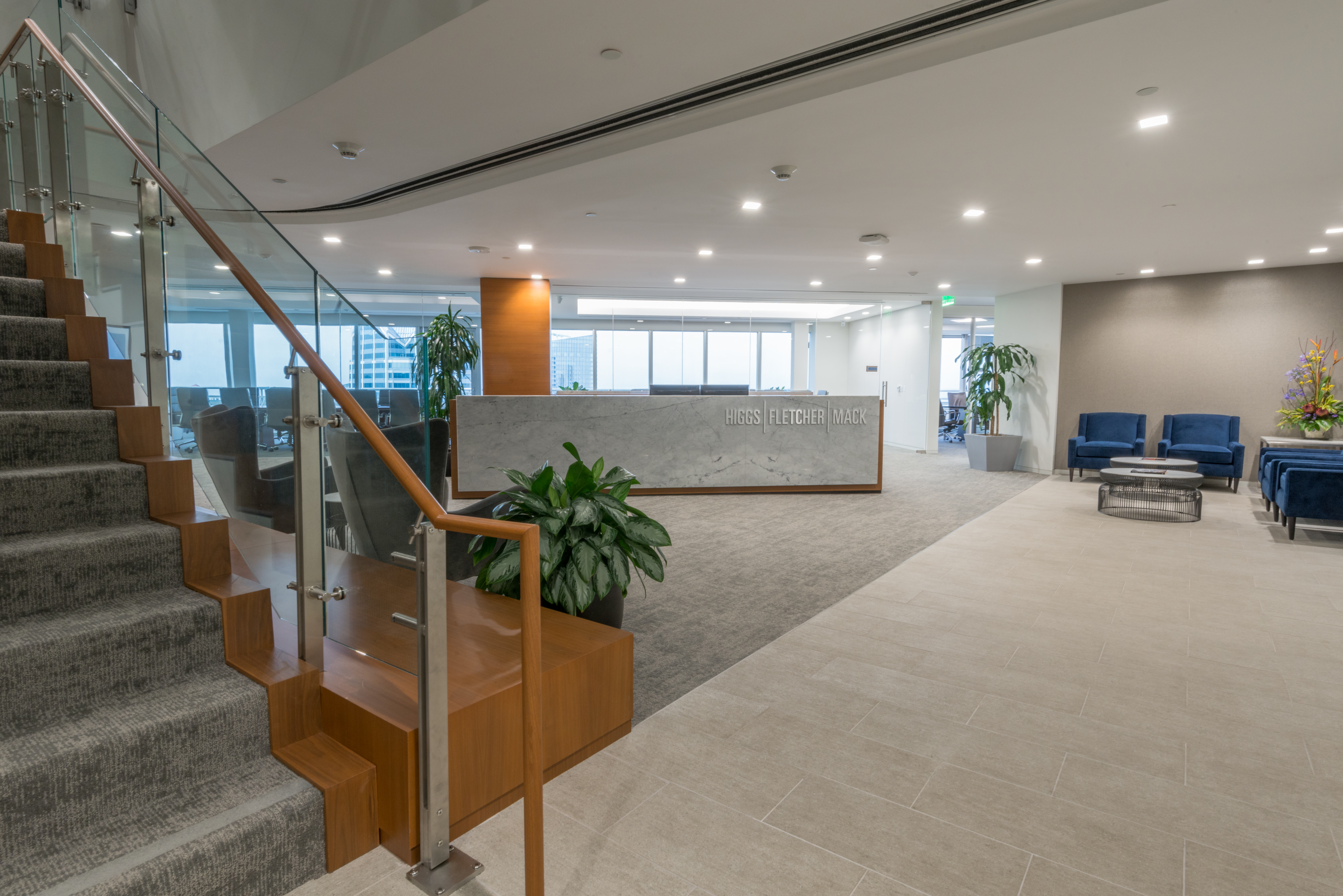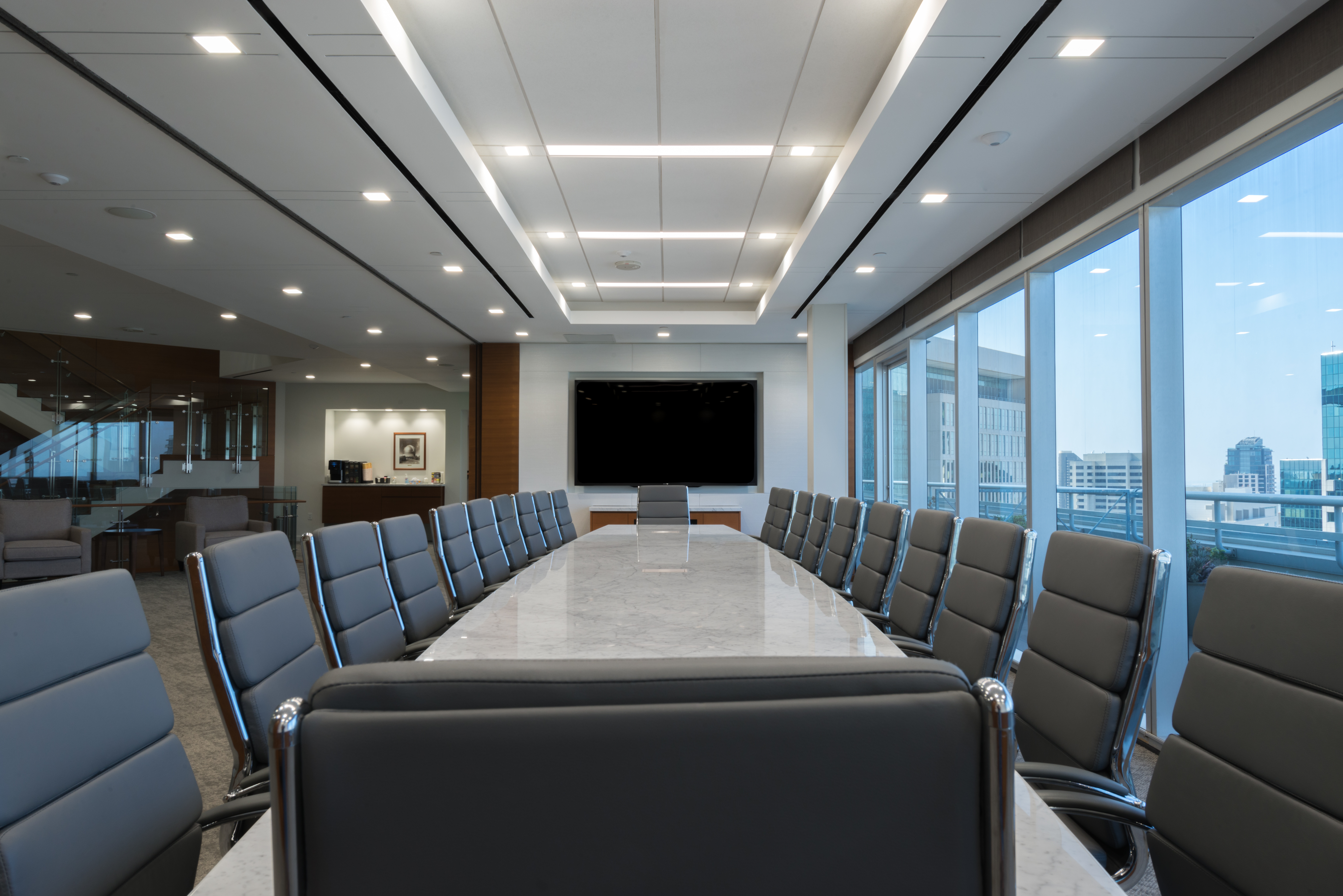 WHY DOWNTOWN:

While HFM serves clients throughout the county and the state, we appreciate being a part of the evolution of San Diego's downtown business environment and enjoy practicing law from a location at the center of the city's legal community, in close proximity to our State and Federal courthouses.
---
Member Spotlight

: JCJ Architecture

JCJ Architecture is a planning, architecture and interior design practice that offers comprehensive services to clients in the private and public sectors. Formerly known as Wheeler, Wimer Blackman, the firm has been a part of the San Diego community for over 70 years. JCJ's engaged process brings together a methodology of active and alert advocacy with our wide ranging experience as design professionals . JCJ creates environments that are respectful of contextual and relate specifically to the needs of each unique client.
Local Leadership:
Bob Gdowski – Design Principal and Director of Hospitality Design
Paul Hamel – Principal, Managing Director of the Western Region
The firm's work stretches back decades and includes the planning, architectural and interior design of many local facilities including work at Balboa Park, Chula Vista Library, Mission Valley Library, the US Grand Hotel, and projects for clients such as the San Diego Unified School District, Cisterra Partners, RAR Hospitality, Paragon Real Estate Investments, the City of San Diego, San Diego State University, and the University of San Diego.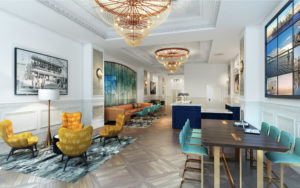 JCJ's extensive work nationally with Tribal Nations has informed our collaboration with many local Tribes including the Viejas Band of Kumeyaay Indians, Pauma Band of Luiseño Indians, Pechanga Band of Luiseño Indians, Pala Band of Mission Indians, the Agua Caliente Band of Cahuilla Indians, and the San Pasqual Band of Mission Indians.
Areas of Expertise
Adaptive Reuse
Arts & Culture
Community, Non-Profit
Corporate, Commercial
Civic
Entertainment
Higher Education
Historic Preservation
Hospitality
Independent K-12
Mixed Use
Public K-12
Public Safety and Justice
Comprehensive Services
Pre-Design Feasibility and Planning
Architecture
Interior Design
Project Management
Construction Documents
Construction Administration
Regulatory Approvals
Sustainable Design
Graphic Design/Environmental Branding
---
Member Spotlight

: Park 12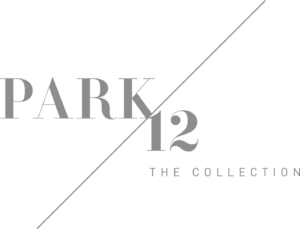 New Retail and Residential Complex in East Village Offers a Range of Activities and Services
Construction is now complete on Park 12 – The Collection, a $400 million four-building luxury apartment and retail community featuring dramatic modern architecture and design, located at 100 Park Plaza overlooking San Diego Bay and Petco Park.
Situated on a 3.5-acre triangular site, Park 12 is comprised of one high-rise and three mid-rise buildings – all owned and operated by Greystar, a global leader in the investment, development and management of rental housing properties. The complex encompasses 371 luxury apartments in a 37-story tower and 347 units in one six and two seven-story midrise buildings — for a total of 718 rental homes. Residences include studio, one-, two- and three-bedroom floor plans – as well as penthouse suites – with square footage spanning from 518 to 2,824 square feet, with direct access to Petco Park for San Diego Padres baseball games and other special events.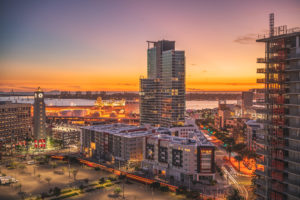 The apartment homes, all of which are designed to condominium standards, feature a classic, modern feel – with plank flooring, private patios or balconies, stainless steel appliances, quartz countertops, polished chrome fixtures and full-size washer/dryers. Rents start at $1,909.
According to Jerry Brand, senior managing director of west coast development for Greystar, Park 12 – The Collection was built to create a sense of community, with high-end amenities designed to fuel camaraderie and engagement.
"Today's residents are all about interaction and amenities and as a result, landlords have upped the amenity game significantly in recent years," Brand said. "Apartment dwellers expect more today. We are working hard to stay abreast of evolving demands and to meet tenants' diverse needs, and this is evidenced at Park 12, one of downtown San Diego's most amenity-rich communities."
High-end perks at Park 12 include a nearly 5,000 square foot entertainment hub – complete with a karaoke room; a movie theater; shuffleboard, ping pong, poker, chess and billiards tables; a virtual golf simulator; six TVs; multiple arcade games and a mini bowling alley.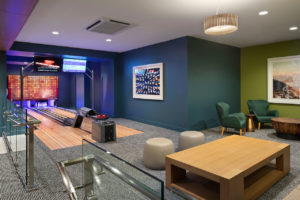 Residents also have free access to a beautifully designed co-working space, complete with private offices and multiple conference rooms.
Additional amenities include an indoor/outdoor fitness center featuring top-of-the-line equipment; two pools with a sundeck and spa; underground gated parking with 1,216 spaces; a clubhouse with kitchen; resident lounge; multiple rooftop terraces with outdoor seating, fire pits and outdoor kitchen and grilling areas. Two dog runs – one for small and one for big dogs – are outfitted with a dog washing station and pet drinking fountains. An expansive lobby includes 24-hour concierge services.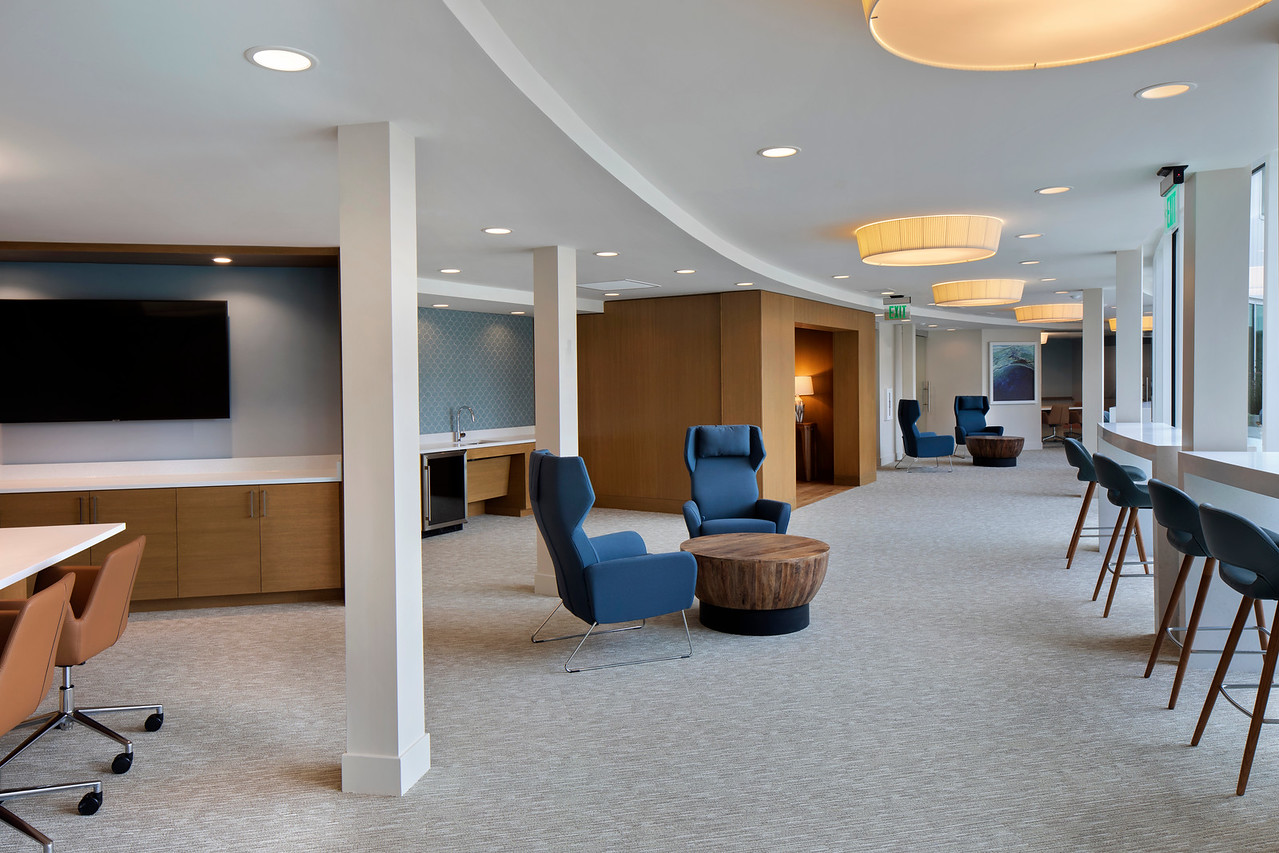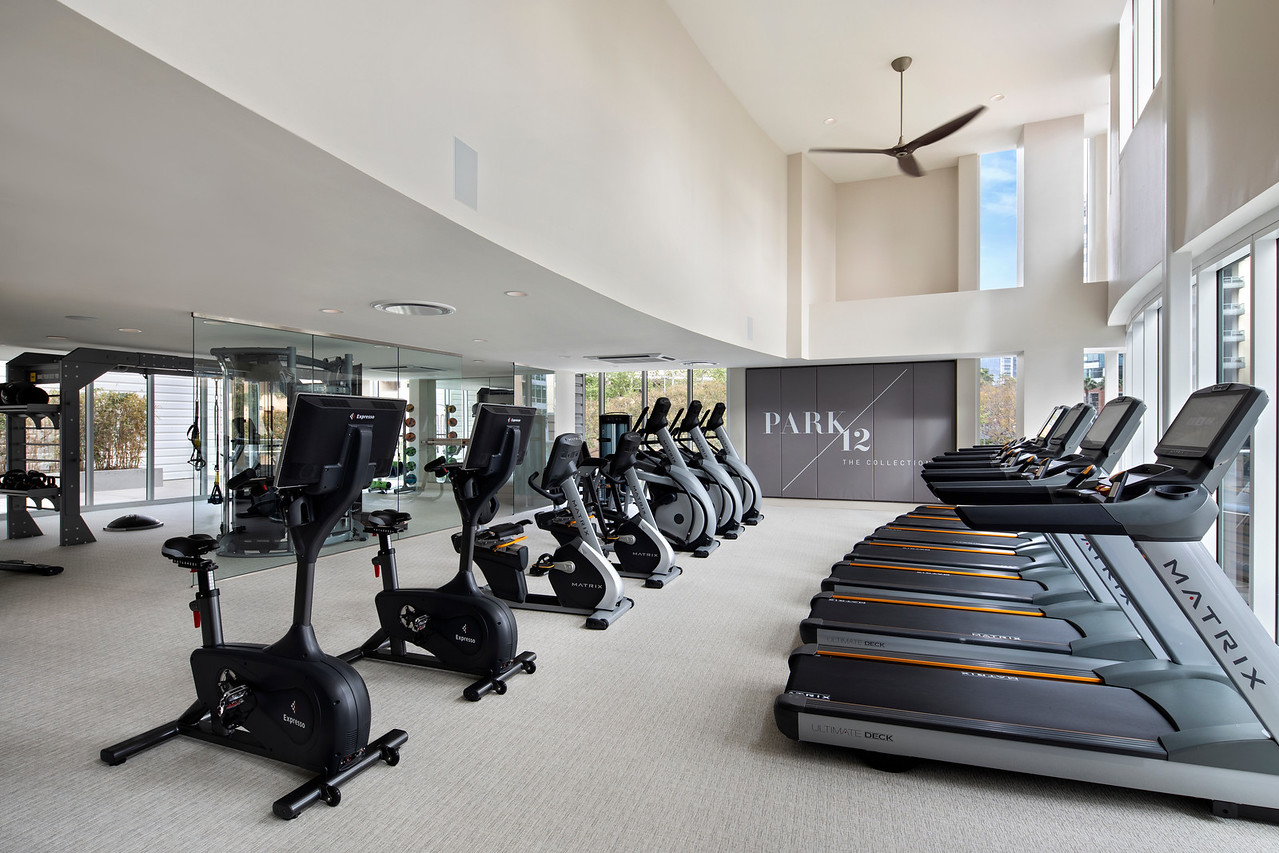 For more information, visit https://livepark12.com.
---
Member Spotlight

: San Diego Padres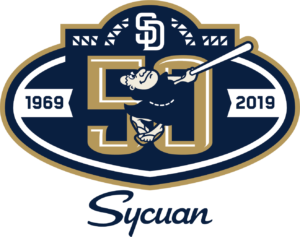 The 2019 season marks the San Diego Padres 50th anniversary – a season-long celebration with a focus on the fans, the Friar Faithful and the city's continued support for the team. This past weekend the Padres paid tribute to their history and recognized former players, including Fred Kendall of the original 1969 team, in a special pre-game ceremony where they were greeted by a group of original Padres season ticket members.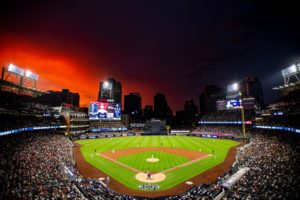 In addition, the Padres, in partnership with the Sycuan Band of the Kumeyaay Nation, also recently launched the "Padres Thank SD" community initiative as part of the 50th Anniversary celebration. With the dedicated support of the San Diego community for the past 50 years serving as an integral part of the club's history, the Padres and the Padres Foundation have partnered with Sycuan to express their gratitude through projects that will make a positive and lasting impact on the community.  In total, the organizations will support charitable projects totaling over one million dollars in 2019.  Projects range from funding matches for Big Brothers Big Sisters mentorship program, to renovating a Miracle League field for boys and girls with special needs and many more.
---

Member Spotlight

: San Diego Theatres, Inc.

Delivering exceptional performing arts experiences in the heart of Downtown San Diego

Were you one of the lucky theater-goers who experienced Hamilton at downtown's Civic Theatre? Or Wicked or CATS, or The Nutcracker ballet or the Opera's Carmen? Were you at the Balboa Theatre to sing along with The Sound of Music or laugh along with Ellen DeGeneres? If you have attended performances at the Civic Theatre or the historic Balboa Theatre, you have seen San Diego Theatres in action.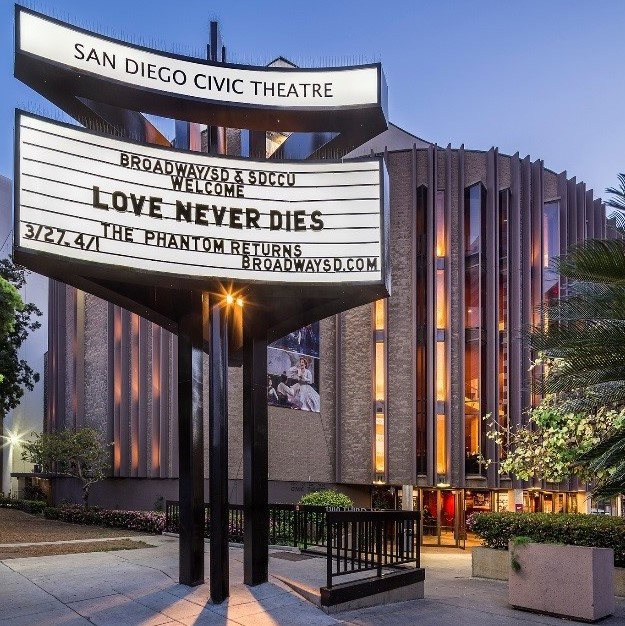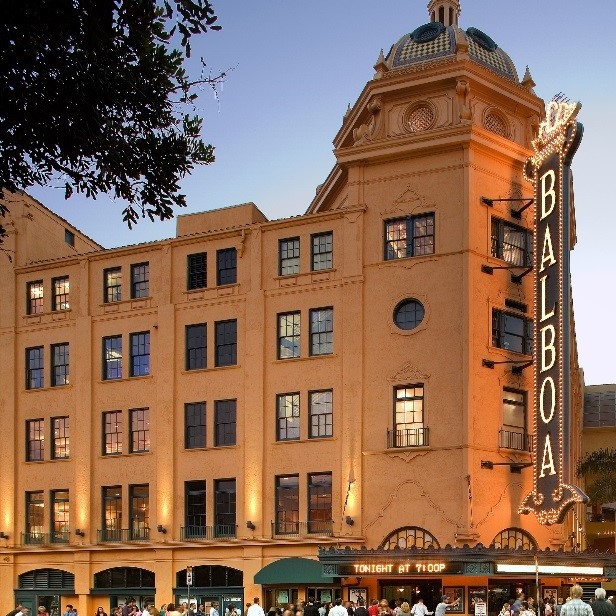 About Us
San Diego Theatres is a 501(c)3 non-profit public benefit corporation dedicated to the management, marketing, and operation of the San Diego Civic Theatre and the historic Balboa Theatre in Downtown San Diego. The City-owned theaters are operated under long-term leases with the City of San Diego. Our mission is to deliver exceptional performing arts and educational experiences, foster collaboration and partnerships, and create an accessible place for all to enjoy the arts.
San Diego Theatres welcomes over 500,000 theater patrons annually. Our staff of theater professionals – led by a management team with a combined 130+ years of arts administration leadership – provides our guests with world-class service, from ticketing through the performance experience. Under our management, the theaters generate revenues that exceed $10 million annually. In turn, San Diego Theatres has invested hundreds of thousands of dollars of our earned revenue in capital improvements to the theaters.
Our History
San Diego Theatres was established in 2003 by the San Diego Convention Center Corporation as a subsidiary corporation with responsibility for the management of the Civic Theatre. In 2008, we assumed management of the historic Balboa Theatre. In 2012, San Diego Theatres separated from the Convention Center Corporation and began independent operations as a 501(c)3 non-profit.
Our Success Story
To measure the success of our programming and services, San Diego Theatres looks to the significant growth of our attendance and revenue. In the past five years, the total number of guests attending performances increased from 338,000 to 528,000 – a 56% increase. In the same time period, gross revenues increased at the Civic Theatre and at the Balboa Theatre, by 96% and 75% respectively.
With 210 days booked in the Civic Theatre and 109 days booked in the Balboa Theatre confirmed for FY 2020, we are on track to host another successful year of world-class performing arts.

San Diego Civic Theatre
The Civic Theatre opened in 1965 in its Downtown location adjacent to City Hall. Generations of San Diegans experienced their first Broadway show, opera, symphony, ballet, or concert at the Civic Theatre. The 2,967-seat theater is the largest and best-equipped performing arts venue in San Diego. It is the only performance space in the city with the capacity and facilities to accommodate large-scale productions of Opera, Ballet, and Broadway.
The Civic Theatre is the performing home of San Diego Opera, California Ballet, and Nederlander's Broadway/San Diego. The theater also hosts presentations by AEG Live/Goldenvoice, Live Nation Entertainment, Mills Entertainment, Icon Concerts, and other presenters of concerts, comedy, dance, magic, cinema, and corporate and civic events.
In 2018, the Civic hosted sold-out shows by John Legend and Dr. Neil deGrasse Tyson. In April this year, comedian Ali Wong played to a sold-out crowd at the Civic (plus 6 sold-out shows at the Balboa Theatre!)
Coming Attractions: In September, entertainment legend Tony Bennett comes to the Civic. In October, Bill Maher brings barbed political humor. Also in October, San Diego Opera presents a stunning Aida. Broadway/San Diego offers the Tony® Award-winning Dear Evan Hansen in December, Disney's Frozen (March 2020) and Broadway sensation Mean Girls (June 2020.)
Historic Balboa Theatre
The Balboa Theatre opened in 1924 as an elegant vaudeville and movie palace in the heart of downtown, anchoring Fourth Avenue at E Street. The Balboa is notable for its working interior waterfalls, and for the Morton "Wonder" pipe organ which provides pre-performance entertainment. In 2015, San Diego Theatres invested in a state-of-the art cinema system for contemporary and classic film presentations.
The Balboa was saved from demolition when it was purchased by the City of San Diego in 1986. In 1996, the theater was named to the National Register of Historic Places. In 2002, the City's Redevelopment Agency funded a spectacular $26.5 million renovation. The theater reopened in January 2008 under the management of San Diego Theatres.
The Balboa is the performing home of Mainly Mozart and Classics 4 Kids. Additional non-profit clients include La Jolla Music Society, San Diego Gay Men's Chorus, San Diego International Film Festival, and presenters of children's programming, Spanish language plays, and author events.
Coming Attractions: The Balboa will host a variety of exciting events during Comic-Con in July. August features stand-up comedian Brian Regan and celebrated mystery writer Louise Penny. Actor/writer Nick Offerman will tickle our funny bones in December.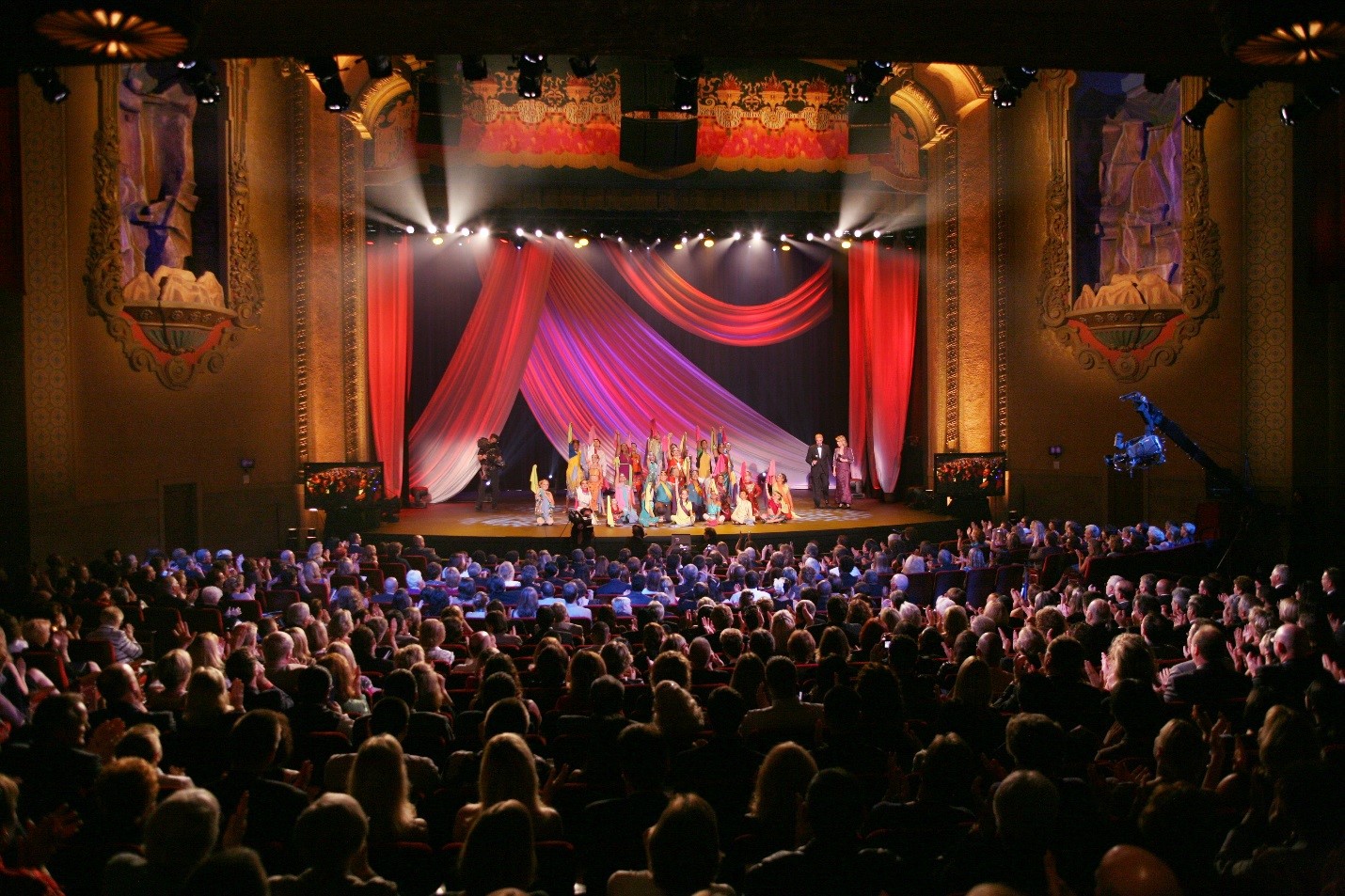 Community Partnerships and Support
San Diego Theatres supports local non-profit organizations by providing discounted rates and fees for their use of the Balboa Theatre and the Civic Theatre.
Nearly 90% of our annual clients are those with whom we have continuing partnerships, including a 10+ year relationship with Classics 4 Kids at the Balboa Theatre, and our 48-year partnership with California Ballet – the presenters of The Nutcracker at the Civic Theatre annually since 1971.
San Diego Theatres' commitment to service for our clients and guests drives improvements in accessibility technology, including upgraded hearing and visual aids. Through collaboration, we have facilitated sensory-focused programs for children with varying developmental and physical attributes.
San Diego Theatres proudly supports the arts community, and the San Diego community and economy. Our theaters welcome hundreds of thousands of patrons annually. In each one of them is the opportunity for another theater-goer to fall in love with Downtown San Diego.
Join Us Onstage!
The Civic Theatre and the Balboa Theatre are available for corporate meetings, civic gatherings, themed parties, employee recognition, client presentations, and private events. For information, contact our Programming team at programming@sandiegotheatres.org.
Contact / Visit
Carol Wallace – President & CEO
carol.wallace@sandiegotheatres.org
Website: www.sandiegotheatres.org
---

Member Spotlight

: Clearway Energy, Inc.

Clearway Energy, Inc. is a new name for a familiar face in downtown San Diego. Formerly known as NRG Yield, Inc., Clearway's district energy system, Energy Center San Diego, has been providing downtown customers with chilled water cooling for almost 50 years. Our name may be new, but our cooling network is operating as safely and reliably as ever. As a long-time service provider, we have seen our downtown area grow and change year after year and are proud to be a continuing part of that growth.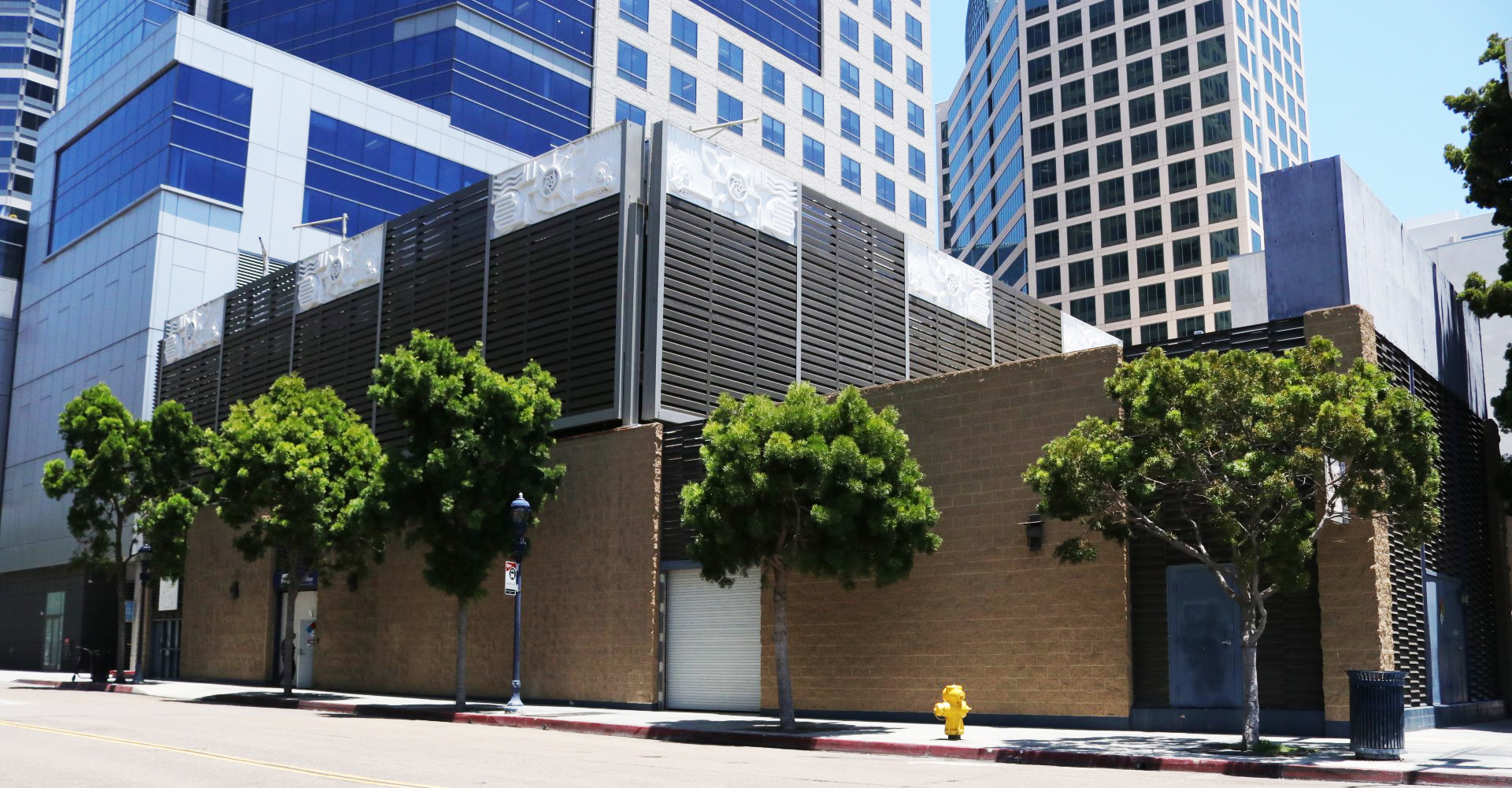 Clearway Energy's technology is perfectly suited for the downtown area. Our centrally located plant efficiently produces chilled water which is then delivered through our established pipeline distribution network. This network of pipes run throughout downtown San Diego allowing for new customers to connect easily to our proven reliable service.
Our distribution system is key to driving down energy costs for our customers. By eliminating the need for on-site cooling equipment, you reduce upfront costs, operational costs and on-going maintenance. Our exceptional record of over 99% reliability is ideal for customers who are looking to minimize outages. It also allows business owners to take advantage of limited and costly space, giving them greater architectural flexibility. It is important to reduce our carbon footprint, and in all these ways, using the Clearway Energy cooling system contributes to that reduction.
Today, we serve many major customers in San Diego, including the new State's Courts Tower, The San Diego County Hall of Justice and the Central Jail. We also serve The City of San Diego Civic Plaza, Horton Plaza, three major hotels and a wide variety of office buildings—providing air conditioning to approximately 3.2 million square feet of space in the downtown area.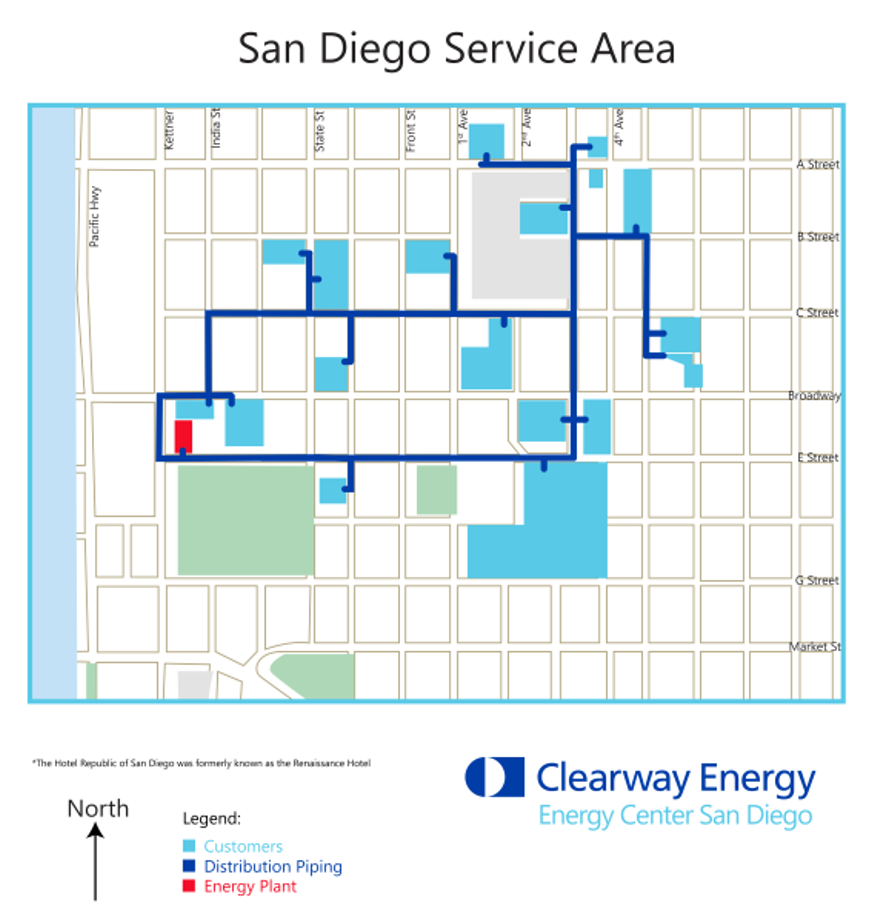 As one of the nation's premier district energy companies, Clearway's portfolio extends well beyond San Diego. Our district energy systems and plants nationwide are providing reliable, resilient, cost-effective heating and cooling services to major institutional and commercial customers in San Francisco, Phoenix, Tucson, Omaha, Minneapolis, Harrisburg and Pittsburgh.
To find out more about what Energy Center San Diego can do for you, contact Jay Zaghloul at (602) 524-4051 or at jay.zaghloul@clearwayenergy.com. Visit our website at  www.clearwaythermal.com
---

Member Spotlight

: Gafcon

Gafcon is a leading program, project and construction management firm with offices in San Diego, Orange County and Los Angeles County. Overseeing a diverse array of projects for school districts, cities and other public and private entities, Gafcon is known for its innovative approach to technology.

Working in San Diego for more than 30 years, Gafcon specializes in managing complex construction projects. A major focus this year is finalizing the design for Seaport San Diego, the future redevelopment of 70 acres of waterfront alongside Downtown San Diego.

Scheduled to break ground as early as 2024, Seaport San Diego will bring families and friends together for relaxation, education and fun and will further enhance the reputation and livability of our great city on the water. With the "wow" factor of an iconic tower, along with a blue campus and a revitalized commercial fishing basin – plus so much more – this will be a memorable destination for locals and visitors, unlike any other. Public access will be preserved and expanded, with parks, urban open space, promenades, pedestrian-oriented streets and other activated public spaces covering more than 70% of the site.

Gafcon's innovation brings teams together

Large construction projects are a team effort. But architects, general contractors, electricians, plumbers and accountants rarely speak the same industry language. When plans are passed between disciplines, data can be mistranslated and time is lost.

Gafcon has invested heavily in technology and has developed its own Digital Twin/OneModel approach to use industry software in a more efficient way. The company's approach has been featured in leading industry publications including Construction Dive and Building Design + Construction.

Building Information Modeling (BIM) is a technology that allows professionals to easily access a graphic representation of complex project plans. With Digital Twin/OneModel, Gafcon is pioneering a new way to use BIM to create a shared digital model for all members of the project team. The model combines financial, technical, time and visual data to create a virtual model. Team members can examine details like room layout, wiring schematics and more – together.

Small details make a big impact

When team members speak the same language and share the same data, they do not need to waste time searching for information and translating the details between disciplines. By preserving information about the project, future maintenance costs are reduced. Already, this approach is generating savings for project owners, to the tune of $3.1 million on one element of a recent project.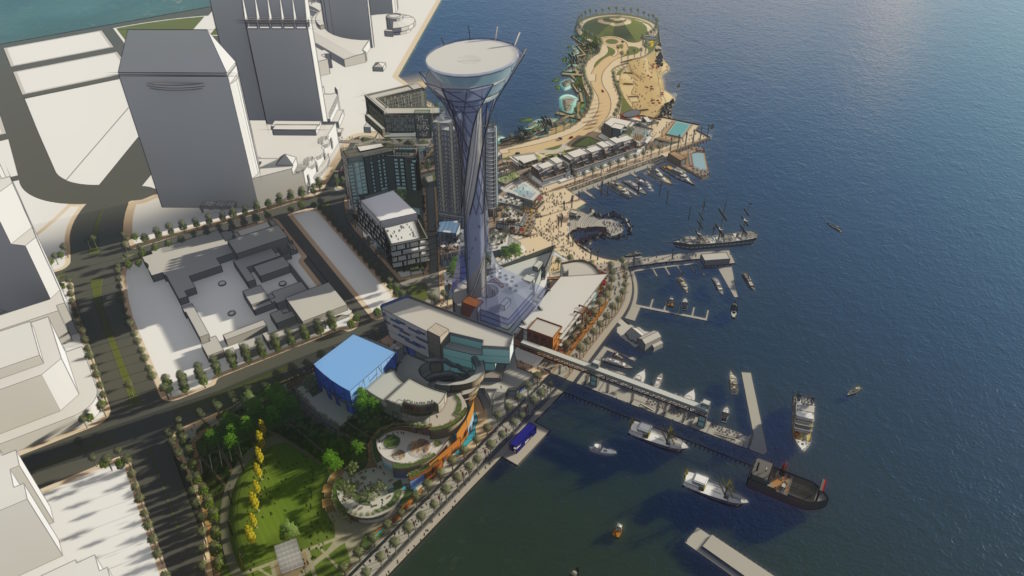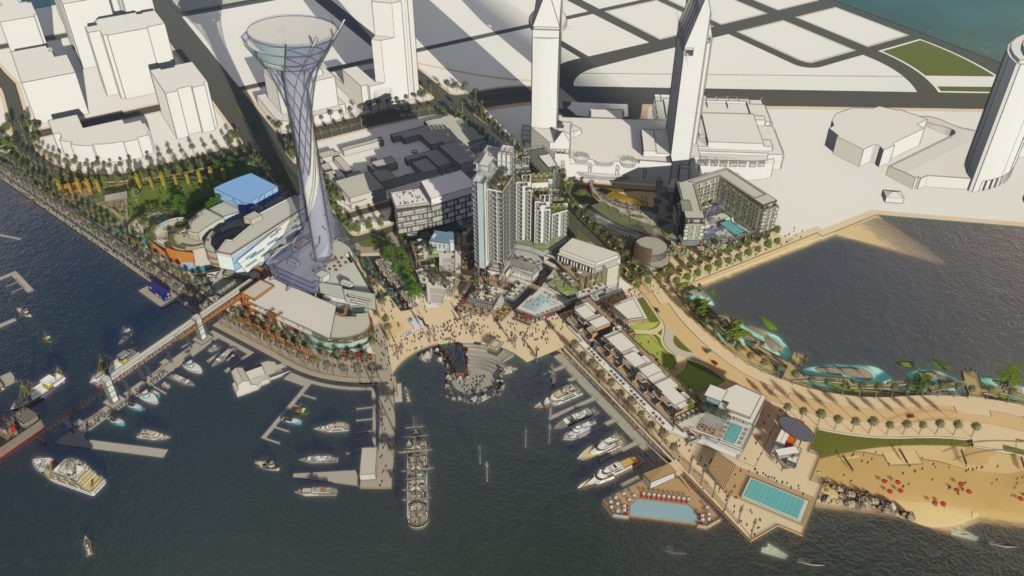 To learn more about Gafcon and how they're creating a more innovative construction industry, click here.
---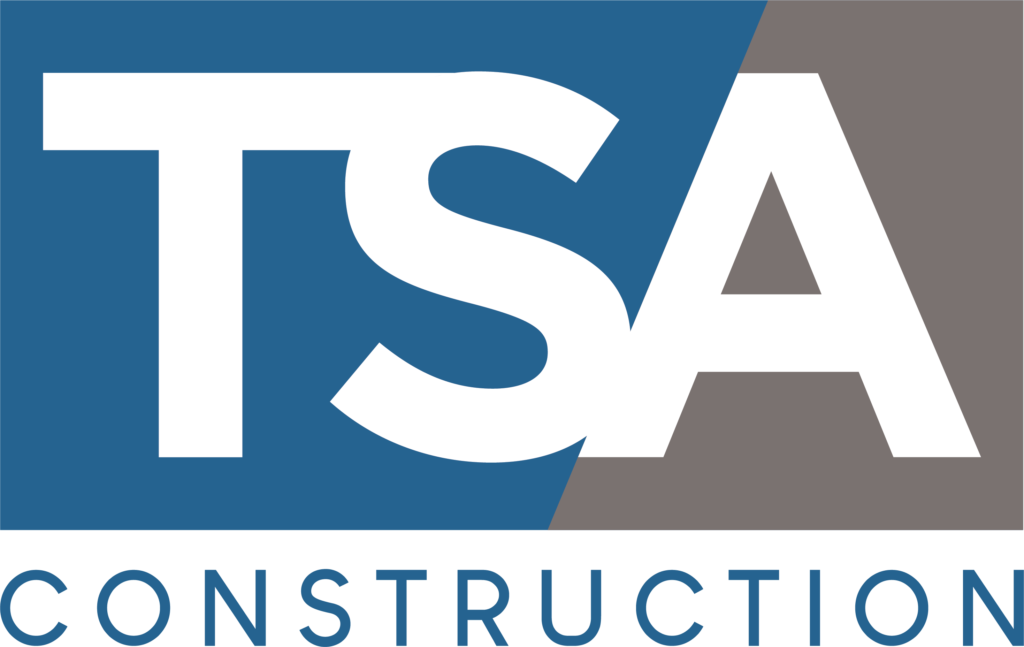 Member Spotlight

: TSA Construction, Inc.

TSA CONSTRUCTION

Founded in 2003, TSA Construction is a 2nd generation, family-owned and operated general contractor based in San Diego with an additional office in Orange County. As a woman-owned business, TSA specializes in preconstruction, ground up construction, site development and renovations, tenant improvements, and historical and building renovations. Built on integrity and accountability, TSA's primary goal has always been client satisfaction.

UNDERSTANDING OUR CLIENTS' VISION EARLY ON

TSA Construction offers a hands-on, collaborative approach to our clients' vision. Our goal is to work together at the earliest stage possible in order to build every project in the most cost effective way. We have had great success adding value and getting our clients closer to their project design based on simple floor plans, test fits, and due diligence analysis.

Understanding the client's and architect's goal and involving TSA in the early stages of the project planning gives the project team an opportunity to control the project budget.

MARKET TYPES

Our expert team of Project Managers and Field Superintendents offer extensive experience and dedication, providing the best possible service to our clients. Our project experience includes:
Multi-Family/Senior Living
Native American Gaming
Hospitality
Industrial
Hospital
Office
Retail
Restaurant
Religious
FEATURED PROJECTS
Door of Hope Rady Residence | San Diego
Amid a homelessness crisis, San Diego County has the fourth largest homeless population nationwide, according to the Salvation Army. The Salvation Army's Door of Hope Campus is home to programs serving homeless families of San Diego. The new Rady Residence will be a new 37,900 SF, 4-story building that will provide 32 residential units with a 1-story Housing Services wing. The Housing Services Wing will consist of an activity room, playroom, offices, and a laundry room.
Mater Dei Catholic Church | Chula Vista
Slated to be complete by April next year, the new Mater Dei Catholic Church will be a 17,420 SF building with a seating capacity of 1,000. The project will consist of other ancillary and supporting spaces as well.
Hotel Del Coronado Vista Walk | Coronado
Undergoing a revamp of the existing outdoor event space, Vista Walk is a picturesque location for ceremonies and other outdoor events at the infamous Hotel Del Coronado.  The new space will be expanded from two levels to one, creating views to the ocean and the historic turret of the 130-year-old hotel. The famed Dragon Tree next to the resort entrance, which was the backdrop for a scene featuring Jack Lemmon in drag in the movie "Some Like It Hot", is also being preserved.
Irvine Company Office Properties – Revitalization Projects | San Diego, Irvine
The Irvine Company's revitalization of various office campuses creates collaborative outdoor workspaces that includes gathering spaces, charging stations, Wi-Fi, heaters, shading, and engaging landscaping so tenants can innovate, create, and socialize in a more relaxed way.  TSA projects include:
Township 14, Del Mar Heights
Eastgate, La Jolla UTC
Gateway at Torrey Hills, Del Mar Heights
La Jolla Center, La Jolla UTC
La Jolla Reserve, La Jolla UTC
La Jolla Square, La Jolla UTC
Executive Park, Irvine
NOTABLE DOWNTOWN PROJECTS
Schiefer & Sons Building at PETCO Park
Showley Bros. Candy Factory at PETCO Park
To learn more about TSA Construction, visit www.tsaci.com
Contact: Terry Arnett, President, 858-761-3672, tarnett@tsaci.com
Heidi Bell, Business Development, 858-284-9764, hbell@tsaci.com
---

Member Spotlight

: Cavignac & Associates

Cavignac & Associates is a locally owned risk management and commercial insurance brokerage firm employing 55 people, with offices located at the 450 B Street building in Downtown San Diego.

The firm provides a broad range of expertise and insurance products to design and construction firms, real estate-related entities, law firms, manufacturing companies, nonprofits and the general business community.  It works with clients to identify their risk, create strategies to reduce the frequency and severity of their claims, and to negotiate appropriate coverages with the right insurance companies for the lowest realistic cost.

Cavignac & Associates engages a unique risk management process called the TotalRISK Approach™, which consistently yields positive results for its clients by lowering their exposure to risk, thereby reducing their claims and driving down their costs.  As a knowledge business, the company invests three times the average amount of other brokerage firms on educating its staff so they can better serve their clients.  Further, it presents ongoing educational seminars for clients to help them better understand and manage their risk exposure.

In local and national "Best Places to Work" award competitions, Cavignac & Associates consistently has ranked at the top of the list, based on the high scores given by its employees who appreciate the desirable work environment, emphasis on professional development, and staff camaraderie.  In fact, the firm recently placed third in the entire country in Business Insurance magazine's "Best Places to Work in Insurance" awards program!

A current focus of the firm is helping clients create and implement internal programs designed to attract, develop and retain bright new leaders of the millennial generation who can bring fresh ideas and ensure continued growth and success for their companies.  The agency has begun presenting off-sight workshops to help its clients achieve their recruitment, leadership and succession goals.

Cavignac & Associates recognizes that insurance can be one of the largest expenses a company has, and that the only way to lower this cost is to lower the frequency and severity of the claims that drive those costs.  Its corporate culture, professionalism, and methodical approach are what distinguish it from its competitors, and make Cavignac & Associates the best choice for managing your risk management and insurance programs.

Close teamwork at Cavignac & Associates extends outside the office and into the field during assorted employee get togethers, this one being a spirited game of softball.  Cavignac & Associates' six partners — Jeff Cavignac, Jim Schabarum, Scott Bedingfield, Patrick Casinelli, Matt Slakoff and Matt Noonan –- recognize the importance of organizing social events for employees to get to know one another and have fun.

"We realize that the people who work here are going to spend a lot of time together, so we try to create a lot of opportunities to do things together and make it enjoyable," said Jeff Cavignac.

Cavignac & Associates | 450 B Street, Suite 1800 | San Diego, CA 92101

For more information, click here.
---

Member Spotlight

: The Miller Hull Partnership

IDEA1

Driving innovation into Downtown San Diego

Completed in 2017, IDEA1 is built on the strong pillars of Innovation, Design, Education and Arts. The 360,000-square-foot mixed-use cluster is the first step to establishing the I.D.E.A. District's vision of becoming San Diego's design and technology innovation hub. This will be achieved by mixing the critical uses—office, residential and retail—in a way that encourages interaction between inhabitants of the block and the larger community. The design principles that support an innovation ecosystem are on display to act as an inspiration for other I.D.E.A. District designers and developers. In 2018, IDEA1 received an AIA San Diego Honor Award and an Orchid Award for Urban Design.

Africa Rocks! at the San Diego Zoo

Immersing visitors in dramatic and diverse landscapes

In collaboration with Quince Farm Studio and ELM Environments, Africa Rocks! is a transformation of an existing 9-acre site at the San Diego Zoo based on the interpretation of a unique series of habitats on the African continent. The geology of Africa is dramatically revealed and becomes the foundation for a diverse collection of habitats and the species that have evolved with them. Since completing in 2017, leopards, African penguins, lemurs, baboons, sharks, monkeys, birds and many more animals now live in habitats that resemble their native homeland. In 2018, Africa Rocks! received an Orchid Award for Landscape Architecture.

Miller Hull San Diego Studio Renovation

Continuing to "walk the walk," our new San Diego studio expresses our values as a modern and healthy work environment, pursing Living Building Challenge Petal certification, including Net Zero Energy

After seven years of consequential projects and growth, our San Diego studio has come home. In 2018, the studio moved to a larger space in The Wharf at Point Loma Marina, which was the firm's first project in San Diego and was designed by our late founding partner, Robert Hull. With sustainability at the heart of our work, we designed a tenant improvement for our new space that is pursuing Living Building Challenge Petal certification, which includes Net Zero Energy. Miller Hull is the only architecture firm located on Port of San Diego property and is currently the only tenant pursuing Living Building Petal certification and Net Zero Energy. Petal certification is targeted for 2020.

Children's Park

Revitalizing an integral part of Downtown San Diego

Located on the Martin Luther King Promenade steps away from the San Diego Convention Center, the Children's Park re-programming and revitalization will breathe fresh life to the park. It will be a welcoming leisure area for tourists, while providing much needed amenities to the rapidly growing resident population. A comfort station is imagined as a public service volume interlocked with a public gather and leisure space. A gather space reaches out towards the nearby promenade and park amenities, while the service block quietly steps back and protects from the busy street nearby. The Children's Park is currently at the end of design and is scheduled to be completed in the summer of 2020.

About The Miller Hull Partnership

Founded in 1977 by David Miller and Robert Hull, partners with a defining background in the Peace Corps, The Miller Hull Partnership is an international, award-winning architecture and planning firm specializing in performance-based designs for public and private buildings. The firm is widely recognized for designs that actively engage the site and their communities. Capabilities include master planning, urban design and interior design services for a range of projects where people Live, Work, Learn, Gather and Serve.

In 2011, Miller Hull opened its San Diego studio and has since more than tripled in size, working with wonderful local clients and collaborators on projects such as the University of California, San Diego, Mesa Commons, IDEA1, the San Ysidro Land Port of Entry and the Del Mar Civic Center. In 2018 the studio moved to a larger space in The Wharf at Point Loma Marina, which was the firm's first project in San Diego that began in 2003, was completed in 2009 and designed by our late founding partner, Robert Hull. The studio is currently pursuing Living Building Challenge Petal certification for Place, Energy, Materials, Health & Happiness, Equity and Beauty.

Miller Hull San Diego has won many design awards for its local work, including a 2018 AIA San Diego Honor Award for IDEA1, a 2018 AIA San Diego Merit Award for Del Mar Civic Center, a 2018 Orchid for Urban Design for IDEA1, a 2018 Orchid for Architecture for Del Mar Civic Center and a 2018 Orchid for Landscape Architecture for Africa Rocks! at the San Diego Zoo.

Miller Hull has always had a legacy of designing creative and inspirational spaces within the urban realm. We take pride in making the invisible visible and giving life to vital services that are more often out of sight and out of mind, such as infrastructure and mass transit. We also have a deep understanding and passion for community, designing public spaces that provide a memorable experience for residents and visitors alike. All of these elements are vital components of San Diego's urban fabric and we are thrilled to work next to and design for such a wonderful downtown neighborhood.