Interested in sharing exciting news about your company?
If you are a Corporate level or above member, we would love to highlight your successes though our Member Spotlight platform. The spotlight is featured in the weekly newsletter, housed on our website, and highlighted through our social media channels. If you are interested in being featured, please provide a newsworthy article or press release, a brief paragraph about your company, company logo, company or project photo, and why you chose Downtown as a location to grow your business to kphillips@downtownsandiego.org.
---

Member Spotlight

: Manchester Financial Group

Manchester Pacific Gateway Celebrates Groundbreaking

In May, Manchester Financial Group announced the official launch and groundbreaking date of June 1, 2018 for the $1.5 billion redevelopment of the 12.07-acre Manchester Pacific Gateway, in the works for 12 years.  The Manchester Financial team, which has secured sufficient equity to finance the project in a single phase, has declared, "Manchester Pacific Gateway is open for business."

"In the 12 years that we have fought for this development, our enthusiasm and commitment has never wavered," said Papa Doug Manchester.  "We have worked through extensive review from six public agencies including the City of San Diego, San Diego County, United States Navy, San Diego Unified Port District, Civic San Diego, and California Coastal Commission, with predevelopment support from the Downtown San Diego Partnership, San Diego Chamber of Commerce, San Diego Economic Development Corporation, San Diego Military Advisory Council, and numerous other groups and organizations that believe in our vision.  The time has finally arrived for construction of a world-class venue for downtown San Diego."

The Navy Broadway Complex, which is currently the home of the Navy's regional headquarters, will make way for a new development. The much anticipated Manchester Pacific Gateway will feature seven buildings totaling three million square feet within eight-city blocks, including a new 17-story Class A office building for the U.S. Navy headquarters.

"The Navy is very excited to have reached this phase of the Manchester Pacific Gateway project. The transformation of this property is a big win for both the Navy and the City of San Diego. The Navy and San Diego have had a strong, mutually beneficial relationship for over 100 years. This project is another important chapter in that history," stated Rear Admiral Yancy B. Lindsey, Commander, Navy Region Southwest.

Envisioned by Papa Doug Manchester, developer of the Marriott Marquis San Diego Marina, triple five-star Fairmont Grand Del Mar, Manchester Grand Hyatt, and Columbia Center office building, this development will serve as the grand entryway to San Diego's booming upscale Downtown and tourist community.

"I'm elated to accept this monumental responsibility for helping shape our waterfront district in the city that I love and call home," said Papa Doug.  "We have brought together the best architectural and development team in the world to ensure that every detail speaks to precision, elegance and style that will last for generations to come. We are ready now to recruit the best talent, businesses, retail, and hospitality to San Diego and to positively impact our economic growth and create new jobs. Manchester Pacific Gateway is a project for everyone, for our Downtown, the region, and for people from around the world to see."

The Manchester Pacific Gateway will include the following:
Size and location: 07 acres on the waterfront bounded by Broadway, Pacific Highway, and Harbor Drive.
Block 1:9 acre plaza; 29-story, 524,000-square-foot office tower; 93,000 square feet of retail; 188,000-square-foot luxury boutique hotel with 260 rooms.
Block 2: 29-story, 1.1 million-square-foot convention center hotel with 1,100 rooms; 70,000 square feet of supporting retail.
Block 3: Eight-story, 178,000-square-foot office building and 81,000 square feet of retail; 17-story, 372,000-square-foot Navy headquarters in a Class A building.
Block 4: Six-story, 153,000-square-foot office tower; and 147,000 square feet of retail.
Manchester Pacific Gateway is consistent with the redevelopment of San Diego's North Embarcadero Visionary Plan.  More than four acres of the 12.07- acre project will be dedicated to public open space, including a 1.9 acre plaza on the waterfront at the foot of Broadway along Harbor Drive.
"This project is a beautiful extension of Downtown San Diego, connecting the central business district to the waterfront, and encouraging pedestrian engagement," said Perry Dealy, Development Manager for Manchester Pacific Gateway.  "The pedestrian paseo, street setbacks, plaza, and restaurants will cater to locals, as well as regional, national, and international tourists."
Dealy added that public parking will include 2,500 parking spaces for nights, weekends and holidays. "By opening up E, F, and G streets for pedestrian access, walkability, and vehicles, Manchester Pacific Gateway will bring a vital and inspiring connection between Downtown San Diego and the bay," said Dealy.
Dick Gibbons, President & CEO for Manchester Financial Group, estimates that the project will bring in more than $12 million a year of Transient Occupancy Tax (TOT) revenue to San Diego for parks, roads, police, fire, and other public benefits for the neighborhoods, and more than $10 million a year of property tax to the County of San Diego.  In addition, Manchester Pacific Gateway is expected to generate $15 million a year in sales tax and more than $14 million in Development Impact Fees (DIF) to fund parks, fire stations, and traffic circulation improvements.
"Manchester Pacific Gateway will have a significant positive financial impact for San Diegans," said Gibbons. "We believe the project will generate about 2,443 construction jobs and nearly 3,000 permanent jobs.  This is a visionary development, a true landmark that promises an extraordinary experience, and has local, regional, and world-wide appeal."
###
About Manchester Financial Group
Founded in 1970 by Papa Doug Manchester, Manchester Financial Group is headquartered in San Diego, California, and specializes in hotel and commercial real estate development. Manchester Financial Group and its subsidiaries have been instrumental in developing Downtown San Diego's waterfront, paving the way for the city of San Diego's burgeoning convention industry, while also founding two banks and establishing an extensive and diverse investment portfolio. The company is an integral part of San Diego's economic landscape developing important landmark properties including the Manchester Grand Hyatt San Diego, San Diego Marriott Marquis & Marina and Downtown San Diego's First National Bank building.  In the La Jolla area, the company has developed the Manchester Business and Research Park, Torrey Executive Centre, and the Manchester Financial Building.  Further north, Manchester Financial Group's most prominent and acclaimed development, the Fairmont Grand Del Mar, was voted the number one resort in America and received Forbes triple five-stars for restaurant, spa and hotel.  The company invests and takes active leadership roles in industries including tourism, hospitality, convention services, technology, telecommunications, banking, broadcasting, medical device instrumentation, education, and other important areas of health and human services. Over the past few decades, Manchester Financial Group has developed more than $5 billion in assets worldwide and continues to be one of San Diego's largest and most profitable private companies. For additional information on Manchester Financial Group, please visit www.manchesterfinancialgroup.com.
WATERFRONT! WATERFRONT! WATERFRONT! – the only Class A office space available on the waterfront in the West Coast
Downtown location & urban environment – amenities, hospitality, restaurants, retail – the true Live, Work, Play Experience!
Less than 5 miles from the Convention Center – San Diego is ranked in the top 5 nationwide for conventions
Less than 5 miles from the San Diego International Airport – and close to the Tijuana International Airport and public transportation
Tourism & Hospitality – second leading driver in San Diego economy
Ryan Kiesel, Vice President and CFO for Manchester Financial Group, joined the firm in 2006 as the Director of Finance. He is responsible for all financial reporting, corporate and operational finance, budgeting, and general accounting. During his time with Manchester Financial Group, Kiesel assisted in the acquisition and sale of The San Diego Union-Tribune and the sale of the Manchester Grand Hyatt San Diego, which was the single largest hotel transaction in 2011. Prior to his position with Manchester Financial Group, Kiesel held financial management positions with Genius Entertainment, JAKKS Pacific, Inc. and KPMG, LLP. He is a graduate of the LEEDS School of Business at the University of Colorado, Boulder. He lives in San Diego with his wife and three children.
Stephanie Brown, Manchester Financial Group, 619-823-9794
Vince Heald, Beck Ellman Heald, 858-453-9600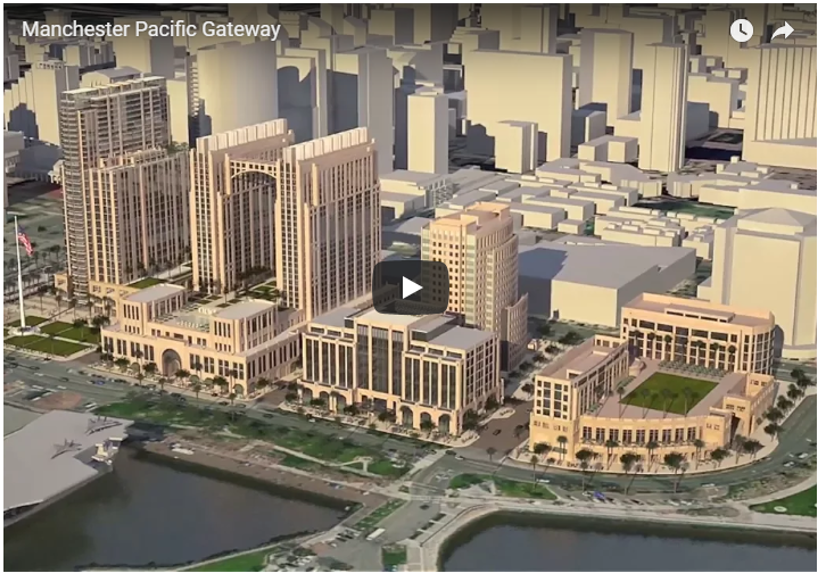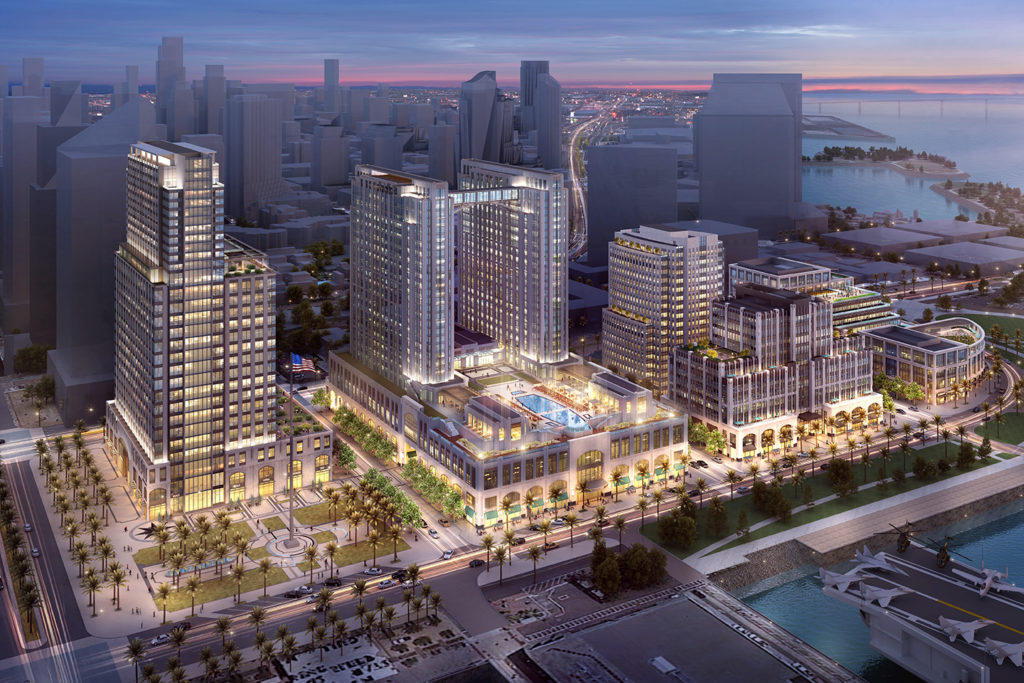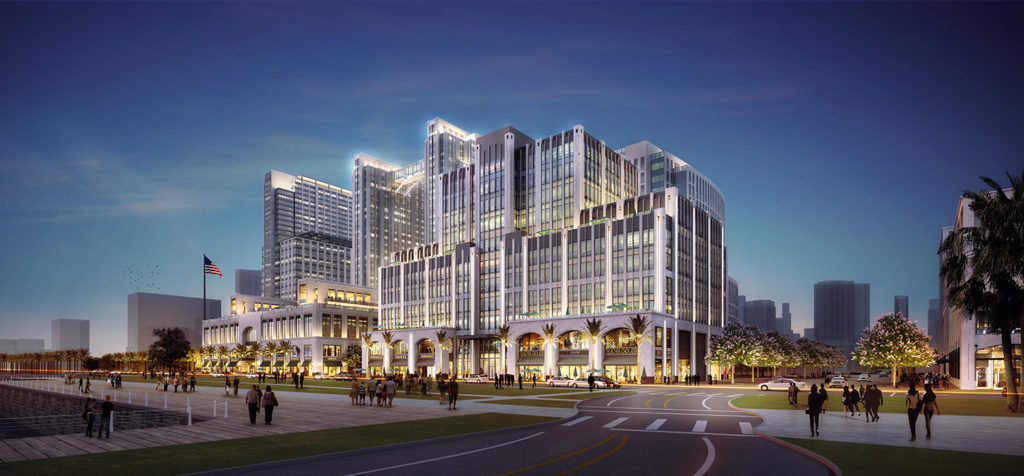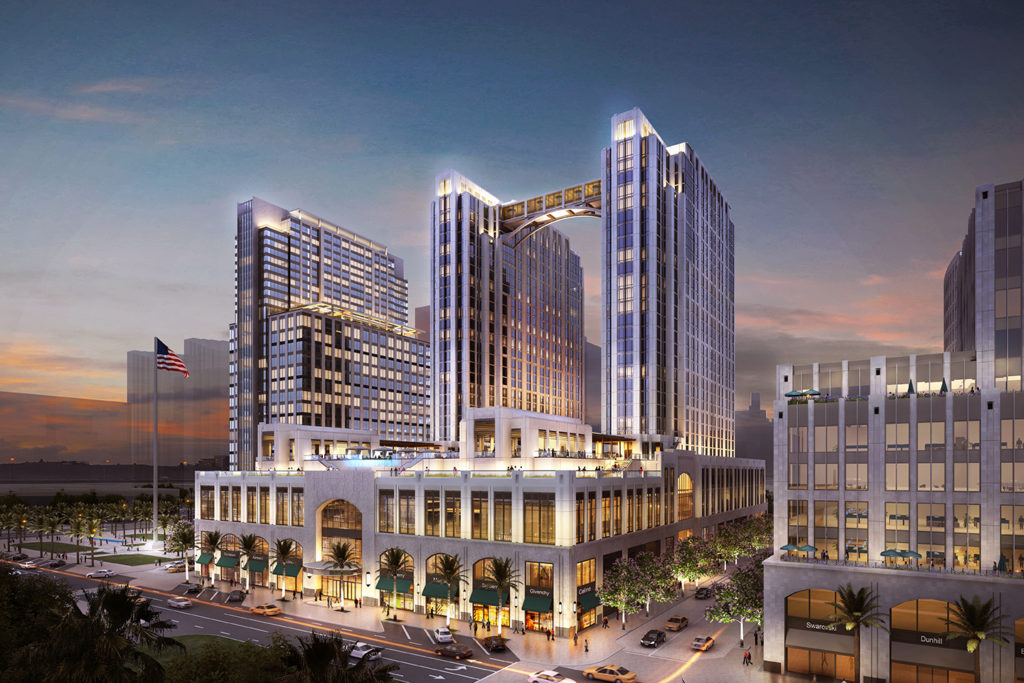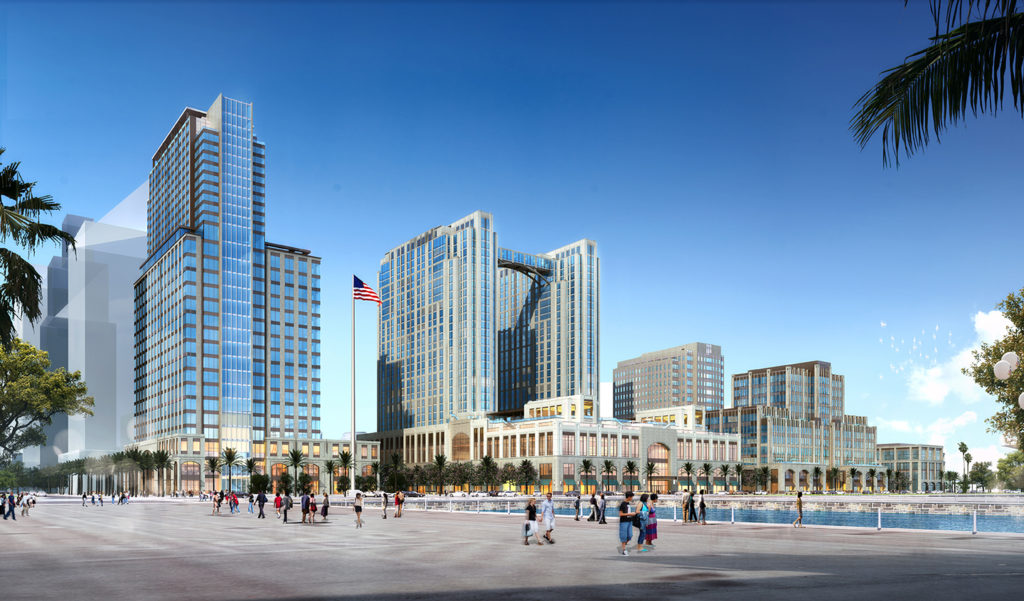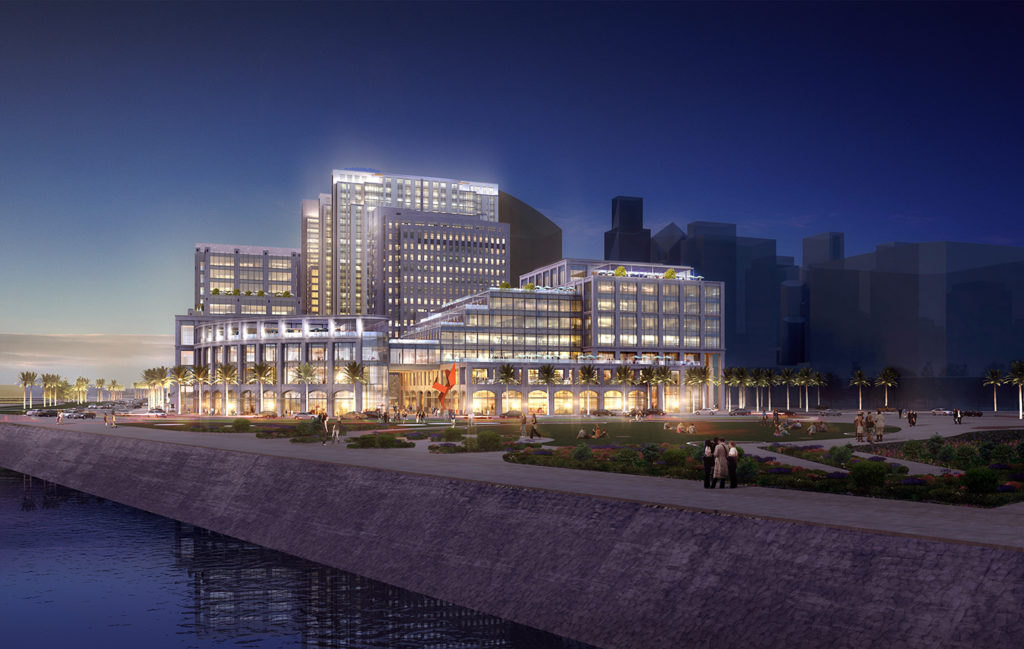 ---

Member Spotlight

: The New Children's Museum

The New Children's Museum Awarded $249,739 IMLS Grant
One of 133 projects focusing on creative positive community change

September 13, 2018 – The New Children's Museum was awarded a three-year grant for
$249,739 by the Institute of Museum and Library Services (IMLS). The federal agency announced a
total of 133 projects totaling $19,932,000 as part of its competitive Museums for America initiative.
The New Children's Museum grant was the sole award recipient in San Diego County and one of only 21
awarded in California.

"These grants enable museums of all sizes and disciplines across the nation to make a difference in
their local communities," said Paula Gangopadhyay, Deputy Director of the IMLS Office of Museum
Services. "This year's Museums for America projects showcase the leadership vision and
resourcefulness of hundreds of museums."

The three-year project enables the Museum to partner with contemporary artists and San Diego
community organizations in underserved neighborhoods to implement three cycles of annual artist
residency programming. Expanding on work already undertaken with commissioned artists and
community partners, the project is designed to meet identified needs of visiting families, as well as
those that have not yet visited, and contribute to the artists' ability to engage in community practice.
The annual residency project will culminate in an interactive work of art for families to enjoy at the
Museum, complementing the Museum's exhibition plan for two to three smaller installations annually
and one major anchor installation every five years.

"IMLS support helps solidify the direction of artist residencies at the Museum. Creating partnerships
with our commissioned artists has been critical to our success as an arts-based children's museum,"
said Tomoko Kuta, Deputy Museum Director of The New Children's Museum. "This project lets us
create experiences that meet the needs of current visitors while pushing us to reach new underserved
audiences and share our work with the museum field."

The Museum anticipates reaching nearly 10,000 children and family members in underserved
communities through these efforts. The program will serve as a model for other museums to develop
community-based exhibition and program development.

This marks the third IMLS grant received by The New Children's Museum in the past five years. A prior
award helped fund the immersive installation The Wonder Sound, a two-year collaboration with the
community and artist Wes Sam Bruce that opened in 2016. The Museum is currently involved in
Comunidad, a two-year IMLS-funded program designed to strengthen relationships and increase
activities with community partners including Casa Familiar and South Bay Community Services.

About the Institute of Museum and Library Services
The Institute of Museum and Library Services is the primary source of federal support for the nation's
libraries and museums. We advance, support, and empower America's museums, libraries, and related
organizations through grantmaking, research, and policy development. Our vision is a nation where
museums and libraries work together to transform the lives of individuals and communities. To learn
more, visit www.imls.gov and follow us on Facebook and Twitter.

The New Children's Museum
The New Children's Museum is a new model of children's museum whose mission is to stimulate
imagination, creativity, and critical thinking in children and families through inventive and engaging
experiences with contemporary art. The Museum opened in 1983 in La Jolla as the Children's
Museum/Museo de los Niños and reopened Downtown as The New Children's Museum in 2008. The
Museum brings families together in a rich educational environment that fosters creativity — blending
the best elements of children's museums, contemporary art museums, and community resources. The
Museum collaborates with contemporary artists on an ongoing basis for art installations and
educational programs for children. In 2018, the Museum is celebrating 35 years in San Diego and 10
years as The New Children's Museum. To learn more, visit thinkplaycreate.org or follow them on
Facebook or Instagram.

Every major city needs a children's museum; a place that brings families together in a rich educational environment that fosters creativity. The New Children's Museum combines the best elements of children's museums and contemporary art museums, and functions as a community resource for families Downtown and throughout San Diego.

###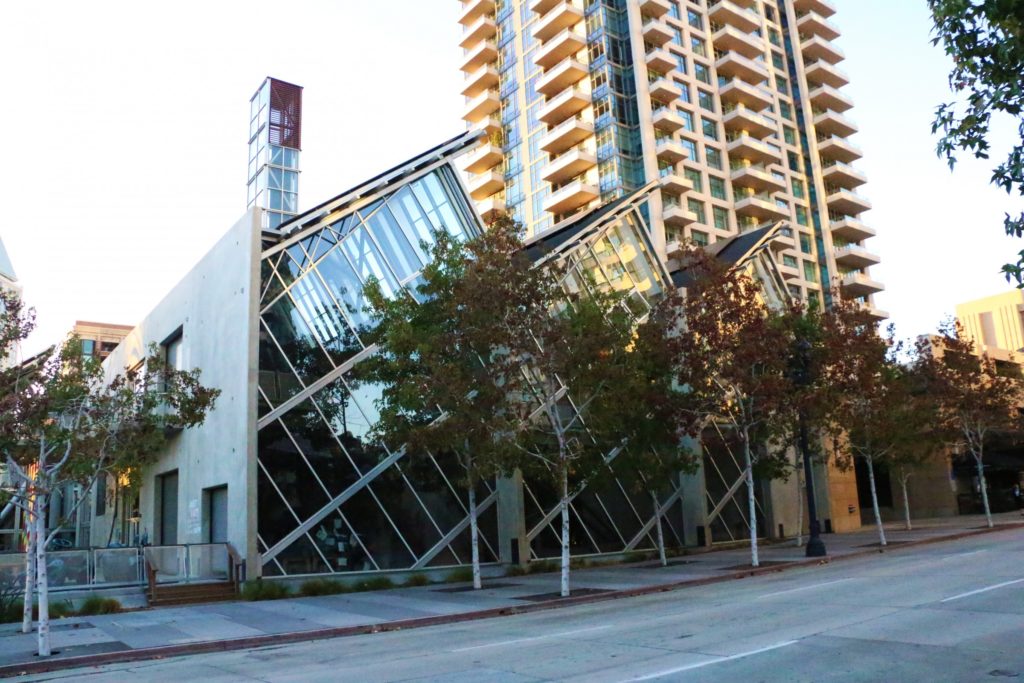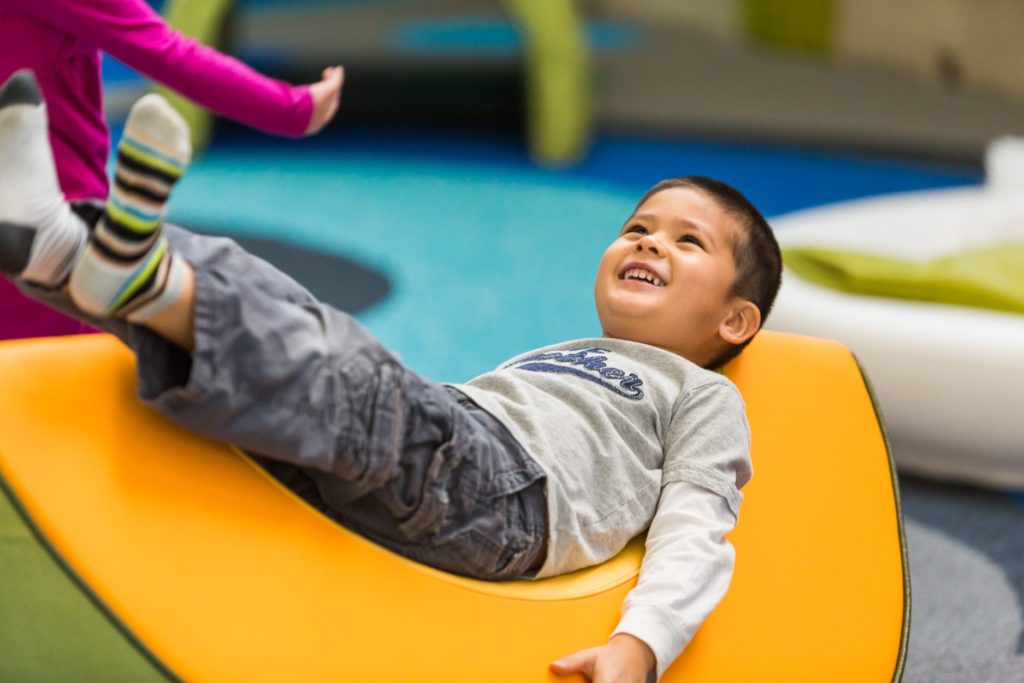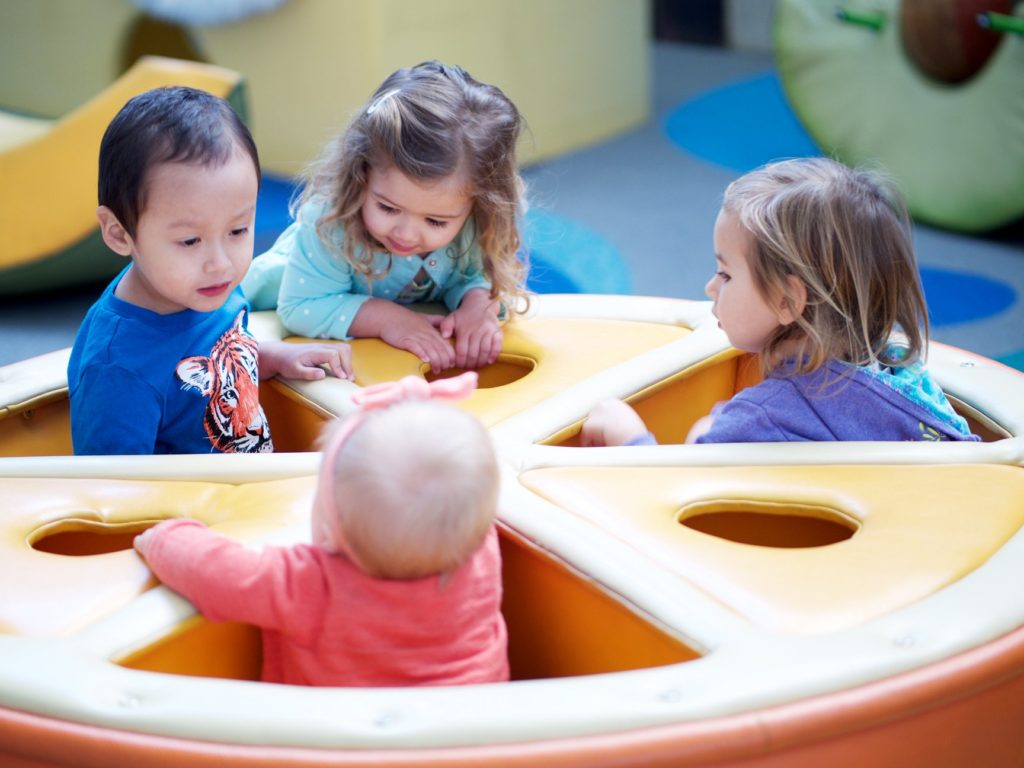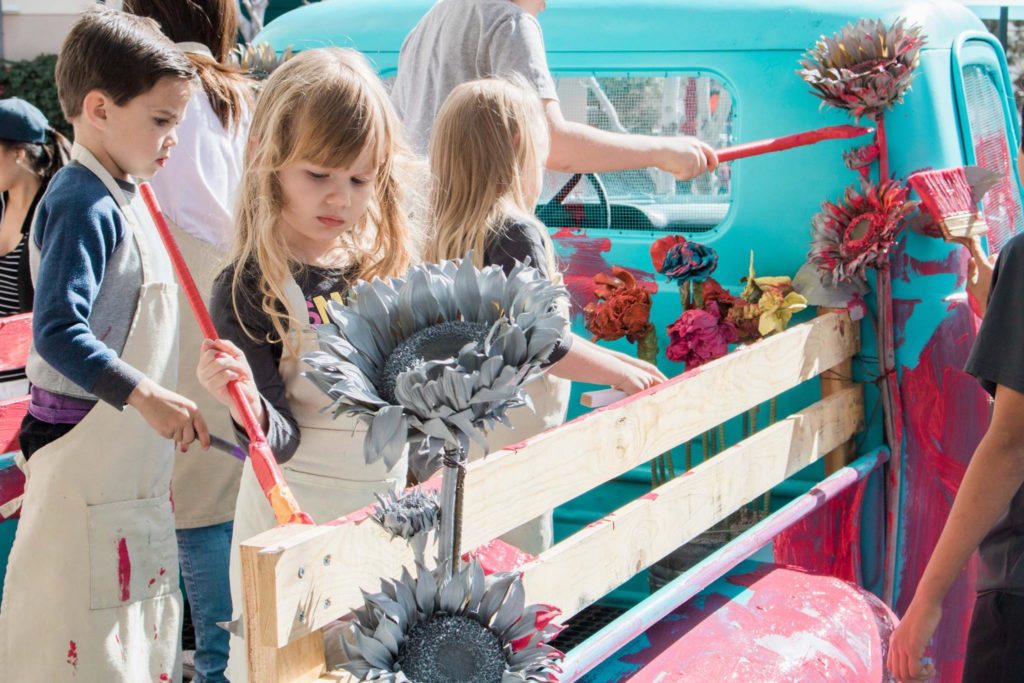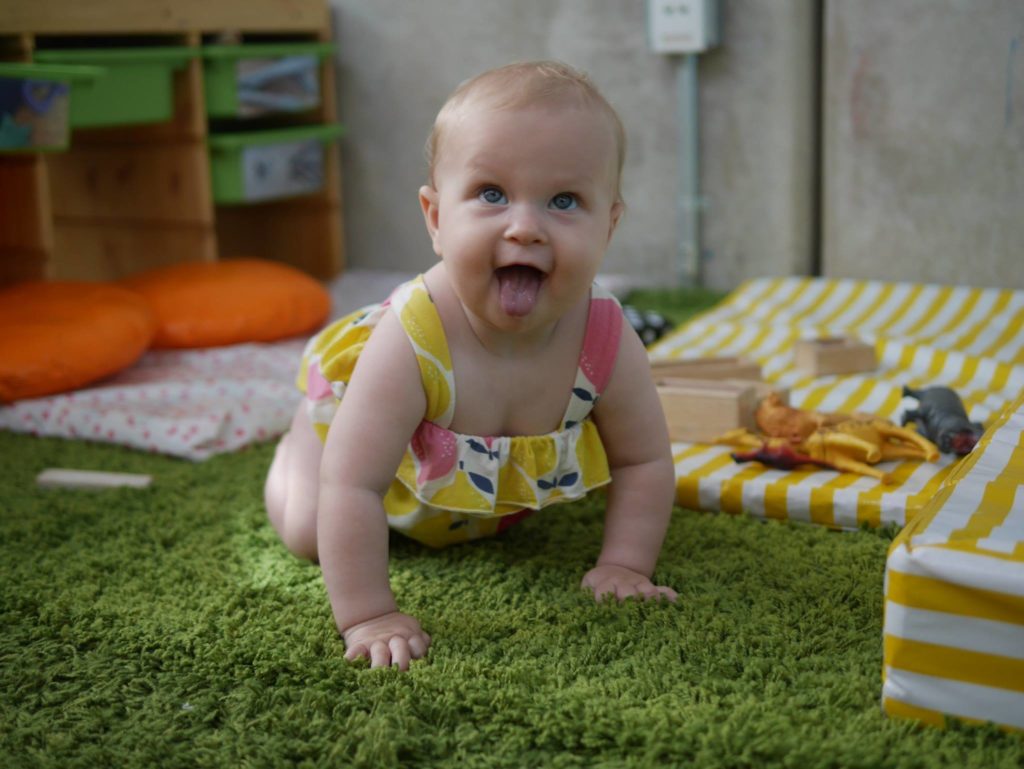 ---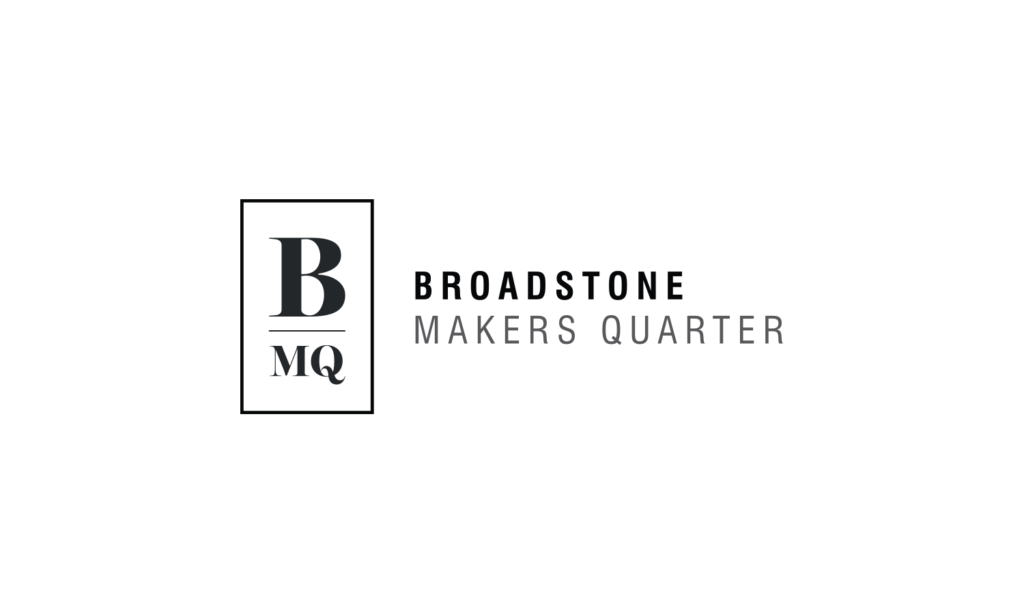 Member Spotlight

: Broadstone Makers Quarter

BROADSTONE MAKERS QUARTER TO HOST GRAND OPENING TWO-DAY EVENT FEATURING TIJUANA'S FAMED CROSS-BORDER ART & DESIGN POP-UP STORE, NERO48
Charitable Celebration on September 22nd & 23rd Showcases Mexico's Most Progressive Entrepreneurs, Artists, and Designers; Plus Baja-Based Chefs, Brewers, Vintners, Musicians, and more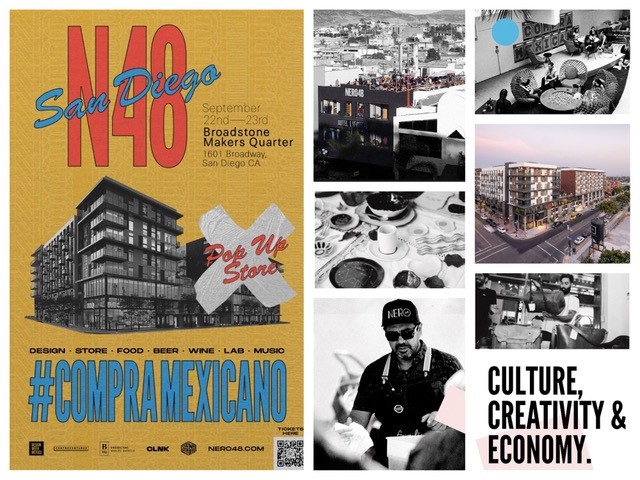 Broadstone Makers Quarter is San Diego's new mixed-use residential hub for design and creativity—bringing together makers, artists, innovators, and forward-minded individuals in one progressive environment. To celebrate the Grand Opening of its stylish new Downtown apartments within Makers Quarter (a collaborative hub by Lankford & Associates and its development partners), Broadstone announces that it will host the first ever San Diego iteration of NERO48.
WHAT | NERO48 is a non-border, intercultural pop-up shop. This 48-hour event originated in Tijuana and offers a unique multi-sensorial art experience while showcasing the work of talented Mexican entrepreneurs who are based throughout Mexico and California. From workshops and lectures, to incredible shopping and gastronomic encounters, get ready for two days of extraordinary cross-border culture, creativity, and inspiration.
+ NERO48 ATTENDEES MAY EXPLORE:
15 apartments within Broadstone Makers Quarter, which will be transformed into art-forward experiences by a variety of Mexican designers and entrepreneurs from Mexico City, Guadalajara, Tijuana, San Diego, Los Angeles, and beyond
20+ pop-up shops featuring art, homewares, furniture, leather goods, jewelry, clothing, and more
The Lab, featuring 30-minute multi-disciplinary lectures from various international designers, architects, and artists
Food and beverage from Mexico's culinary vanguard, Baja-based breweries, distilleries, and a variety of Valle de Guadalupe wineries
Live music and entertainment
WHEN |  11:00 am to 7:00 p.m. on Saturday, September 22 and Sunday, September 23, 2018
WHERE | Broadstone Makers Quarter | 1601 Broadway, San Diego, CA 92101
COST + CHARITABLE BENEFICIARY | $10 per adult; $2.50 per child. Tickets available on online here. A portion of proceeds from NERO48 at Broadstone Makers Quarter will benefit San Diego-based non-profit Urban Angels.
"Lankford & Associates, alongside development partners HPI Investors and Hensel Phelps, is thrilled to welcome Broadstone into the Makers Quarter neighborhood," says Robert Lankford, President & CEO of Lankford & Associates, Inc. "This residential hub truly symbolizes the entrepreneurial spirit of its surrounding community.  As a neighborhood anchor, Broadstone Makers Quarter has helped us to create an environment that appeals competitively to prospective businesses, retailers, and also tenants while always upholding our ethos of a collaborative community."
###
ABOUT: 
+ Broadstone Makers Quarter: Developed by Alliance Residential Company, Broadstone Makers Quarter is a 265-unit multifamily community currently leasing 550-square-foot to 2,166-square-foot apartment homes, including studio, one-, two-bedrooms, as well as multi-level penthouse residences and townhomes with 20-foot ceilings. With leases starting at $1,999, the 7-story apartment community is uniquely designed to better connect with the tastes of Downtown residents and urban growth and to be the catalyst for Downtown San Diego's arts, culture, innovation, and technology employment. Architect Joseph Wong of JWDA designed Broadstone's chic downtown digs alongside interior designer and fabricator, Paul Basile of BASILE Studio. www.broadstonemakersquarter.com
+ Makers Quarter: As an innovation hub for a millennial workforce, this new emerging district completes one of the final chapters of growth for East Village's dynamic urban Downtown neighborhood—ushering in new office, residential, restaurants, retail, and entertainment space, alongside associated public parks and open space. Home to popular tenants such as Punch Bowl Social, 10-Barrel Brewing Co., and You & Yours Distillery, it also hosts Urban Discovery Academy, SMARTS Farm, SPAWERX, and Fuse Integration—leaders of San Diego's innovation economy. Alongside the grand opening of Broadstone Makers Quarter, additional major mixed-use projects, providing more retail, office, and residential units are slated to begin construction in 2019. The master plan of Makers Quarter was jointly developed by Lankford & Associates, HP Investors, and Hensel Phelps.  www.makersquarter.com
+ NERO48 Pop Up Store: NERO48 is an experiential marketing platform for Mexican creative entrepreneurs with presence within Mexico and United States. In each of its editions, N48 promotes multidisciplinary projects during the 48 hours of experience from objects of design and works of art, to the culinary vanguard, and musical explorations. We are interested in discovering and promoting the new directions of contemporary culture. NERO48 POP UP STORE takes place in Tijuana, México twice a year, and once a year in Los Angeles and San Diego, California. For its editions, or ephemeral appearances, N48 occupies different architectures, old constructions and/or new buildings, making the private space public. N48 is a hybrid experience, unique in its kind in the north of Mexico. www.nero48.com
---

Member Spotlight

: U.S. Sand Sculpting Challenge

The Port of San Diego Presents

The 7th Annual U.S. Sand Sculpting Challenge

Labor Day Weekend on the Downtown Waterfront

** The theme of the sculptures is "Celebrate," as the Port lights the night

from the Broadway Pier and Landing**

San Diego, CA. – One of the top 20 "Must See" seaside festivals in the world according to American Express and USA Today's 10 Best, the U.S. Sand Sculpting Challenge and Dimensional Art Exposition will return to San Diego's Downtown waterfront for 4 days, August 31 – September 3.

Presented by The Port of San Diego, this will be the seventh year one of the world's most prominent sand-sculpting competitions will be held on this built-for-the-occasion beach, with over 300 tons of sand dumped on Broadway Pier.

World Master Sand Sculptors

This invitation-only competition will feature 12 Master Class Sculptors, six from the United States and six from exotic countries around the world, to compete and carve museum-worthy sand sculptures made from only sand and water. These hand-made sculptures can reach up to 15 ft. tall and can weigh over 10,000 lbs.  It's been called the most creative atmosphere in the world and you'll never see works of art like this anywhere else!

Making their Southern California debut this year and competing for the top prize are Meg Murray from Tasmania, Dmitry Klimenko from Russia, Leonardo Ugolini from Italy, Marielle Heessels from the Netherlands, Brian Turnbough from Mokena, Illinois; and Lucinda "Sandy Feet" Wierenga from South Padre Island, TX.

Returning international artists include 2017 2nd Prize Winner Abe Waterman from Prince Edward Island, Canada and Agnese Rudzite-Kirilova from Latvia.

Returning and representing the USA are 2017 3rd Prize and 2012 Grand Prize winner Rusty Croft from Carmel, CA; 2017 Sculptors' Choice winner and 2016 Third Prize winner Thomas Koet from Melbourne, FL; 2015 Third Prize winner Dan Belcher from St. Louis, MO and Morgan Rudluff from Santa Cruz, CA.

At stake, more than $60,000 in prize money and national pride. Where will this year's winner be from: the U.S., Canada, Europe, or Australia?

Team Competition: The I.B. Challenge

Back by popular demand, the newly named team competition, The I.B. Challenge, will be comprised of three championship teams who won the former U.S. Open Sand Sculpting Competition in Imperial Beach from 2000 until 2011. Each team will include four professional sand artists who will be carving for two days to create an out-of-the-box sand sculpture corresponding to the "Celebrate" theme.

NEW Features
Sculptures will "light the night" and will be decoratively lit from top of bottom inside the Port Pavilion.
An exciting category of dimensional (non-sand) art will be announced soon!
Electronically vote for your favorite sculpture for the People's Choice Awards from your very own phone.
Expanded Arts for Learning/ San Diego Kid Zone with rides such as European Bungie, Bubble Fun and FREE arts & crafts.
Meet professional sand sculpting artists and learn how to build a sandcastle like a professional!
VIP ticket holders will receive unlimited access to the event all weekend long, special accommodations, free beverages and more.
Active duty military, EMT's, fire and police personnel receive FREE admission with valid ID (individual only).
The Dimensional Art Exposition
No matter how much you love them, you can't take the sand sculptures home. But you can shop for more than 1,000 original works of art such as metal, wood, glass, ceramics, hand-made jewelry and clothing, wall-art and much more. Many of the finest artists in the Southwest will exhibit and sell their amazing one-of-a-kind art on the pier next to the majestic sand sculpture creations.
Family Fun — Live Entertainment, Gourmet Food Trucks, Kids Giant Sandbox & Rides
In addition to witnessing one of the most popular sand sculpture competitions in the world, patrons will enjoy live entertainment from bands paying tribute to the Beatles, Beach Boys, Dylan, Journey and other greats. Families can picnic on the bay with food and drink from over a dozen gourmet food trucks and a wine and beer garden.
In addition, children can play in a huge sandbox (what else?) and enjoy rides such as European Bungie, Bubble Fun and FREE activities in the expanded Arts for Learning/San Diego Kids Zone.
Your Attendance Supports Educational Charities
A portion of proceeds from the event will go to the following local charities to support children's education:
San Diego School of Creative and Performing Arts
Arts for Learning San Diego
Junior Achievement
Princess Project San Diego
University of Saint Katherine
San Diego Padres Foundation
Maritime Museum kids' educational programs
Stay Downtown
The wonderful boutique Sofia Hotel (www.thesofiahotel.com) in the heart of Downtown on Broadway between First and Front is the official hotel of the U.S. Sand Sculpting Challenge and Dimensional Art Exposition.
Admission – Save on tickets right now!
Tickets available at www.ussandsculpting.com
NEW – Active duty military, EMT's, fire and police receive FREE admission with valid ID (individual only)
NEW – VIP ticket holders will be able to visit the event as often as they wish throughout the weekend
Friday only "Preview Day" ticket:
Adults – $9
Seniors (62+) – $8
Kids (2 – 12 yrs) – $7
Saturday – Monday ticket (1 day admission):
Adults – $13
Seniors (62+) – $10
Kids (2 – 12yrs) – $9
VIP (includes 2 free drinks & weekend-long admission)
Adults – $35
Times
Friday, August 31st: 5pm – 9pm
Saturday, September 1st: 10am – 9pm
Sunday, September 2nd: 10am – 9pm
Monday, September 3rd: 10am – 7pm
3D Art Expo LLC is a San Diego based event marketing company specialized in turning arts and culture into fun for the whole family. Its principals have been involved in creating and implementing promotional marketing campaigns for Fortune 100 companies for more than four decades, and have won national and international awards for their work from the American Marketing Association, Advertising Age and others. For the past 7 years, the company has produced the U.S. Sand Sculpting Challenge and Dimensional Art Exposition on the downtown San Diego waterfront, an event that American Express has called one of the "top 20 'must see' seaside events in the world and USA Today's 10 Best.
San Diego offers an unusually creative environment on a pier downtown, with skyscrapers to the East and the beautiful bay on the West. On top of that, tall ships on the water, a perfect climate, mass transit just 2 blocks from the site and more. Perfect!
U.S. Sand Sculpting Challenge Producers
Joyce Summer – jsummer@ussandsculpting.com  619-980-6651
Gordon Summer – gsummer@ussandsculpting.com  619-994-3752
Media Contacts – c3 Communications, Inc.
Joice Truban Curry – joice@c3publicrelations.com – 858-794-6974 / 619-540-6611 (cell)
We invite you to please find more information and pictures at www.ussandsculpting.com.
# # #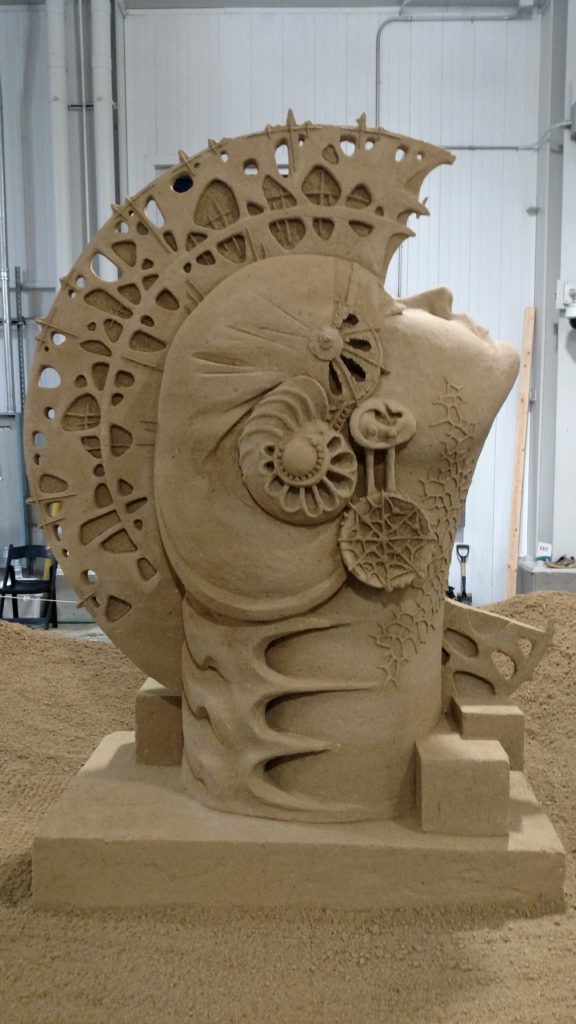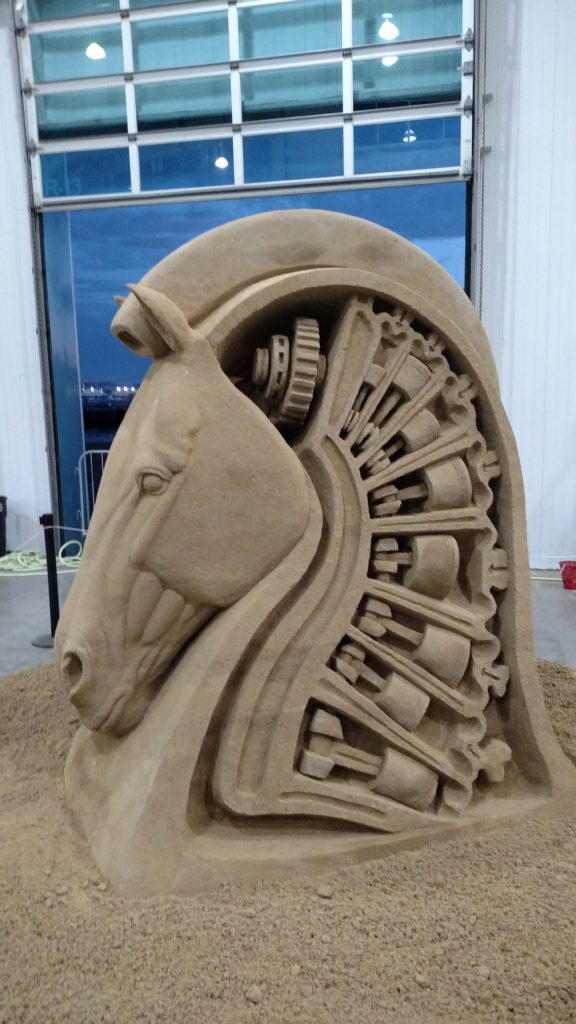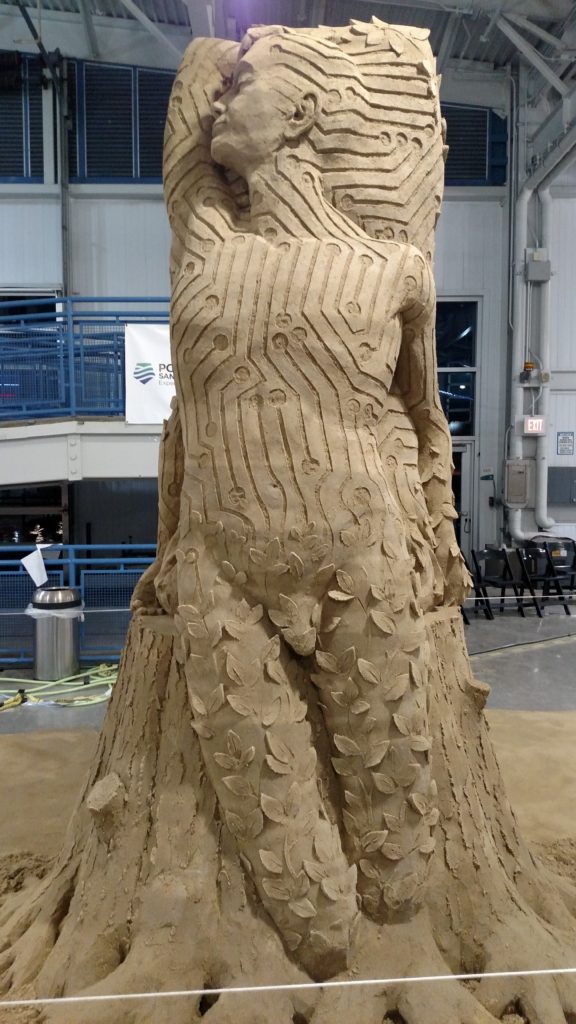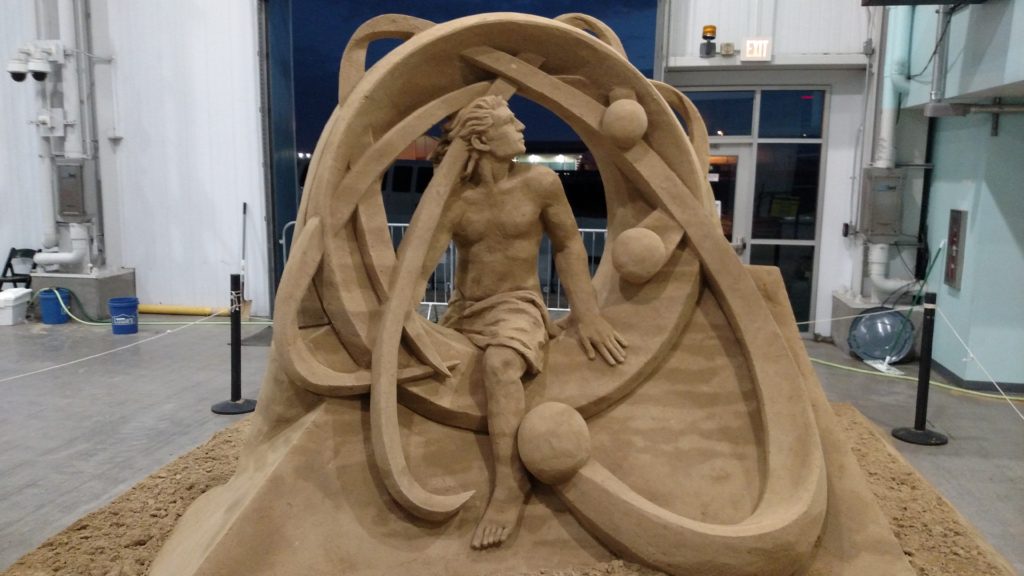 ---

Member Spotlight

: Delawie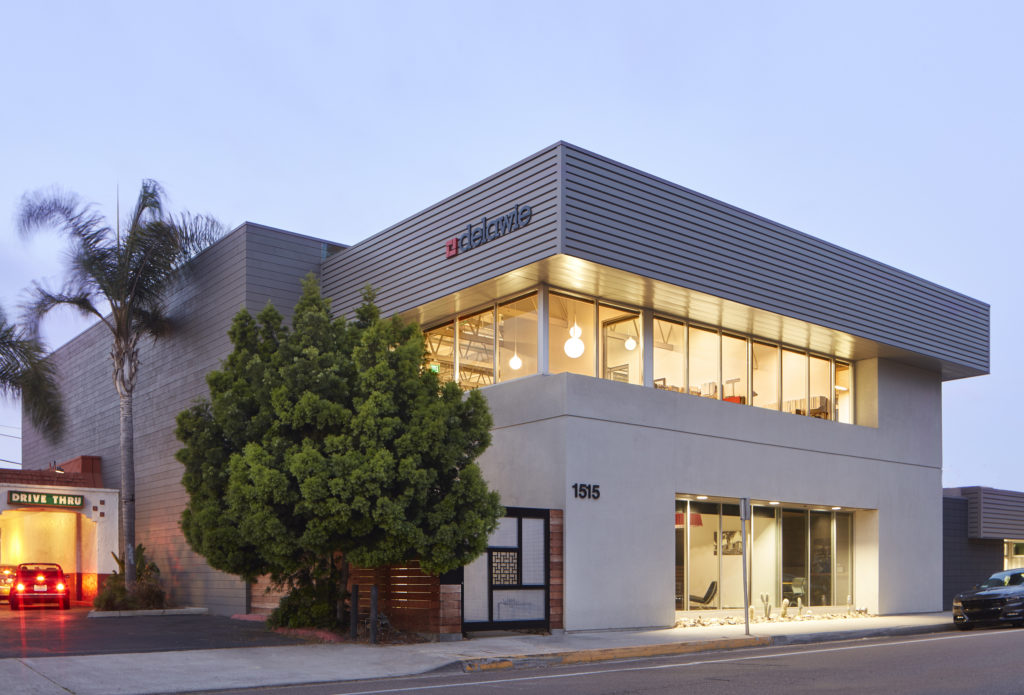 Recent Projects
Valley View Casino
Valley View Casino, a locals-focused hidden gem in the gaming and entertainment industry, seeks to grow into a dynamic regional landmark. While delivering the highest levels of service focused on comfort, fun, and food, Valley View creates the ultimate guest experience and remains time and time again, 'San Diego's Favorite.'
Year: 2019
Location: Valley Center, CA
Size: 42,000 SF
Program: Casino Expansion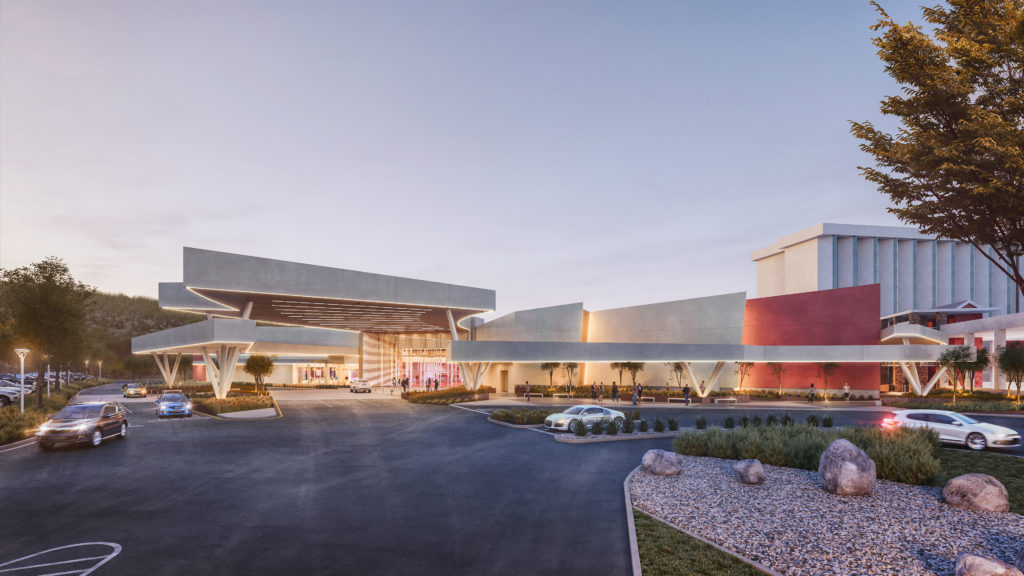 BioLegend Campus
BioLegend envisioned a campus-like environment that would foster a sense of collaboration and dedication to the biotech company's mission to enable Legendary Discovery. They also wanted to build a sense of community, with uniquely positioned indoor and outdoor amenities worthy of attracting and retaining the best talent.
Year: 2019
Location: San Diego, CA
Size: 44,000 SF (existing) Administration Building; 135,000 SF (new construction) Laboratory Building; and 220,000 SF (new) Parking Structure
Program: Master Plan, Architecture, Interior Design, Labs, Distribution, Factory, Executive Offices, Amenities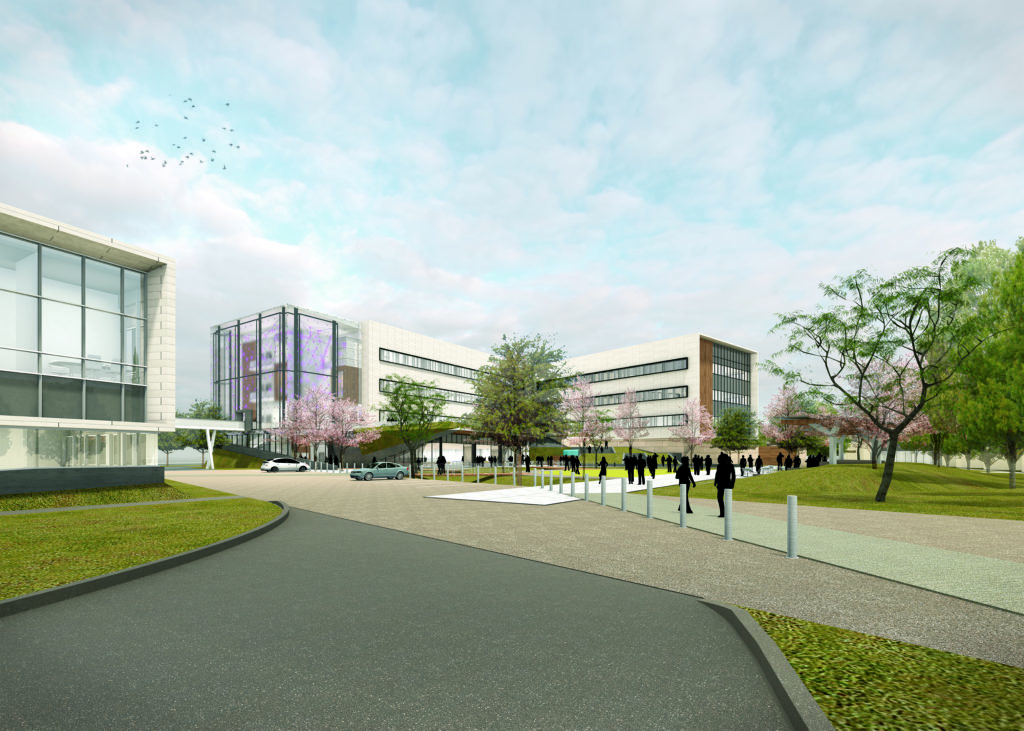 Moxy by Marriot
Moxy by Marriott is a lifestyle-branded hotel at the convergence of the historic Gaslamp Quarter and East Village of San Diego. The architecture will embody the soul of the neighborhood; a gesture of sculptural, modern, and urban. The hotel will be more than just a place to crash for the night. It will be an avant-garde rec room, a hip hang out, and – ultimately – a place of convergence for San Diegans and visitors alike.
Date: December 2018
Location: San Diego, CA
Size: 51,970 SF
Program: Shell, Interior Architecture, Lobby, Restaurant, BOH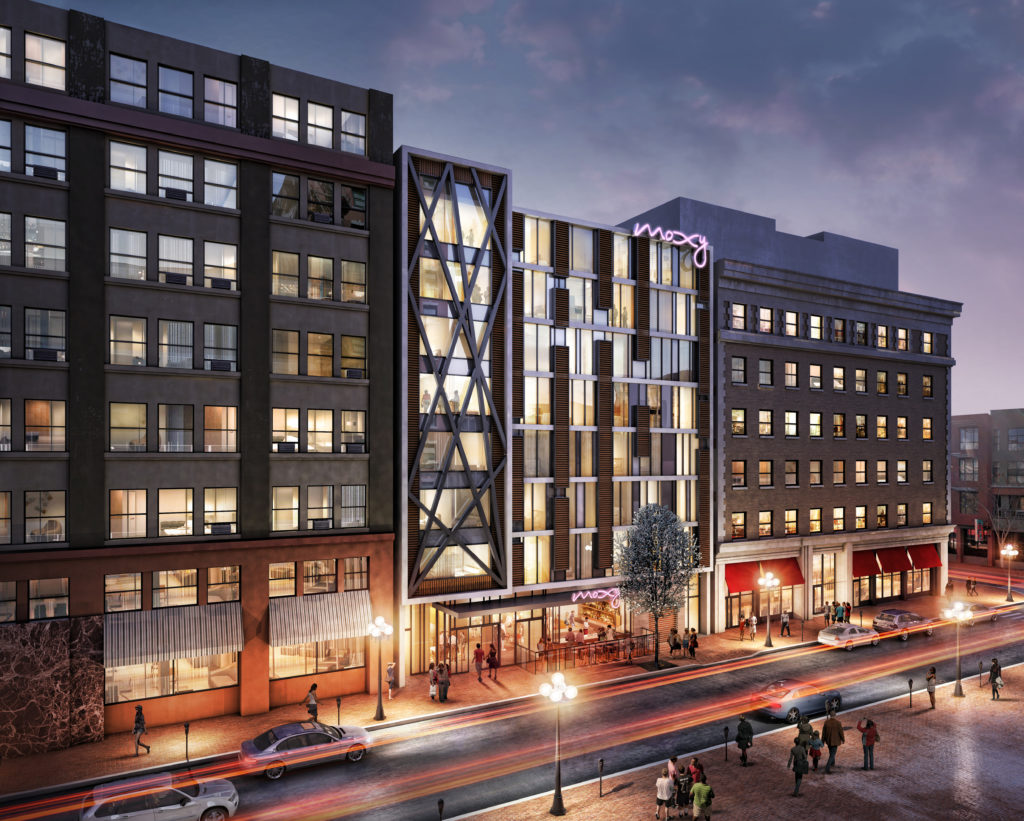 Pechanga Resort & Casino Expansion
Building on Delawie's 20+ year relationship with the Pechanga Band of Luiseño Indians, this new, $285-million expansion features a four-diamond hotel tower, entertainment ballroom event center, spa, and resort-style pool complex, making Pechanga Hotel & Resort the preeminent luxury gaming destination in the west. The resort has an extremely high demand for more hotel rooms to satisfy the needs of guests coming to the Temecula Valley.
Date: Winter 2017
Location: Temecula, CA
Size: 705,000 SF
Program: Architecture, Hotel, Casino, Resort, Ballroom, Meeting Space, Entertainment, Spa, Restaurant, Bar, Offices, and Parking Structure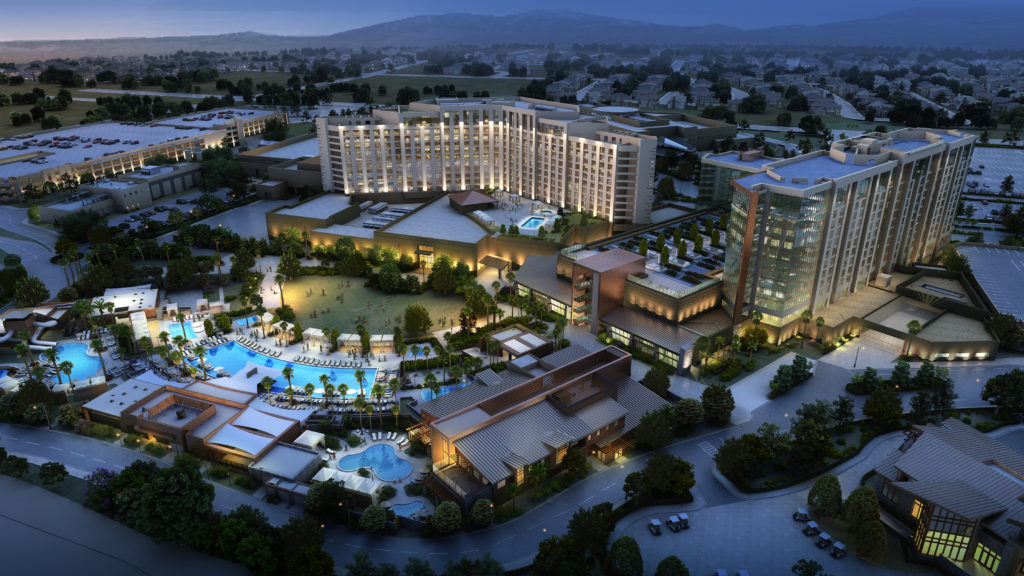 ---

Member Spotlight

: U.S. Bank
---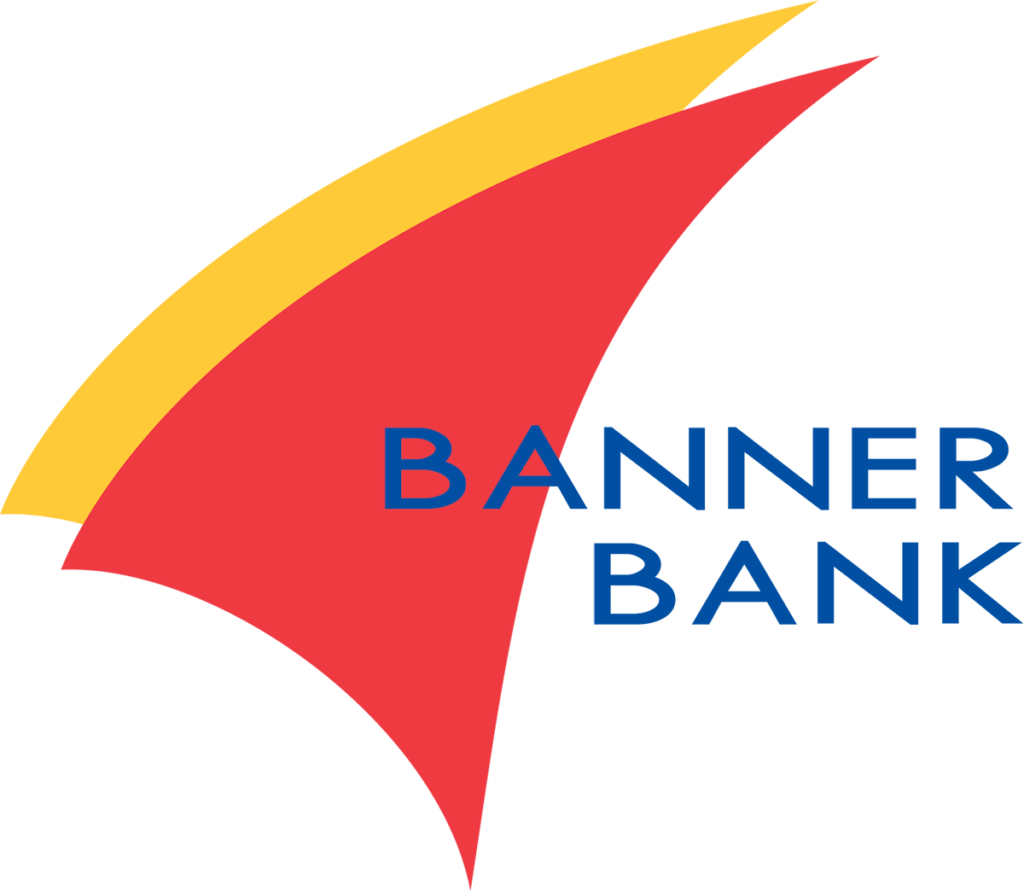 Member Spotlight

: Banner Bank

Downtown branch remodel reflects Banner Bank's expertise and innovation.

When Banner Bank nestled into our Downtown branch 16 years ago, it was to better serve the people making things happen right here. Since then, we've played a substantial role in supporting the vitality of Downtown San Diego, offering a full range of innovative consumer and business products. We've financed many of the businesses and their property purchases in the heart of our community.

Our knowledgeable bankers are passionate about serving Downtown and the greater San Diego area. So it's fitting our recent branch remodel reflects our role as an economic engine, fueling the success of those around us. We welcome visitors to stop in, say hello and check out our fresh digs in the beautiful 701 B Street building. We're just off the lobby in Suite 100.

While we're thrilled to share our new look, we know the meaningful part of our job involves taking time to get to know you and understand your needs. That's key to offering exceptional service and tailored solutions.

That approach is the reason Bankrate.com and Money magazine named us Best Regional Bank in the U.S. It's also why Bauer Financial gave us a 5-Star Rating, and Forbes included us in the 100 Best Banks in the U.S. two years running. We appreciate those honors, but we always remember who's most important—you.

With more than 125 years of experience banking clients in the West, we're enthusiastic about serving Downtown San Diego well into the future. As fans of the community we're honored to again sponsor Taste of Downtown. We look forward to seeing you there. In the meantime, stop by the branch to say hello and follow us @bannerbank.

Contact: Senior Vice President and Commercial Banking Division Manager Steve Espino at steve.espino@bannerbank.com or 858-625-8860 or Senior Vice President and San Diego Retail Division Manager Matt Weightman at matt.weightman@bannerbank.com or 858-625-2427.

Banner Bank Downtown San Diego Branch
701 B Street
619-231-8500
Lobby Open Monday-Friday, 9 a.m. – 5 p.m.
bannerbank.com
Member FDIC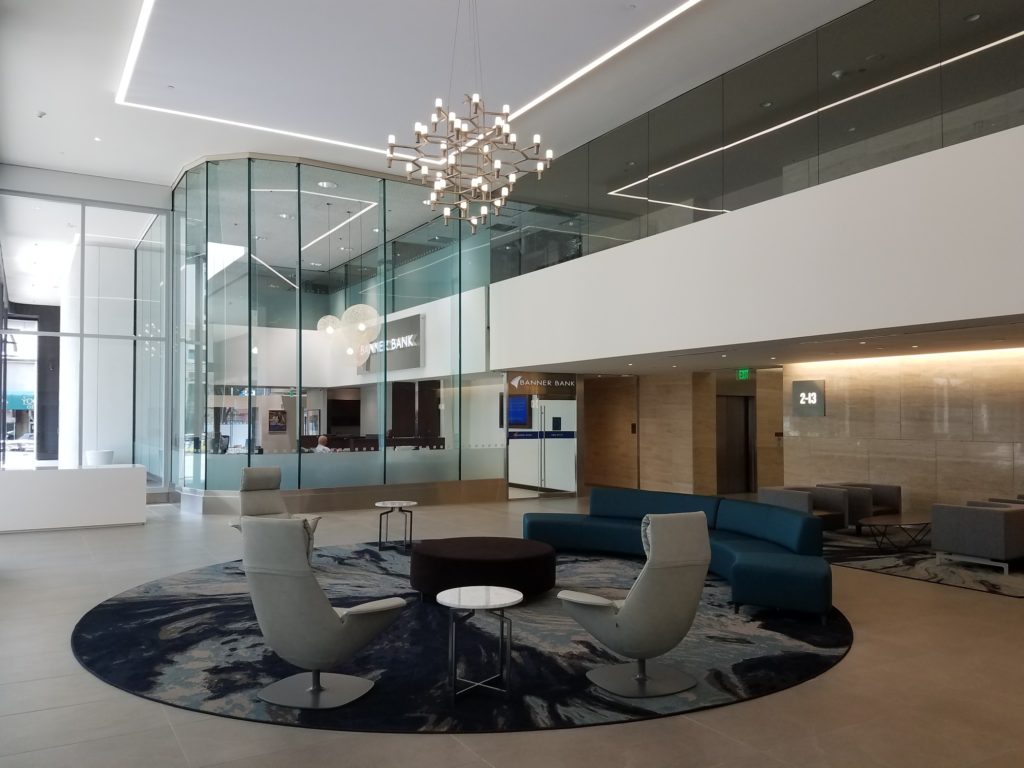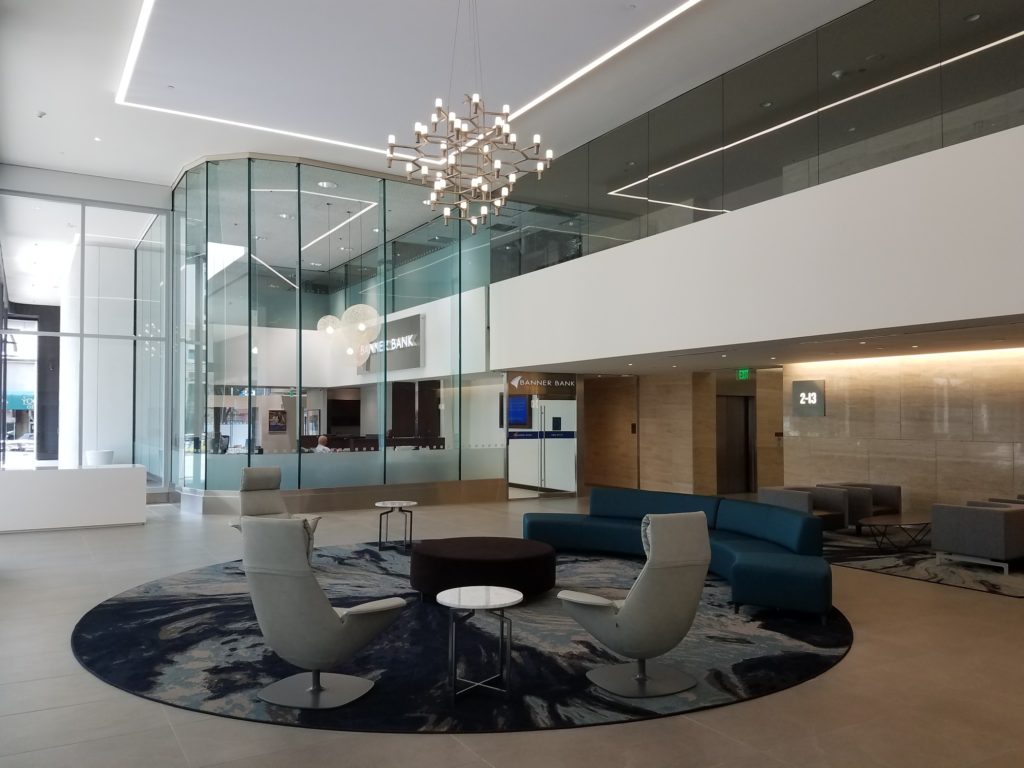 Photos courtesy of Banner Downtown Branch Manager Jeremy Wilson.
---

Member Spotlight

: Hensel Phelps

Hensel Phelps is recognized as one of the premier general contracting firms in the United States since 1937, specializing in planning, building, and managing facilities in every building sector, including healthcare, aviation, higher education, federal, and justice. Our people are committed to delivering the highest quality solutions and creating the most innovative and efficient facilities for our clients, from conception through construction, operations, and asset management. As one of San Diego's largest construction employers, our firm has been an engaged community partner in San Diego for more than 30 years.

Hensel Phelps is committed to delivering the highest quality solutions and creating the most efficient facilities for our clients, from the conception of a project through construction, operations, and asset management. With experience, planning, building, and managing facilities in nearly every building sector, our success employing industry-leading processes has established us as trusted partners.

Every great landmark starts with a vision. At Hensel Phelps, we bring our clients' vision to life with a comprehensive approach that begins with innovative planning and extends throughout the entire life of the project. Our expert development, construction, and facility services teams ensure that every project meets our clients' goals and objectives. We develop, construct, and maintain inspired landmarks that turn our client's aspirations into reality.

Since 1986, Hensel Phelps has been partnering with the San Diego development community and government agencies to transform the San Diego skyline.  From such notable projects as the Hilton Bayfront Hotel and the new Federal Courthouse building to the latest landmark development projects at Lane Field with the Marriott and the Intercontinental hotels, Hensel Phelps has embraced the community and played an active role in transforming it.

Hensel Phelps is proud to have completed nearly 70 projects in the San Diego region with 16 major projects completed in the Downtown San Diego market alone.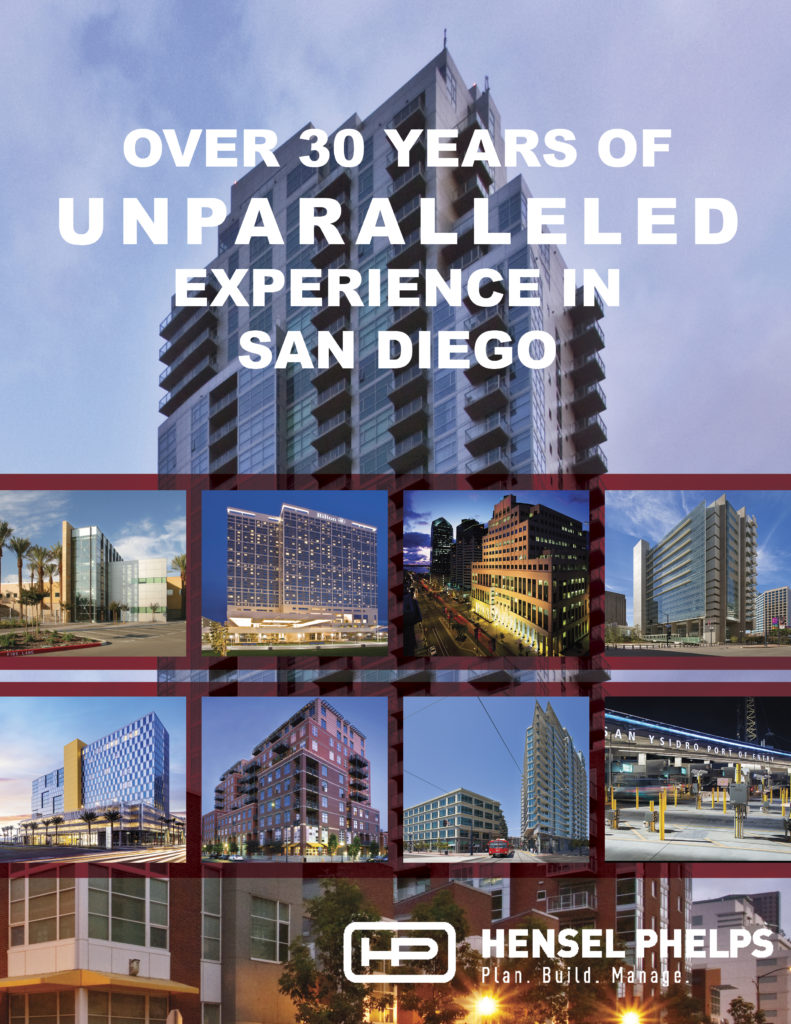 ---
i

Member Spotlight

: Swinerton

The skyline of Downtown San Diego in constantly evolving and Swinerton is proud to take part in this growth.

At Swinerton, we know what tomorrow brings, because we've seen a thousand tomorrows. Since our founding in 1888, our company has grown and changed and embraced new opportunities at every step along the way. Now, as Swinerton embarks on its 130th year, the company is dedicated to serving its partners in more markets and in more places than ever before. Our clients and partners have led us to this exciting point in our company's history, and our promise to those trusted partners will remain the same, even as we embrace what the future holds. Regardless of the scale of work or the challenges that come our way, excellence is always our standard — and we plan to deliver that to our partners for decades to come.

Visit Downtown San Diego. Visit Swinerton's Portfolio.
You can see Swinerton's work from the time you touch down at San Diego International Airport and pick up your car from the newly completed Terminal 2 Parking Plaza. Enjoy 'views to dine for' at Swinerton-built Coasterra before you head through Little Italy and pass by the striking Swinerton-constructed Ariel Suites, Sapphire Tower, and Luma, now in progress. It's been a pleasure for Swinerton to work with Emmes on 1 Columbia Place and 701 B Street. Not far from 701 B are the luxury residences known as The REY, nearby the highly celebrated IDEA District, down the road you'll find more high-end residences at Alexan ALX , and finally you can wrap up at Shift Tower which is now complete and ready for move-in this summer.

Consistently ranked by the San Diego Business Journal as "#1 Largest General Contractor" and "#1 Best Place to Work," Swinerton owes this success to our clients, project partners and employees who embody the values our company. To learn more about the history and future of Swinerton, visit www.swinertonbrand.com.

Contact: Mark E. Payne, Swinerton VP and Division Manager, 858.622.4040, mpayne@swinerton.com

To get in contact with additional Swinerton market leaders, click here.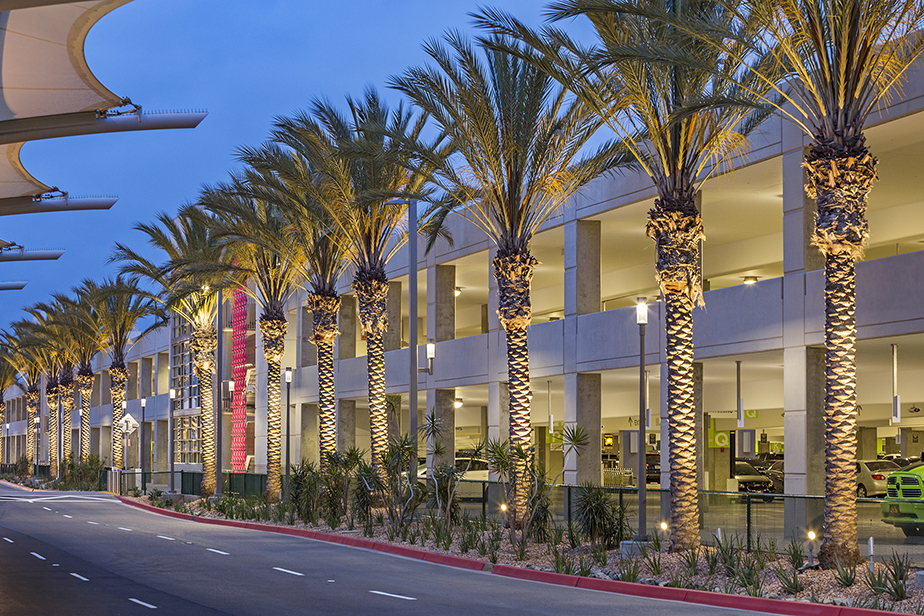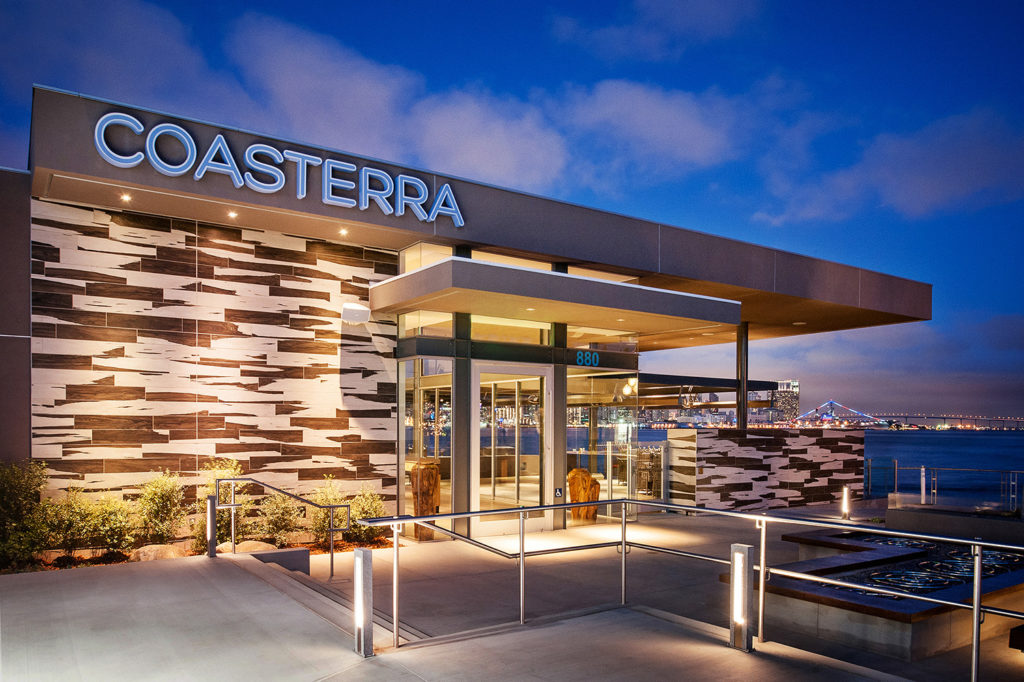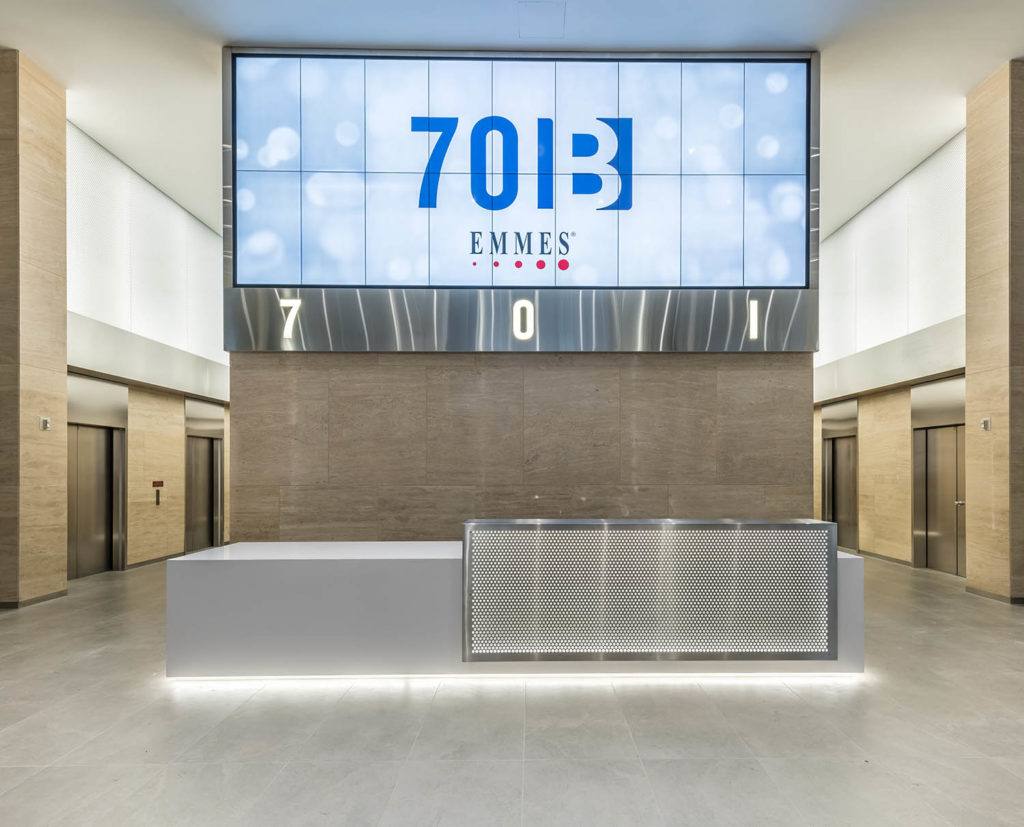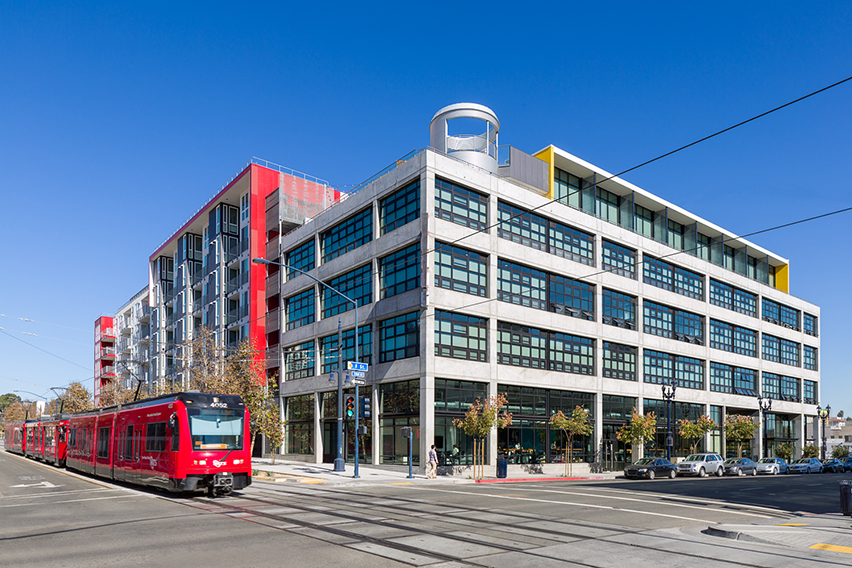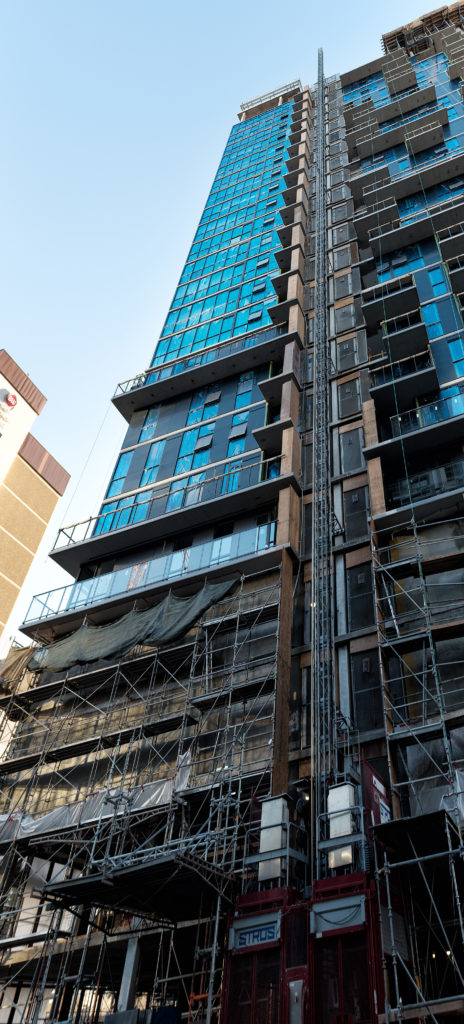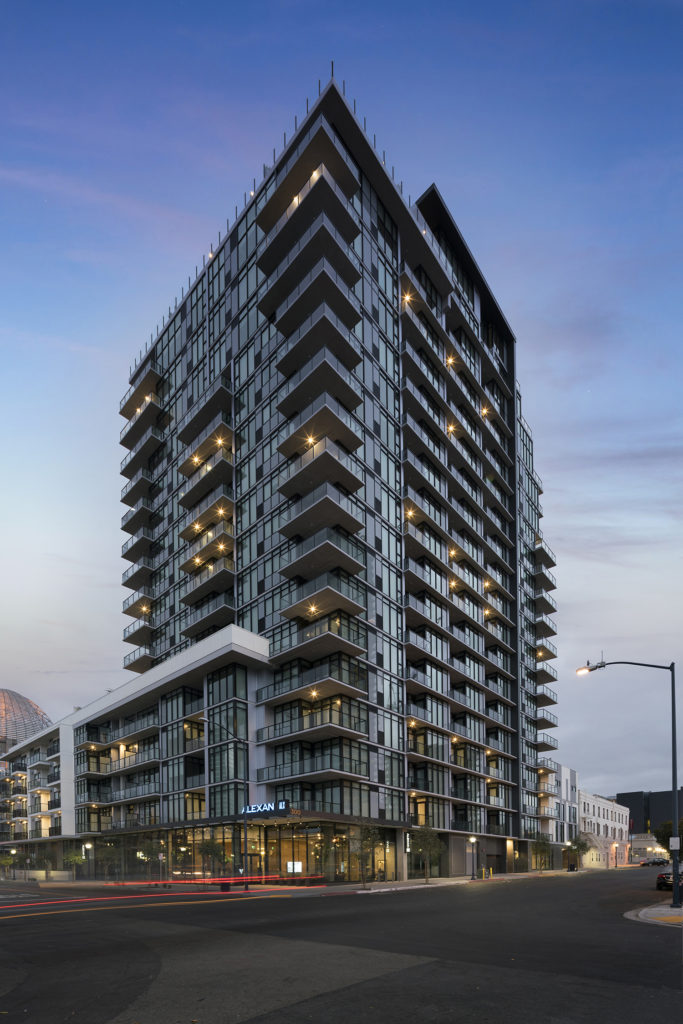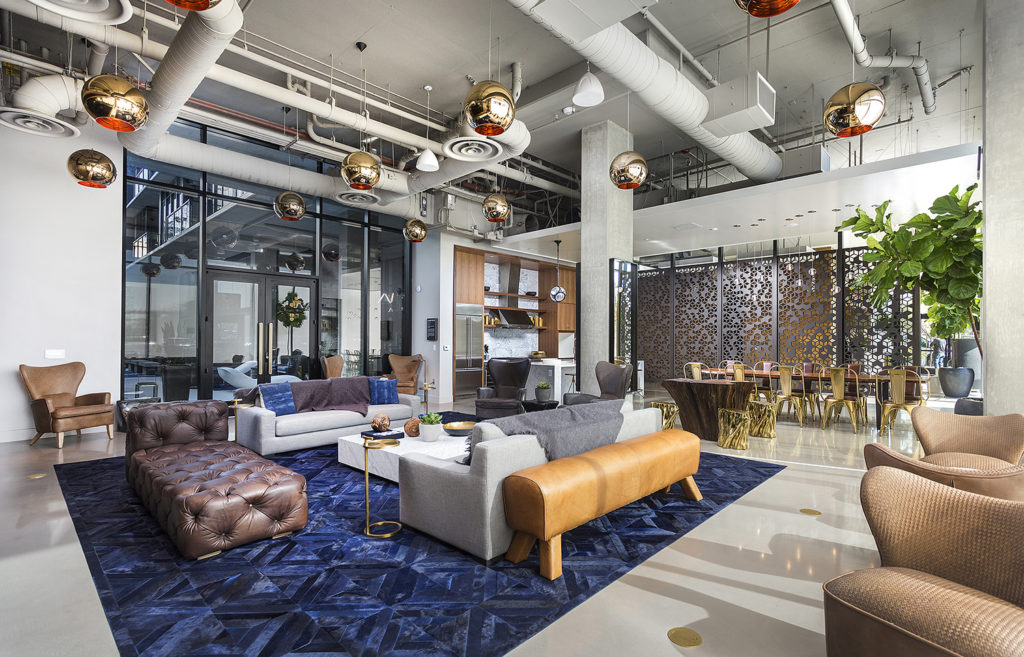 ---

Member Spotlight

: 10 Barrel Brewing

Located in San Diego's Maker's Quarter in the East Village, 10 Barrel Brewing is a 9,000 square foot brewpub with more than 20 taps, an open-air rooftop patio and dog-friendly street-level outdoor patio, and a 20-barrel brew system operated by seasoned brewmaster Ben Shirley. The fresh craft beer selection is constantly rotating and the is available to take home in growlers or 32oz crowlers. Executive Chef Tommy Fraioli, the 2012 "Chef of the Fest" winner at San Diego Wine & Food Festival, uses locally sourced, fresh ingredients on the pub's seasonally updated menu which ranges from brunch to dessert.

The pub often hosts gatherings, celebrations and beer pairing dinners in the private event spaces with the capacity to host up to 100 people. 10 Barrel is a proud supporter of the San Diego community. Each month 10 Barrel Brewing hosts a Charity of the Month event and donates a portion of the proceeds from all pub sales (beer, food, and merchandise) to a local nonprofit. 10 Barrel is headquartered in beautiful Bend, OR and is committed to quality beer and ingredients, sustainability, and – above all – having FUN! Follow us @10BarrelBrewing and swing by the pub for a cold one!

10 Barrel Brewing, 1501 E Street, San Diego, CA 92101 | 10 barrel.com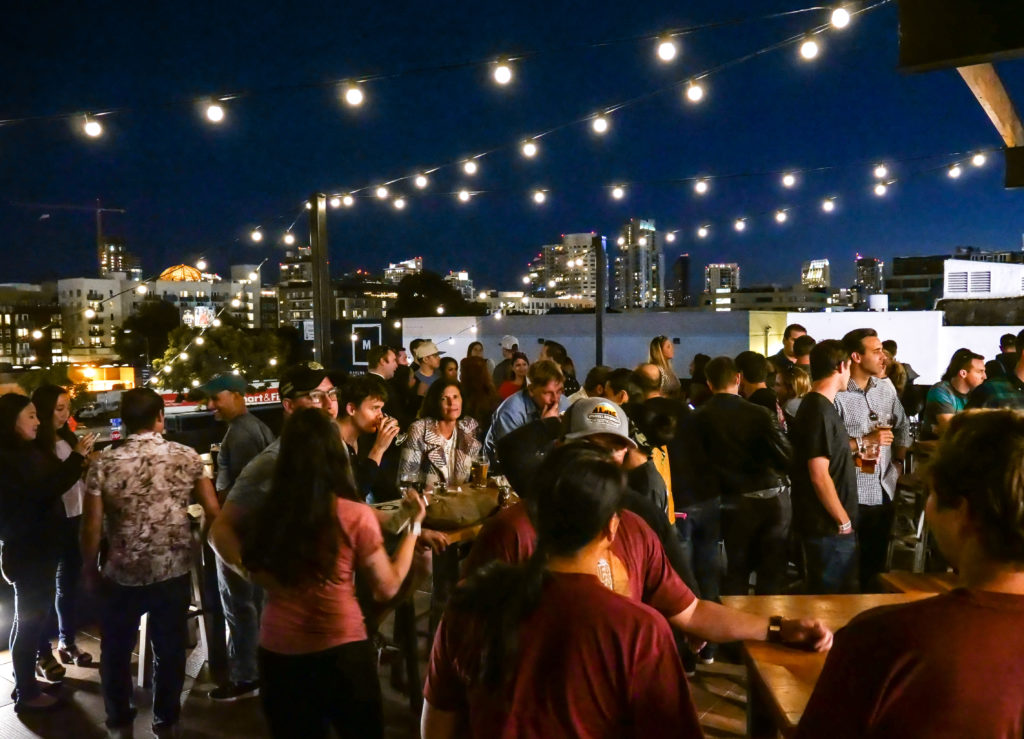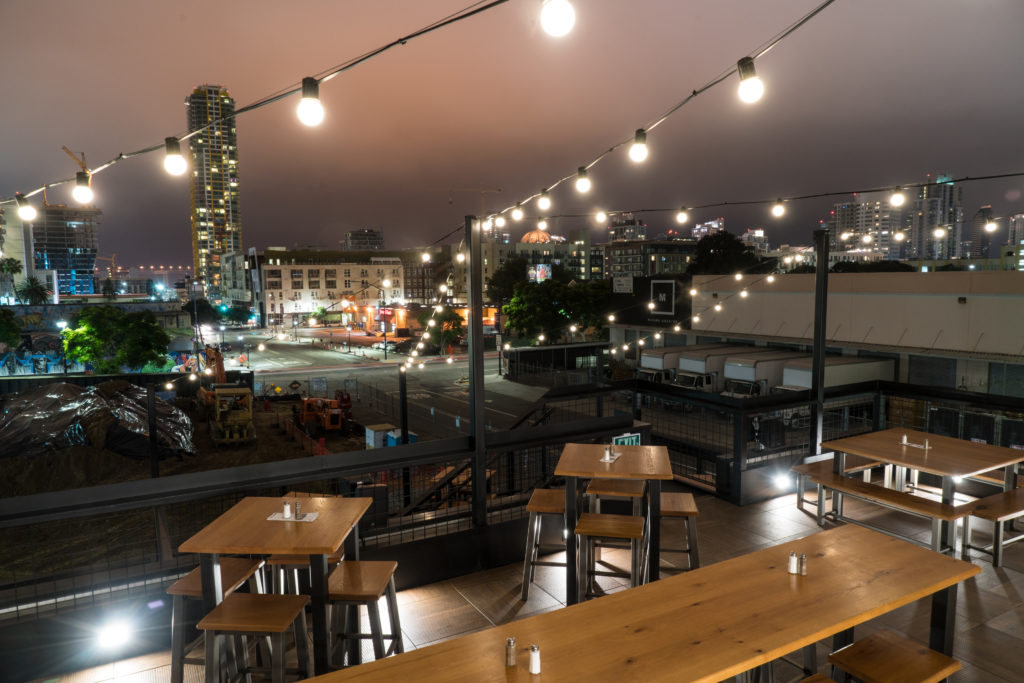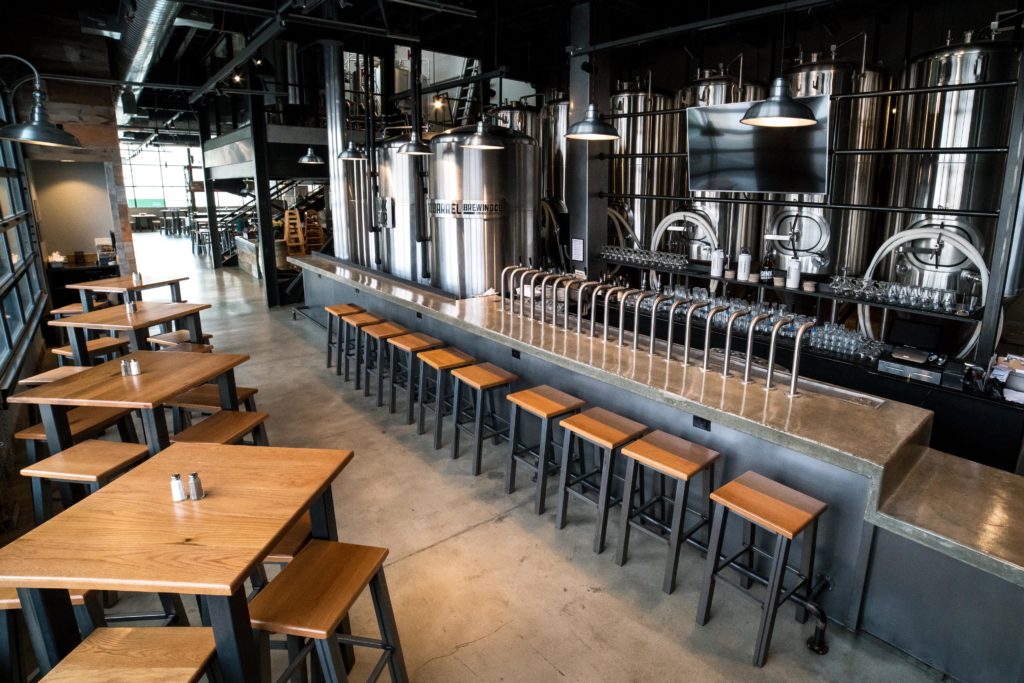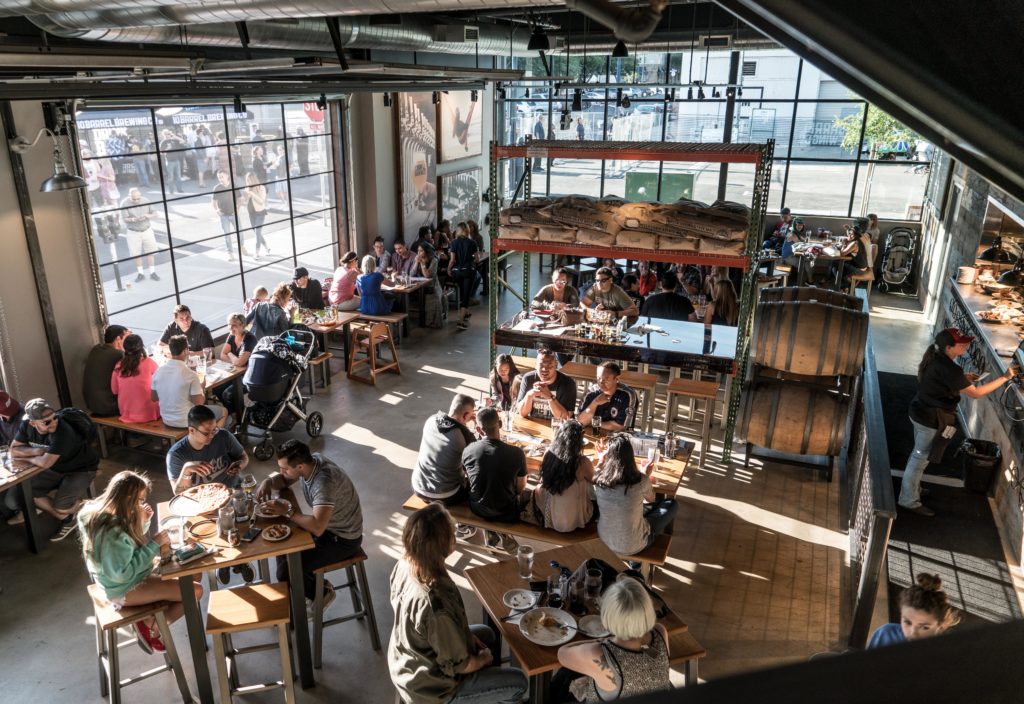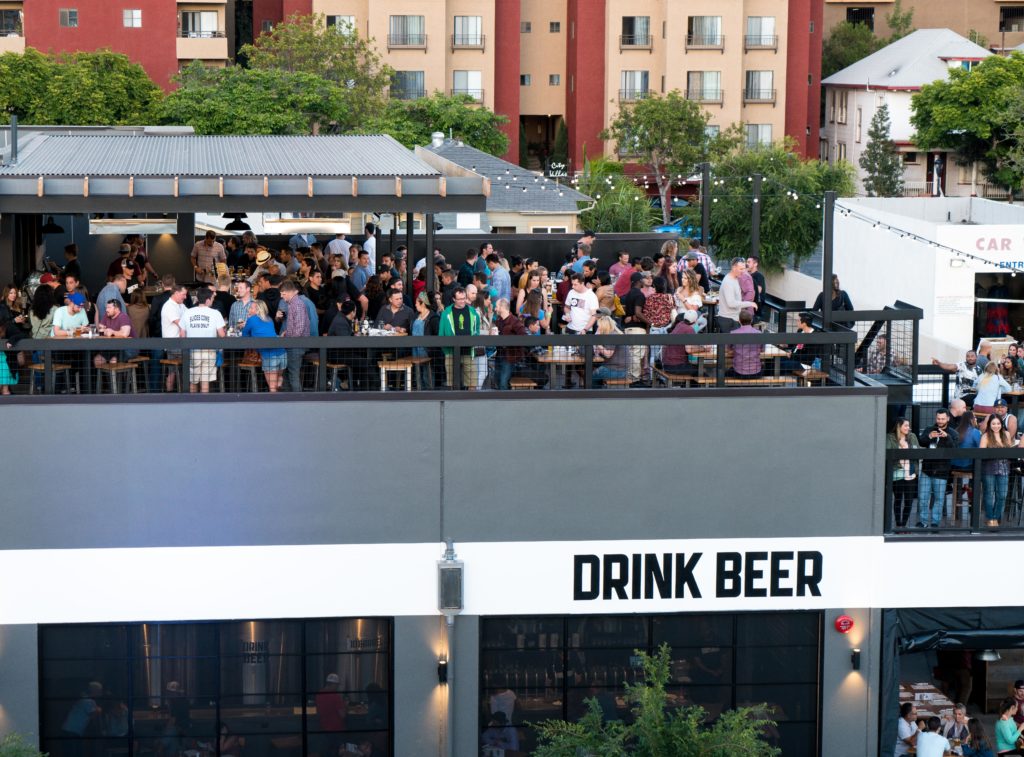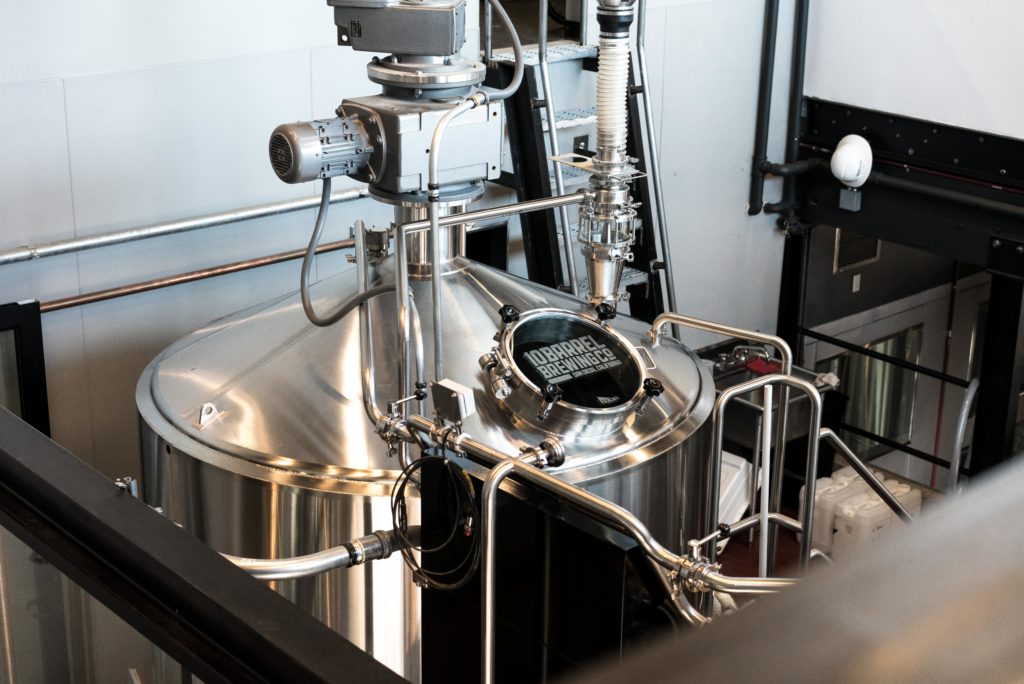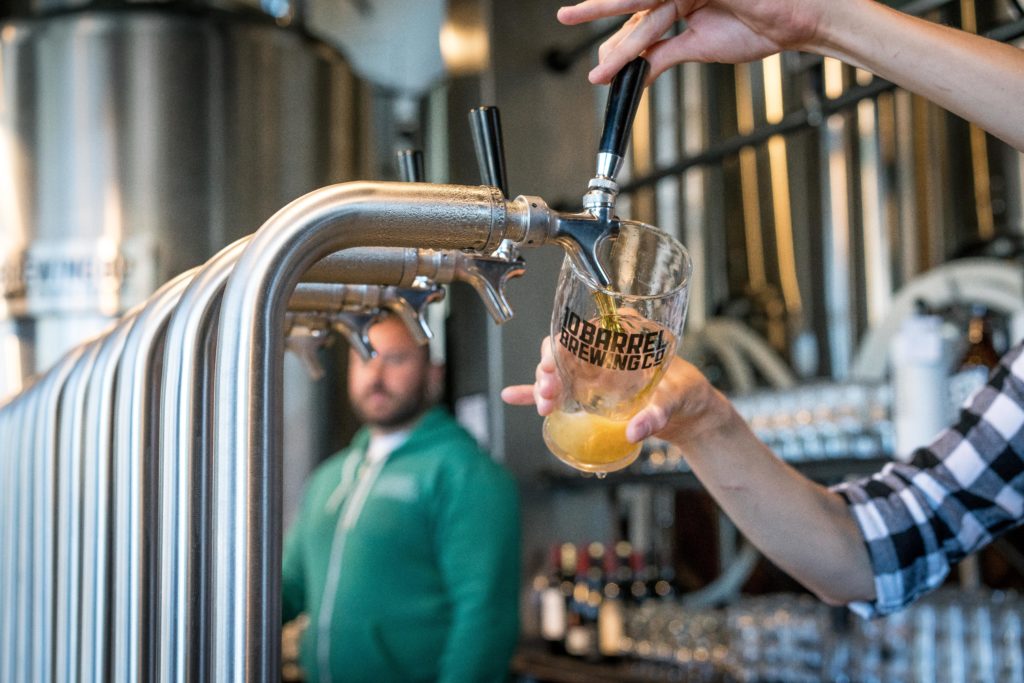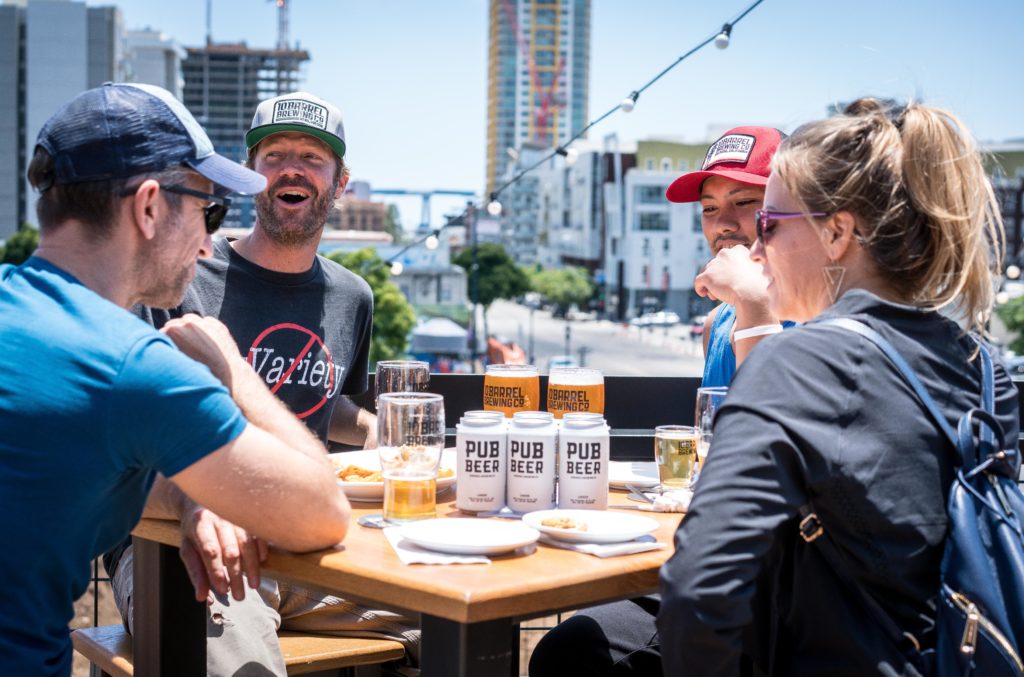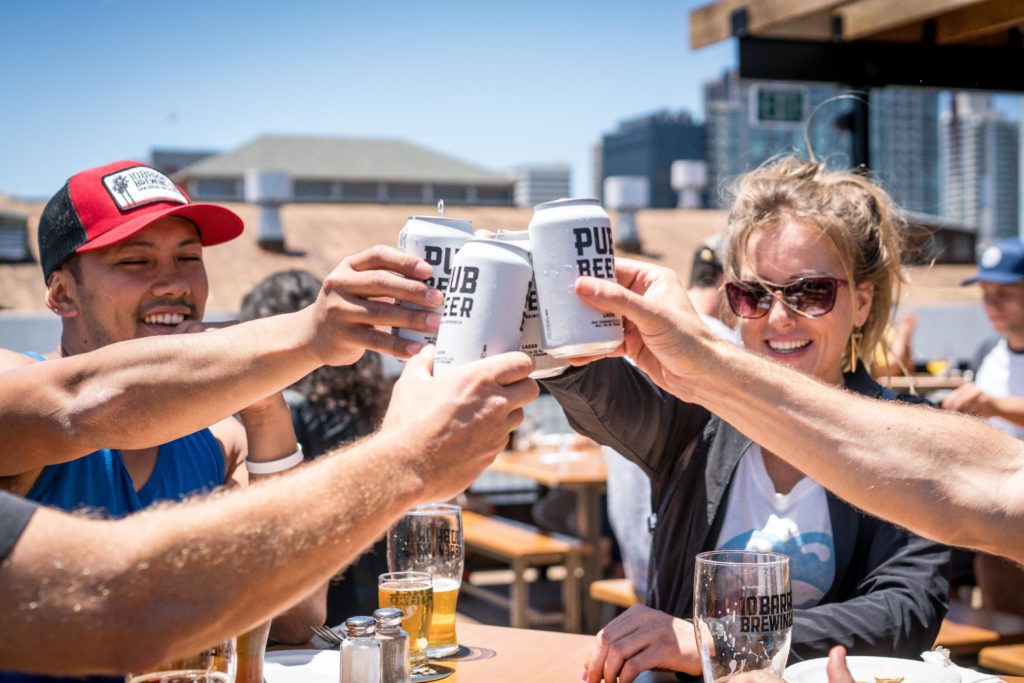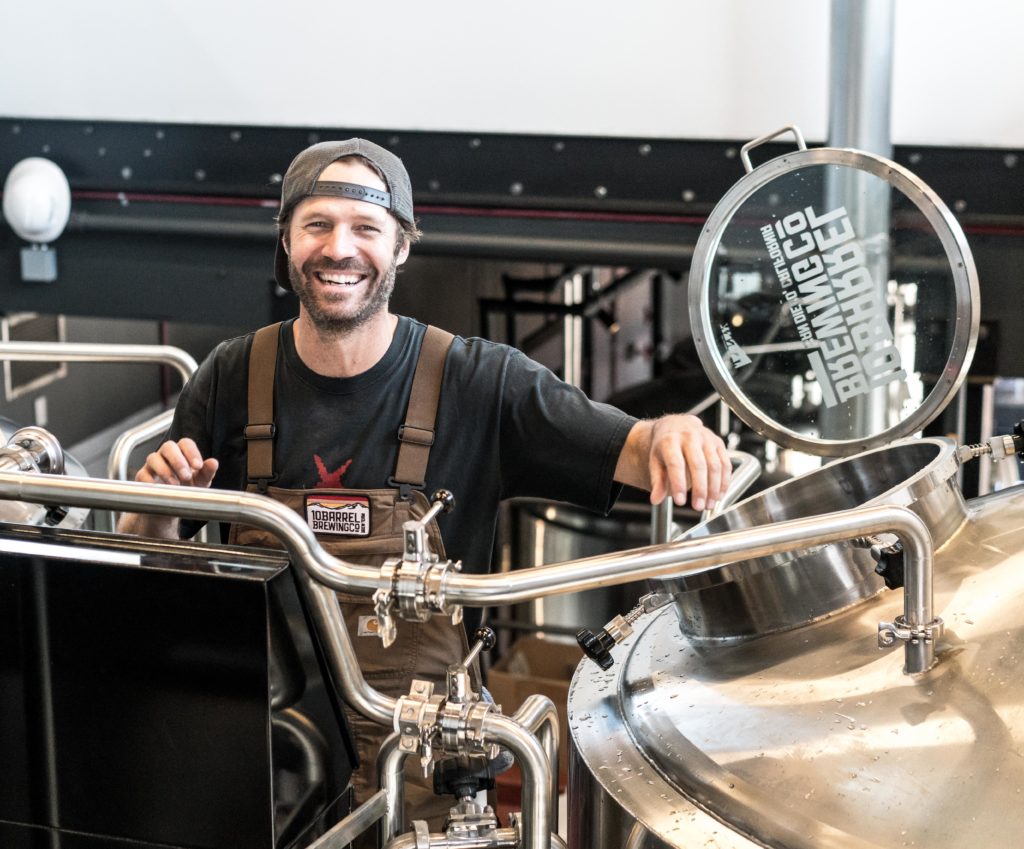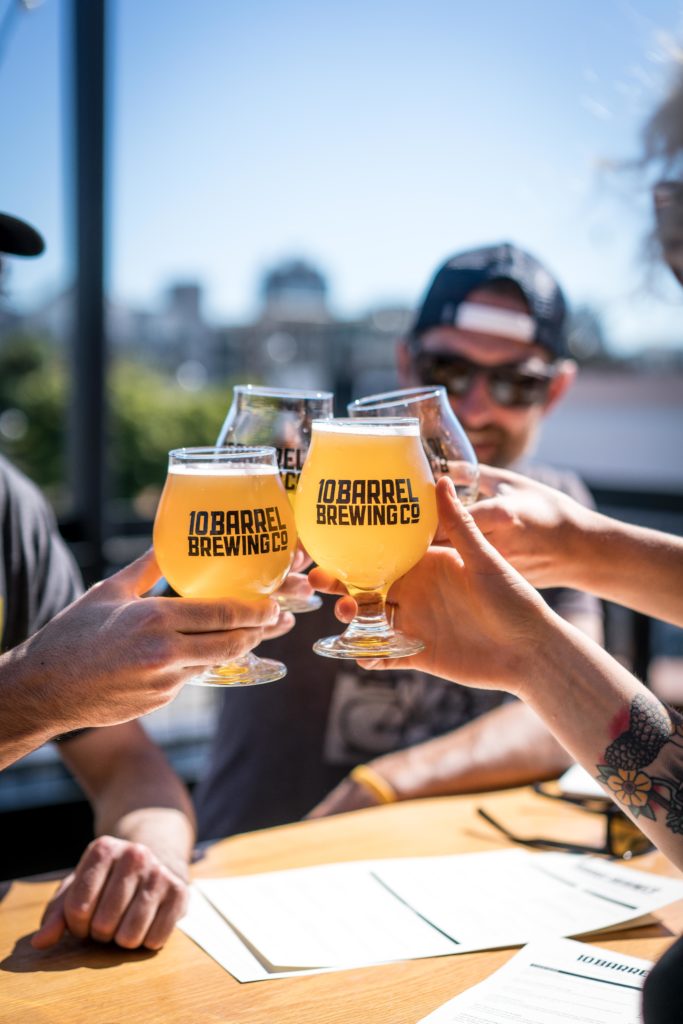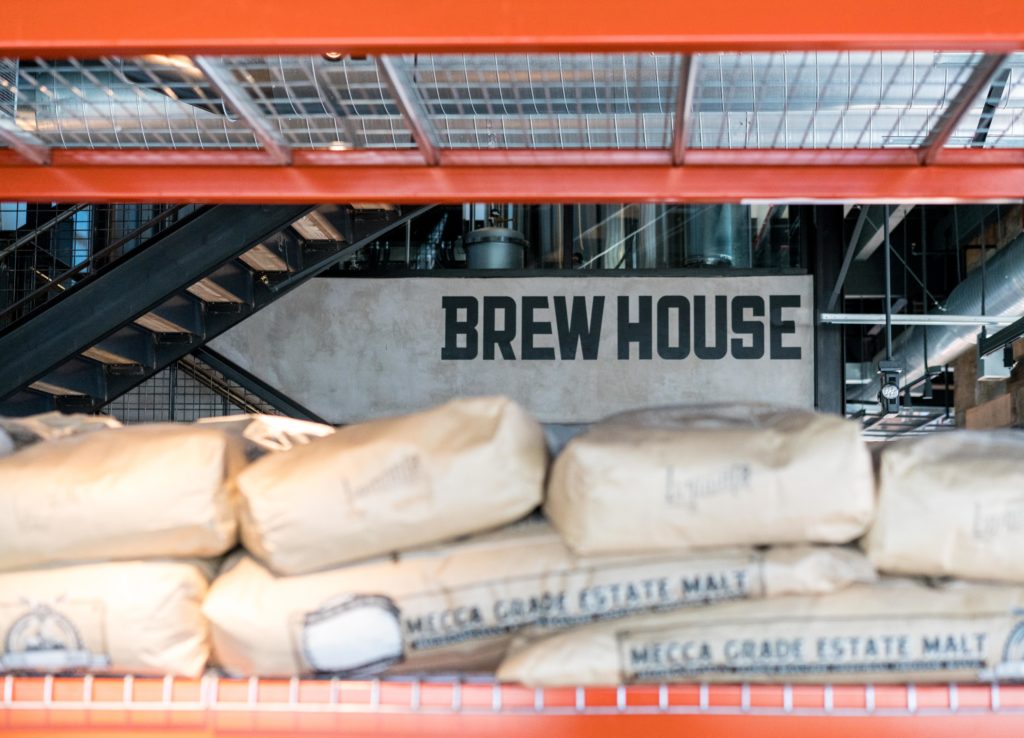 ---
Member Spotlight

: NRG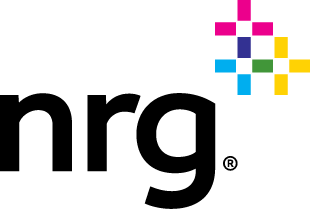 NRG is the country's leading integrated competitive power company with a diverse generation portfolio including renewable resources and district energy plants.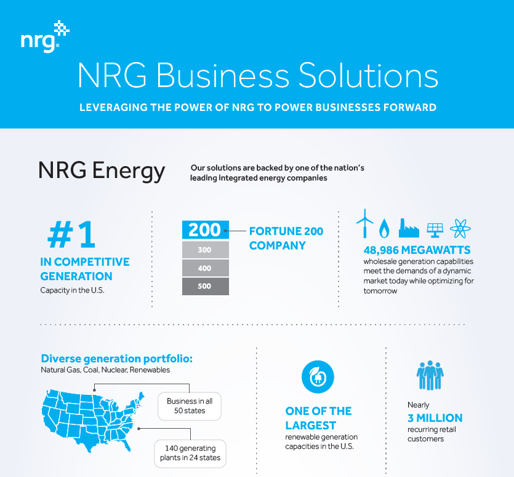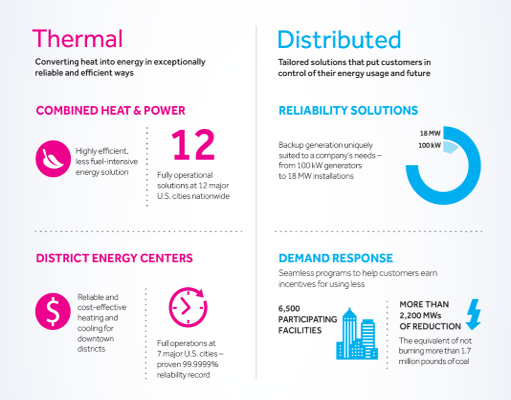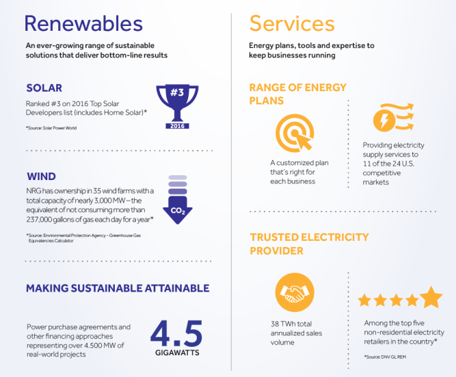 Energy Solutions As Efficient As They Are Reliable
In San Diego, NRG's Energy Center has been providing district cooling services in a 4-square mile service area of downtown San Diego's central business district since 1971. NRG's district cooling chilled water loop provides a reliable and sustainable cooling solution resulting in a comfortable environment for many major San Diego's public buildings, hotels and businesses.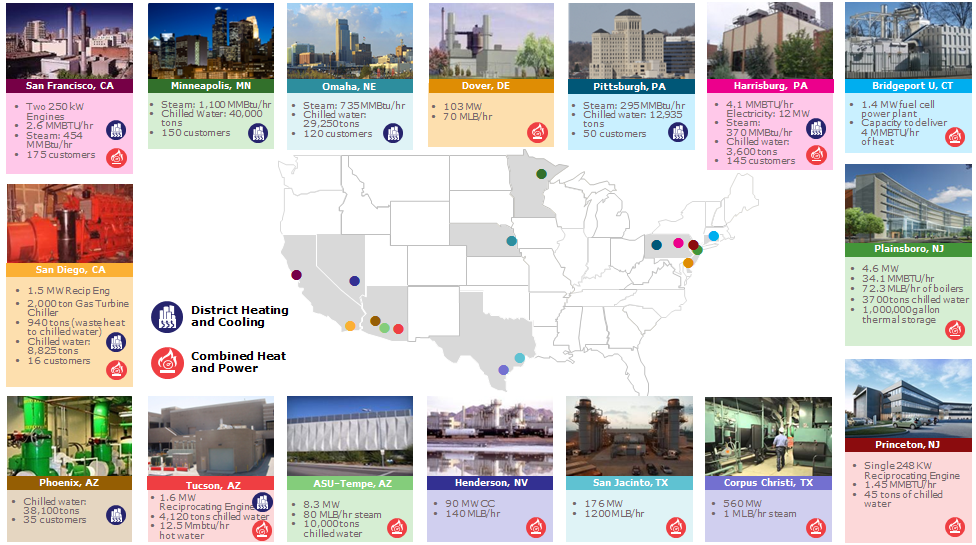 NRG In San Diego
NRG's chilled water customers portfolio continues to grow. In addition to the 704,000 sq.-ft. new San Diego Central Courthouse that NRG started serving in 2016, we have recently connected to our chilled water loop our newest customer the iconic Executive Complex Building a 340,000 sq. ft. office tower that was the tallest building in San Diego when built in the 1960's. Among the other 17 customers that NRG serves are The City of San Diego Civic Plaza building, Westfield's Horton Plaza, major office towers and hotels. It provides real-world proof that a proven solution can be as compelling as a new one.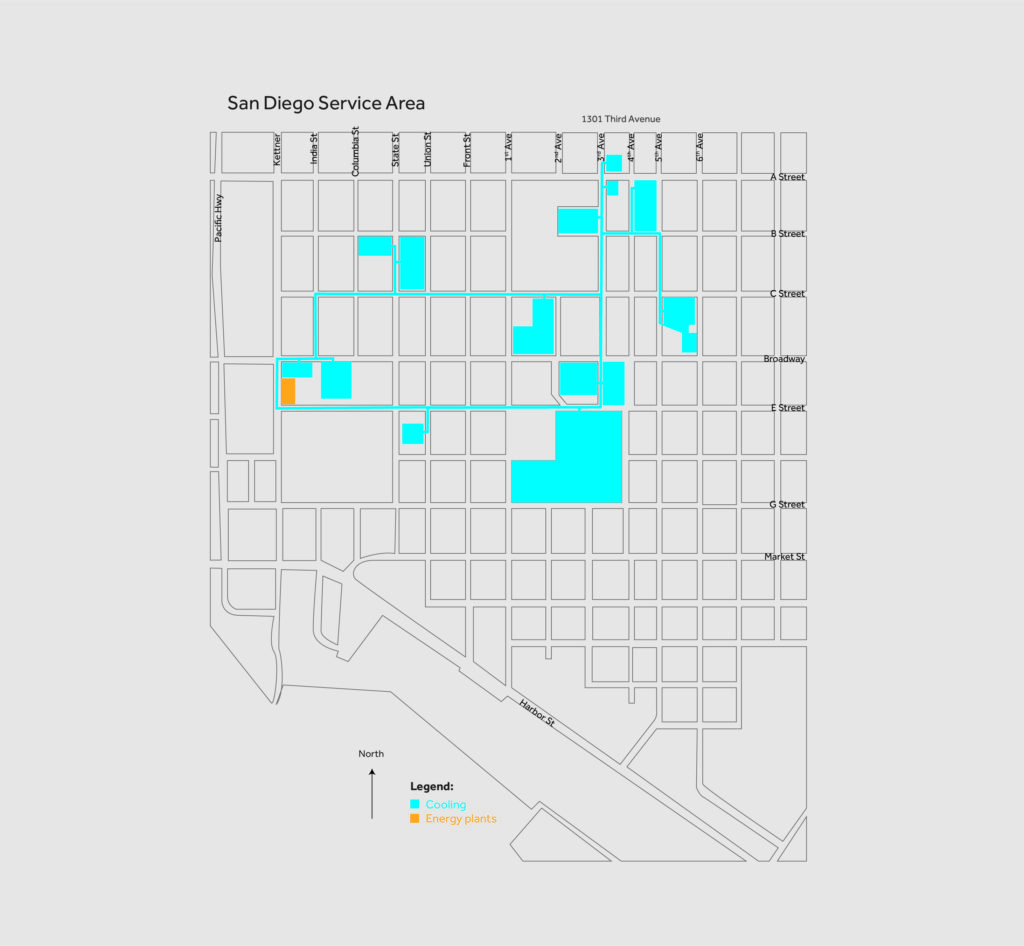 For more information, contact Jay Zaghloul | 602.281.9848 | Jay.Zaghloul@nrg.com or visit nrg.com
---
Member Spotlight

: MA Engineers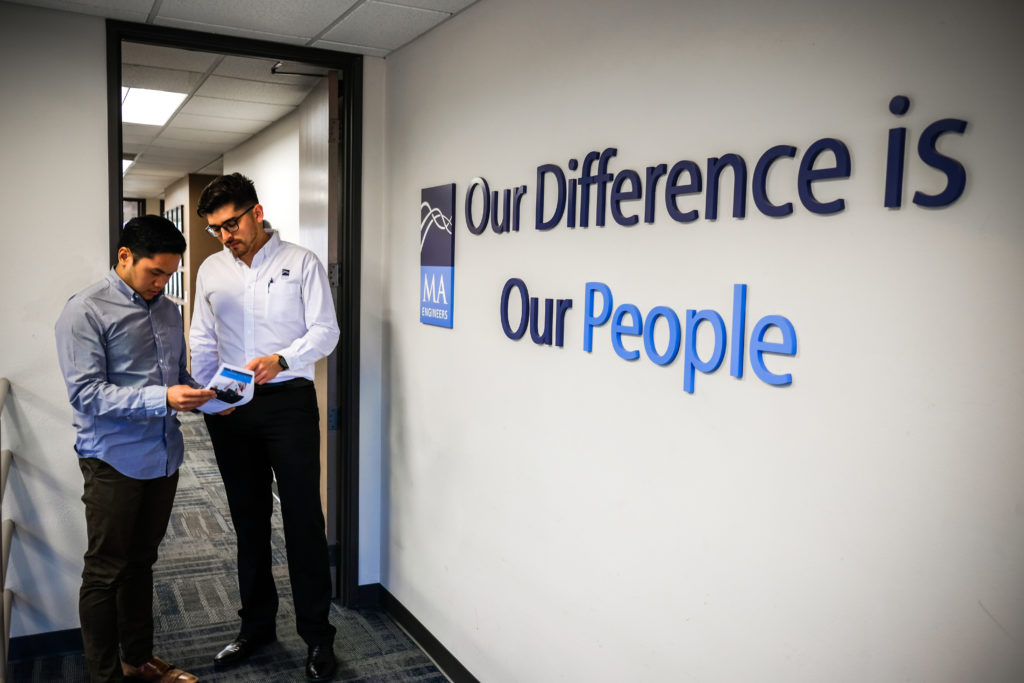 About Us
For over 20 years, the staff at MA Engineers has provided complete HVAC and plumbing engineering solutions for facilities of every kind, such as universities, K-12 education, healthcare, laboratory, civic, government, entertainment, military and office facilities of all types, throughout the southwest and San Diego areas. Our focus has always been to deliver innovative, sustainable, energy-saving design solutions—the type of systems that stand up to the daily rigors of use. Ultimately, our systems are designed to last, to run efficiently and to save ownership money.  The confidence in our designs stems from our vast experience and multitude of accolades, including commendations and energy-savings earnings for efficient design. Each member of the MA Engineers team is an expert in their respective discipline, the core of which has worked together on hundreds of projects. Our services include the following:

Downtown San Diego Projects
MA Engineers has designed numerous projects in Downtown San Diego, including Sempra Headquarters, Celadon at 9th and Broadway, 7th and Market, Hyatt Hotel Expansion, County of San Diego Waterfront park, and Manchester Pacific Gateway amongst many others.
Park 12
One of our most recent projects is Park 12, located in East Village of Downtown San Diego. The $400 million mixed-used development consists of a 37-story high-rise apartment tower and low-rise buildings. The complex includes 438 high end residential units in the 37-story tower, 274 residential units in the two 6 and 7 story towers making it the largest apartment complex in downtown San Diego. Park 12 amenities include a 24-hour gym, two pools, 14 common areas, a clubroom, game room, and two dog parks. It also has approximately 55,000 SF of retail space, 12,000 SF open air plaza, 1,600 hotel rooms and below grade parking with more than 1,200 spaces. These luxury apartments have an observation deck on the 32nd floor with incredible views of the San Diego Bay, Coronado, and Cabrillo National Monument. The mechanical systems in the Park 12 tower utilize the East Village chilled water plant located directly across the street from the development.  This allows Park 12 to reduce its overall energy use by not installing its own cooling plant.  The heating plant uses high efficiency boilers in three (3) separate plants to provide heating to each apartment as well as retail and common spaces.

---
Member Spotlight

: Cavignac & Associates

Cavignac & Associates is a locally owned risk management and insurance brokerage firm operating out of the Bank of American Plaza, located at 450 B Street in Downtown San Diego.
The company's objective is to work with their clients to identify their risk, collectively create strategies to reduce the frequency and severity of their claims that can drive up their total cost of risk, and to negotiate appropriate coverages with the right insurance companies for the lowest realistic cost. This is accomplished through their trademarked risk management process known as The TotalRISK Approach®.
Cavignac & Associates' 55 team members include insurance and risk control professionals. Their emphasis on being a "knowledge business" is underscored by their education budget, which is more than twice the industry average, and the five days off they give every employee for education-based training.
One of their annual goals is to be ranked as one of the Best Places to Work in San Diego for which they consistently have been recognized by the San Diego Business Journal.

Pictured below are Cavignac & Associates' six partners, including Jeff Cavignac, Jim Schabarum, Scott Bedingfield, Patrick Casinelli, Matt Slakoff, and Matt Noonan. The six partners realize, however, that the more important picture is the photo above. It is the high quality of the team supporting the company that enables it to achieve excellent results.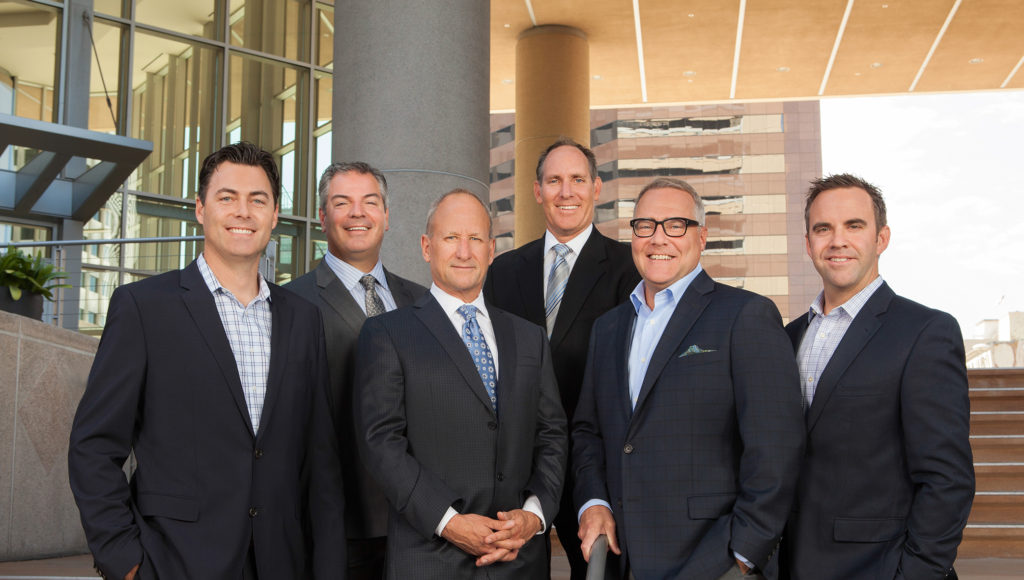 Cavignac & Associates' client base is comprised of design, development, and construction firms; real estate-related entities; manufacturing companies; nonprofit organizations; and the general business community. The company offers an entire portfolio of business insurance programs for its clients. This includes commercial insurance, employee benefits, life insurance, and surety bonds. The company also offers standalone risk control services as well as personal lines insurance.
The total cost of risk (insurance premiums often are less than half of the total cost) can be one of the largest expenses a company has. Cavignac & Associates learned long ago that the only way to lower this cost was to lower the frequency and severity of the claims that drive those costs. This is the purpose of the TotalRISK Approach®, which is one of the major reasons for selecting Cavignac & Associates to manage your risk management and insurance programs.
For more information, click here.
---
Member Spotlight

: Scripps Health

Since 2014, Scripps Health has been a proud supporter of the Downtown San Diego Partnership. Through "Healthy Living in the City" events – including the signature Yoga on the Midway – Scripps and the Downtown San Diego Partnership have been able to demonstrate that you can adopt a healthy lifestyle no matter where you live or work, and that Downtown San Diego is no exception.
Scripps is a private, nonprofit, integrated health system in San Diego, California committed to providing the highest quality care to you and your family. Whether you're looking for some of the best doctors in San Diego or need care at one of the nation's best hospitals ranked by U.S. News & World Report and Truven Health Analytics, Scripps offers excellent medical care as well as preventive services and wellness screenings for every stage of life.
Scripps treats more than 700,000 patients annually through the dedication of 3,000 affiliated physicians and more than 15,000 employees among its five acute-care hospital campuses, home health care services, 27 outpatient centers and clinics, and hundreds of affiliated physician offices throughout the region.
Scripps Health is honored to be the recipient of numerous awards and recognition for clinical quality, innovation, and workplace and leadership excellence. Scripps has been ranked five times as one of the nation's best health care systems by Truven Health Analytics. Its hospitals are ranked No. 1 in San Diego County and among the best in the nation by U.S. News & World Report. Scripps also is recognized by Advisory Board, Fortune and Working Mother magazine as one of the best places in the nation to work.
---
Member Spotlight

: Lennar Multifamily Communities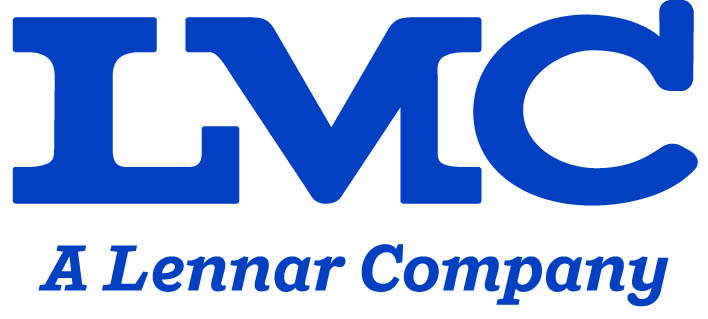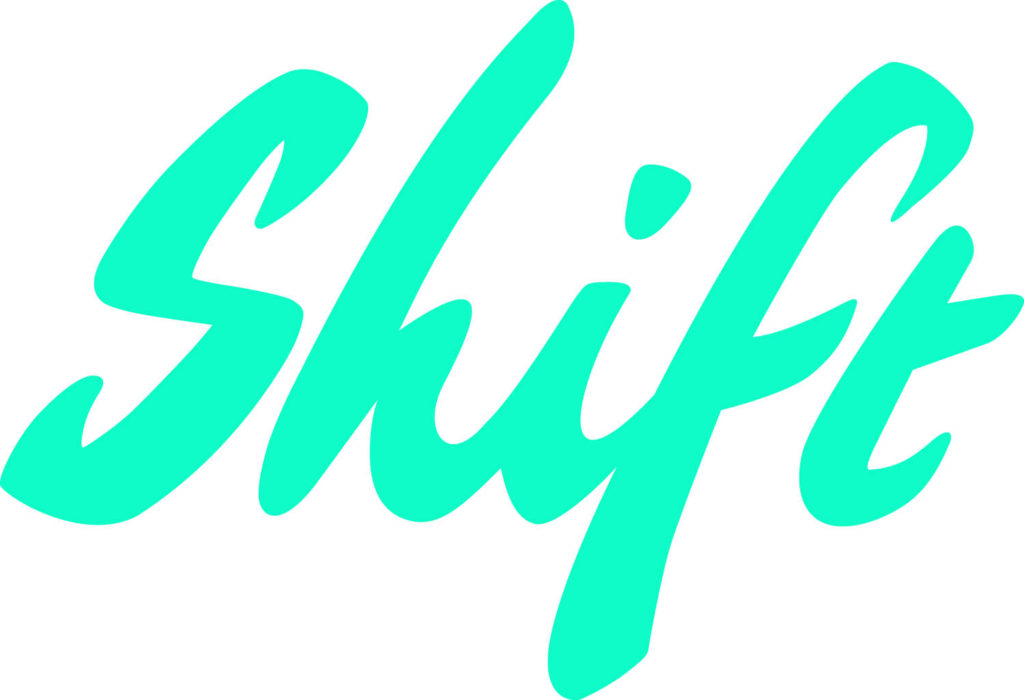 LMC Announces Start of Leasing at Shift Apartments
East Village community features bay views, Downtown San Diego-inspired architecture
SAN DIEGO – Jan. 10, 2017 – LMC, a leader in apartment development and management, today announced the start of preleasing at Shift, a luxury mixed-used community located in the East Village of San Diego just east of the Gaslamp Quarter.
Shift features 368 apartment homes, 19,000 feet of ground-floor retail and a top-of-the-line amenities package that includes a sky lounge with stunning views of the city and San Diego Bay. First move-ins at the 21-story, LEED Silver certified community are anticipated for January with retail outlets slated to begin opening in March.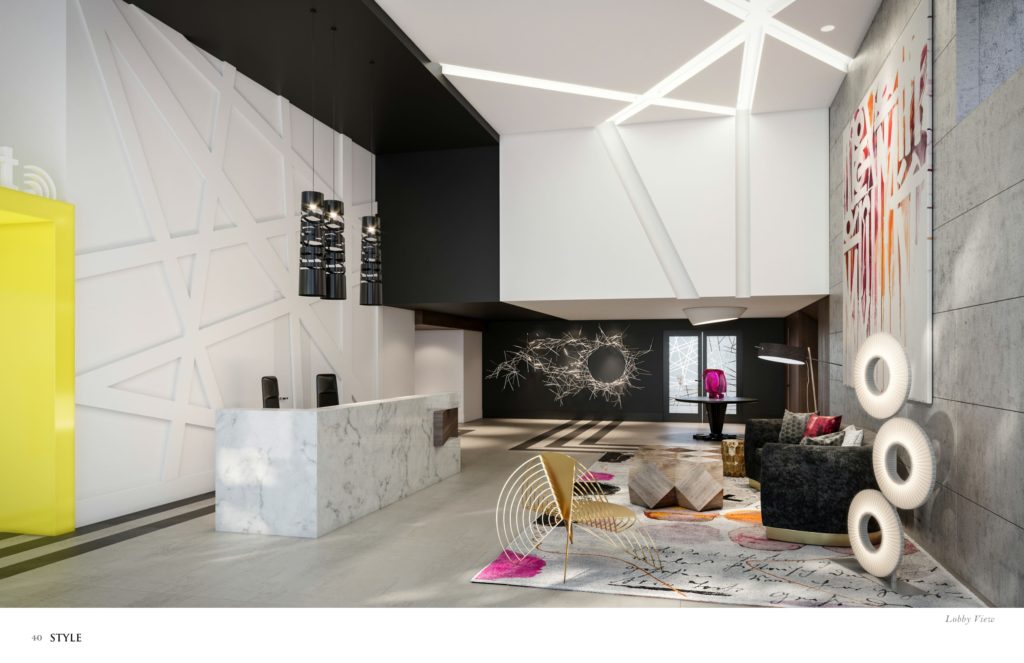 "The East Village is becoming more vibrant by the day, and we're thrilled to join one of San Diego's most emerging neighborhoods," said Ryan Gatchalian, division president of Southern California for LMC. "We believe Shift's world-class design, high-end finishes and unmatched variety of prime amenities will be a unique addition to the neighborhood and create an unparalleled living experience for our residents."
Situated at 1501 Island Avenue, Shift features opportune access to many of the key attractions in the downtown corridor. The East Village is home to several tech startups, charismatic coffee shops and vibrant breweries and restaurants such as Mission Brewery, Bottega Americano, The Nolen and Mission Café. The community also sits within walking distance of the Art & Industry, Urban Discovery Academy and Quartyard, an immensely popular outdoor event space.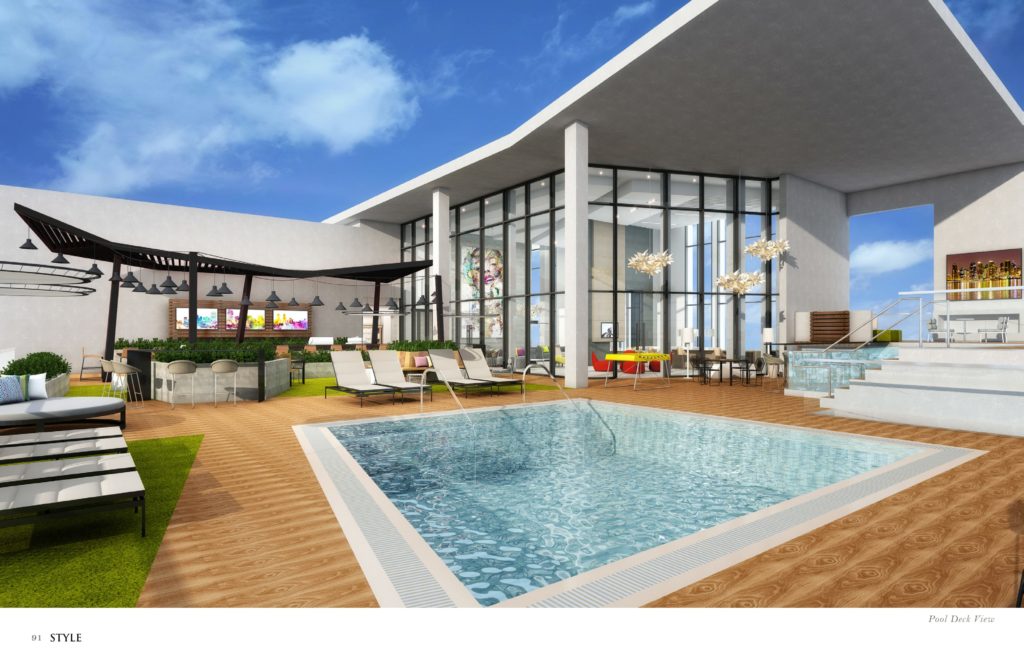 Shift also sits in a commuter-friendly location with the San Diego International Airport less than five miles to the northwest, the world renown San Diego Zoo three miles north and Coronado Island easily accessible via the San Diego-Coronado Bridge about two miles south of the community. With the Pacific Coast Highway and Interstate 5 within also in close proximity, residents will enjoy expedient access the city's notable employment centers and entertainment districts across the metropolitan area.
Shift consists of studio, 1- and 2-bedroom apartment homes ranging in square footage from 551 to 1,658. The sky lounge includes bar seating, barbecue grills and a fire pit. Additional community amenities include a sundeck and rooftop pool that further enhance the views of the city, seventh-floor sky terrace, lobby equipped with exclusive co-working space, 24-hour fitness and training facility with TRX, art-walk courtyard, EV charging stations, concierge service and onsite pet park.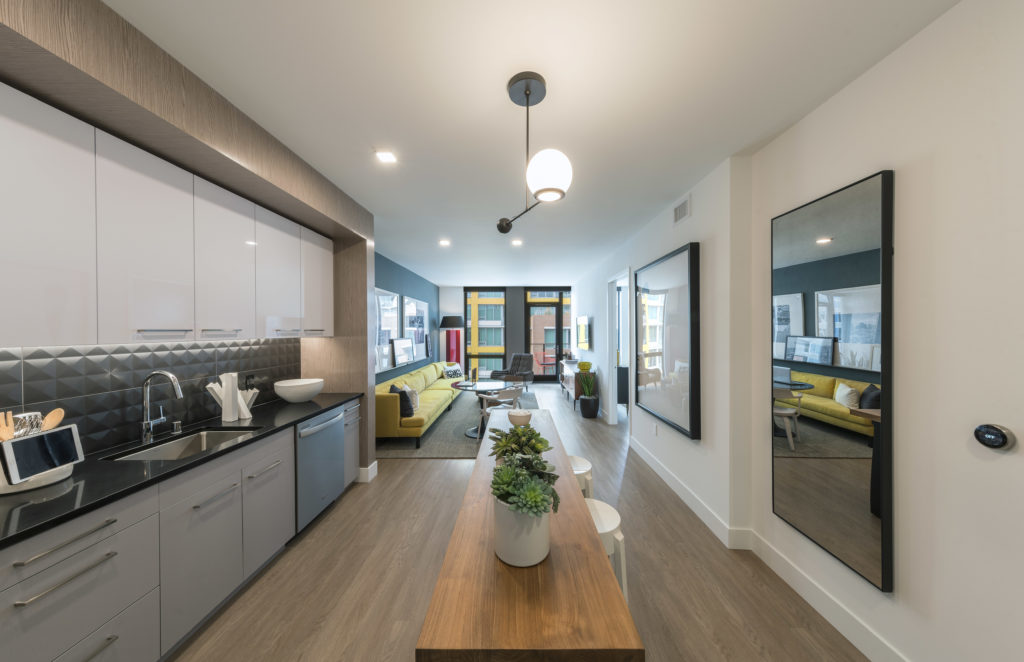 Apartment interiors include modern two-tone cabinetry with under-mount lighting, quartz countertops, stainless-steel appliances, full ceramic-style backsplashes, hardwood-style flooring, keyless entry, full-size washers and dryers, expansive closets, designer plumbing fixtures in kitchens and baths, and full-height tile surrounds in bathtubs and showers. Residents also have access to smart-home features through Lutron Dream Suite by LMC, which provides access to lighting, shades and Nest thermostats through a smartphone. Select homes feature kitchen islands, walk-in showers and floor-to-ceiling windows.
Including Shift, LMC has five apartment communities in operation or under construction in the Southern California area. That includes Core (Anaheim), on pace to open in the spring of 2018, and Luma (San Diego), which will open in the summer of 2018.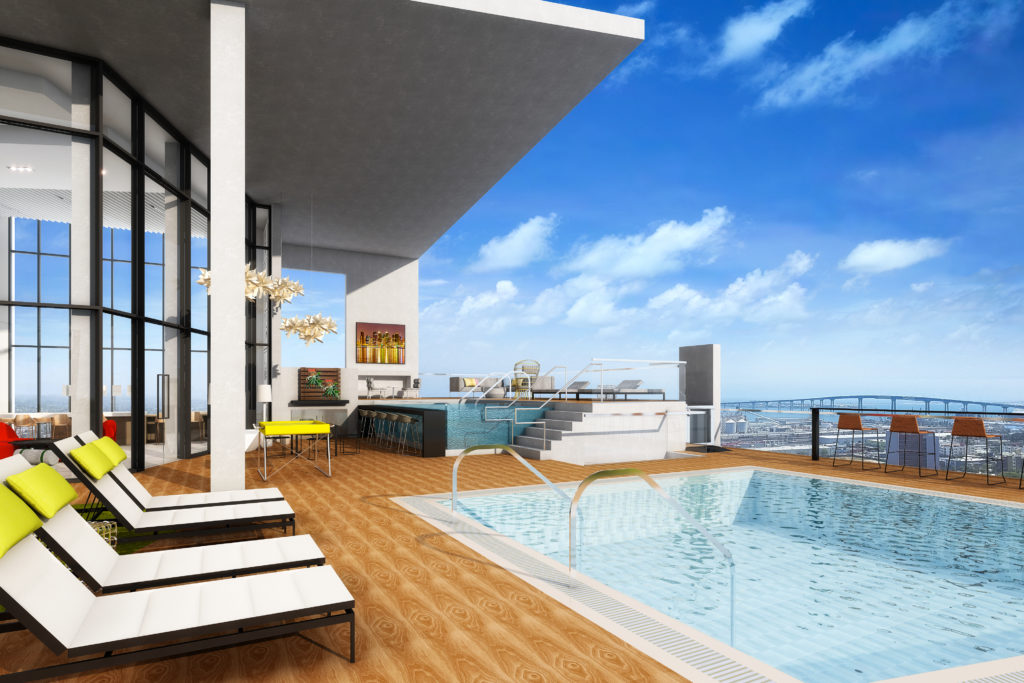 About LMC
LMC, a wholly owned subsidiary of Lennar (NYSE:LEN), is a multifamily real estate development and operating company with a diverse portfolio of institutional quality multifamily rental communities across the US. LMC has a 24,400-unit pipeline of communities ranging from operating to under development that exceeds $8.4 billion and consists of high-rise, mid-rise and garden apartments.
LMC creates extraordinary communities where people can live remarkably.
Media Contact                                              
Lindsey Bernhardt
LinnellTaylor Marketing
303-682-3941
lindsey@linnelltaylor.com
---
Member Spotlight

: California Strategies, LLC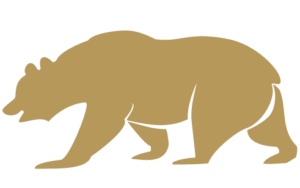 Strategic.
A full-service public strategy firm with unparalleled experience and statewide reach and depth, California Strategies and its separate lobbying company California Strategies & Advocacy helps clients navigate through the complexity and subtleties of California's political, regulatory, legislative, and media environment to achieve winning results. Over the last 20 years, California Strategies has earned a reputation for devising successful results that benefit both clients and the public.
California Strategies LLC serves prominent and respected organizations around the state, nation, and world as they intersect with all levels of government. Clients include corporations, governmental entities, industry associations, political committees, and not-for-profits who have serious public strategy goals somewhere in California. Additionally, California Strategies and Advocacy LLC, a sister corporation, is a government relations and advocacy firm created to provide hands-on executive, legislative, and regulatory lobbying.
In the know.
Based in the power centers of the state, California Strategies principals and associates are a politically diverse group who maintain strong working relationships with key decision-makers and are astute in issue development, refinement, and management at every level of government in California.
Clients benefit from their first-hand, expert knowledge of pressing public affairs issues in the areas of finance, energy, environmental regulations, green technology, infrastructure, transportation, land use, water, health care, issue management, and communications. Principals pride themselves on personal engagement with clients, and strive to keep them always "in the know."
Experience without equal.
California Strategies principals and associates have held top positions in the public, private, and nonprofit sectors, and are widely recognized as leaders in their fields. Positions have included state legislators, senior government staff, state cabinet officials, federal officials, as well as top business and community leadership. High-level involvement in the public and private sectors and relationships built over decades translate into the expertise and trust needed to achieve success for clients.
The broad range of experience and expertise throughout the firm allows for the creation of strategic teams to address even the most complex issues.
Find out more about California Strategies at www.calstrat.com.
---

Member Spotlight

: The San Diego Architectural Foundation
Celebrate San Diego's Architecture and Urban Design  | March 24-25
The San Diego Architectural Foundation (SDAF) is hosting Open House San Diego™ (OH! SD™), a popular citywide urban design event that offers free, behind-the-scenes tours of San Diego's never-before-seen buildings and historic landmarks the weekend of March 24-25. OH! SD is San Diego's largest architectural event with more than 80 sites participating. During the weekend of March 24-25, both residents and out-of-town visitors will have the chance to discover San Diego's most iconic buildings. Everyone is invited to attend, including local residents, families, students and out-of-town visitors. OH! SD is one of only three Open House events in the United States.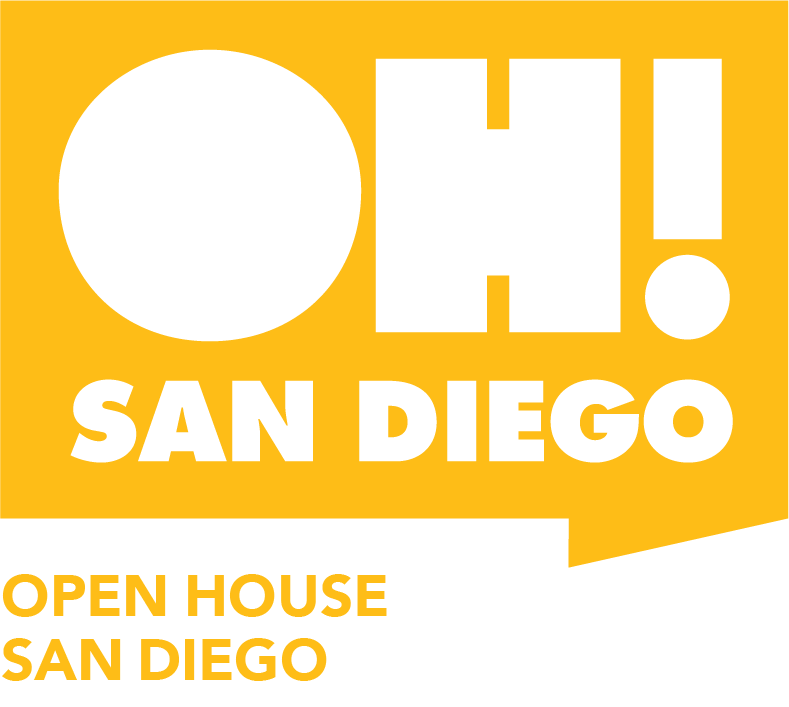 Sites available for viewing are located throughout Downtown, Bankers Hill, Barrio Logan, Balboa Park, and new for this year, Point Loma. Sites were carefully selected for their unique contributions to the fabric of our city. Each site offers architectural, historic or cultural significance through an original feature, own unique story, the innovative use of materials, repurposing of space, environmental sustainability, energy efficiency, or unique use of public areas. Spaces such as architecture and design studios, museums, schools, hotels, high-rises, and SDAF Orchid Award winners, as well as historically designated sites are featured.
Downtown sites not to be missed:
Gensler: The world's largest architecture firm has transformed the former street-level NBC newsroom into their creative and sustainable workplace. Chat with their architects on the grand, open staircase and roof terrace.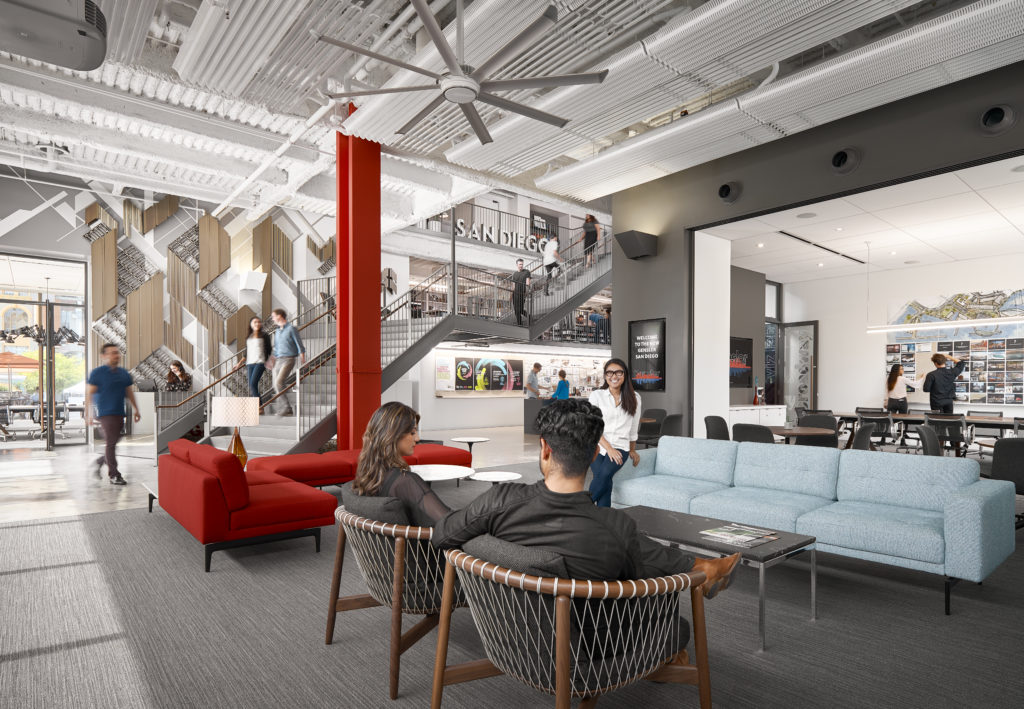 Santa Fe Train Depot: Construction of this civic landmark marked a great era for San Diego, It was completed just in time to serve an impressive point–of–entry for visitors flocking to the Panama–California Exposition. A century later, travelers still marvel at its magnificent Spanish Colonial Revival architecture featuring a grand arch and colorful tiled domes.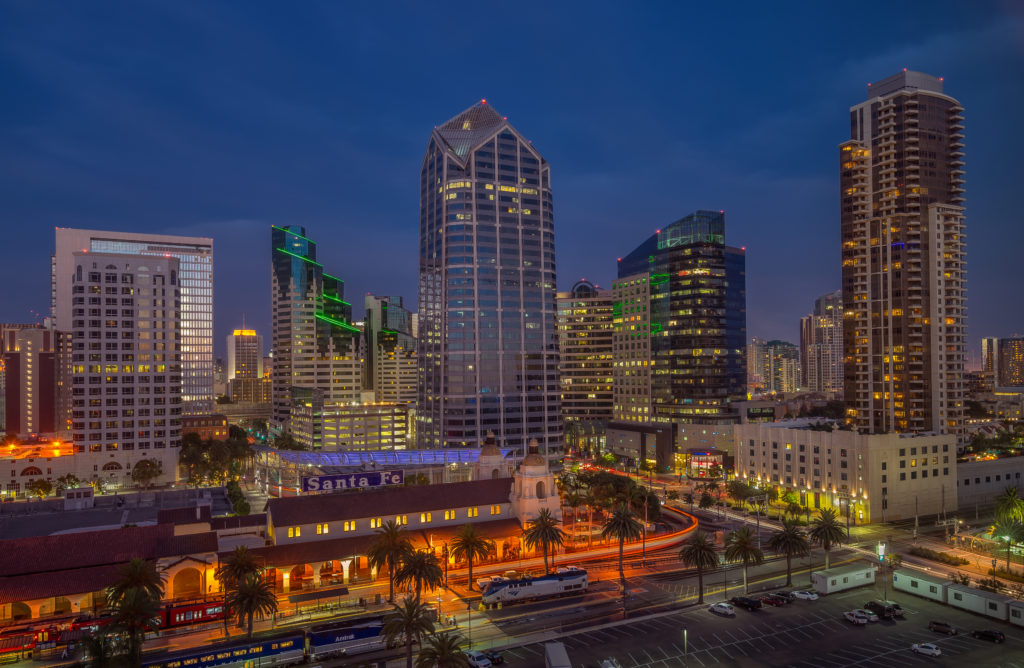 Sempra Energy Headquarters: This 16-story office building with a sky blue glass façade and elegant lines is an iconic addition to the downtown skyline. Designed to maximize worker comfort and 'share the light', the LEED Gold certified, energy efficient building incorporates smart planning principles including raised floors, demountable walls, and floor-to-ceiling glass walls that let in natural light and offer city and ballpark views to 90 percent of employees. At street level, the building peels back to create an outdoor plaza and displays public art.
Attendees can enter the architectural photography competition, which will award prizes in a variety of categories. There will also be designer-led tours and talks at many sites. All sites will be open to the public, while select locations will offer guided tours on a first-come, first-served basis or through advanced reservations. Most locations will be open from 10 a.m.-4 p.m.  For reservations and location hours visit: http://sdarchitecture.org/program/openhouse-sites-2018/.
Honorary Co-chairs are Gordon Carrier, FAIA of Carrier Johnson + CULTURE and Jennifer Luce, FAIA of Luce et Studio. Title Sponsor is Pacific Sotheby's International Realty. Title Sponsor is Pacific Sotheby's International Realty.
---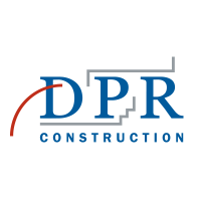 Member Spotlight

: DPR Construction
Designing Downtown's Future with DPR Construction
There's a good reason so many downtown businesses turn to member DPR Construction to create their future: the future is their focus.
Before any brick is laid, DPR envisions how the whole will bring long-lasting benefit to the business, the downtown economy and the San Diego community. Then they muster the care and experience of their 3,800 employees and 27 U.S. locations to execute with relentless accountability. The result? San Diego's future is built-in today in both ground-up buildings and tenant improvement projects of all sizes. It's no wonder DPR has been ranked in the top 50 of general contractors since 1997.
DPR is building great things with signature projects enhancing downtown. The company completed a major tenant improvement project at DiamondView Tower in East Village. Most recently, DPR was contracted by Kilroy Realty for a ground-up building featuring 174,000 square feet of commercial office and retail space with an underground parking garage. Watch for more exciting news about this landmark property as the details unfold.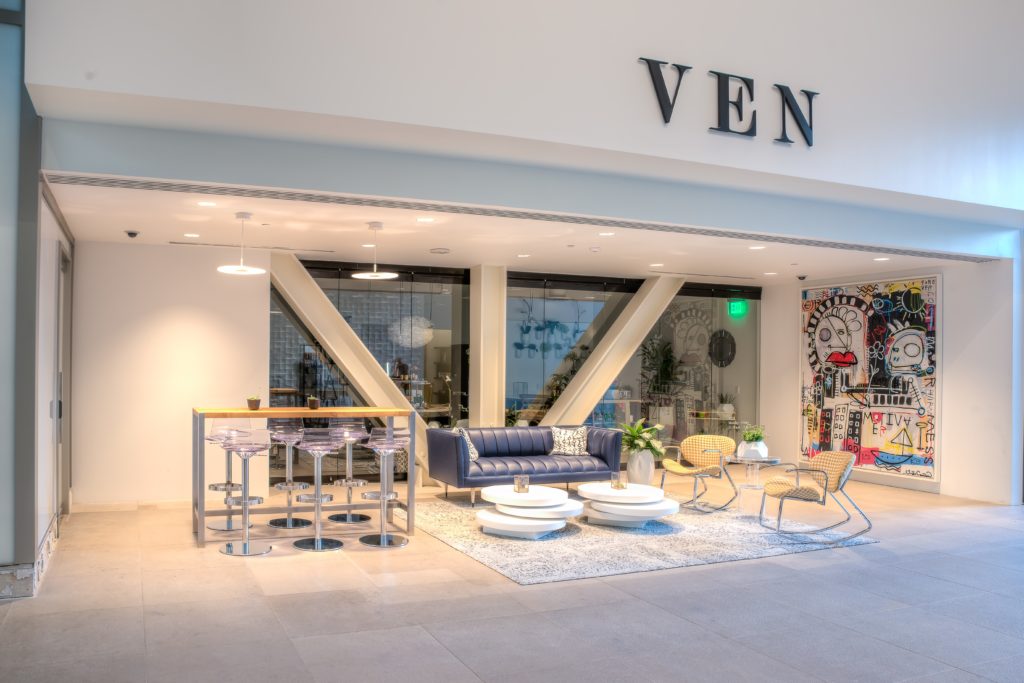 Crime Lab Construction: Solved
Beyond the downtown core, DPR continues to make its mark on facilities throughout the San Diego region. One of the most high-profile projects is the San Diego County Sheriff's Crime Laboratory in Kearny Mesa where crime fighters will soon have new space to solve cases. Upon completion in the summer of 2018, the ground-up facility will house the Sheriff's Regional Crime Laboratory, Central Investigations Division, and Property and Evidence Division as well as an on-site ballistics range. To learn more about the project, take a virtual tour here.
Community-Building
In addition to constructing beautiful, relevant buildings for San Diego, DPR is on a mission to build strong, lasting community connections within it. One way DPR delivers on that commitment is through charitable work with nonprofits. Among others, DPR is proud to have supported the Boys & Girls Clubs of San Diego, La Colonia and the Food 4 Kids Backpack Program in the form of donations or volunteer work. After all, it's only in giving back that we create a bright future.
Find about more about DPR Construction at www.dpr.com.
---

Member Spotlight

: Higgs Fletcher & Mack
Leadership in the law is a standing that is earned – and affirmed by clients, the Bar and the Bench.
Built on almost 80 years of experience, Higgs Fletcher & Mack helps clients with complex legal issues spanning 23 practice areas. Its 75+ attorneys possess unparalleled expertise in a wide variety of business transactions and litigation. Over its successful history, the firm and its attorneys have established a legacy of superior expertise and a dedication to outstanding client service.
The firm's attorneys are consistently recognized as experts by their peers and their clients. Eight Higgs Fletcher & Mack attorneys have been appointed to the Bench and five of the firm's lawyers have served as president of the San Diego County Bar Association.
In 2018, Higgs Fletcher & Mack was named a Tier 1 Metropolitan Best Law Firm in eight practice areas by U.S. News & World Report. The ranking also identified two individual Higgs Fletcher & Mack lawyers as Best Lawyers in their field.
Most important, Higgs Fletcher & Mack attorneys partner with clients to anticipate their needs, stay ahead of evolving issues, and develop innovative and cost-effective solutions. The firm's attorneys and professional staff are passionate about their craft and dedicated to building lasting relationships with their clients. Because that's how you earn true leadership in the law.
---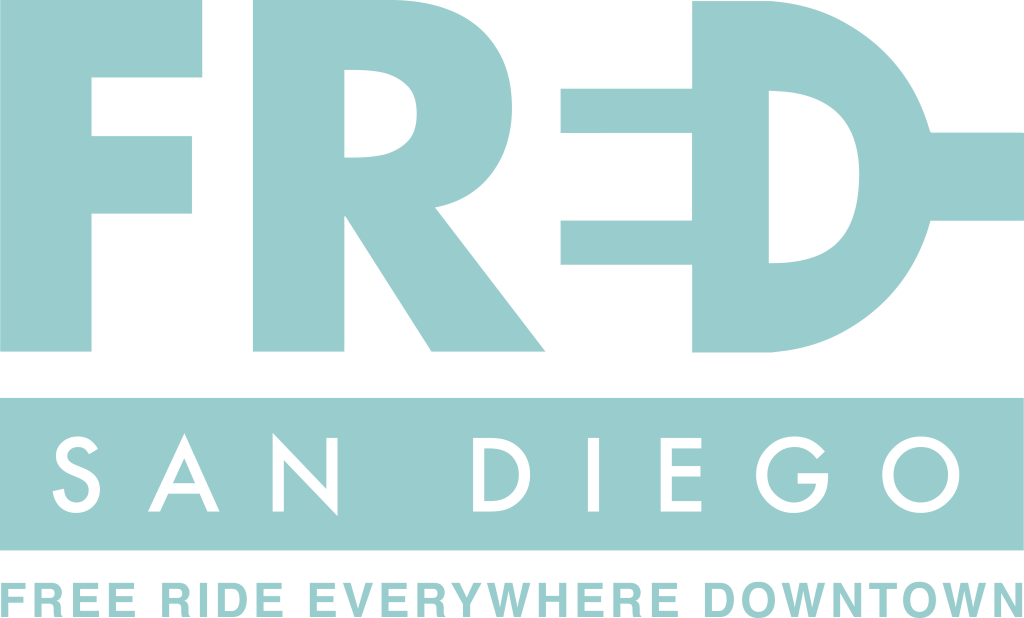 Member Spotlight

: The Free Ride
The best things in life really are free—especially when it can get you from the office to your favorite post-work happy hour. The Free Ride (affectionately known as FRED in Downtown San Diego) has become a staple vehicle for getting San Diegans and visitors where they need to go. And it's not hard to see why. The friendly drivers and open-air experience fit right in with the relaxed style characteristic of Downtown San Diego.
What started as a beach shuttle in the Hamptons has since evolved into a micro-transit solution throughout the country. FRED is a public utility that leaves a small footprint – both environmentally as a zero-emissions vehicle, but also in its adaptability to the existing urban landscape.
So how does it work? Users can download The Free Ride app on their phone, select a pickup and drop off location, and catch a ride Downtown—for free!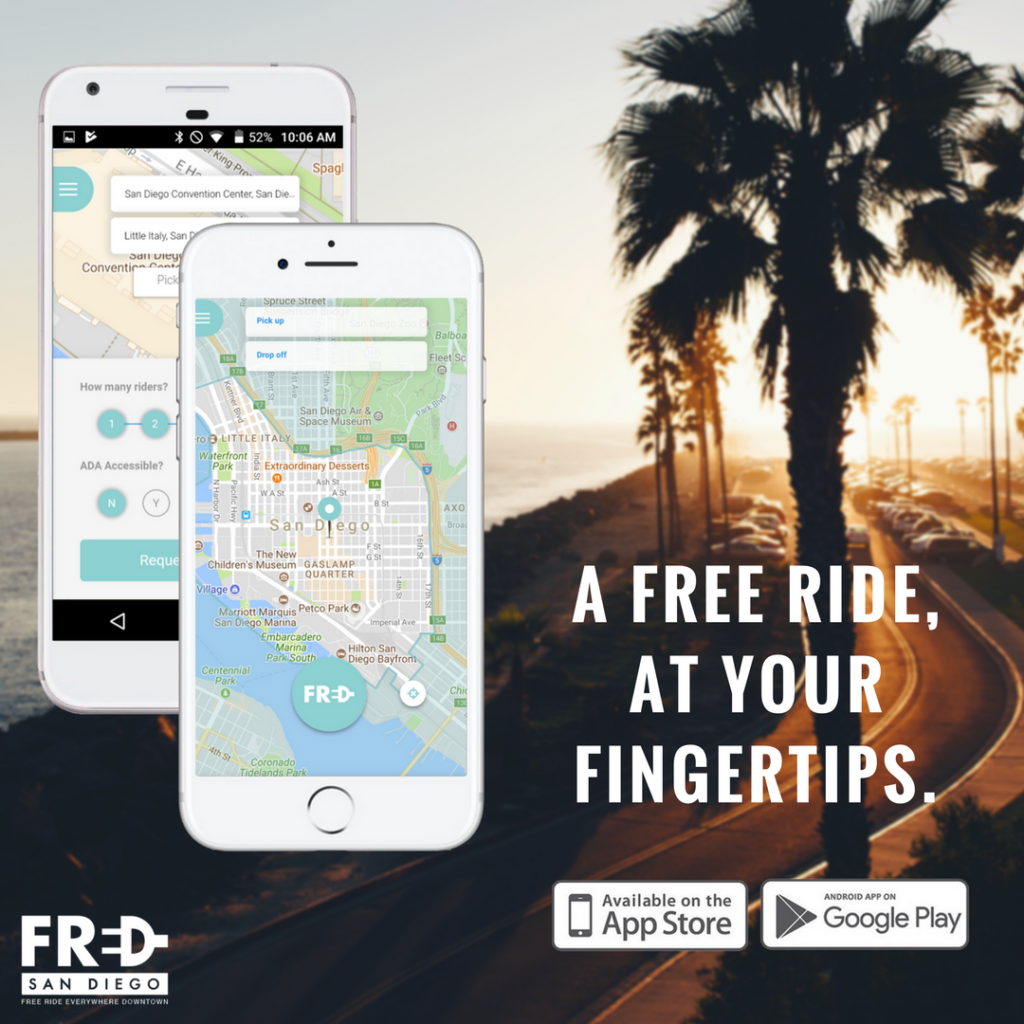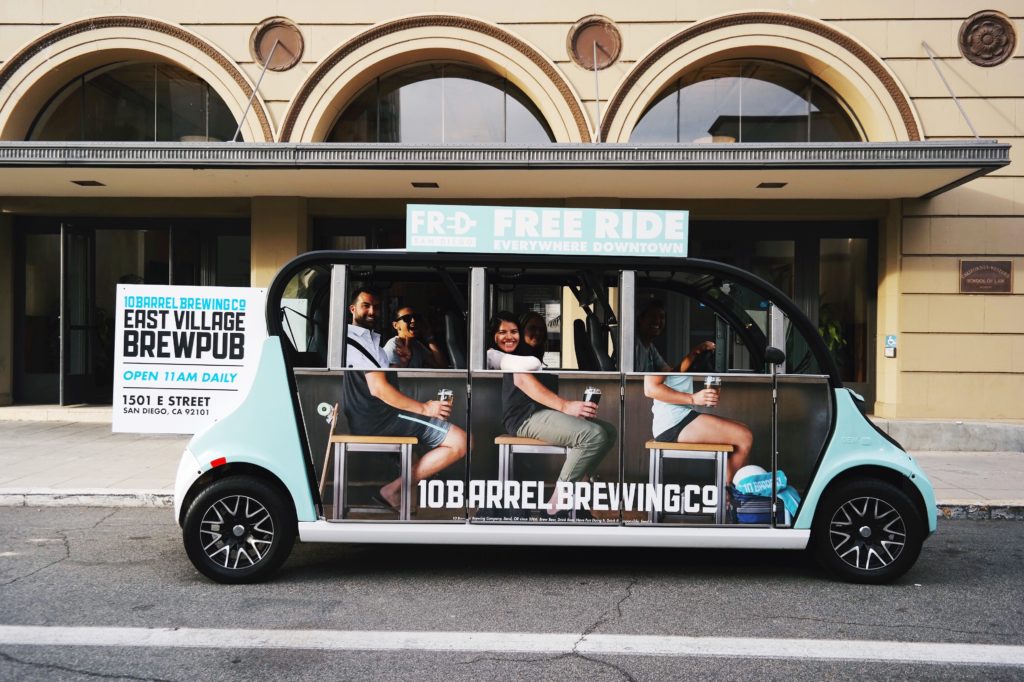 A vital component to keeping FRED true to its namesake is utilizing the vehicles as advertising space. With more than 200,000 riders and exposure to thousands more in Downtown, the cars provide a premier canvas for businesses looking to connect their services and products with the needs of the community.
What's on the horizon for FRED?
More cars and more rides. A recent increase in funding will not only allow FRED to nearly double their fleet from 17 to 30 vehicles, but it will equip those vehicles with newer lithium batteries – increasing drive time on the road.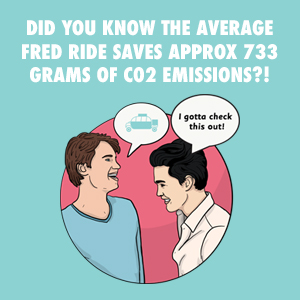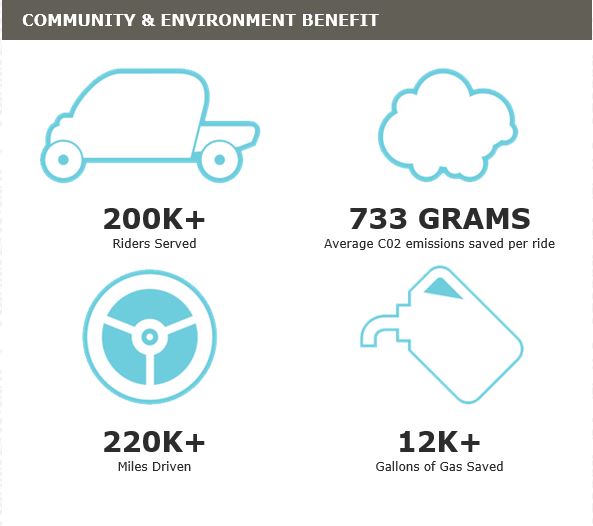 To catch a ride, visit thefreeride.com.
---

Member Spotlight

: Turner Construction Company

Turner is a North American-based, international construction services company and a leading builder in diverse and numerous market segments. The company has earned recognition for undertaking large, complex projects, fostering innovation, embracing emerging technologies, and making a difference for their clients, employees and community. Founded in 1902, Turner first made its mark on the industry pioneering the use of steel-reinforced concrete for general building, which enabled the company to deliver safer, stronger, and more efficient buildings to clients.

In San Diego, Turner is proud to have had a dedicated office since 1983, and is at the forefront of the development of the downtown area. Notable recent downtown projects including Ballpark Village, the new Sempra Energy Headquarters, Celadon at 9th and Broadway, the San Diego New Central Library, Ten Fifty B, and several improvements and expansions at San Diego International Airport.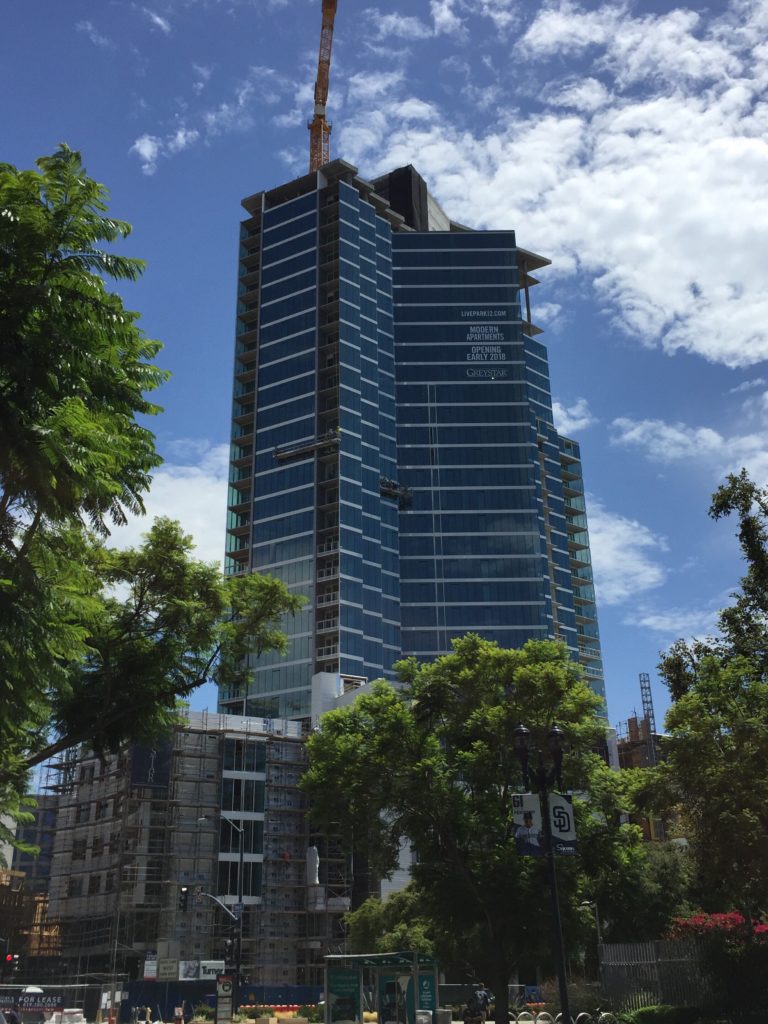 Ballpark Village (pictured), is a mixed-use development located east of Petco Park along Park Boulevard and Imperial Avenue with a 36-story apartment tower and surrounding low-rise (two six-story and one seven-story) buildings. The complex will have 718 rental units spread across the 400 foot tower and three seven-story buildings, consisting of mostly studio, one- and two-bedroom apartments, plus nine three-bedroom units and four live-work units. The apartments will range in size from 580 square feet to 2,190 square feet. There will also be 23 affordable units within the complex, a 1,214-space parking garage, and ground floor retail totaling more than 55,000 square feet.
Turner's team is actively engaged in supporting those who reside in the downtown area and surrounding communities by volunteering with Rebuilding Together, the ACE Mentor Program, the San Diego Food Bank, the Girl Scouts of San Diego, Monarch School, and Warrior Foundation Freedom Station, as well as programs targeting local business owners and suppliers like the Turner School of Construction Management.
---


Member Spotlight

: San Diego Convention Center

San Diego Convention Center to Generate $1.2 Billion in Regional Impact in 2018

Medical meetings at the San Diego Convention Center will continue to drive attendance and economic benefits to San Diego this calendar year, resulting in an estimated $1.2 billion in regional impact.

The convention center's business forecast for the year, from January 1 through December, 31, 2018 shows a total of 108 events – 58 citywide conventions, known as primary events, and 50 secondary events – booked at the San Diego Convention Center. These events will bring 862,408 attendees to the facility: that's almost equal to the population of the city of San Francisco.

Primary events (citywide conventions) bring San Diego greater benefits as they consist of out-of-town attendees here for conventions, tradeshows, and corporate events that require overnight stays. Secondary events include San Diego-based events or community/consumer shows, and usually do not require overnight stays.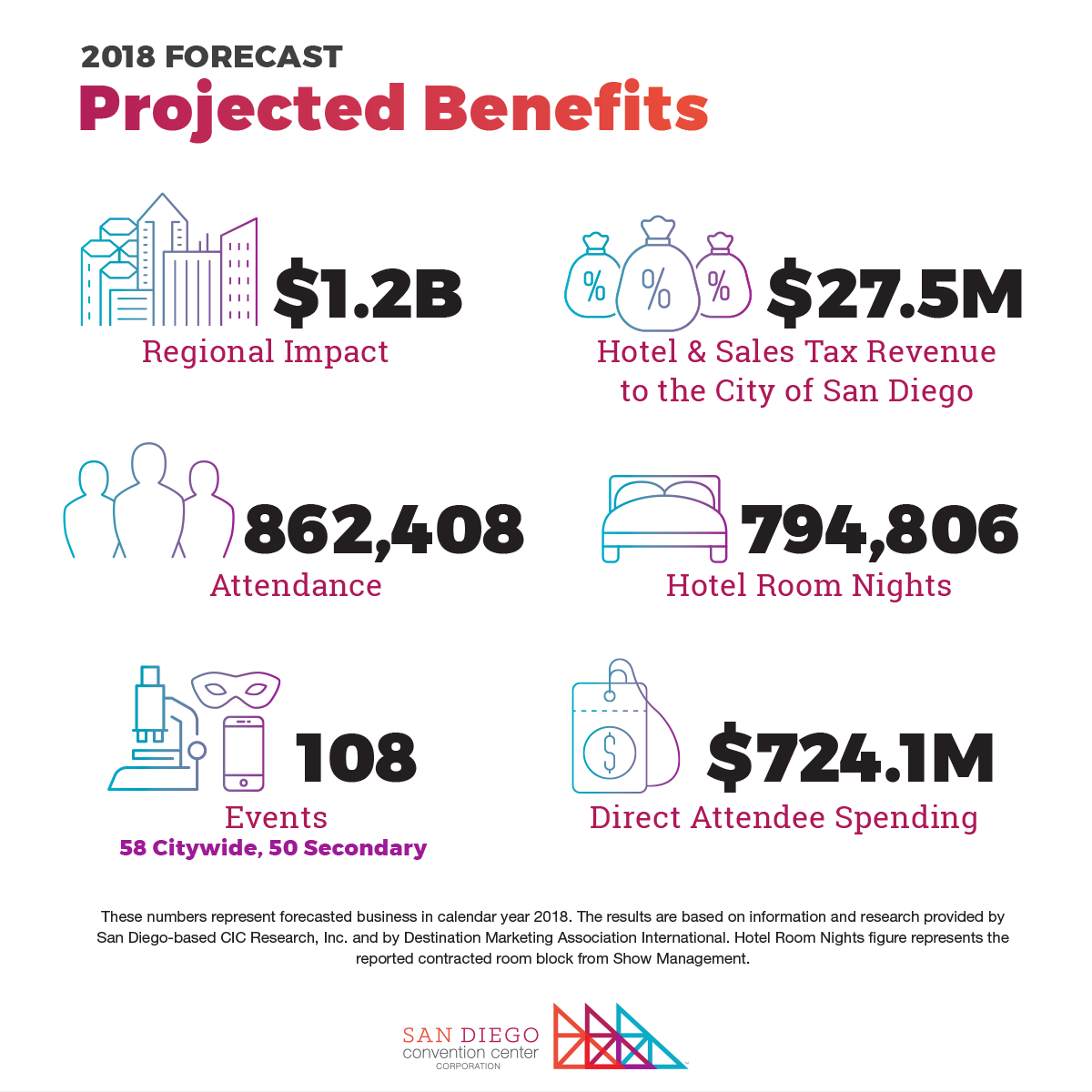 The $27.5 million in estimated tax revenues during 2018 are generated by convention visitors and helps relieve the tax burden on local residents. These revenues pay for important services such as fire and police protection, beach and park maintenance, libraries and street improvements.
"San Diego remains a top meeting and convention destination because it offers an award-winning facility surrounded by more than 13,000 high-quality hotel rooms nearby and an international airport just three miles away," said President & CEO Clifford "Rip" Rippetoe, CFE. "Our convention center is at the heart of a thriving tourism ecosystem that draws visitors to San Diego for a convention, trade show or event, then drives them out into the city to benefit local businesses, shops, restaurants and attractions, creating a 'ripple effect' into the economy that reaches across San Diego County."
Comic-Con International will be the top economic generator of the calendar year, with 130,000 attendees and an estimated $147.1 million in regional impact. It is followed by four medical conventions, including the Society for Neuroscience. That one event alone is estimated to generate $88.8 million, generate 46,850 hotel room nights and bring 30,000 medical and science attendees from around the world. This is the seventh time Neuroscience will be held in San Diego. It was first contracted in 2001, following the convention center's expansion.
The third top economic generator in 2018 will be the American Society of Hematology, another repeat client, with a $79.3 million regional impact, 86,015 hotel room nights and an attendance of 27,000, including international guests.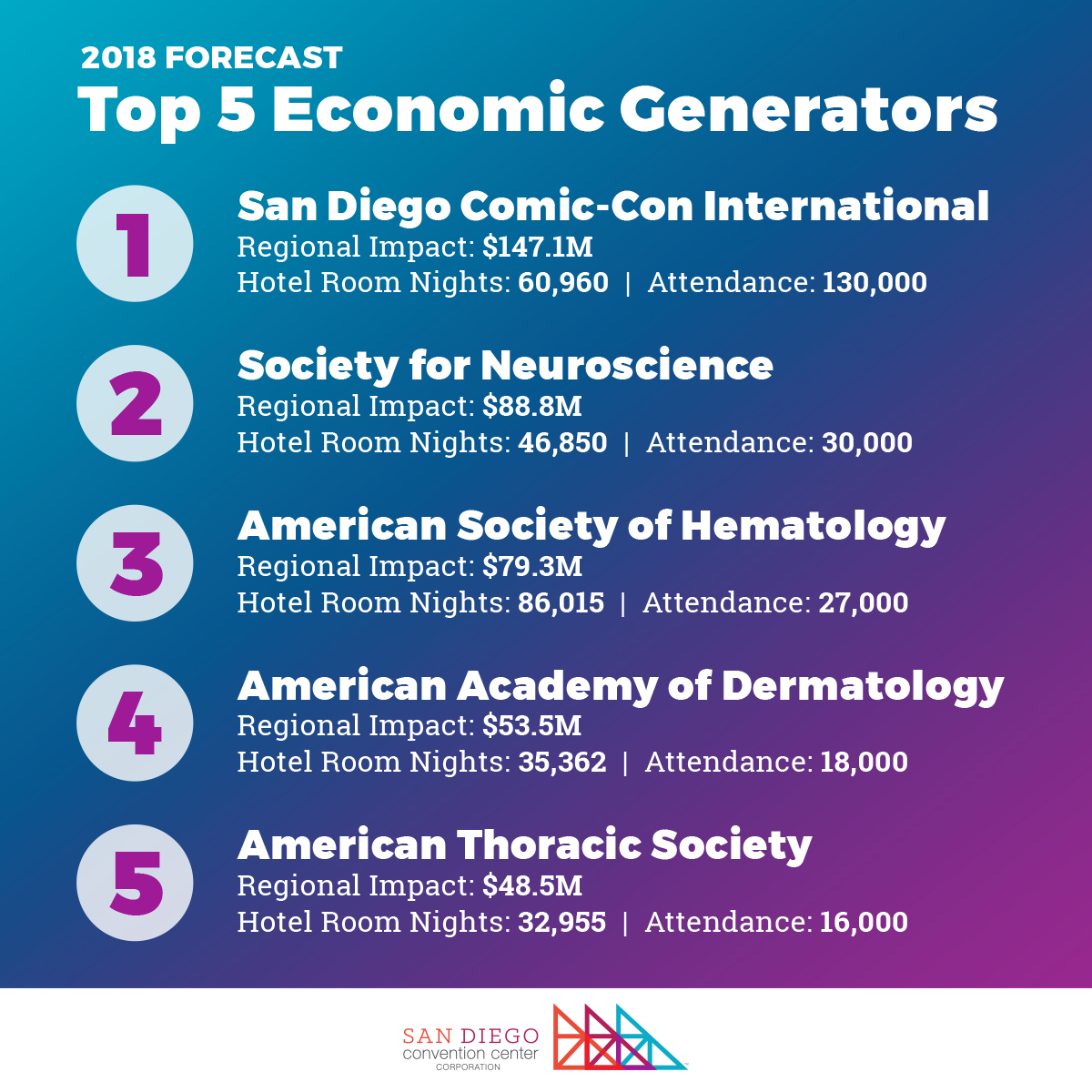 Medical meetings are especially desirable for a convention center because they attract attendees with more disposable income, perform well in economic downturns and the attendees are more likely to bring their families and stay for vacation. San Diego's growing innovation economy, biotech and technology sector, international connections with Mexico, and even our world famous craft beer culture, proves the destination is thriving with opportunity for research and business ventures.
Many of these annual events are on a rotation where they cycle through different regions every year, returning to a region every four to six years. The San Diego Convention Center has a 70 percent return business rate.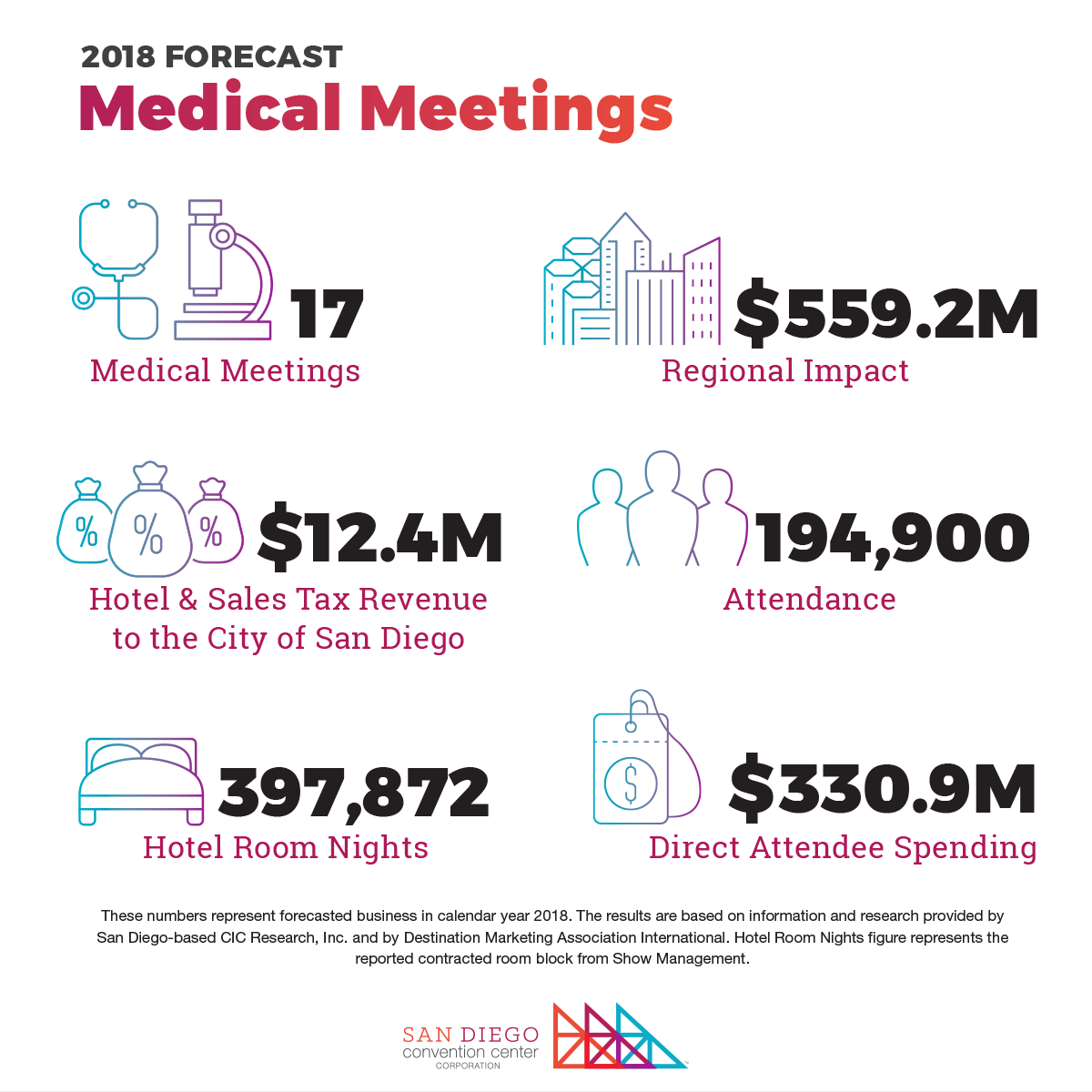 As for building occupancy, the convention center is expected to hit a 76 percent occupancy rate.
The industry average for occupancy is 50 percent, and at levels above 60 percent, a center is operating close to full capacity and may begin to turn away significant amounts of business.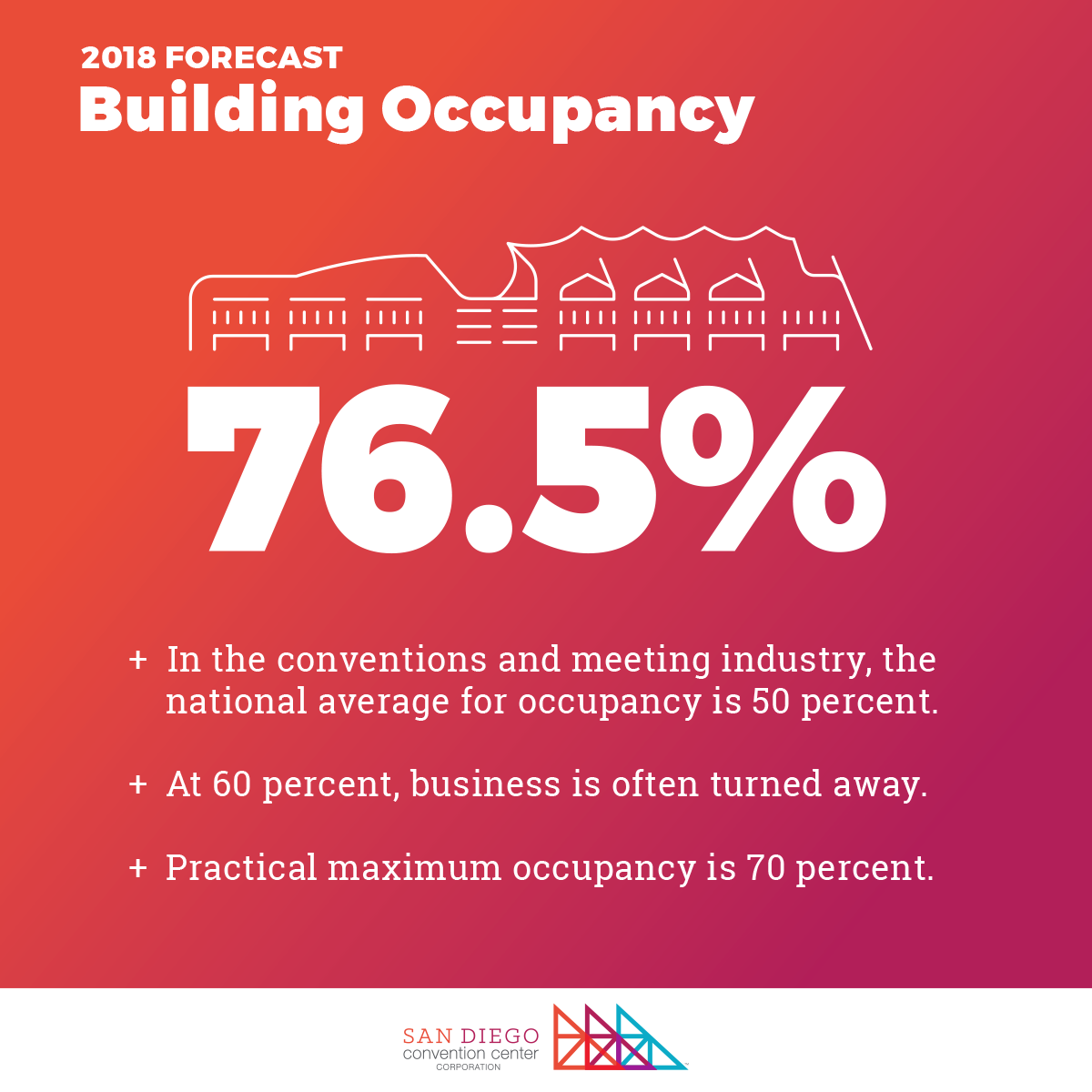 This calendar year, customers and guests will also experience a brand new Sails Pavilion, with its new concrete flooring and new roof which should be completely installed by mid-February. It's one of several capital improvements that the convention center has been working on since December of 2016. Escalators and elevators are also being upgraded. In addition, the Board of Directors also approved funding for new meeting room chairs, folding chairs, podiums, risers and easels.
"The San Diego Convention Center remains one of the most successful investments San Diego city leaders have made," said Gil Cabrera, Chair of the Corporation's Board of Directors. "For every dollar the City invests, our return on investment is $1.52."
NOTE: The convention center continues to pursue additional bookings throughout the year, so overall numbers are expected to increase as the year progresses.
San Diego Convention Center Calendar Year 2018 Forecast
Post by Barbara Moreno, on January 8, 2018
Events, News and Developments
For more information and updates from the San Diego Convention Center, go to visitsandiego.com/blog
---

Member Spotlight

: San Diego Gas & Electric

Imagine the energy company of the future—an energy company committed to innovating and improving for the benefit of the communities it serves.

For 3.6 million people in San Diego and southern Orange counties, their lives are powered by a company already on the path to achieving that vision—San Diego Gas & Electric (SDG&E).

Energizing San Diego Since 1881
From delivering 43 percent renewable energy to all of their customers, to investing in infrastructure that makes the power we receive more reliable and supporting local organizations that ensure our region is cleaner, safer and healthier for our children and grandchildren, these are just some of the ways SDG&E shows their commitment to improving our communities.
A Dynamic Duo: San Diego and Renewable Energy
Today, the energy that flows to every home and business powered by SDG&E comes from 43 percent renewables, meaning it is sourced from solar or wind. SDG&E customers are some of the greenest energy users in the nation.
For those customers wanting to use more clean energy, SDG&E has designed a program, EcoChoice, that gives them the option to power their home or business with up to 100 percent renewable energy.
The company has expanded the region's commitment to clean, sustainable power by adding state-of-the-art energy storage projects to improve reliability for customers and greater amounts of renewable energy to the grid. The battery storage facilities charge during the day—when there is an abundance of solar and wind power available—and discharges during the early evening hours when energy demand is high.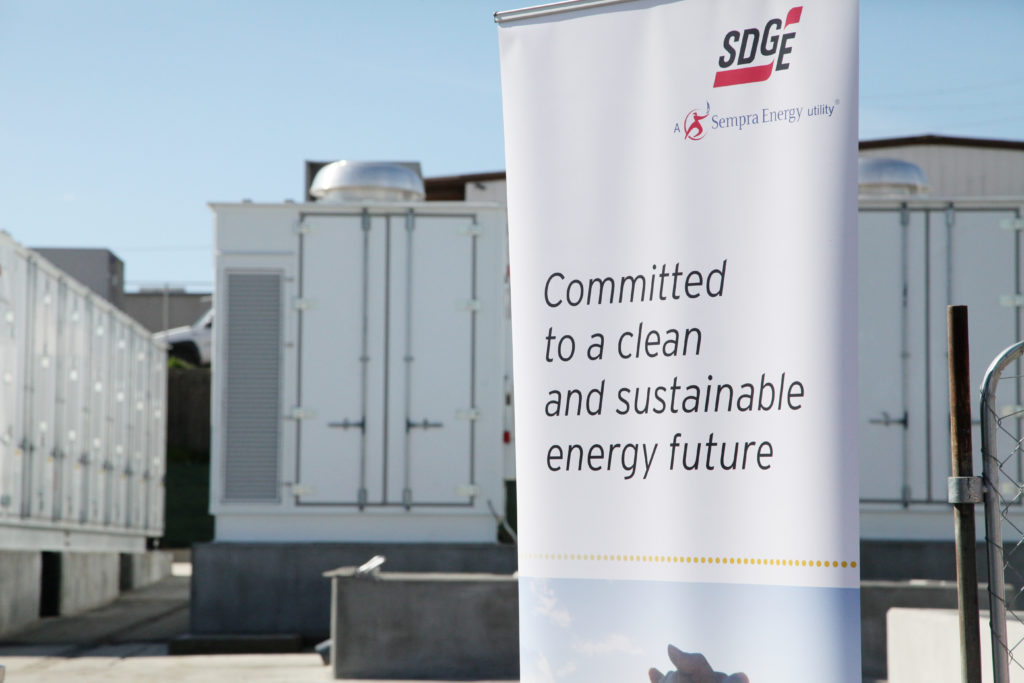 As SDG&E adds large-scale technologies to deliver more renewable energy to the region, they also support more than 110,000 customer's private rooftop solar systems. In fact, SDG&E has invented a device, the Renewable Meter Adapter, that has made it safer and easier to install rooftop solar, while also saving customers more than $5 million collectively in installation costs since August 2015.
America's Finest "Plug-In" City
With more than half of San Diego's air emissions stemming from the transportation sector, SDG&E sees clean transportation as an opportunity to secure a healthy tomorrow for future generations.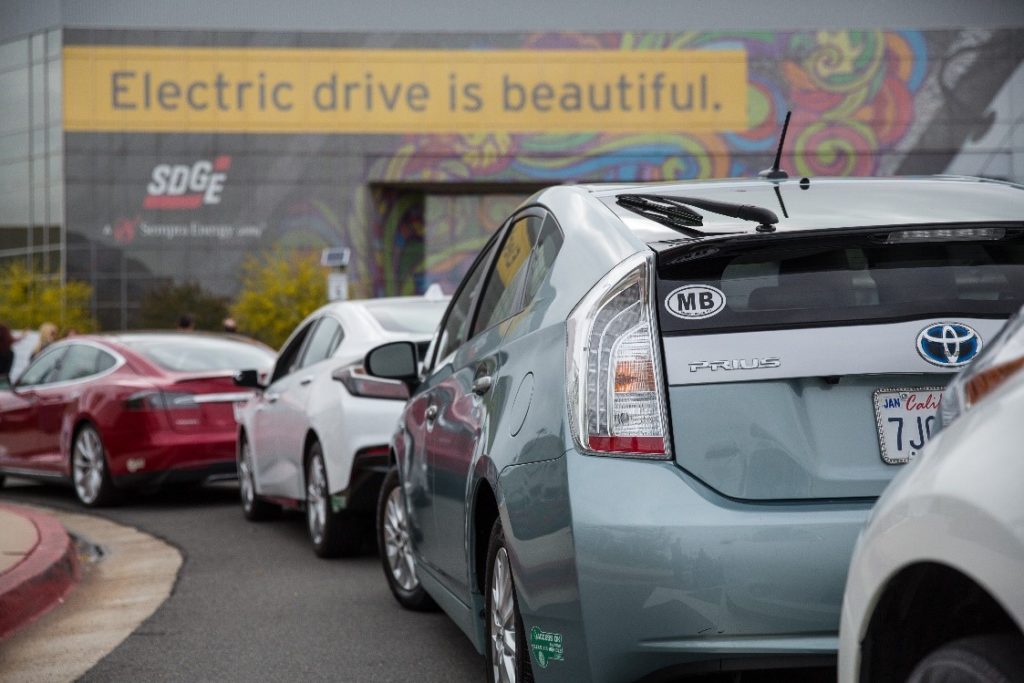 A highlight of the company's drive to add more zero-emission vehicles to local roads, is the innovative "Power Your Drive" program—one of the largest electric vehicle (EV) charging infrastructure projects in the nation. Working with local partners, SDG&E's Power Your Drive is installing 3,500 chargers at businesses, condos and apartments, making it easier for more San Diegans to drive electric.
Empowering our Communities
SDG&E's commitment to the San Diego region extends beyond business. The energy company supports hundreds of non-profit organizations who are vital in developing our next generation of leaders, preserving the region's environment and protecting our communities when an emergency happens.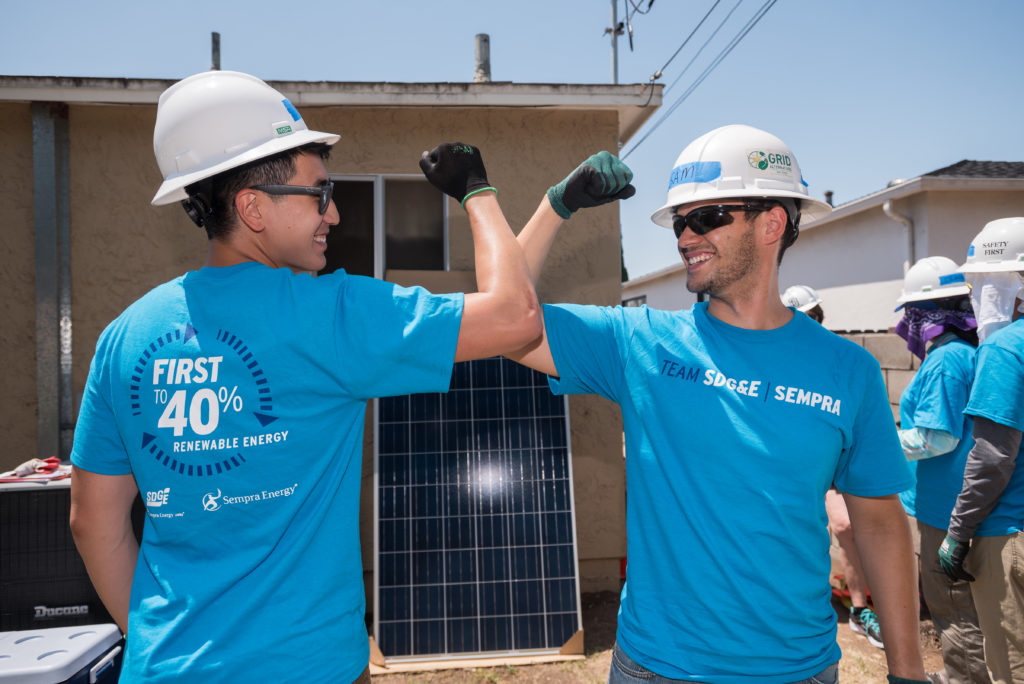 As San Diego continues to grow and evolve as a region, SDG&E is matching pace with these innovative tools and resources to ensure all communities, including Downtown San Diego, continue to power their businesses with clean, safe, and reliable power.
For more information on these and other innovations from SDG&E visit SDGEnews.com.
---



Member Spotlight

: Scoutred

Scoutred is on a mission to help cities grow faster, and it's doing it through geospatial data. It all started a few years ago when the frustrations of aggregating information around potential real estate developments was brought to the attention of Alexander Rolek, Scoutred's founder. Collecting property details such as zoning, community plans, overlays, lot size, owner information, etc. is a time consuming and tedious process. After reverse engineering numerous municipal systems and trying to make them all dance together, it was determined the only way to do this correctly was to build the system from the ground up… and so the journey began.

Scoutred develops data pipelines from various open datasets. Each one requires custom attention as no data authority agrees on how data resources should be structured. This process is time consuming and often requires issuing Public Records Act (PRA) requests followed by the development of data adaptors to extract, transform and load the data into the Scoutred data schema. The data updates regularly at various intervals, usually weekly and monthly, and maintenance at scale is not only a large engineering feat but a labor of love.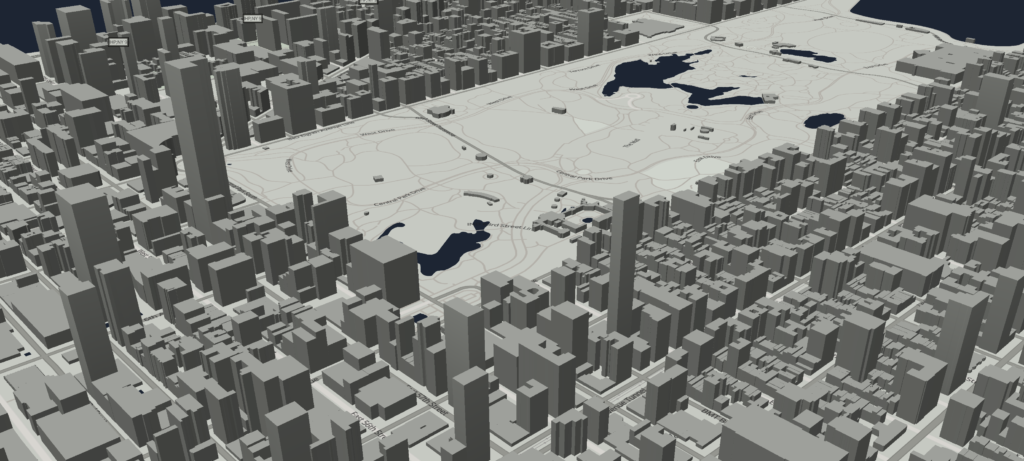 Scoutred is used by thousands of professionals every month; architects, developers, planners, engineers, municipal employees, and avocado farmers all leverage the platform to obtain data on over 1 million parcels Scoutred is currently tracking. The user experience has been designed around simplicity which helps unlock the previously unapproachable datasets to a much larger audience. The focus on simplicity has helped grow the platform's user base almost entirely through word of mouth.
Scoutred is built largely on open source software and data. We realize the platform could not exist without standing on the shoulders of previous generations. As an organization we choose to contribute back to the open source community. Last year we released a fully functional API client for the City of San Diego's OpenDSD permit data feed. This software package powers Scoutred's permit search and has since been adopted by the City of San Diego as a key way to interact with their own data streams.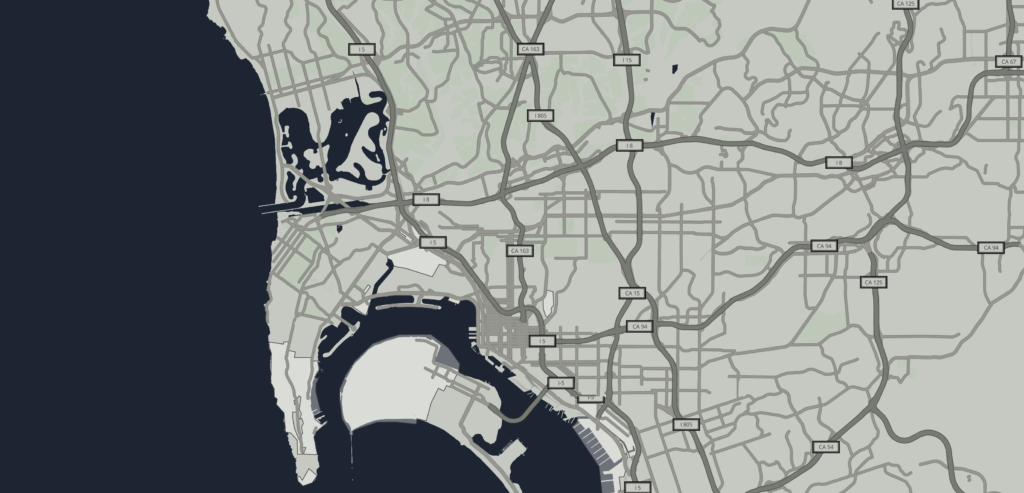 So what's next? About a year and a half ago, Scoutred was commissioned to build a next generation map tiling system under an open source MIT license. As of November 2017, the software reached a level of maturity where it can now handle planet size datasets. This new mapping system is now being rolled into the core of Scoutred. The users of Scoutred will soon have a highly interactive mapping experience which will take geospatial data exploration to the next level.
---


Member Spotlight

: Kitchens For Good

If you haven't noticed, there's a new caterer on the block. And, as its name suggests, it's up to doing good. Kitchens for Good is a first class catering company where every event you book supports its mission to train unemployed people for jobs in the culinary industry and provide nutritious meals to those in need in San Diego. Their catering has been stirring up a lot of attention, having recently been named to San Diego Modern Luxury Magazine's "Top Ten Hot List" as the new buzzed-about catering option in town.

As San Diego's only non-profit caterer, Kitchens for Good can make your event have the benefit of delivering spectacular catering services, while also supporting San Diegans in need.  The proceeds from catering support Kitchens for Good's nationally recognized culinary apprenticeship program which prepares homeless and formerly incarcerated individuals for careers in the culinary industry.  Proceeds also support the preparation of over 50,000 meals a year for San Diegans facing hunger.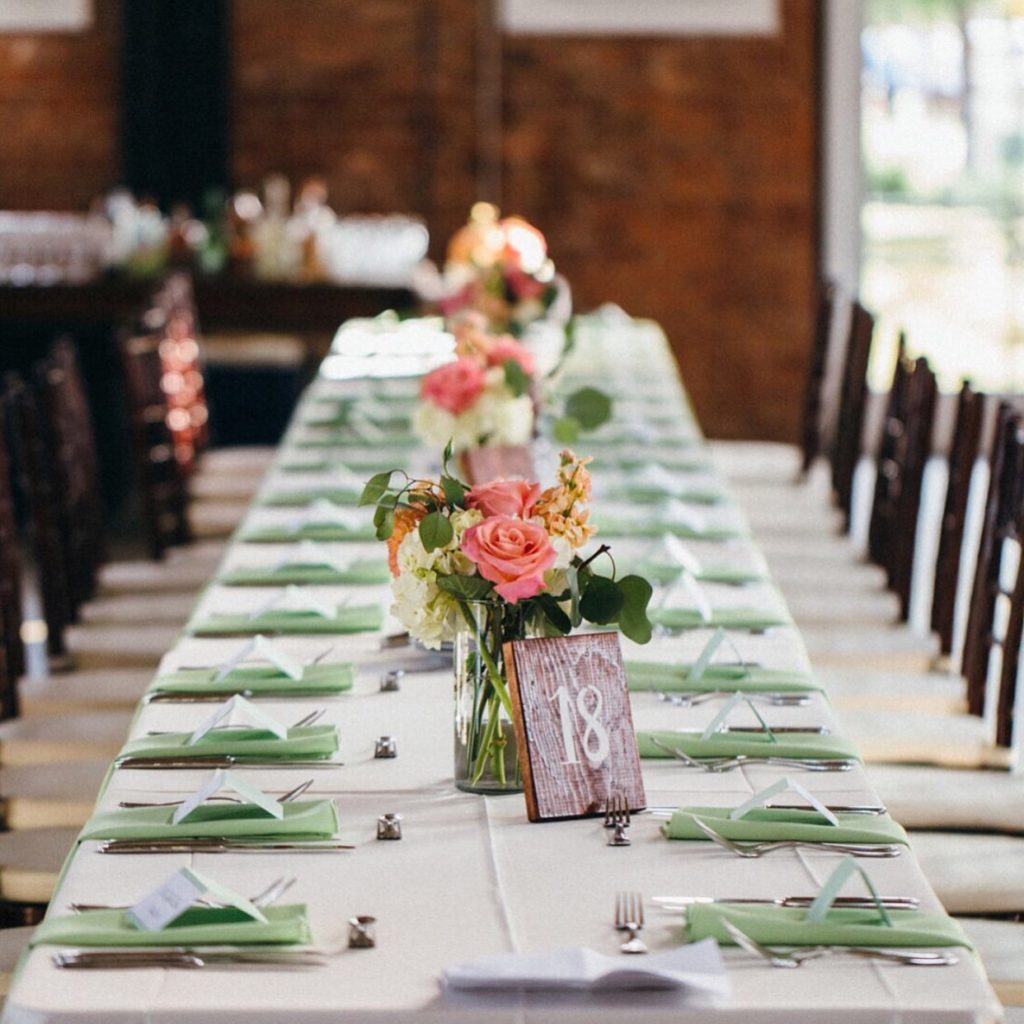 As a full service caterer, Kitchens for Good caters over 500 events a year, ranging from galas and corporate events to holiday parties and weddings.
The Kitchens for Good catering team has a passion for cooking and food. They deliver creative and gourmet menus that are created with sustainably sourced local ingredients and prepared by Chef Karl Prohaska.  As members of the Food System Alliance, they use sustainably sourced food, earth-friendly disposables, and love to compost. From staff lunches to elaborate weddings, they provide diverse menu options that fit many different budgets and dietary and food preferences.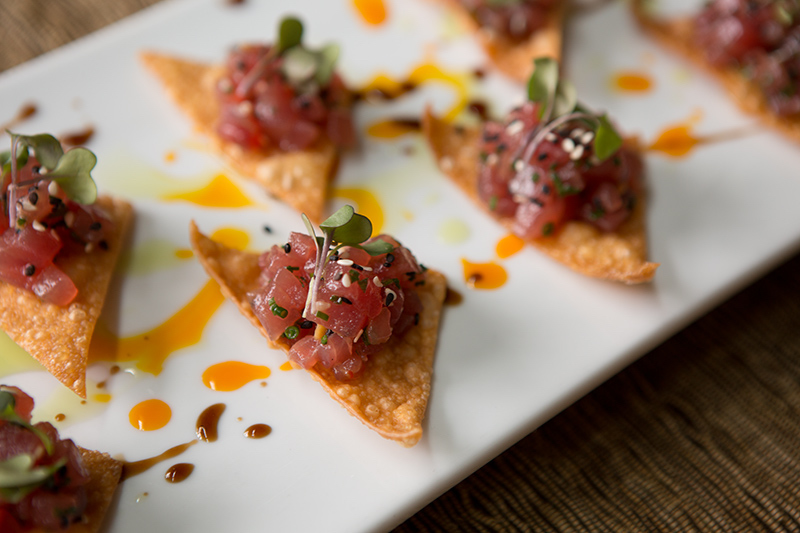 Chef Karl just released the holiday menu and it's a must see for DSDP partners!  Whether you want to say thank you to employees or celebrate with colleagues, their holiday party catering is sure to please. They will set-up and serve hassle-free at your location so you can enjoy the party – and the compliments. To start planning your event click here or contact Ray Kau at 619-540-0473 or ray@kitchensforgood.org.
Kitchens for Good caters at premiere venues and homes across San Diego County including the Downtown Public Library, The Old Globe Theatre, and Liberty Station. Kitchens for Good Catering is also the exclusive caterer for Jacobs Center located in Southeast San Diego, a venue where many DSDP members have held or attended events. The venue has an 18,000 square foot banquet hall, an outdoor amphitheater and event lawn, making it one of San Diego's largest non-hotel event spaces. The center is just seven minutes from Downtown and has free parking for 400 cars — an added plus.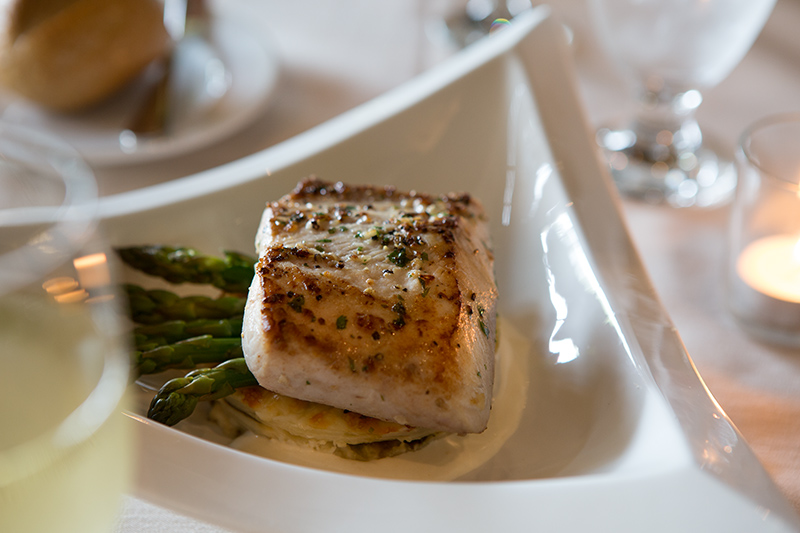 Giving back never tasted so good! To learn more about Kitchens for Good visit www.kitchensforgood.org.
---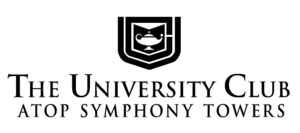 Member Spotlight

:
The University Club Atop Symphony Towers
Toast at the top from your private event!
The University Club is where San Diego's leaders gather to connect, work, host, and celebrate. With stunning views of the Downtown skyline, in the heart of the business and cultural community, it has the perfect atmosphere for networking or relaxing.
Holiday Parties
Thank your team with the ultimate dining experience atop the city.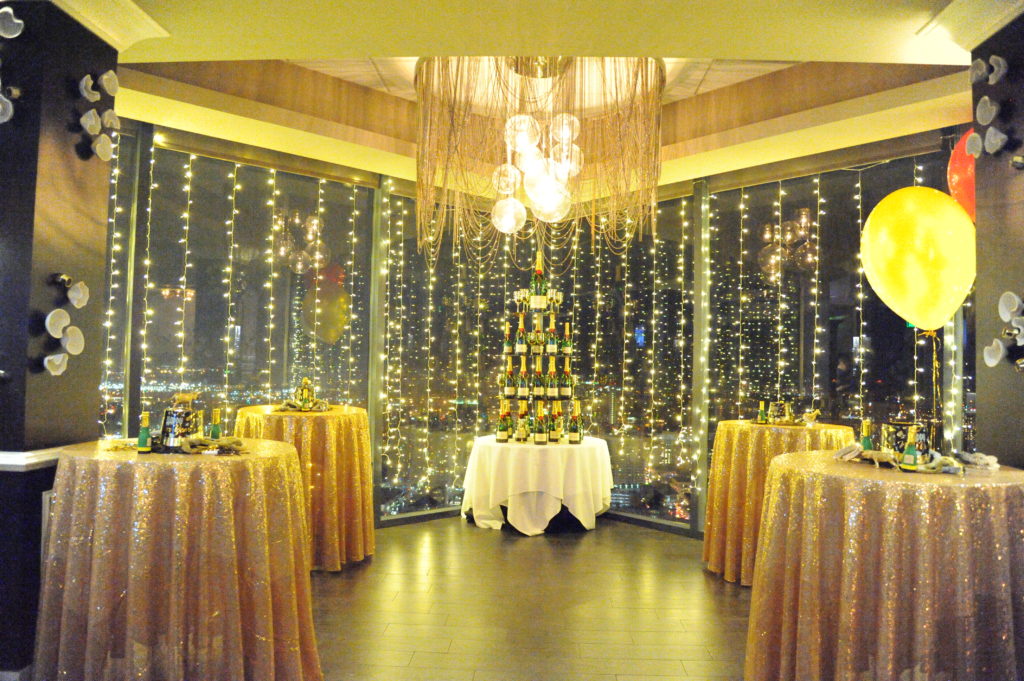 Business Dinners
The University Club's views and exclusivity are known for increasing client attendance.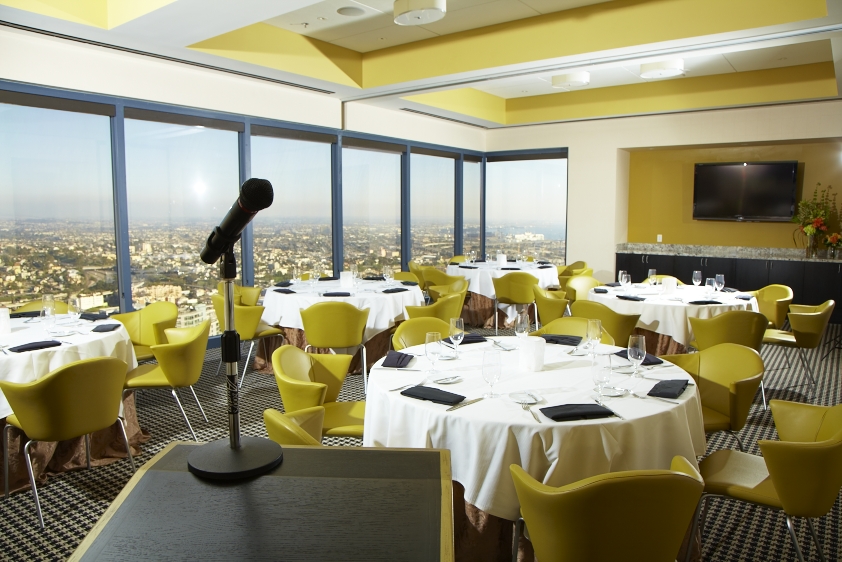 Celebrations
Milestones, celebratory meetings, and fundraisers are what we do best. Nonprofit rates available.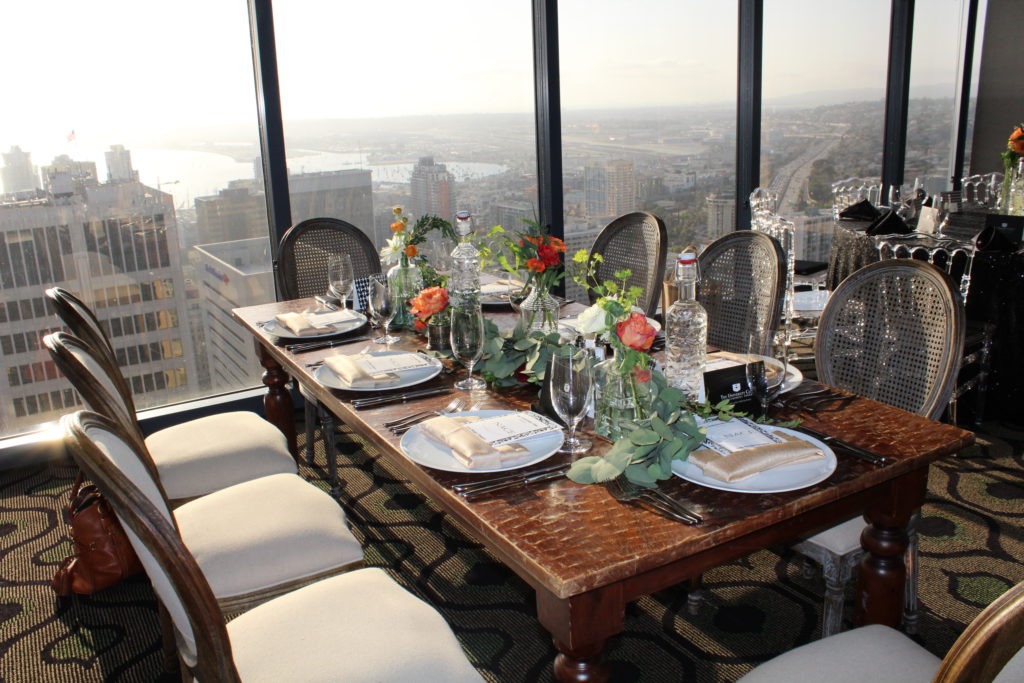 Both members and nonmembers are invited to host private events at San Diego's Premier Private Business Club.
Give the University Club a call to plan your next special event.
619.234.5200
Kristi.Saffery@clubcorp.com
750 B Street
34th Floor Penthouse
Downtown San Diego
uc-sandiego.com
---

Member Spotlight

: Clark Construction Group

About Clark
Clark Construction Group is one of the most experienced and respected building and civil construction firms in the United States. Since 1906, we have been transforming the ideas and visions of our clients into award-winning projects. We build with the intention of exceeding our clients' expectations for safety, quality, functionality, and aesthetics, and deliver finished products that stand the test of time. With a local office in downtown San Diego since 2009, Clark has become part of the fabric of the San Diego community, working closely with public and private partners to deliver some of the area's most prominent structures. Downtown projects including Petco Park, Manchester Grand Hyatt, Pacific Beacon, and the new Marriott Hall along with projects in the surrounding areas such as Camp Pendleton Naval Hospital, San Ysidro Land Port of Entry, and multiple projects for UC San Diego and SDSU, pepper the San Diego landscape. Clark's growing local presence is a testament to our commitment to superior service and performance on each project — large or small. Clark is also passionate about making a difference in the community. We proudly support organizations like Rebuilding Together, the Chelsea's Light Foundation, and Rady's Children's Hospital.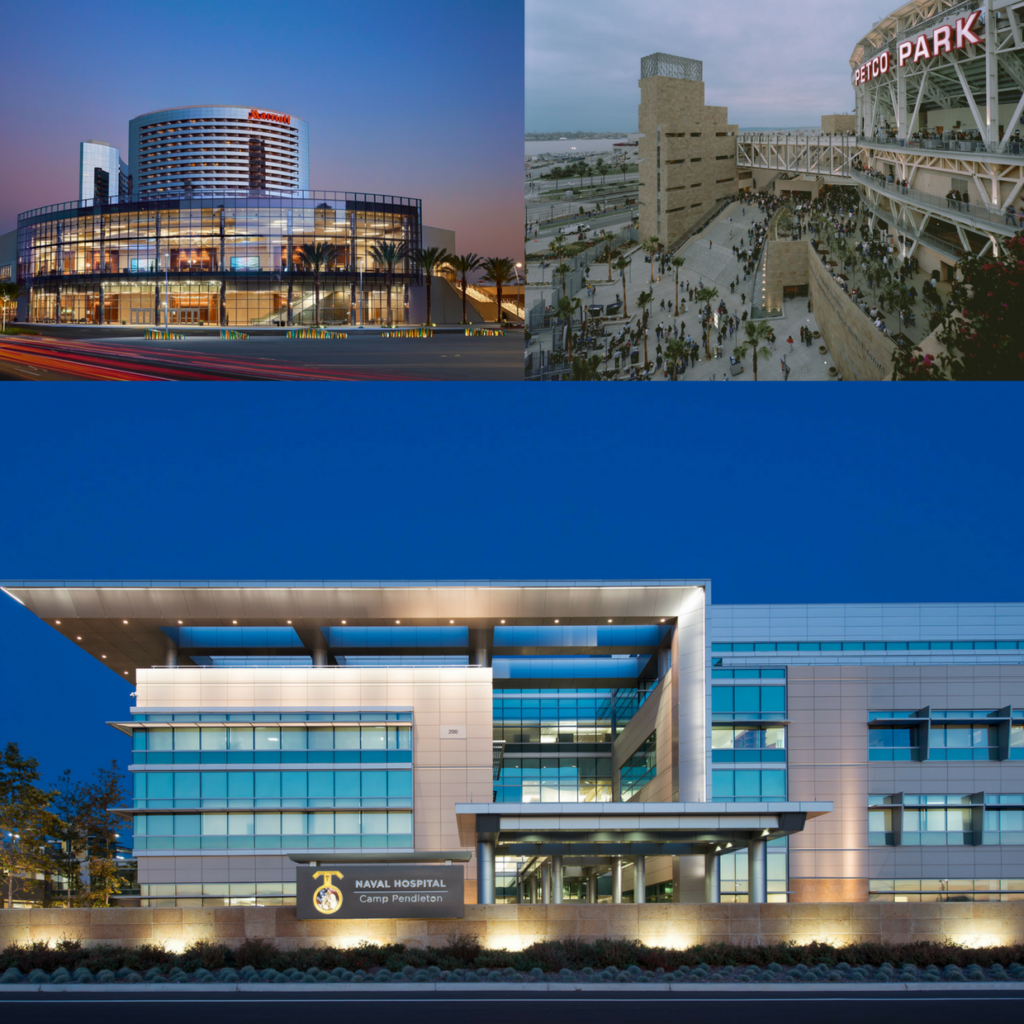 Project News
On September 23, the Atkinson/Clark team worked with GSA to successfully execute a three-day road closure at the San Ysidro Land Port of Entry, the busiest land border crossing in the western hemisphere. The closure was necessary as part of the modernization and expansion efforts at the border. Through detailed planning and careful coordination with more than eight federal, state and city agencies, the project team successfully completed work and reopened the southbound Interstates 5 and 805 at 12 AM Monday, 12 hours ahead of schedule. GSA port of entry program manager Anthony Kleppe commented, "Construction was well planned and executed during the closure with close to 300 people working to complete the project." The San Ysidro Land Port of Entry project will significantly improve the border crossing experience, enhance the US Customs and Border Protection's ability to fulfill its goals, and meet the growing needs of the region.
---

Member Spotlight

: Nason's Beer Hall

Raise a glass (or pint)

A new addition to San Diego's iconic craft beer scene, Nason's Beer Hall is Pendry San Diego's interpretation of the modern-day beer hall and sports bar. With 24 beer taps, a German-inspired menu of game day classics and a boisterous, convivial attitude that's not just encouraged, it's expected. Come alone, come with friends, come for a private event or celebration.

Football season is our favorite time of year at Nason's Beer Hall, we'll always greet you with a warm pretzel and a cold beer. Or two.

Nason's Beer Hall Weekly Line Up
Daily: Happy Hour, 3-6pm
Fridays: Live Music, 5:30-7:30pm
Saturday and Sunday: Rise, Dine and Shine, Game Day Brunch kicking off at 10am
Beer is Love: Spread the love and beer it forward, buy your friend a beer and we will put their name on our beer board, they can enjoy a beer on you at their leisure!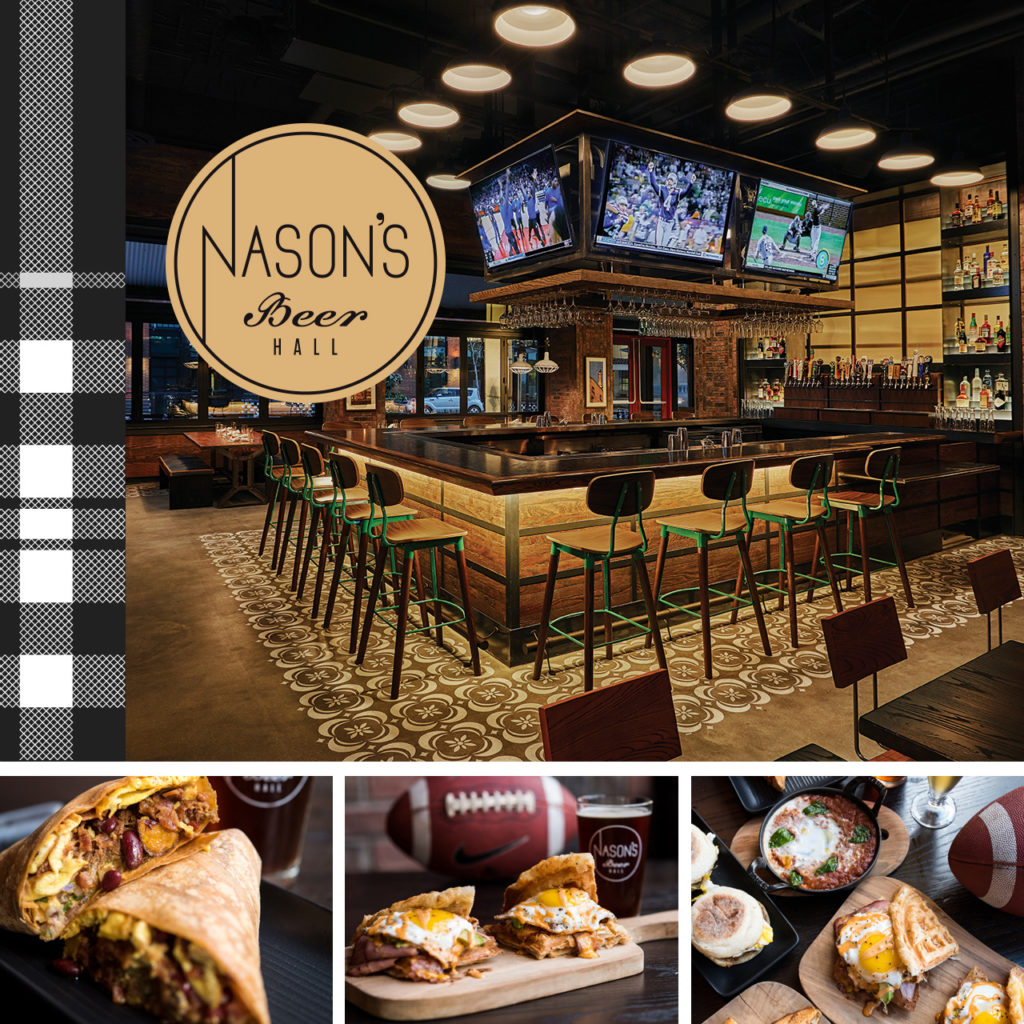 ---

Member Spotlight

: Paragon Real Estate Fund

On July 25, 2017 CBRE announced the sale of Art Center Block, which consists of five office buildings totaling 132,854 square feet, situated on an entire city block in downtown San Diego's East Village to Paragon Real Estate Fund, LLC for $34 million.

CBRE's Kevin Mulhern and Rachel Parsons represented the seller, Carleton Management Inc. and The Downtown LLC (Bishop Family). CBRE's Scott Peterson and Bill Chiles of the Capital Markets' Debt & Structured Finance team arranged a short term, floating loan on behalf of Paragon Acquisitions LLC for the amount of $23,580,000 through Guggenheim.

"Owning an entire city block in downtown San Diego's largest and fastest growing neighborhood is a rare opportunity with tons of potential," said, Mulhern. "Directly east of the property is the planned East Village Green Park, a 4.1-acre park owned by the city and planned for future development. The property is also zoned for multifamily development which could lend itself to potential redevelopment in the future."

Art Center Block is a full city block bounded by Park (12th), 13th, F and G Streets. The five office buildings range from one to four stories and were built between 1924-1971. The NewSchool of Architecture and Design occupies 51 percent of the total office building square footage. The property also includes the former HangTen clothing manufacture facility. The other office space is 97 percent occupied by several creative office tenants.

"East Village is one of the most vibrant and dynamic communities in San Diego," said Roberto Jinich, Paragon Co-Founder. "Art Block provides much needed creative office space and has great potential as a future development site. This acquisition more than doubles our footprint in downtown San Diego and reaffirms our long-term commitment to the area."
Art Center Block is centrally located one block from the Park and Market trolley stop providing easy transportation access throughout downtown and other submarkets. Additionally, the property is within minutes of all of San Diego's famous attractions including Petco Park, Balboa Park, San Diego Zoo, San Diego Bay, Embarcadero Park, San Diego Central Library, Convention Center, San Diego City College and the San Diego International Airport.
According to CBRE Research, San Diego office market fundamentals were trending positively this quarter. Office vacancy in downtown is down 350 basis points year-over-year and asking lease rates are up 5.9 percent year-over-year. Also, Makers Quarter a new speculative multi-tenant building broke ground in the East Village in May 2017.
About CBRE Group, Inc.
CBRE Group, Inc. (NYSE:CBG), a Fortune 500 and S&P 500 company headquartered in Los Angeles, is the world's largest commercial real estate services and investment firm (based on 2015 revenue). The Company has more than 70,000 employees (excluding affiliates), and serves real estate investors and occupiers through more than 400 offices (excluding affiliates) worldwide. CBRE offers a broad range of integrated services, including facilities, transaction and project management; property management; investment management; appraisal and valuation; property leasing; strategic consulting; property sales; mortgage services and development services. Please visit our website at www.cbre.com.
About Paragon
Paragon is a San Diego-based real estate investment company that specializes in urban retail and mixed-used properties. Founded in 1998, Paragon has acquired and developed real estate projects in select urban markets across the U.S. Paragon is a major local player, having acquired nearly a quarter million square feet of retail and creative office space in the Downtown/East Village area since 2012. For more information, please go to www.paragoncompany.com.
---

Member Spotlight

: JCJ Architecture

JCJ Architecture, formerly known in San Diego as Wheeler Wilmer Blackman & Associates (WWB), is commemorating a history of 70 years of practice in the City. The firm's commitment to the City and the region is demonstrated by a diverse portfolio of projects and belief that design builds communities.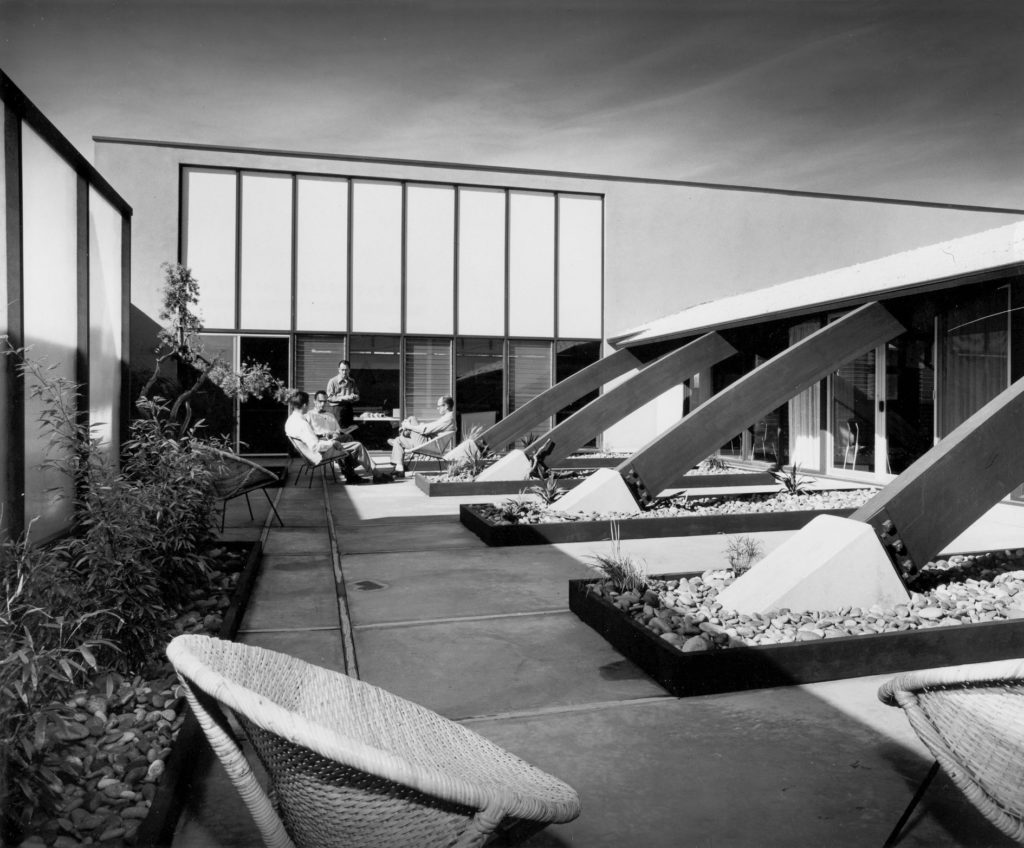 Employee ownership:
One of only a few 100% employee owned architecture and interior design firms in the country – perhaps the only in Downtown San Diego – JCJ Architecture celebrates and promotes creativity, collaboration and design excellence. "We're constantly reflecting and learning and improving," said Human Resources Director, Donna Zdanis who was recently quoted in Architect Magazine on the topic of employee ownership. This unusual corporate structure has brought the team a unique perspective about meeting the needs of clients and being part of a local and nation community.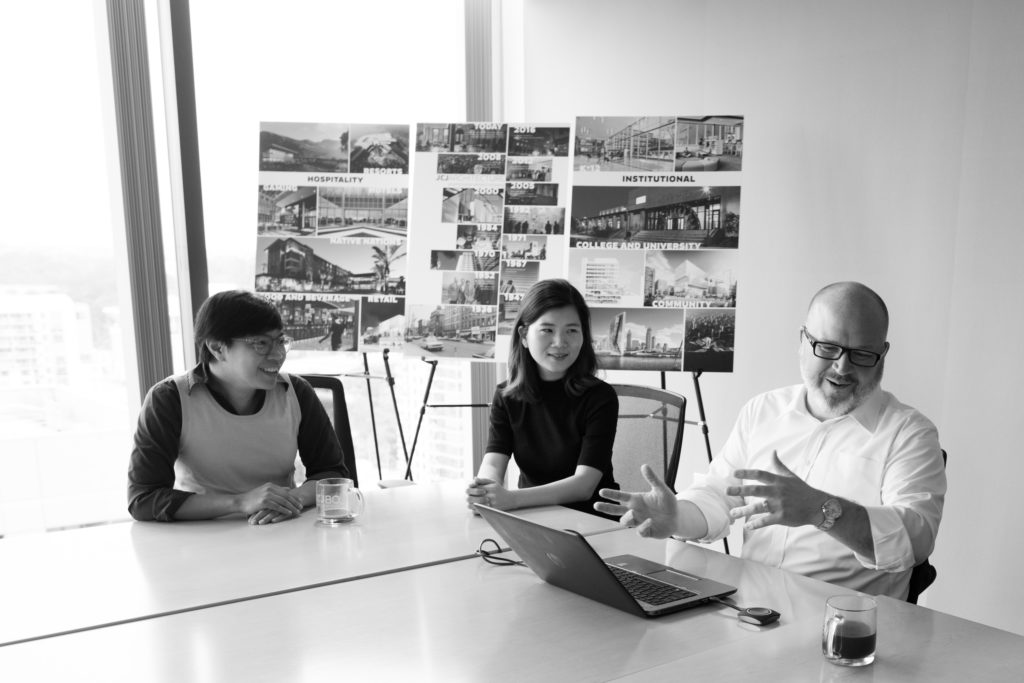 The firm is known for its depth and versatility. In addition to a national reputation for innovation in hospitality and civic design, the firm has worked with over 50 Tribal Nations on gaming and community projects, and with hospitality developers and operators of multiple flag and commercial properties. As a testament to the firm's forward-looking approach, JCJ was presented the Association for Learning Environments (A4LE)'s highly prestigious MacConnell Award for the design of Fairchild Wheeler Inter District Magnet Campus. Check out the video here.
Portfolio in Downtown:
In Downtown San Diego, JCJ Architecture's portfolio includes work at notable properties such as the U.S. Grant Hotel, Hilton Bayfront, San Diego High School, the Westgate Hotel, and the SDGE building. Outside downtown, but within the county, JCJ designed the SDSU Jeff Jacobs JAM Center, the original UCSD Scripps Aquarium in La Jolla, the Viejas Casino & Resort Hotel, and multiple projects for the San Diego Unified School District. Most recently the firm has been awarded the Pauma Casino & Resort, what promises to be an exciting addition to their extensive collection of hospitality developments.
"JCJ Architecture/WWB has had the distinct privilege of being part of the continued evolution of San Diego over the last seven decades, and for that we owe the community and our strategic partners a great debt of gratitude.   The energy surrounding the city is infectious, and we are thrilled to call it home."  Robert Gdowski, Managing Director and Design Principal.
---

Member Spotlight:

Banner Bank

The Best Relationships Begin with "Hello."

As a big fan of Downtown San Diego and the greater San Diego region, Banner Bank is honored to sponsor this year's Taste of Downtown. For more than 126 years, our knowledgeable bankers have helped businesses, families and individuals achieve their financial goals. So it's rewarding to see communities come together for events like Taste, where we can celebrate the good that's happening right here. That includes the more than 50 restaurants participating in Taste. Hats-off to the chefs!

Whether you're building a home or growing a business, our bankers will work hard to get to know you, ask questions, listen and understand your needs. We believe that's essential to building trusting relationships and offering tailored solutions to support your success.

Relationship banking has been our approach all along. It's one reason Forbes ranked Banner Bank 29th on their 2017 list of America's Best Banks. It's also why we repeatedly receive a 5-star rating from Bauer Financial.

Even more important than earning accolades is earning your business by serving you well every single day. And it all begins with "hello." To see how we can support your success, stop by any of our 10 area branches at your convenience and let's get better acquainted. Our full-service downtown branch is open Monday-Friday, 9 a.m. to 5 p.m. We look forward to talking with you. Bannerbank.com

Banner Bank Downtown San Diego Branch
701 B. Street, Suite 100
San Diego, California 92101
619-231-8500
Member FDIC
---
Don't miss out on the longest-running multiple neighborhood taste!


---

Member Spotlight

:

The 6th Annual U.S. Sand Sculpting Challenge & Dimensional Art Exposition returns to San Diego on September 1-4. The Port of San Diego will sponsor and host the event on its beautiful Broadway Pier and Landing. San Diego offers the perfect venue for this event. This unusually creative environment features a pier Downtown, with skyscrapers to the East and a beautiful bay on the West. On top of that, tall ships on the water, a perfect climate, and mass transit just two blocks from the site.
This family-friendly extravaganza includes a wonderful array of activities for guests of all ages. Here are a few reasons you should not miss out on this Labor Day tradition:
World Master Sand Sculptors
World Master Class sand artists carve for four days to create the finest sculptures ever seen in Southern California. Sculptors come from all over the world to challenge the best from the U.S.
Representing the USA are Rusty Croft, Thomas Koet, Sue McGrew, Dan Belcher, and Morgan Rudluff. The Cool California Carvers Class is back by popular demand and comprised of seven teams of three professionals that will each be carving for two days. Returning international artists will include 2016 Grand Prize winner, Ilya Filimontsev from Russia, 2016 2nd Prize and People's Choice winner, Fergus Mulvaney from Ireland.
With more than $60,000 at stake, you can expect to be in the presence of some fierce competition.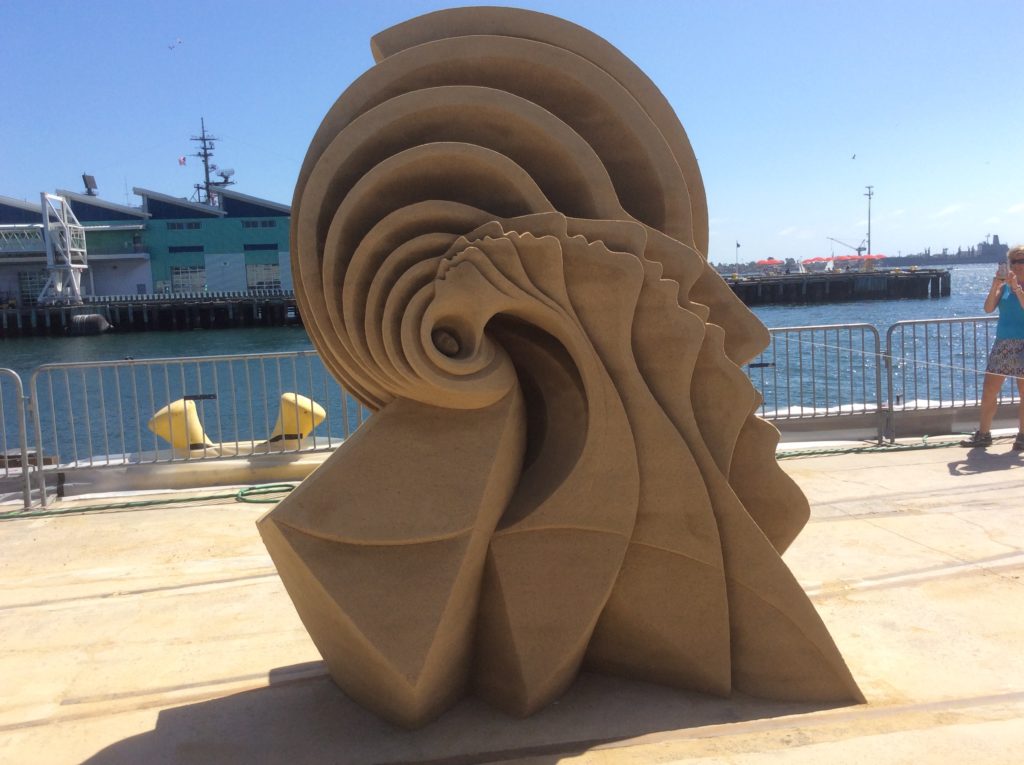 The Dimensional Art Exposition
Guests will have the opportunity to browse and buy from more than 1,000 works of art in various media, such as metal, wood, glass, jewelry, hand-made clothing, wall-art, acrylic, fabric, gemstones and more. Here, some of finest artists in the Southwest exhibit and sell their amazing one-of-a-kind art on the pier next door to the majestic sandcastle creations.
Live Entertainment, Gourmet Food Trucks, Kids Giant Sandbox & Rides
Enjoy live entertainment from bands paying tribute to the Beatles, Beach Boys, Bob Dylan, Journey and other greats. Take advantage of the view and picnic on the San Diego Bay with food and drink from more than a dozen gourmet food trucks, as well as wine and beer garden.
Kids can enjoy rides and free activities in the expanded Arts for Learning/San Diego Kids Zone. This area will have professional sculptors teaching children how to build sandcastles. Additional activities include rides such as Bubble Fun, which lets kids actually walk on water, Zorbing balls, and more.
The event will also offer a V.I.P. option with easy admission, special seating and accommodations, an exquisite bay view, free beverages, and more. See the website for details.
Come celebrate Labor Day on the Bay with us!
For tickets, information, and more photos visit www.USsandSculpting.com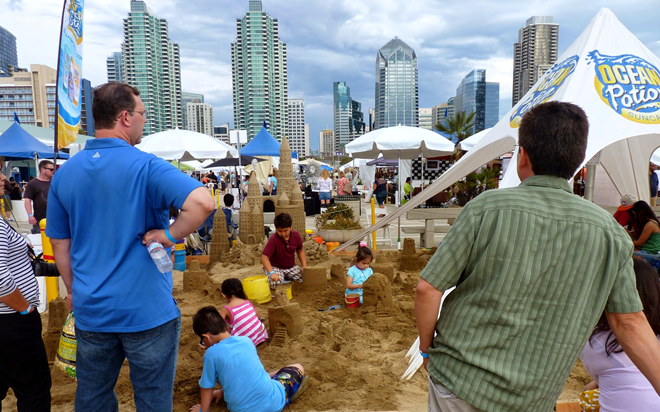 ABOUT: For the past 6 years, 3D Art Expo LLC has produced the U.S. Sand Sculpting Challenge and Dimensional Art Exposition on the downtown San Diego waterfront. The San Diego based event marketing company specializes in turning arts and culture into fun for the whole family.  It's principals have been involved in creating and implementing promotional marketing campaigns for Fortune 100 companies for more than four decades.  3D Art Expo LLC has won national and international awards for their work from the American Marketing Association, Advertising Age and others.
---

Member Spotlight

: Taste of Downtown

Come one, come all, come hungry to a foodie's paradise!

This year, with the help of Banner Bank, we celebrate the 25th Annual Taste of Downtown. San Diego's longest-running multiple neighborhood culinary event returns on Thursday, September 14th, from 5:00 p.m. to 9 p.m. Sample-sized bites allow you to explore all Downtown has to offer, without the commitment of a full menu. Scrumptious treats will take your taste buds on a delicious journey as you explore each venue.

The Taste of Downtown has established itself as one of the premier culinary celebrations in San Diego. With your ticket, you will experience the feast of a lifetime and receive complimentary shuttle service to ensure you can taste all the yummy bites across Downtown. Tickets are $30 in advance and $35 the day of the event. This popular self-guided tour is guaranteed to sell out quickly, don't miss out on the chance to find your tasty moment! Get your tickets here.
---

Member Spotlight

: East Village Sessions

Partnership members Balanced Fitness & Health, Bear Republic CrossFit, and Yoga One host community workout event in Downtown

The Downtown San Diego Partnership, Balanced Fitness, Bear Republic, and Yoga One are bringing free workouts back to Downtown's streets on August 12th with East Village Sessions, a one-day fitness event designed to encourage the health and wellness of Downtown residents, workers, and visitors. Join us for one, or more, of the free classes offered during this event. Workout sessions will be held right in front of Petco Park, and will include a live DJ and free giveaways. Thank you to our amazing members, partners, and sponsors for making this event a reality!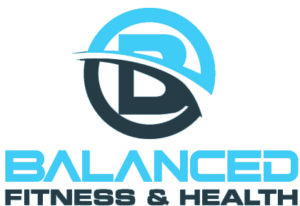 Balanced Fitness & Health's mission is to provide members the results they have been seeking by supplying them all the tools and education they will need in an environment which nurtures a sense of community and a lifestyle based on the emphasis of whole body and mind wellness. At Balanced Fitness and Health, we encourage our members to achieve success in all aspects of life. Success begins by living a balanced healthy lifestyle with knowledge in fitness and nutrition. Click here to learn more.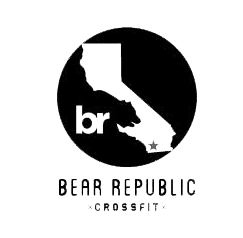 Bear Republic CrossFit is a community of athletes from all walks of life who live, work, and train in San Diego. Our goal is to improve San Diego citizen's health through fitness and education. We believe CrossFit is the most efficient and effective way to do that. Our community-based strength and conditioning programs are scalable to all skill levels and age demographics. Aside from improving someone's fitness, we believe our staff will provide you with the right nutritional, rehabilitative, and motivational care necessary for you to call Bear Republic home to all your athletic needs. Our community holds each other accountable and fosters a fun-loving yet competitive atmosphere. For more information, click here.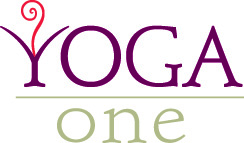 Since 2002, the award-winning Yoga One studio has helped thousands of San Diego residents, visitors, businesses, and schools enjoy healthier and happier lives. Yoga One offers a variety of yoga styles and levels in a welcoming, safe, and non-competitive environment. All of our classes are led by experienced and inspiring instructors, providing a balance of alignment, breath, and present moment awareness. We look forward to sharing the joys and benefits of yoga with you. Click here for details.
---

Member Spotlight

: Harley Ellis Devereaux (HED)

In January, Lance Hosey, FAIA, LEED Fellow, joined the San Diego office of Harley Ellis Devereaux (HED) as its Design Leader. Lance is known as a thought leader in sustainable design, having published two books and hundreds of widely cited articles and research papers, and he is a popular keynote speaker, having spoken at TED and keynoted SXSW Eco, the Idea Festival, FutureTech, and many other events. He has served as the Chief Sustainability Officer for two of the world's largest design firms, and for nearly a decade he was a design director with the pioneering sustainable design firm William McDonough + Partners, where he steered a number of innovative projects for clients such as NASA, SC Johnson, Palm, American University, and the University of California.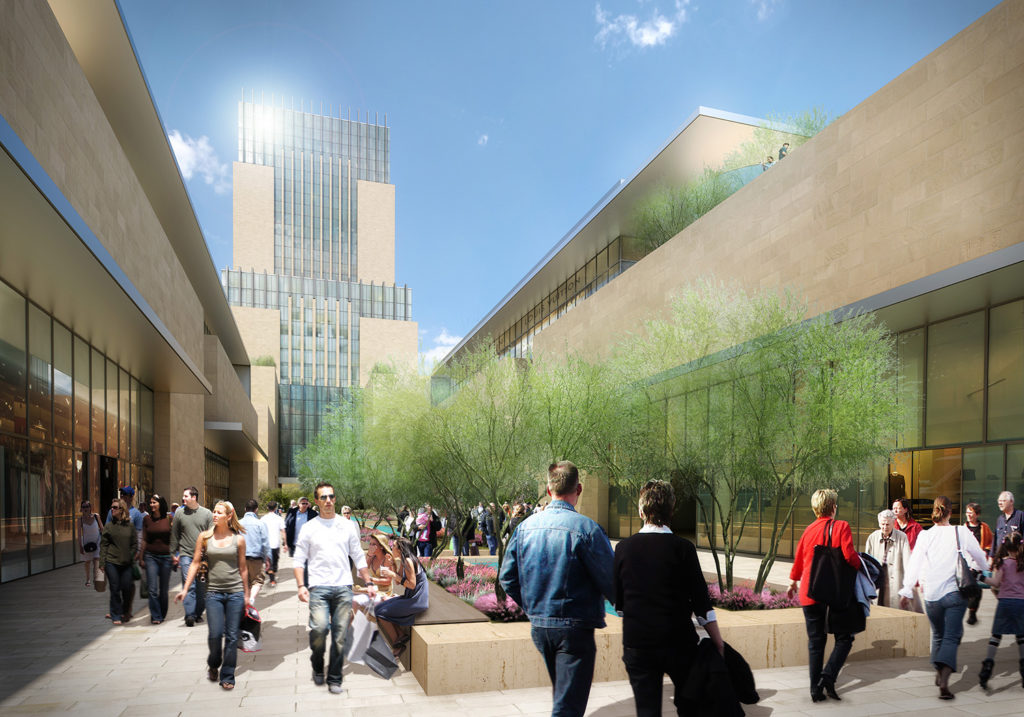 NAIOP University Challenge, San Diego. HED recently collaborated with students from SDSU on a concept for a mixed use project downtown, drawing from regional architecture.
Lance's most recent book, The Shape of Green: Aesthetics, Ecology, and Design (Island Press, 2012), is the first book dedicated to the relationships between sustainability and beauty, won the New York Book Show design award, was a finalist for 2014 Book of the Year in the National Urban Design Awards, and has been Amazon's #1 bestseller for sustainable design. Lance serves on the national Advisory Group for the AIA Committee on the Environment and is the former chair of the national LEED Advisory Committee with the US Green Building Council, and he is one of fewer than 30 people in the world to have been named a Fellow with both organizations. Builder magazine has said that Lance is on "a crusade to revolutionize what it means to be sustainable."

The Shape of Green: Aesthetics, Ecology, and Design (2012). Lance Hosey's book, the first to study the relationships between sustainability and beauty, won a New York Book Show Award, was a finalist for Book of the Year in the National Urban Design Awards, and has been Amazon's #1 bestseller for sustainable design.
Lance also chairs HED's nationwide Design Excellence initiative, the firm's strategic plan to strengthen its value proposition through smarter design. Our mission is "Advancing Your World," and we seek creative solutions to have a positive impact for our clients, our communities, and the world.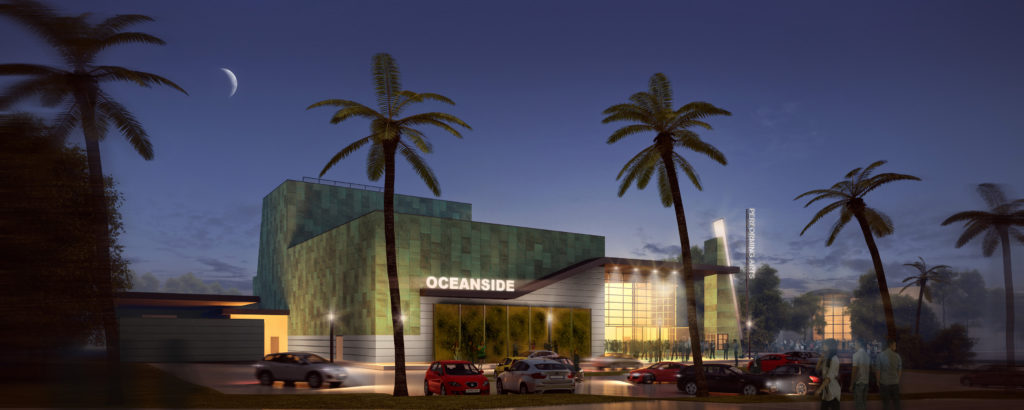 Performing Arts Center for Oceanside High School, Oceanside. The new performing arts center, designed by HED, celebrates the rich architectural heritage of the existing campus by adding a new component that speaks to the 21st century.
About HED
For more than 100 years, Harley Ellis Devereaux (HED) has been a thought leader in architectural planning and design. As a national, multidisciplinary firm, we have produced unique design solutions for some of the country's most forward-thinking organizations, and have earned a reputation for design excellence.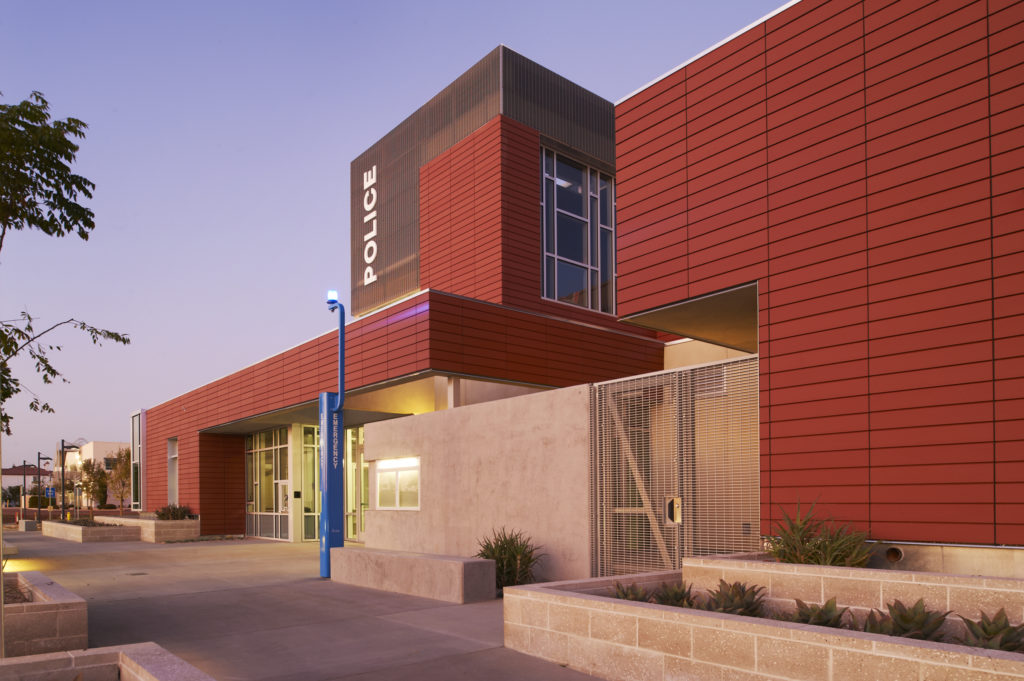 Miramar College Public Safety Facility, San Diego. The LEED Platinum, net-zero-ready building, which HED designed as a streamlined version of vernacular traditions, won "Project of the Year" from the American Public Works Association.
With more than 350 professionals in Chicago, Detroit, Los Angeles, Sacramento, San Diego and San Francisco, HED shares design expertise across the firm, allowing us to deliver innovative and transformative design solutions to every client, every time.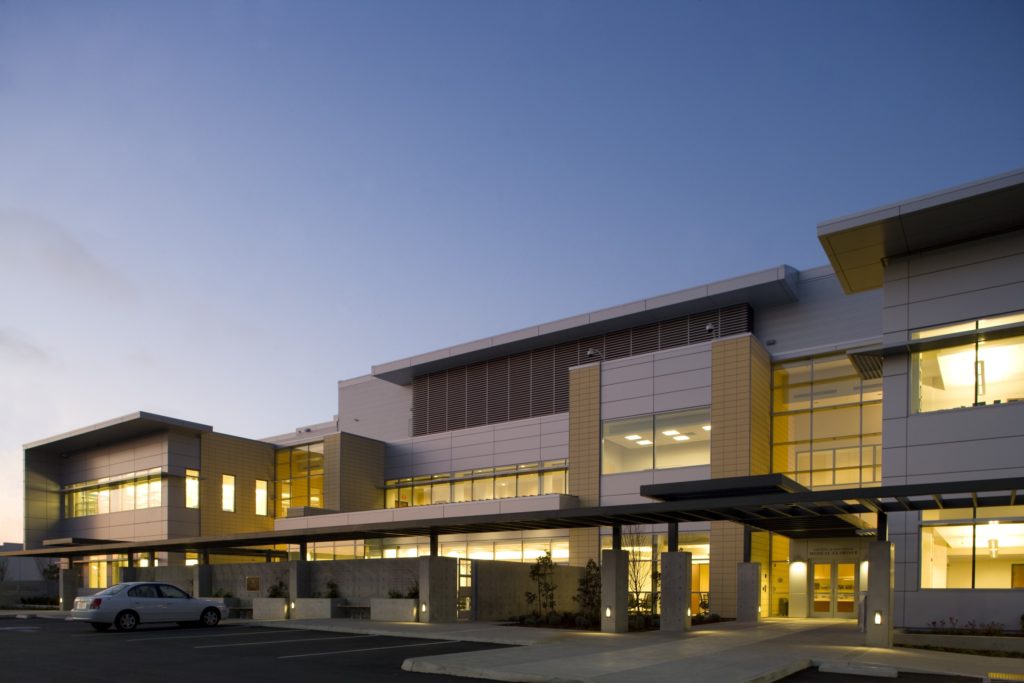 Medical Examiners + Forensic Center, San Diego. HED's LEED Silver research lab is said to be "keeping San Diego County on the forefront of forensic science."
See how we advance your world at www.hed.design.
---

Member Spotlight

: COX

Free WiFi Available in San Diego in July

City of San Diego, Cox team up to open hotspots to public for fourth of July, Comic-Con festivities

(SAN DIEGO) June 27, 2016 – For the second year in a row, Cox Communications has teamed up with the City of San Diego to open Cox WiFi hotspots to the public during Comic-Con festivities. This year, residents and tourists alike will also have access to the WiFi hotspots during the week of fourth of July.

Free, unlimited access to the Cox WiFi hotspots will be available throughout San Diego County June 30-July 6. All downtown WiFi hotspots will be open July 17-24 for Comic Con festivities, including those in the Gaslamp District, East Village and Little Italy.

San Diego County has over 6,000 hotspots, including more than 600 in the downtown area. For maximum coverage, internet enabled devices should stay within 200 feet of a hotspot. A complete list of hotspots can be found online at www.cox.com/hotspots.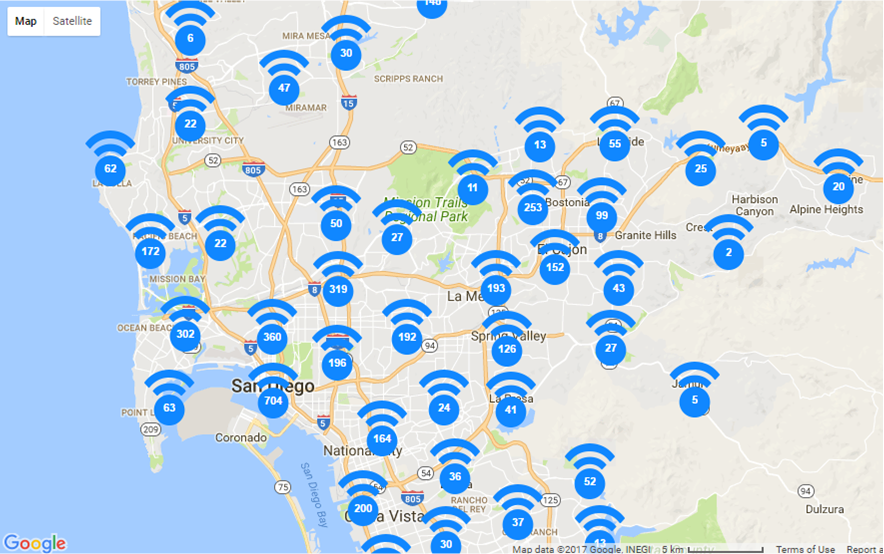 "San Diego residents and visitors will once again be able to use free WiFi service during two busy weekends in July. San Diego's tourism economy has entered the digital age through this valuable public-private partnership between the City of San Diego and Cox Communications," said San Diego Mayor Kevin L. Faulconer. "The July Fourth holiday and Comic-Con weekends will be some of our biggest tourist draws this year – providing big boosts to our economy, which help create jobs and revenue for businesses across our city."
"For more than 50 years, Cox has made significant investments in San Diego, including building out WiFi hotspots throughout the county to better serve our customers and communities," said Chanelle Hawken, Vice President of Government and Public Affairs for Cox Communications in California. "What better way to showcase San Diego as a high-tech city than to let visitors and residents stay connected using our WiFi network during their fourth of July and Comic Con festivities."
Cox Internet customers with Preferred, Premier, Ultimate and GIGABLAST Internet packages already have free access to all CoxWiFi hotspots as part of their service. They also have access to the nation's largest WiFi network, CableWiFi, which includes more than 500,000 hotspots throughout the country.
Non-customers, and Cox customers who don't subscribe to the Preferred or above packages, can access the WiFi hotspots during these times by selecting the "FreeCoxWiFi" wireless network on their WiFi-enabled device when at a Cox hotspot. For more information, visit the Cox Wi-Fi homepage at www.cox.com/wifi.
Cox has offered multi-gig speeds to businesses for more than a decade nationwide and extended the capabilities to homes in San Diego in August 2015 under the brand name "G1GABLASTSM, which offers consumers speeds 85 times faster than the average speed in the market today. Cox was the first company to offer residential gigabit speeds in Southern California when it made them available to residents in Irvine, Calif. in 2014, and the first in San Diego when it launched G1GABLAST. The company now offers G1GABLAST in all Cox markets.
About Cox Communications
Cox Communications is a broadband communications and entertainment company, providing advanced digital video, Internet, telephone and home security and automation services over its own nationwide IP network. The third-largest U.S. cable company, Cox serves approximately 6 million residences and businesses. Cox Business is a facilities-based provider of voice, video and data solutions for commercial customers, and Cox Media is a full-service provider of national and local cable spot and digital media advertising. Cox is known for its pioneering efforts in broadband, voice and commercial services, industry-leading customer care and its outstanding workplaces. For nine years, Cox has been recognized as the top operator for women by Women in Cable Telecommunications; Cox has ranked among DiversityInc's Top 50 Companies for Diversity 11 times. More information about Cox Communications, a wholly owned subsidiary of Cox Enterprises, is available at www.cox.com and www.coxmedia.com.
# # #
---

Member Spotlight

: BNIM

BNIM's work elevates the human experience alongside aesthetics and building performance. BNIM is Building Positive, a notion that describes how our practice leverages its collective capacity for design thinking to solve issues at every scale in a way that is focused on building the positive attributes of community and the built environment.

BNIM's work creates more seamless environments by harnessing the abilities of many disciplines—landscape, architecture, and interiors. Rivo Holdings is a forward-thinking work environment that embraces the core principles of the company while capturing the imagination of their population, 80% of which is comprised of millennials. The two-story, 15,100 SF space is a fresh new chapter for their workplace.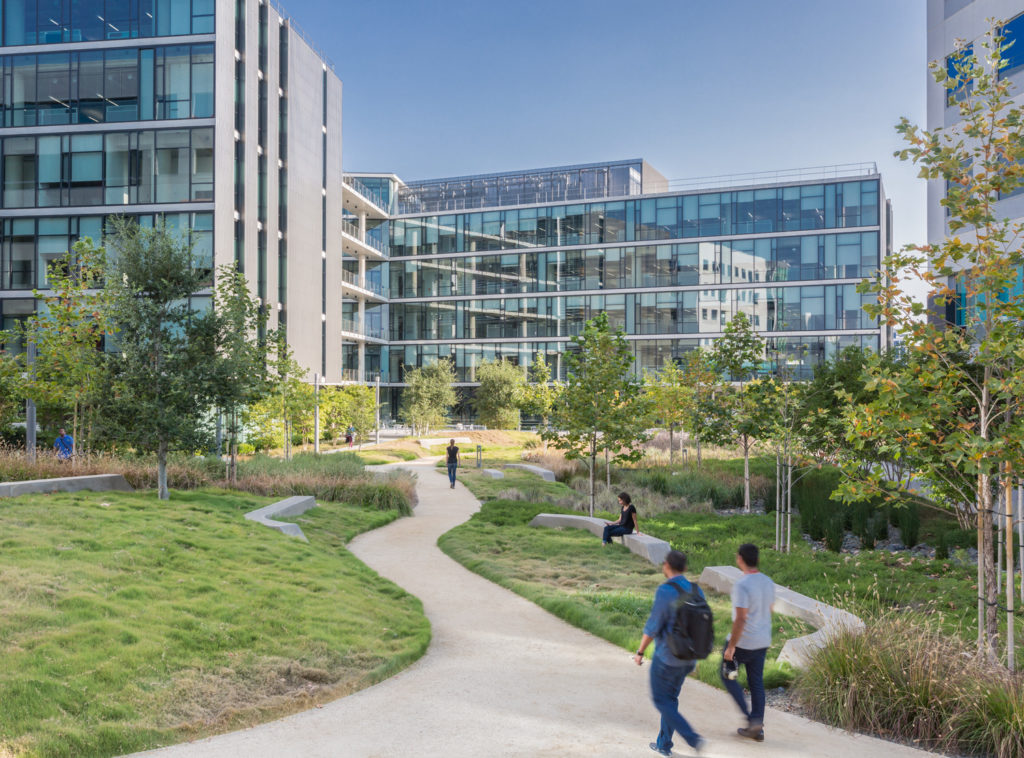 The Pacific Center Campus is the redevelopment of an existing 20-acre campus that transforms a generic, vehicle-oriented suburban office development into an immersive, pedestrian-oriented campus environment. The project blurs the lines between landscapes and architecture, creating a cohesive series of indoor and outdoor spaces that reconnect the users to each other and to the beautiful indigenous landscapes of northern San Diego County.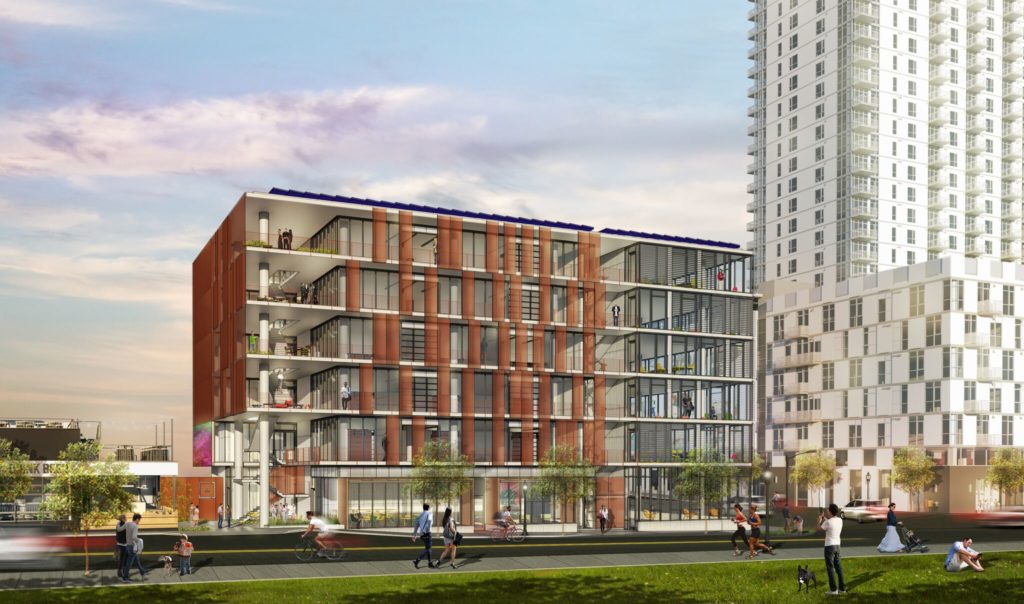 ---

Member Spotlight

: Downtown Works

It is no surprise that coworking has become a fast-growing global phenomenon that has disrupted the traditional office space. As a result, it has greatly challenged the commercial property market. Naturally, the growth of coworking spaces is attributed to the exponential increase of startups and freelancers. What is so attractive about these spaces is the environment itself, and Downtown Works is a premium coworking community that is carefully curated to foster creativity and collaboration. Additionally, what really differentiates Downtown Works from other coworking spaces is the fact that we have in-house mentors that are readily available to provide guidance, as well as funding for ventures.

Making a splash in the San Diego coworking scene is Downtown Works with the first integrated coworking space and accelerator. With 18,000 square feet and over $9 million of investment, Downtown Works has it all – height-adjustable desks, five phone booths with built-in sound proof panels, four conference rooms, two fully equipped kitchens, a mini market, lockers, underground parking, a beautiful rooftop deck, a podcast room, shuffleboard, local craft beer on tap and more! Additionally, there are membership plans that cater to a wide target market – entrepreneurs, business professionals, freelancers – you name it! Whether you're looking for a day pass, open desk space for a week, exclusive desk space, meeting room space or a private office, you'll be able to find it at Downtown Works.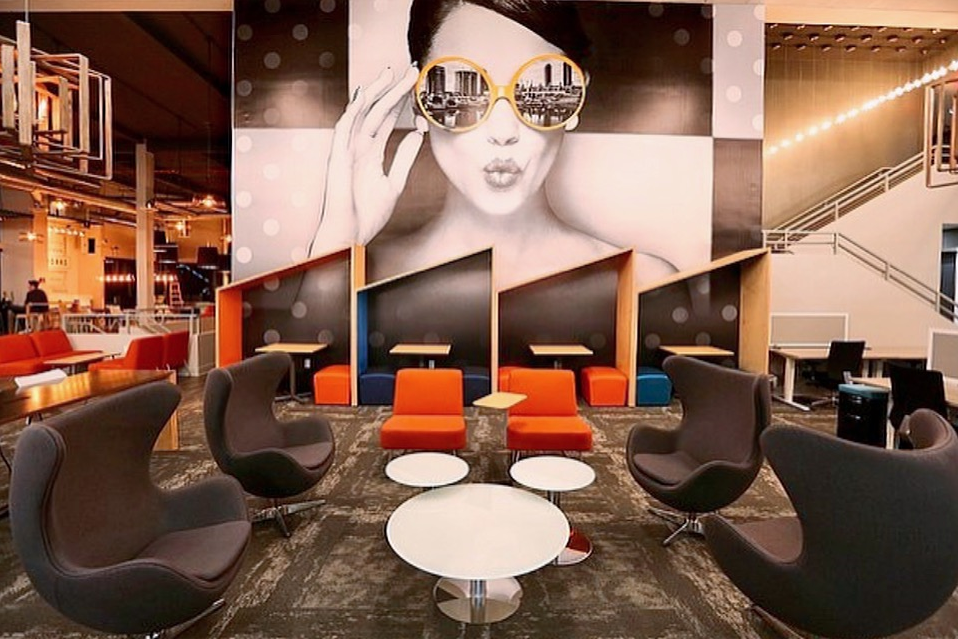 With an innovative environment and close-knit community, Downtown Works is home to well-renowned startups in the San Diego community, including Industry Careers – a professional network, marketplace and hiring solution for top talent in the service and hospitality industry. Cody Barbo, Founder and CEO at Industry, quickly found a home when Downtown Works opened its doors in September 2016.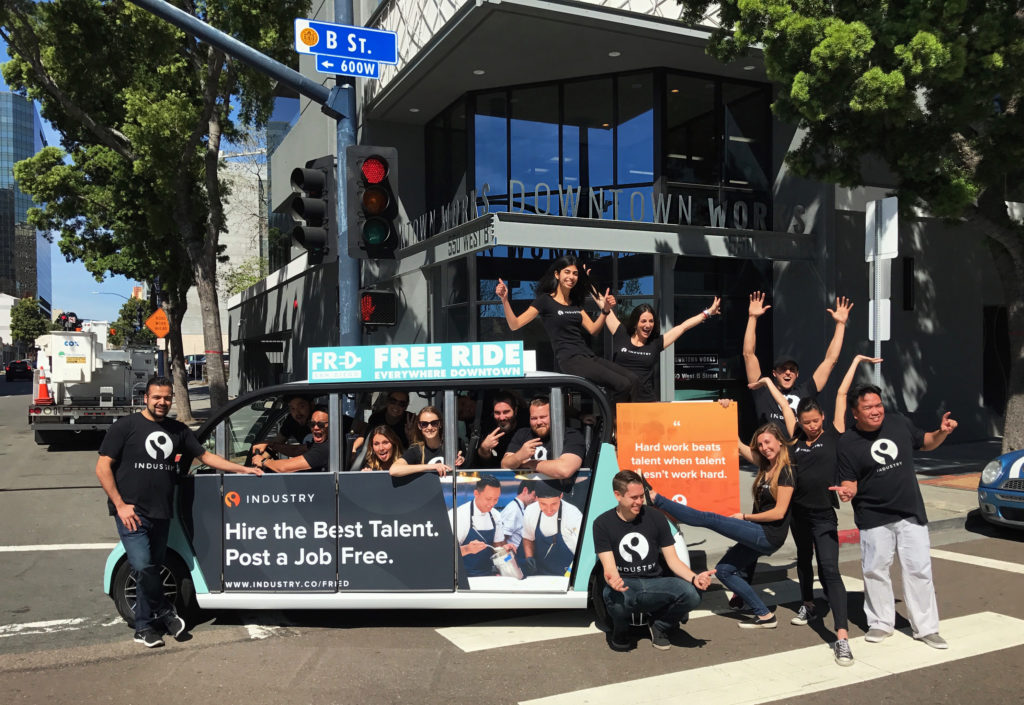 Barbo says "We've called Downtown Works home since they opened this past September. We had just raised our SEED round of funding and were looking for a move-in ready coworking space. From the moment we walked in, we knew this would be home. It helped significantly going from 5 to 15+ people to be ready to rock day 1 of move in. The facility definitely has a more upscale feel to it with beautiful interiors. It's a place that we're proud to bring our clients and investors into for meetings. The staff has been amazing, and has continuously shown us kindness and hospitality, day in and day out. And the owners of the building have become mentors to us, helping us grow our business and avoid the pitfalls that many startups run into. And lastly, it helps that there is always an abundance of coffee and beer flowing through the kitchen. I would recommend Downtown Works to any professional, entrepreneur, and/or startup looking for an amazing place to call home."
If you're looking for a change in scenery, come check out Downtown Works – we're located right on the cusp of Downtown and Little Italy. Cowork with us and benefit not only from a vibrant and stimulating workspace, but also a wealth of networking opportunities, weekly lunch-n-learns and seminars as well as a cost-effective workspace model.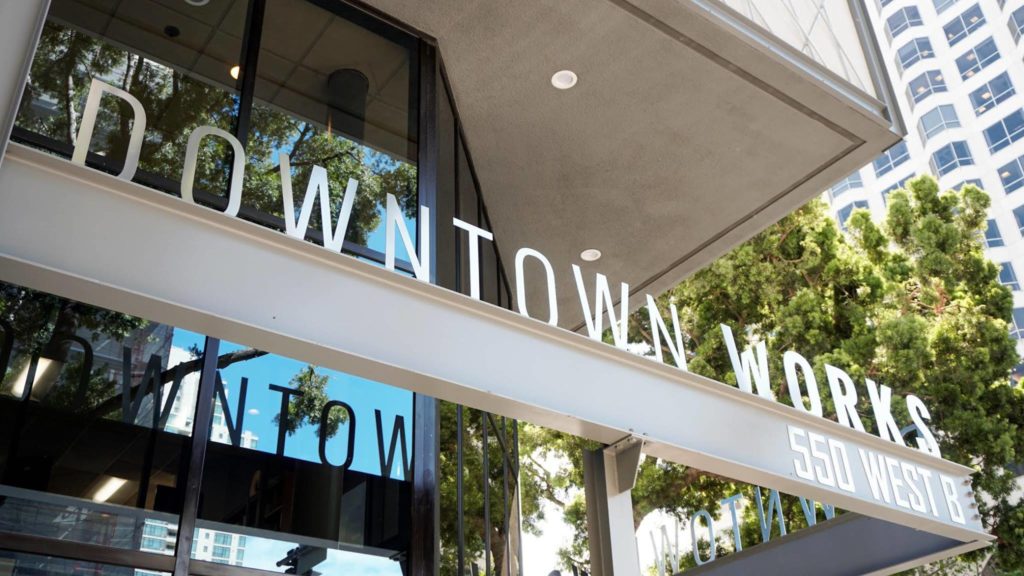 By: Stephanie Tan | Sales and Marketing Specialist | Downtown Works 
---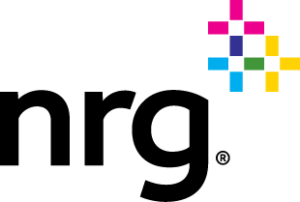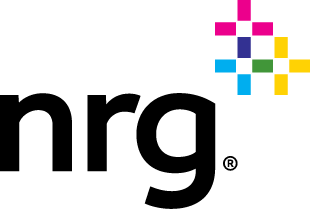 Member Spotlight

: NRG Energy
NRG is the country's leading integrated competitive power company with a diverse generation portfolio including renewable resources and district energy plants.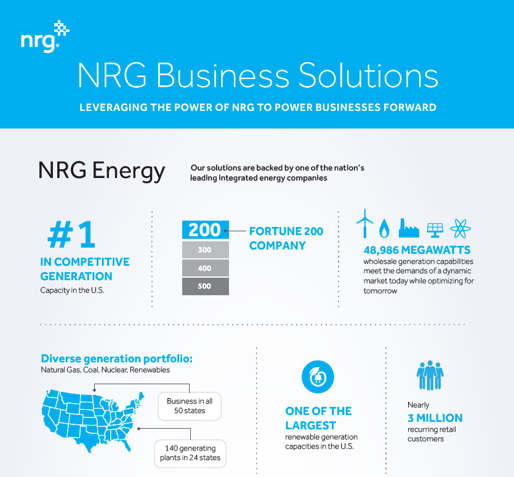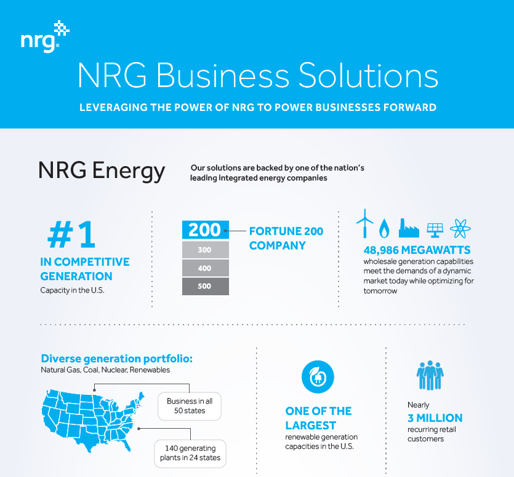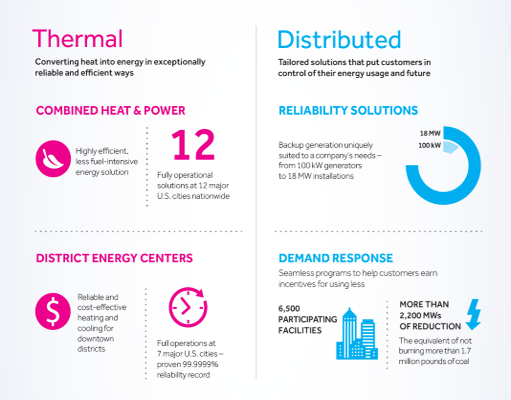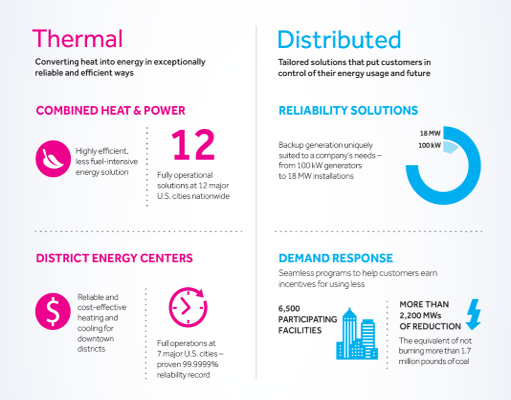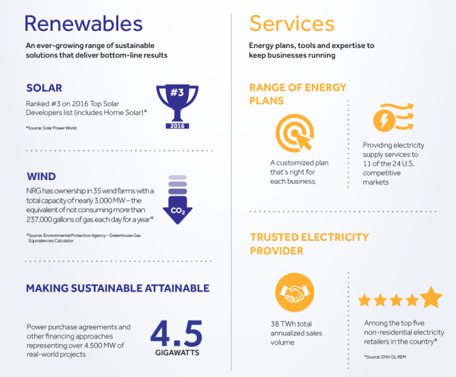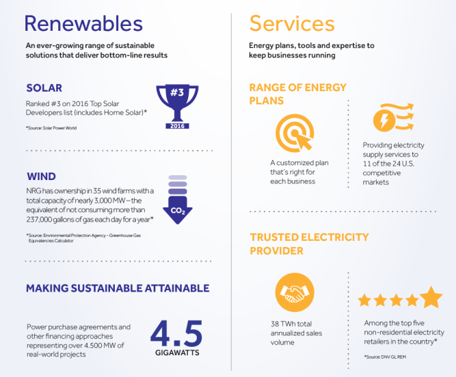 Energy Solutions As Efficient As They Are Reliable
In San Diego, NRG's Energy Center has been providing district cooling services in a 4-square mile service area of downtown San Diego's central business district since 1971. NRG's district cooling chilled water loop provides a reliable and sustainable cooling solution resulting in a comfortable environment for many major San Diego's public buildings, hotels and businesses.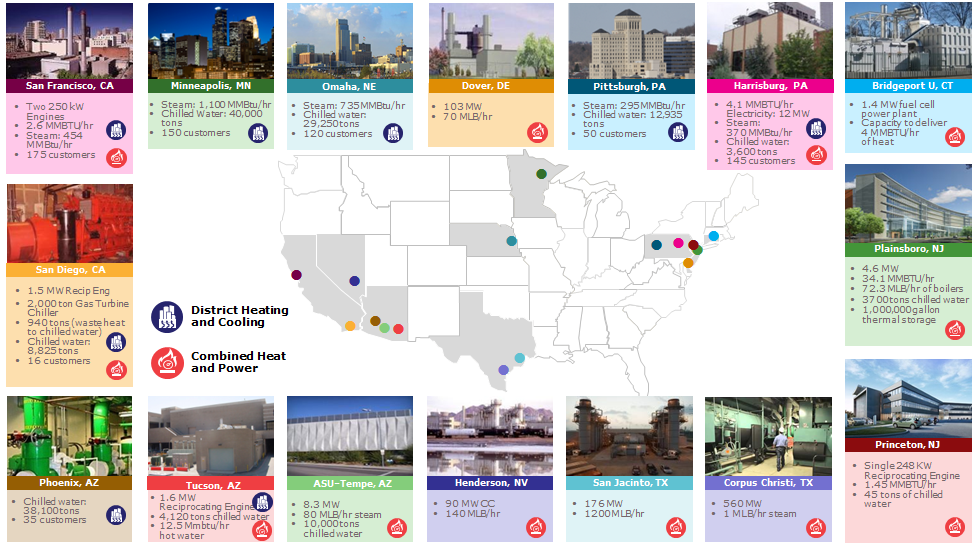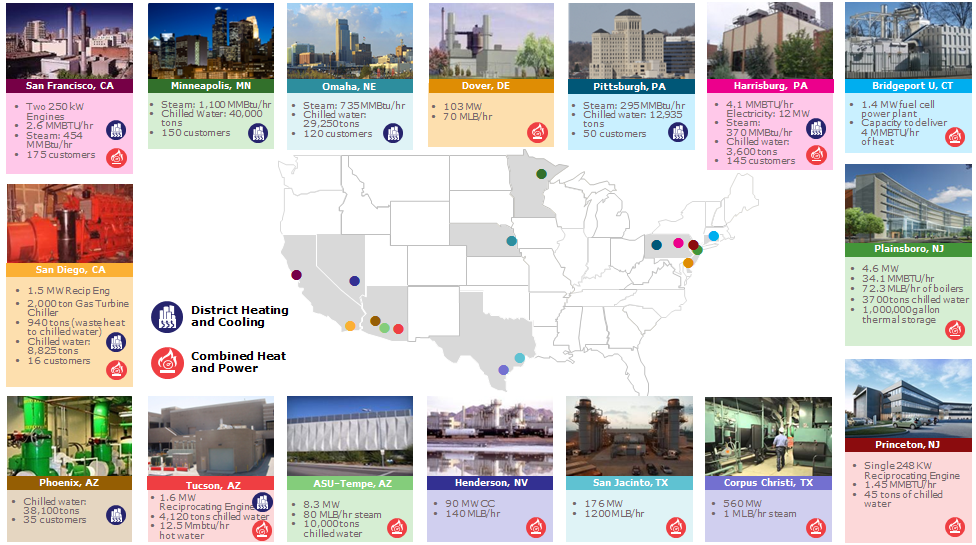 NRG In San Diego
NRG's chilled water customers portfolio continues to grow. In addition to the 704,000 sq.-ft. new San Diego Central Courthouse that NRG started serving in 2016, we have recently connected to our chilled water loop our newest customer the iconic Executive Complex Building a 340,000 sq. ft. office tower that was the tallest building in San Diego when built in the 1960's. Among the other 17 customers that NRG serves are The City of San Diego Civic Plaza building, Westfield's Horton Plaza, major office towers and hotels. It provides real-world proof that a proven solution can be as compelling as a new one.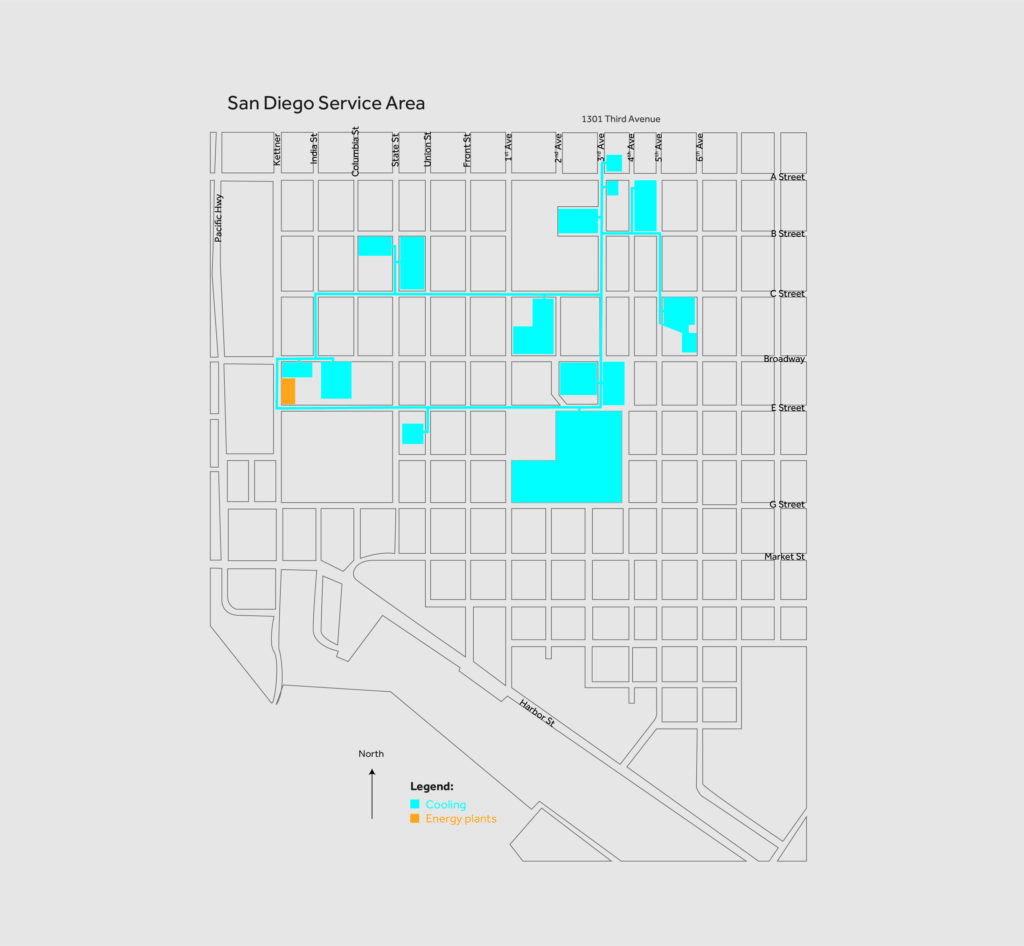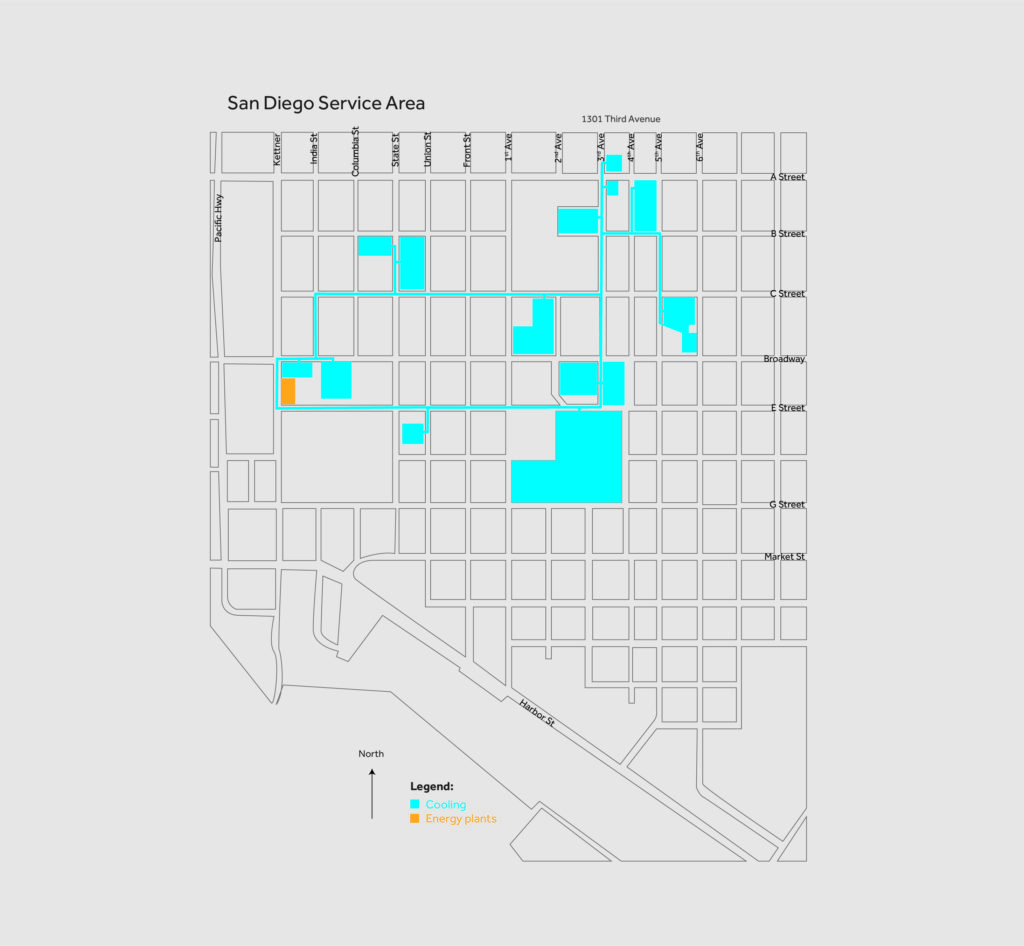 For more information, contact Jay Zaghloul | 602.281.9848 | Jay.Zaghloul@nrg.com or visit nrg.com/sandiego
---

Member Spotlight

: Gensler
Gensler Marks Its Second Decade In San Diego With A Transformative New Design Studio in the Heart of Downtown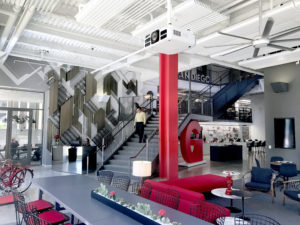 Gensler, the leading global design firm, has opened a creative workplace of the future in Downtown San Diego. Gensler has transformed the ground and second floors of the iconic 225 Broadway building, previously home to NBC Television. The design firm worked with Irvine Company to create the dynamic multi-level creative office, which opened in April 2017.
Centered on Gensler's extensive workplace research, the firm's team of designers created an innovative environment with collaborative work areas, a commitment to well-being and enhanced connectivity to the community at the core of the design. At approx. 21,000 square feet, the new Gensler office opens directly to 225 Broadway Plaza East and features two floors interconnected by a grand stair and a new roof terrace.
"Our goal from the beginning was to engage all of our people to create a new home for Gensler in San Diego," said Kevin Heinly, principal and managing director at Gensler. "Our new home is reflective of our beliefs and culture. Our goal was to accelerate connectivity, creativity and productivity.  By bringing our design studio down to the street level of this iconic location in Downtown we've done just that."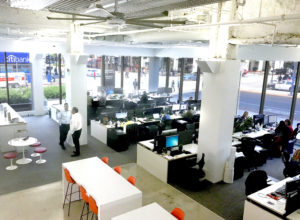 Direct connection to the Downtown community
The selection of a ground floor entry and workspace was designed to foster connectivity with the San Diego community, the urban realm and the adjacent plaza and park.  This flexible space will support a broad range of events and showcase Gensler designed furniture.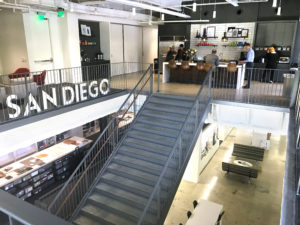 Interconnected collaboration spaces
To support Gensler's collaborative culture, a section of the second floor was removed to allow a flowing grand stair to connect the ground floor to the second-floor workspace. The mid landing of the stair is a cantilevered extension of the mezzanine and houses Gensler's vast material resource library. Designers and guests can meet informally on the landing or within the main kitchen and break area, or enjoy the new outdoor roof terrace overlooking the recently renovated Horton Plaza Park.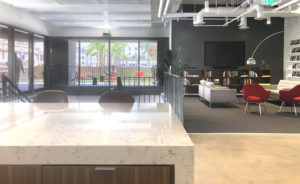 Health and well-being
The firm's commitment to health and well-being was integral to the design strategies for the new workspace.  A centerpiece of the design includes a passive natural ventilation system comprised of a ventilated façade, a sliding wall of glass at the second level and roof venting to allow Gensler to unplug from the building's VAV system and enjoy fresh air and free cooling for up to 75% of the year. When heating or cooling is required it is provided by a combination of radiant heating or chilled beams and sails, adding to comfort and control. Other features include sit/stand desks for everyone, bikes for travel to downtown meeting locations, showers, lockers, and healthy nutritional options. The new office is pursuing both LEED Platinum and WELL Gold certification.
This year marks Gensler's 14th year in San Diego and the firm's practice expertise has diversified to include: workplace, higher education, life science, hospitality, residential, government, sports and retail/mixed-use. Click here for more information.
---

Member Spotlight

: Douglas Wilson Companies
Douglas Wilson Companies Welcomes John Morrell as President
Signaling the expansion of its national fiduciary, advisory and real estate platforms, Douglas Wilson Companies (DWC) has appointed John Morrell as President.
A familiar face at Partnership events and currently presiding over San Diego Rotary Club 33 as president, John has spent the past 20 years as Managing Partner and Chairman at Higgs Fletcher & Mack. Although he no longer plans to practice law, John will continue his affiliation at Higgs Fletcher & Mack as its Chairman Emeritus.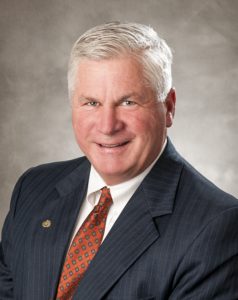 "I met John shortly after he started his legal career in 1985," said Doug Wilson, chairman and CEO of DWC. "Over the years, we've collaborated successfully on a number of matters: he's been my client, I've been his client. We're excited about the entrepreneurial opportunities ahead for Douglas Wilson Companies."
Now in its 28th year, DWC provides a unique range of specialized business, workout and real estate services to financial institutions, law firms, property owners and the courts. John's expertise in dispute resolution and business turnarounds complements and expands the company's capabilities to serve future new markets and entrepreneurial opportunities.
"We're gearing up for what we see as an imminent, unprecedented transition of wealth from what we call the 'acquiring generation' to its adult children," added Doug. "Inevitably, and unfortunately, such a major shift of accumulated wealth will create a variety of disputes concerning ownership, control, management and disposition of assets. We believe John's expertise will help our clients avoid the pitfalls of such disputes."
John's background includes his stewardship in establishing the Higgs Fletcher & Mack Chapter 11 practice 32 years ago, after completing his federal judicial clerkship through the U.S. Bankruptcy Court, Central District of California. Over his distinguished career, he served as the lead attorney in some of the firm's largest cases and helped grow San Diego's oldest law firm into one of California's most dynamic and practice diverse firms.
"Although the national economy is expanding, what lies below the surface in the nature of distress is the pending tsunami of wealth transfer," John said in a recent interview with GlobeSt.com reporter Carrie Rossenfeld.
"We anticipate that this transfer will result in various unintended consequences, including interfamily disputes relative to ownership, control, mismanagement and disputed disposition of inherited assets. We believe that if such conflicts are not resolved appropriately, fortunes could be squandered and families be torn apart. We see this wave coming and are prepared to help families and their advisors avoid conflict and maximize value."
To reach John at the DWC headquarters on Fifth Avenue, call 619-641-1141.
---

Member Spotlight

: Cavignac & Associates
Cavignac & Associates Celebrates 25 Years of Managing
Cavignac & Associates, a risk management and insurance brokerage firm with more than 50 employees in downtown San Diego, is proud to be celebrating its 25th anniversary this year.
A reputation for professional excellence and providing specific risk management services not customarily offered by its competitors has allowed the firm to maintain a strong standing within the insurance industry, while laying solid groundwork for the future.  Its guiding mission is to be a service-intensive, risk management-oriented insurance brokerage that puts its clients' interests before its own.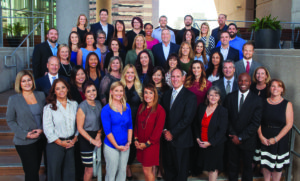 Founded in 1992 by Jeffrey W. Cavignac, CPCU, ARM, RPLU, CRIS, MLIS, Cavignac & Associates has been on a steady course of carefully mapped and managed growth, which has allowed the company to continually expand its range of insurance brokerage services. In 1996, James P. Schabarum II, CPCU, AFSB, and Scott A. Bedingfield, AAI, CIC, CRIS, joined the firm.  Schabarum's background in surety and Bedingfield's background in real estate were natural additions to the firm's existing commercial insurance expertise. In January of 2000, both Schabarum and Bedingfield became principals and shareholders of the agency.
In the fourth quarter of 2002, the firm recruited Patrick Casinelli, RHU, REBC, CHRS, to open its Employee Benefits Department. In 2007, Casinelli became a partner.  Later, in 2013, Matt Slakoff, CIC, CRIS, was promoted to partner and, in early 2016, Matt Noonan, RHU, CIC, CHRS, CCWS, was promoted to partner as well.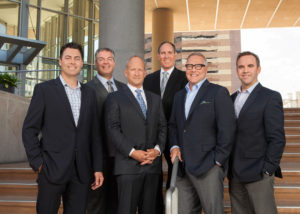 Together, their experience allows the firm to provide commercial insurance, risk control, construction surety bonds, employee benefits and personal lines.  Its client base comprises design and construction firms, real estate-related entities, manufacturing companies, nonprofit organizations and the general business community.
"It made good sense for us to augment our commercial insurance services with a full spectrum of insurance offerings so clients could obtain all their insurance coverage from a single source," said Cavignac.  "More, it's allowed us to take a holistic approach to lowering clients' overall cost of risk.  That is the concept behind our program we've branded the 'TotalRISK Approach,' which involves four steps:  Risk Analysis, Risk Control, Risk Finance, and Risk Governance."
Cavignac & Associates intentionally hires above-average people who are service-oriented, education-minded, and willing to make a commitment to the company's objectives.  With a great team in place, the company is well positioned to expand in new directions so it can serve its clients better and provide even more growth opportunities for its employees.
For more information, click here.
---

Member Spotlight: Burger Construction
Building Strong Connections, since 1992
________________________________________________________________________
ENHANCING THE WORKPLACE EXPERIENCE
Burger Construction is passionate about supporting San Diego businesses and optimizing the employee experience in the San Diego community.  By using a team-based approach, Burger seeks to understand first an organization's vision.  From there they can construct cost-effective, custom-built environments that complement the unique culture, incorporating existing elements of the building to create authentic human experiences.
The Burger team collaborates with the most creative and innovative design professionals to provide tailored design/build and general contracting services customized to meet each business' individual needs.  Burger specializes in helping businesses with their general office, technology, and lab-space tenant improvement and building reinvestment projects.
______________________________________________________________________
BURGER BUILDS DOWNTOWN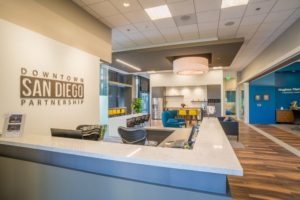 Burger was proud to support the Downtown Partnership by managing the buildout of their new office space and standing by the Partnership's passion for supporting and promoting Downtown Businesses.  Burger believes that enhancing the downtown built environment will further assist in retaining great businesses and the best talent in our community.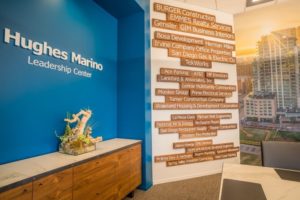 Creatively designed by Gensler, the new 5,000 sq. ft. Downtown Partnership office is located in the heart of Downtown San Diego.  Burger thanks all parties involved in supporting the completion of the project.  Be sure to check out their new office if you are in the Downtown San Diego Area!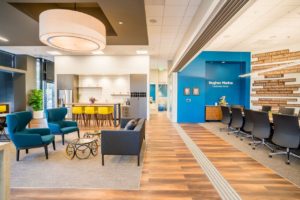 WANT TO LEARN MORE?
To view more of Burger's projects, including their own office space, CLICK HERE!
---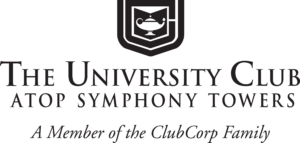 Member Spotlight

:
The University Club Atop Symphony Towers
Where San Diego's Leaders Connect, Work, Host & Play
Since 1909, The University Club Atop Symphony Towers has been where San Diego's leaders gather to connect, work, host and play. The 34th floor clubhouse is a launch pad for partnerships, collaboration and innovation, and serves as the home for many of San Diego's movers, shakers and decision makers. For total validation of the 'America's Finest City' nickname, experience clubLIFE at the University Club. Become a Member and/or host your next event at what some call San Diego's best kept secret, and enjoy panoramic views of downtown San Diego with colleagues, friends and family at your leisure.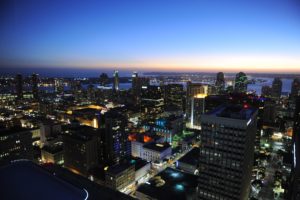 Special Events – for Member and Non-Member Bookings:
The University Club offers eight full-service private party and event rooms, accommodating 10 to 300 guests. If you mean business, and want the hottest boardroom in town, give us call. We can provide that next-level experience for corporate events, association meetings and pharmaceutical dinners. Celebrating? We do graduation parties, birthdays, showers, anniversaries and wedding receptions fit to impress the most discerning of guests. Our experienced team of event planners and banquet servers are here to execute. Club Members and non-member guests are welcome to use our private events spaces!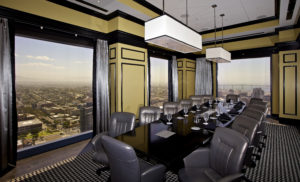 Club Membership: 
Click here to watch a quick video and see how University Members make the Club part of their everyday business strategy.
If this speaks to you, give us a call and let's talk Membership:
START your day with a fresh cup of coffee and the Club's hosted Member Breakfast, Monday – Friday, from 7 a.m. to 9 a.m.
WORK and call the Club your office, using Wi-Fi connectivity and private touchdown rooms when privacy is in order
HOST business meetings and social gatherings in a variety of high-end private event spaces with the support of your Club's Private Event Directors
LUNCH in the 1909 Founders' Room, which remains San Diego's go to power-lunch and celebratory space
CONNECT with your fellow Members at quarterly clubLIFE Connections Mixers and clubLIFE Traditions like DIY Ladies Night, Distinguished Speakers Series Breakfast, Executive Women's Council Dinner, Golf Committee outings, winemaker dinners, complimentary business workshops and more
PLAY in our refreshed Ebb + Flow anytime lounge and enjoy casual dining, happy hour, TED Talk Tuesdays, Wine Wednesdays or watch the big game on your 103" TV
IMPRESS your guests with a bottle of wine from the Reserve Wine List and enjoy complimentary monthly tastings with over 20 wines (for Reserve Members)
DINE atop the San Diego skyline in our elegant and formal 1909 Founders' Room accompanied by Mike Wofford on piano and monthly wine, beer and whiskey dinners
EXPERIENCE clubLIFE as a University Club Member while enjoying discounted and complimentary golf and dining at sister ClubCorp Clubs around the country
As a part of the ClubCorp family, Members of The University Club enjoy access to all 200+ ClubCorp properties including affiliate and associate private Business Clubs and Country Clubs.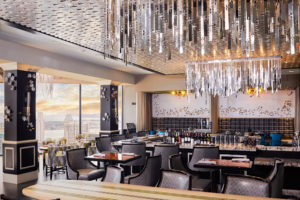 Click here for a special spring dose of clubLIFE at the University Club. Call 619.234.5200 for more information on membership or hosting events at San Diego's premier private club.
---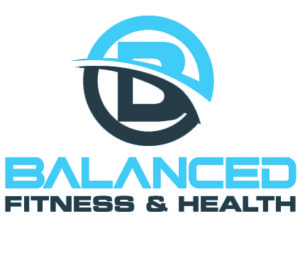 Member Spotlight

: Balanced Fitness & Health
Not Your Average Health Club
Balanced Fitness and Health is anything but an average health club. Located at 1130 Seventh Avenue, in the heart of downtown San Diego, it's a welcoming place where you can feel like more than just another nameless customer working out alone.
---
Member Spotlight

: THE US GRANT HOTEL
Experience Newly Restyled Spaces During Upcoming Events
THE US GRANT opened its doors on October 15, 1910, developed by the son of 18th U.S. President Ulysses S. Grant in his father's honor. The hotel's storied legacy includes operating a Speakeasy during Prohibition, building an 11th Floor radio station and hosting 15 U.S. Presidents. The continued preservation of this treasured San Diego landmark remains a priority for the hotel's ownership, the Sycuan Band of the Kumeyaay Nation.
With the recent completion of a $13 million refresh, THE US GRANT, a Luxury Collection Hotel, shares the hotel's multifaceted heritage through artistic design details, fusing the link between San Diego, the tribal history of the hotel's ownership, and its Presidential namesake. The comprehensive restyling includes the grand lobby, 33,000 square feet of meeting and wedding venues, an expanded fitness center and all 270 guestrooms and suites.
THE US GRANT invites you to experience the newly restyled spaces with an array of upcoming events including participation in Open House San Diego on Saturday, March 25; THE US GRANT Easter Champagne Brunch Buffet on Sunday, April 16 featuring gourmet cuisine, live music and family activities; and the recently launched Vieux Carré cocktail trolley hosted in the grand lobby on Fridays and Saturdays.  Renowned for serving seasonal California cuisine for breakfast, lunch and dinner alongside an internationally awarded wine, beer and cocktail collection, the hotel's Grant Grill and Lounge also promises a memorable dining experience for all occasions.
Connect with THE US GRANT on social media and explore theusgrantsandiego.com to learn more.
---
Member Spotlight

: Free Ride Everywhere Downtown (FRED)
Show the Community your Support with Friends of FRED
Be part of Downtown's most innovative, fun, and eco-friendly service! Show the community you're supporting its much beloved free ride service that's not only lowering San Diego's carbon footprint, but also revolutionizing the city's greater mobility plan. For more information, check out the FRED website. For opportunities on how you can promote your brand in Downtown San Diego with Friends of FRED, email sales@thefreeride.com.
---
Member Spotlight

: Affirmed Housing
More than building communities, we are building possibilities
Founded more than 20 years ago, Affirmed has successfully developed 42+ communities, providing over 3,500 affordable rental homes for low-income California residents. The Affirmed mission is to create and maintain exceptional residential communities by utilizing innovative designs which address community and civic, transportation, and environmental concerns. Affirmed creates award-winning communities that provide safe, quality, affordable housing for families, veterans, seniors, and – most recently – for the formerly homeless.
A seasoned developer, Affirmed does not shy away from challenges but instead embraces them. Affirmed Housing's downtown San Diego accomplishments include 1050B, which is the first affordable high rise (at 23 stories) in California, developed during the last economic downturn. Studio 15 is an infill development on a site with environmental issues that now provides 275 studio homes for low and very low-income tenants. Connections Housing is the first significant permanent supportive homeless housing project in downtown, developed through a partnership with PATH and FHCSD. Cypress, which is a 62 studio unit community, is located on Imperial Avenue and offers homes for homeless and formerly homeless individuals.
Providing 600 affordable apartment homes and 150 transitional beds in downtown San Diego, Affirmed has successfully partnered with CCDC and CivicSD in obtaining funding in excess of $88M. In 2016, Affirmed reached $1 billion in total funding secured for its various developments throughout California, and their current development pipeline includes more than 800 affordable apartments, each at various stages of development.
Click here to find out more about Affirmed Housing.
---
Member Spotlight

: California Coast Credit Union

California Coast Credit Union is thrilled to announce the grand opening of our East Village – San Diego Downtown Branch! Mark your calendars and join us for free festivities on Friday, March 3rd from 11 a.m. to 2:00 p.m. at 777 J Street, San Diego, CA, 92101 (adjacent to Petco Park).

During our celebration there will be food, fun, and freebies. You can enter into a drawing for a chance to win a Disneyland family 4-pack, a $500 shopping spree, Green Day concert tickets, Coachella passes, and San Diego Gulls VIP game passes!
California Coast is also offering exclusive promotions for opening a membership, and with each account opened we will donate $25 to the San Diego Rescue Mission. Let's help raise money for a great cause!
For additional information, contact Carol Kennedy, Senior Community Relations Specialist at ckennedy@calcoastcu.org.
As the longest-serving credit union in San Diego County, we are excited to be your newest neighbor and community partner! Established by San Diego teachers in 1929, California Coast Credit Union is not-for-profit, provides no-cost financial education for adults and youth, and is committed to improving the lives of its members and others in the community.
With over $2 billion in assets, the credit union now proudly serves more than 150,000 members through its local network of over 20 branches and 60 shared branch locations, free online and mobile banking, and 30,000 fee-free ATMs nationwide.
Click here for more information.
---
Member Spotlight

: San Diego Padres
Celebrate San Diego Rally
Join local San Diego sports teams, elected officials and community leaders on Saturday, February 11 at Petco Park for the Celebrate San Diego Rally from 10:00 a.m. – 3:00 p.m. This free public celebration in Park at the Park will feature special appearances by athletes and leaders who call San Diego home, including Padres Hall of Famer Trevor Hoffman, Padres Manager Andy Green, former Chargers Nick Hardwick and Rolf Benirschke, San Diego Police Chief Shelley Zimmerman, San Diego Gulls Head Coach Dallas Eakins, and many more. The Celebrate San Diego Rally is a collaboration between the San Diego Padres, San Diego Gulls, San Diego Sockers, San Diego State Aztecs, University of San Diego Toreros, University of California, San Diego Tritons and the City of San Diego, celebrating what it means to be part of America's Finest City.
Gates to Park at the Park (Gaslamp Gate on 7th Avenue at K Street, East Village Gate on 10th Avenue) will open at 10:00 a.m. Padres Season Ticket Members will have access to a dedicated Member line at each gate by showing their Member card. Standard Petco Park event security measures, including walk-through metal detectors and bag checks will be in place for this event.
All guests in attendance will receive a commemorative Celebrate San Diego hat compliments of Sycuan. Adult and youth sizes will be available upon entry while supplies last.
Enjoy live music, interactive games, a Kids Zone, photo booths, games on the wiffle ball field, photos with local mascots and the Padres Hall of Fame. A San Diego Craft Beer Garden will be open for guests 21 and older. A selection of Petco Park concession stands will be open for food and drink purchases, while standard Petco Park policies will be in place for those who wish to bring in outside food. The rally will get underway at 1:00 p.m.
Parking is free in Padres controlled lots around the ballpark: Lexus Premier Lot, Tailgate Lot and Padres Parkade. Parking will fill up quickly and you are encouraged to arrive early and take public transportation.
Click here for details.
---
Member Spotlight

: San Diego County Water Authority
Water Authority Sustains Regional Economy
While many people don't stop to think about it, the semi-arid San Diego region couldn't support our $222 billion economy and 3.3 million residents without a safe and reliable water supply.
That's where the San Diego County Water Authority comes in. It's responsible for providing approximately 85 percent of the region's water supplies through its multi-decade water supply diversification plan, major infrastructure investments and forward-thinking policies that promote fiscal and environmental responsibility.
A public agency created in 1944, the Water Authority delivers wholesale water supplies to 24 retail water providers, including cities, special districts and a military base. The agency maintains about 310 miles of large-diameter pipelines and runs a major water treatment plant for the region.
Through the early 1990s, the Water Authority and the region relied almost entirely on water purchased from the Metropolitan Water District of Southern California. That approach backfired in 1991, when MWD slashed water supplies to our region by 31 percent for more than a year due to drought conditions.
In response, civic and business leaders pressed the Water Authority to diversify the region's water supplies, sparking a long-term transformation into one of the most visionary water agencies in the country. In 2003, the Water Authority helped broker the nation's largest ag-to-urban water conservation-and-transfer agreement for high-priority water from the Colorado River.
The Water Authority also completed the San Vicente Dam Raise (pictured above), which created 152,000 acre-feet of new water storage capacity – the largest increase in county history. And, the Water Authority approved a groundbreaking public-private partnership to build the nation's largest seawater desalination plant in Carlsbad. The Claude "Bud" Lewis Carlsbad Desalination Plant (pictured below) started commercial operations in December 2015 and generates approximately 50 million gallons per day, enough to meet about 10 percent of the region's demand.
Today, the San Diego region relies on MWD for less than half of its water – and the region's supplies were sufficient to pass the state's stringent water supply "stress test" that assumes three more dry years.
Regardless of the weather, the Water Authority also has maintained a steadfast commitment to improving our region's water-use efficiency through legislation, outreach, education and developing new resources to save water. From 1990 to 2015, regional per capita potable water use declined by nearly 40 percent, even before the state imposed emergency water-use mandates.
Resources to help residents and business owners Live WaterSmart are at WaterSmartSD.org.
---
Member Spotlight

: Douglas Wilson Companies
Veteran Downtown Pioneer Shifts Focus to Infill Housing, Senior Communities, and Managing Long-View Real Estate Assets
From a window seat at The University Club, Doug Wilson can see much of his life's work. This 35-story view is a signature feature of the mixed-use masterpiece he created in the 1980s – a full city block known as Symphony Towers. The renovation of San Diego's beloved symphony hall, within the walls of a mega-commercial and hotel complex, was a bold step in promoting San Diego's redevelopment momentum.
Turning south toward Petco Park, the downtown skyline showcases two other Doug Wilson icons — The Mark and Park Loft. Newcomers can barely fathom the importance of these two condominium buildings in boosting the credibility and prosperity of San Diego's new downtown ballpark. Both projects are considered landmarks and credited with being catalysts to the success of Petco and the surrounding neighborhoods.
When the economy took its turn and plunged the economy into a near-depression, Doug Wilson pivoted to its other long-tested business model of handling workouts nationwide. The company emerged to become one of the country's most prominent receivers, trusted by private investors, banks, and government to reposition or sell troubled assets.
"When Lehman went down with the collapse of the financial sector, we immediately put our work-out hats on," said Wilson from the offices of the Douglas Wilson Companies commercial building on Fifth Avenue. "We, too, had assets that were challenged with the Lehman fall. We took the opportunity to immediately focus on the crushing need to reposition all kinds of troubled assets. We handled some of the country's most high profile receiverships, including world class ski resorts, luxury hotels, commercial buildings and even farmland. Nationwide we kept doors open, people employed, and guests and visitors enjoying a seamless experience despite the dire finances of these properties. We were go-to problem solvers."
Fast forward to 2017, where the receivership boom has passed, San Diego's redevelopment momentum has slowed, and the team at Douglas Wilson Companies has refocused yet again on other new initiatives.
"Real estate is all about cycles," said Wilson. "Our biggest strength is our ability to adapt – and prosper —  through these changes. Our team has fine tuned its ability to identify the shifts in the marketplace and position ourselves to meet the demands of these new realities."
Most recently, Douglas Wilson Companies has embarked on infill residential development and is currently selling a 23-home enclave just west of I-805 in Chula Vista. Monterey Place offers two-story family homes with up to five bedrooms, on sites that average 5,000 square feet. Sales are brisk among South County families who want to stay in the area, but value the benefits and efficiencies of a new home.
"We intend to focus a lot of our energies on both residential and commercial building in Chula Vista," said Wilson. "We have a tremendous working relationship with the city and are see a lot of opportunities as the bayfront begins to redevelop."
Next up in South County for the Wilson team is the $30 million Otay Ranch Senior Living community, scheduled to break ground during Q1 of this year. Located on approximately five acres, the project will offer 100 assisted living and 25 memory care units in a highly amenitized setting.
"Given the country's aging demographic, we are very committed to the senior housing business for the foreseeable future and plan to build multiple individual communities," said Wilson.
In addition to its development activities, the firm has a thriving practice in Real Estate Advisory Services, working with large private, public and non-profit institutions.
"We have been working behind-the-scenes to help some large real estate owners rethink their future opportunities," said Wilson. Tapping the expertise of its veteran team of professionals, Douglas Wilson Companies evaluates and retools existing land and business plans to help clients maximize opportunities in today's marketplace.
"These large master-planning ventures allow us to tie together the collective strengths of our company." ~Doug Wilson
For more information on Douglas Wilson Companies' ventures in San Diego and Arizona, visit www.douglaswilson.com.
---
Member Spotlight

: Higgs Fletcher & Mack

Higgs Fletcher & Mack is a San Diego born and bred institution. The multi-service law firm caters to the diverse people and industries that call America's Finest City home. For more than 75 years, Higgs has worked tirelessly and with companies and individuals that need expert, transparent legal counsel and representation in and out of the courtroom at competitive rates.
Higgs' is the largest, locally focused law firm in town. It boasts a cadre of more than 75 attorneys holding experience in multiple fields of law, and its internal network of legal professionals frequently coordinate in 24 practice area groups that have multi-disciplinary dimensions, helping clients make a more informed decision. Not stopping there, the firm is actively recruiting partner-level talent in complimentary practice areas to provide legal expertise in the San Diego region and beyond.
Giving Back
Higgs believes in making an impact both inside and out of the courtroom. Giving back is a fundamental part of its culture. Higgs does this by serving the communities of its attorneys and clients by participating in more than 50 nonprofit and professional organizations throughout Southern California. From partner to paralegal, the firm's employees form an extensive network of volunteers, numbering more than 140 individuals giving their time and resources to the causes for which they are most passionate.
The attorneys and staff members at Higgs support a wide range of groups in healthcare, social services, education, advocacy, sports and the arts. They play an active role in professional organizations to establish best practices, build meaningful relationships and gain insight on the critical issues facing businesses today. Higgs' attorneys also give of themselves regularly by providing pro bono services to numerous entities and individuals in need of proven expertise and sound judgment.
A Commitment To Diversity
As one of the oldest law firms in San Diego, the firm has also been a staunch supporter in diversity efforts. Higgs believes that embracing different cultures, backgrounds and ideas is vital to its ability to provide strategic legal counsel and build meaningful relationships with its clients.  The firm promotes diversity through professional development, education, volunteering and mentoring.
Additionally, Higgs attorneys not only recognize the need for diversity, but they are also actively working to change the status quo. In 2007, the San Diego County Bar Association (SDCBA) created a Diversity Pledge to serve as a guideline for fostering diversity within the legal profession in San Diego. It re-focuses the firm's efforts within the legal profession on promoting diversity in the hiring, retention and advancement of attorneys within law firms and corporate legal departments and emphasizing diversity in leadership positions. Higgs is proud to have been one of the first law firms in San Diego to sign it.
After signing that pledge, the firm established an internal Diversity Committee to ensure that Higgs was not only honoring their commitment but also remaining mindful of the importance of an increasingly diverse law firm and support for diversity within the legal community. The committee meets regularly to discuss opportunities for its attorneys to support local initiatives and create lasting change in the legal community, including mentoring programs that foster minority retention as well as educational opportunities for minority law students. The firm is also an ongoing sponsor of minority bar group events, including Lawyers Club of San Diego, Tom Homann LGBT Law Association, Earl Gilliam Bar Association, Filipino American Lawyers of San Diego, Pan Asian Lawyers of San Diego and the San Diego La Raza Lawyers Association.
One of Higgs's biggest attributes, though, is how the firm continues to evolve the practice groups to reflect the changing legal needs of the San Diego region's individuals and businesses. From health care to intellectual property law, family law to immigration and business litigation, the firm takes great pride in the high-quality work it does. It's a key reason why Higgs was named a Tier 1 Metropolitan "Best Law Firm" in eight practice areas by U.S. News – Best Lawyers® "Best Law Firms" this year.
For more information, visit www.higgslaw.com.
---
Member Spotlight

: Kitchens for Good
Catering for a Cause
If you haven't noticed, there's a new caterer on the block. And, as its name suggests, it's up to doing good. Kitchens for Good, one of the Partnership's newest members, is on a mission to change lives. The non-profit is founded on the idea that kitchens can be drivers of economic and social change.
Just over a year old, this social enterprise has three components. Its economic engine, Kitchens for Good Catering and Events, directs all of its net revenue to help provide healthy meals for the hungry, and provides culinary job training program for the unemployed. These elements – Catering and Events, Healthy Meals for the Hungry, and Culinary Job Training – are the three kitchen-based pillars that make up Kitchens for Good. According to founder Chuck Samuelson "Kitchens can provide the opportunity to change lives for the better. That's our real business."
Catering and Events 
The catering operation hit the ground running, executing over 400 events in its first year. Both an on- and off-site caterer, many Downtown Partnership members have held or attended events at the venue it operates – the Jacobs Center. Just seven minutes east of downtown, its 12,000 sq. ft. Celebration Hall accommodates up to 500 guests for banquets and 1000 for receptions. Other rooms and an outside amphitheater and grounds add another 45,000 sq. ft., making it one of San Diego's largest non-hotel event spaces. Free parking for 500 cars is an added plus.
Full off-site catering services are available as well. Samuelson and Event Sales Manager Ray Kau, with decades of experience in the business, identify and select venues that provide the best overall experience to all clients – corporate and social alike. Offerings featuring local and sustainably sourced products cover the full catering spectrum, from drop-off lunches and business breakfasts to cocktail receptions (KFG has a full liquor license) and gala events. In a recent collaboration, Kitchens for Good teamed with DSDP member McFarlane Promotions to coordinate the Center for Sustainable Energy's 20th Anniversary Celebration for 400 guests at Brick in Liberty Station. Other recent participating venues include the Downtown Library and the Old Globe Theater.
 Healthy Meals for the Hungry
This second kitchen-based program delivers nutritious, scratch-cooked meals to senior centers, after school programs, and agencies. Through a close working relationship with local growers and food systems groups, excess supply and blemished but nutritious foods are used to prepare fresh, high quality meals at a competitive price.
"Client choice" menus, fresh dishes and responsiveness to client feedback have yielded a growth in participation and improved customer satisfaction over previous suppliers. Currently Kitchens for Good provides lunches daily at the Encinitas, San Marcos and Vista Senior Centers, with more contracts in the works. Samuelson states "Through kitchens we've transformed senior meals from processed and frozen to fresh and scratched cooked. We've converted unwanted fruits and vegetables into nutritious and vibrant meals for hunger relief organizations. The seniors and hungry we serve recognize and appreciate that difference and the numbers reflect that."
Culinary Job Training
Here's where KFG's mission to change lives blossoms. Kitchens for Good's culinary and hospitality job training program prepares unemployed individuals to thrive in careers in the food service industry and beyond. Featuring "Knife skills to life skills" they take a "whole-person" approach to vocational training, incorporating culinary arts, nutrition education, resume writing, job interviewing, and financial literacy. Graduates receive technical culinary education, industry certification, and internship and job placement services.
Participants include those facing significant barriers to employment – formerly incarcerated individuals, former foster youth, veterans, and the homeless. After the intensive 12 week culinary job training program, over 90% of Kitchens for Good's graduates are now employed at some of San Diego's top restaurants and hotels. In the last year, Kitchens for Good has trained over 50 individuals to thrive in careers in the culinary arts. The goal is 80 for the current fiscal year.
Graduates are working at San Diego's top restaurants and hotels, including Bracero Cocina, Marriott Coronado, Cucina Urbana, and Draft Republic.
Jimmy, a graduate of Kitchens for Good's culinary program remarks "I never thought at my age and with all the mistakes I have made in my life that I even had a chance. Thanks to Kitchens for Good I have plenty of work, and most of all I can take care of my family and myself with my new culinary career."
To learn more about Kitchens for Good and its catering and social mission visit www.kitchensforgood.org.
General information | Kitchens for Good | 619-450-4040 | events@kitchensforgood.org
Event inquiries | Ray Kau | Event Sales Manager | 619.736-1878 | ray@kitchensforgood.org
---
Member Spotlight

: Dunn DeSantis Walt & Kendrick
A strategically designed law firm protecting your business today and in the future
Even though DDWK opened its doors to its offices in Downtown San Diego on September 1, 2016, this business and litigation firm is anything but a start-up. As managing partner Kevin DeSantis says, "Drawing upon decades of knowledge in transactional practice and commercial litigation, we designed this firm with the singular purpose of bringing together a sophisticated and highly experienced group of like-minded lawyers to provide a wide range of legal services to our clients."
Long time partners Beth Dunn and Kevin DeSantis were intrigued with the idea of constructing a law firm comprised of veteran and skilled lawyers who shared their interest in serving as outside general counsel to their clients. They wanted to break away from the stereotypical small firm litigation model and instead provide all-encompassing transactional, litigation and advisement services.  From that idea DDWK was born.
Well recognized in the field of employment and labor advisement and litigation, Beth Dunn provides DDWK's clients with the sophisticated type of employment and HR counseling integral for sustaining the business operations of the firm's clients.
DeSantis began his career defending lawyers and other professionals and is today one of only a few practitioners certified as a specialist by the State Bar of California for legal malpractice representation. His practice evolved to include a role as outside general counsel that keeps him in regular and close contact with his clients.
In Chris Walt, located at the firm's La Jolla Shores office, DDWK has an established attorney with over 35 years in practice and an acknowledged professional in sophisticated business and commercial real estate transactions, mergers and acquisitions. Dunn and DeSantis have known Walt for over two decades. DeSantis said "For years we have referred business and collaborated on matters, and we have a great deal of mutual respect for how we care for our clients and approach the practice of law."
John Kendrick, Jr., was introduced to DeSantis by a nationally prominent client who urged the two to join forces. Kendrick was looking to connect with lawyers who would work collaboratively with him and grow his highly regarded Orange County practice. DeSantis and Kendrick discovered that their practice areas and approach to working with clients were very similar: valuing and cultivating long term relationships with clients who, in turn, look to them for representation, advisement and counsel. The final two founding partners, James McFaul and David Cardone, have been practicing with Dunn and DeSantis for a collective 15+ years and represent the sustaining quality of DDWK's vision for its and, more importantly, its clients' futures.
The firm was designed by experienced attorneys – with a nexus of core clients and practice areas – who share a commitment to excellence in providing legal services as well as to establishing DDWK as a Southern California business law firm that will be a presence for decades to come. Long-standing client relationships are the hallmarks of the law firm and define DDWK.  As stated by DeSantis, "We recognize that our clients require a more sophisticated understanding of their entire enterprise.  At Dunn DeSantis Walt & Kendrick, we focus on the client, not the case.  Doing so requires more than litigators, and so we strategically organized and staffed the new firm to provide a broad scope of services tailored to the commercial interests we represent. We also believe a downtown presence is central to our commitment to local businesses.
The firm's client list includes a host of prominent law firms, accounting firms, transportation companies, real estate developers and contractors, design professionals, as well as individuals, Southern California, national and international businesses, non-profits, and governmental agencies. The firm's transactional services include: mergers, acquisitions, commercial real estate, business structuring, contract drafting and negotiation and entity formation and maintenance and construction/development matters and related transactional counseling. The firm has a number of experienced litigators and trial attorneys who have handled matters including: professional liability defense, employment and wrongful termination, business and partnership disputes, class actions, trials and arbitrations and risk management counseling.
For more information about DDWK and how they can help you, visit http://www.ddwklaw.com/ or call 619-573-4488.
---
Member Spotlight

: Dentons LLP
Dentons Launches New Initiatives to Serve San Diegans and their Companies Locally and Globally
Dentons, the global law firm with roots in the San Diego community that date back almost 150 years (with the year-old addition of the legacy Luce Forward firm), has launched a number of initiatives this year to help better connect San Diego's clients and their companies to the highest quality legal and business advice possible–both here in San Diego and around the world.
The Firm's unprecedented growth and innovation last year, when it became the largest law firm in the world, was designed specifically to provide world-wide legal expertise and client-service efficiencies for the benefit of Dentons' clients not only locally, but nationally and internationally in an ever more complex legal world.  Some of the new ways the Firm is serving San Diego companies locally include:
A key strategic focus on the relationships between financial services, life sciences, technology and the government.
An even stronger commitment to grow and develop the eco-system for San Diego technology and life sciences companies through the Firm's focus on emerging companies.
Providing those clients in the real estate industry not only with the Firm's well recognized expertise in real estate acquisition, development and finance, but also to assist in bringing a worldwide network of such clients and contacts together for their mutual benefit.
Dentons' support of efforts that serve San Diegans and that make us all great, in a one-of-a-kind community of science, business and civic commitment that includes the Downtown San Diego Partnership, San Diego County Bar Foundation, San Diego Volunteer Lawyers Program, I Love A Clean San Diego, National Conflict Resolution Center, the Building Industry Association, the NAIOP Commercial Real Estate and Development Association, Sentinels of Freedom Scholarship Foundation, Casa Cornelia, World Adaptive Surfing Championship, HomeAid San Diego, La Jolla Symphony and Chorus, CONNECT, San Diego Regional Economic Development Corporation, San Diego Regional Chamber of Commerce, San Diego Military Advisory Council, Maritime Alliance and many more.
Dentons has also taken a number of steps to support its services to San Diego-related clients involved in the global economy, including:
Face-to-face meetings with Dentons' San Diego partners and other Dentons' partners from around the world to build their knowledge of the practices and capabilities outside San Diego, resulting in more connections for clients needing services in nearly any practice or geographic area.
Specialty teams that advise and assist clients in the UK and around the world on business and legal issues arising from the Brexit vote and the future departure of the UK from the EU.
The addition of a host of talented lawyers around the world through formalizing our combination with Rodyk & Davidson, the oldest law firm in Singapore; Cardenas y Cardenas in Colombia; and Lopez Velarde in Mexico.
The addition of 75 new lawyers and professionals in the UK, the launch of a new office in Munich, and the expansion by more than 50 percent of the Firm's office in Milan, which, together with Dentons' Luxembourg office launch last year, is part of the Firm's effort to increase Dentons' offerings in 18 countries across Europe.
The formation of the Nextlaw Global Referral Network, which connects clients to top-tier talent around the world in markets where Dentons may not have a presence or the right lawyer to meet client needs. Unlike other legal referral networks, Nextlaw Global Referral Network is not "pay to play" and does not grant territorial exclusivity to one firm, enabling Dentons to direct clients to the best lawyers for their needs.
All these new developments are part of Dentons' unwavering priority to serve San Diego-related companies with the highest quality service possible–both here and around the globe.
Click here to learn more.
4655 Executive Drive | Suite 700 | San Diego, CA 92121-3106
---
Member Spotlight

: Scott Murphy
Local San Diego Cityscape, Beachscape and Landscape Photographer
San Diego, California– Local San Diego photographer Scott Murphy launched his new website, sddiscover.com, this week. His site is devoted to providing San Diego's best beachscapes, cityscapes and landscapes fine-art photography for local business and individuals that desire compositions of San Diego's natural beauty.
Scott's philosophy as a photographer has always been to produce only the best photos for his viewers and to not compromise his values to capture a shot. "I want my viewers to be inspired from my photos and see the beauty in our everyday life. I want people to Discover San Diego one photo at a time."
Scott's website showcases San Diego and provides users easy access to discovering different parts of the city to use for their marketing or individual needs. Users can view and order different districts of Downtown, as well as natural landscape pictures of San Diego's famous beaches and scenic landscapes.
 Additionally, the website provides insight into Scott's life as an artist. It also highlights his awards, publications, and current work.
"My favorite part of being a local San Diego photographer is showing my viewers the way I see the world. I traveled the world for many years but there is nothing like home. Downtown San Diego is my home. I love capturing moments that can now last forever, and I love capturing the steady growth of Downtown San Diego."
Check out Scott's work here!
---

Member Spotlight

: NoonanLance
Law Firm NoonanLance Launches, Headquartered in East Village San Diego
The law firm Noonan Lance Boyer & Banach LLP (NoonanLance) has officially launched and moved into its new headquarters in San Diego's East Village. The firm's mission: a singular focus on achieving the best results for its clients in the most efficient manner possible.
From the 40-year tradition of the award-winning former law firm Kirby Noonan Lance & Hoge (previously Post Kirby Noonan & Sweat), NoonanLance was formed by partners David J. Noonan, James R. Lance, Ethan T. Boyer and Micaela P. Banach and is supported by a team of attorneys, paralegals and long-time support staff.
"Whatever the case, no matter the problem, we are known for our track record of navigating the complex legal system in the most strategic way possible," said Lance. "If you want attorneys with trial experience, who can handle significant cases with optimum efficiency, we're your firm. We are committed to a strong partnership with our clients – your case is as important to us at it is to you."
NoonanLance represents clients on both the plaintiff and defense side of civil litigation and handles matters in state and federal court and arbitration. The firm's attorneys have experience in and serve a wide variety of practice areas, such as "Bet the Company" cases, complex civil and commercial litigation, business disputes, professional and legal malpractice defense, employment law, product liability and intellectual property matters.
The firm represents companies and individuals – from Fortune 500 companies to small businesses – based both in San Diego and around the country. Past and present clients include real estate developers, consumer goods manufacturers, construction contractors, other law firms/lawyers, boutique technology firms, software and computer companies, biotechnology companies, investment organizations, as well as individuals in employment, personal injury and class action lawsuits. The firm's attorneys have represented many of the top businesses, organizations and individuals in San Diego County in high stakes litigation.
Most recently, Noonan, Lance and Boyer were named to the 2017 Best Lawyers in America list, and Noonan received the exceptional honor of "Lawyer of the Year" for legal malpractice law.
NoonanLance is the first commercial tenant at 701 Island Avenue, Suite 400, in East Village San Diego near PETCO Park. The firm's creative office space was designed by Ware Malcomb and features open ceilings with wood beams, glass-enclosed offices and conference spaces, along with modern furniture.
"It was important to us to remain in the East Village," added Lance. "We enjoy the creative energy and forward focus, and are proud to support the work of the Downtown San Diego Partnership in the East Village and throughout our downtown."
For more information, visit www.noonanlance.com or call 619-780-0880.
---

Member Spotlight

: Bosa Development
PACIFIC GATE BY BOSA REDEFINES  HIGH-RISE LIVING IN DOWNTOWN SAN DIEGO'S WATERFRONT

An exciting transformation is taking place in Downtown San Diego's waterfront neighborhood with the completion of the North Embarcadero Visionary Plan's Phase I, Lane Field, The Headquarters and Waterfront Park. This area, as well as the rest of Downtown, is emerging on the world stage as a prime example of the urbanism movement nationwide.
One of the biggest champions and visionaries of Downtown's future is Nat Bosa, president of Bosa Development, who brings more than four decades of experience creating great places to live.
Bosa states, "My enthusiasm for San Diego and its potential to be a true world-class city keeps getting stronger. Cities on the international stage offer beauty, culture, an authentic lifestyle, and a thriving business sector. These cities are distinguished by Super Prime residential real estate, which is defined by location, breathtaking views, iconic architecture, exquisite interior design, and exceptional amenities and services."
In one of the city's boldest architectural statements, Bosa Development's latest luxury residential building – Pacific Gate by Bosa — located at the emerging gateway to the city at Pacific and Broadway, is the first Super Prime building to arrive Downtown.
Pacific Gate's architecture and design will change Downtown's skyline and elevate the city onto the world stage. The building is comprised of two-nested curved glass towers that will rise as a single column from a three-story ground floor retail podium.
The 41-story oval glass residential tower is designed by New York-based architecture firm Kohn Pedersen Fox (KPF), which known for dramatically redefining skylines globally. Hirsch Bedner Associates (HBA), renowned for their interior design work in the hospitality industry, brings their experience and approach for luxury hotels and resorts to a residential setting.
Residents will enjoy luxurious, custom-designed public spaces and residences that seamlessly marry contemporary design using a blend of craftsmanship, natural materials and technologically forward techniques.
Features include custom-designed kitchen cabinetry and state-of-the-art appliances from Wolf, Sub-Zero and Miele. The spacious master bathrooms have polished stone floors and stone wet walls with an invigorating chrome Graff immersion shower system. Technology is gracefully woven throughout each residence, including Smart Home that allows residents to automate environmental controls through their phone or tablet.
Pacific Gate residents also will have access to amenities that have been curated especially for luxury waterfront living in Southern California, including use of a private luxury car fleet and private boat share program.
Pacific Gate will bring an unparalleled level of living and landmark status when it is completed at the end of 2017. The building will contain 215 two-and three-bedroom residences ranging in size from 1,276 to 2,608 square feet. Two-bedroom residences are priced from the $1.1 millions and three-bedroom Estates are priced from the $2.8 millions.
To learn more go to www.PacificGatebyBosa.com, call 619.795.3612 or visit the Sales Gallery, located at 700 First Avenue at the corner of G Street.
---
Member Spotlight

:
Diana Kelly, Regional Vice President, The Home Depot
San Diego Magazine's 2016 Woman of the Year
San Diego Magazine's Celebrating Women event honored dynamic San Diego women committed to creating positive change with power networking, a compelling panel discussion, and the announcement of special award winners at the Museum of Contemporary Art La Jolla on September 28.
Star Hughes-Gorup, Director of Hughes Marino, received the Young Leader Award. Randa Coniglio, CEO and President of Port of San Diego, was recognized with the Executive Trailblazer Award. Dr. Mimi Guarneri , Medical Director of Guarneri Integrative Health, Inc., was named the Health and Wellness Pioneer. Celia Lanning, Greater San Diego Region President of Wells Fargo, earned the Mentoring Maverick Award. Kim Perell, President of Amobee, took home the Industry Innovator Award. Barbara Sawrey, Associate Vice Chancellor and Dean of Undergraduate Education of University of California San Diego, was heralded as Academic Champion.
The awards presentation culminated with the announcement of the 2016 Woman of the Year. This honor went to Diana Kelly, Regional Vice President of The Home Depot.  Congratulations to all 120 finalists!
Check out San Diego Magazine's coverage of the event here.
---
Member Spotlight

:
Sharp HealthCare
Sharp Senior Health Center Helps Downtown's Most Vulnerable Residents
Katherine Wright and her team at Sharp's downtown Senior Health Center provide more than just medical care for the region's underserved seniors — they treat them like family.
Take a walk around any city block and you might get a basic taste of the people and places that make up that community. Take a walk with Katherine Wright around the block where she works, and you learn far more.
For example, you meet Kojak, who sits outside his apartment most days keeping watch on the comings and goings of both neighbors and strangers, and Sammy, owner of the local convenience store, who they call the mayor of the block because he knows everyone and helps out neighbors in need.
You learn about those who aren't out and about that day, and see the concern in Wright's eyes when she wonders where they might be. You also learn that Wright and those she works with are an integral part of the neighborhood.
Wright is the office coordinator of Sharp's Senior Health Center in downtown San Diego, where team members are dedicated to providing specialized care to meet the unique needs of the area's under-served seniors.
Their comprehensive outpatient program offers both medical and behavioral care as well as social services to ensure that patients can continue to live healthy, independent lifestyles.
"We become our patients' family," says Wright. "We know them all so well and welcome them in with open arms for their appointment, or even when they are just stopping in to take a break from the heat or simply to say hello. They will often tell us how much they like coming to the center because they know we care about them."
It's not just the senior center visits that are special to patients. It's also the calls that Wright and other staff members make to confirm an appointment or check in with patients they haven't seen in a while, and the dozens of greeting cards they send out each month.
 "Each card we send out is signed by every member of our team," says Wright. "They are personalized for the individual patient and it shows them how important they are to us."
These cards are more than a simple gesture to the recipients. They represent the exceptional care the senior center offers, and are often the only compassion they may receive when they've lost a loved one, aren't feeling well or are celebrating a birthday.
 Some seniors are so appreciative that they send a thank you card in response to receiving a card. One senior even turned her birthday card into a necklace pendant and wore it to her next appointment. Another health center patient admitted he cried when he received his birthday card — the only birthday wishes he received that day.
"We really love our patients and they know it," says Wright. "I believe what we do here is the essence of The Sharp Experience because we are a part of our patients' lives — the good and the bad — and we encourage them and guide them to be able to live healthy, active lives."
For more information about Sharp Senior Health Centers, located in downtown and Clairemont, or to make an appointment visit www.sharp.com/seniors, or call 619-233-1311.
Sharp Senior Health Center: 956 Tenth Avenue (near Broadway), San Diego, CA 92101
---
September 23, 2016
Member Spotlight

:
San Diego Gas & Electric
Energizing San Diego since 1881
Imagine the energy company of the future—an energy company that strives to innovate, pioneer and improve the communities it serves.
San Diego Gas & Electric (SDG&E) believes in improving customer's lives and cleaning the air we breathe, so that the communities we serve can grow and prosper.
There are many ways SDG&E works to achieve this focus, from delivering the most reliable energy in the West for the last decade, and leading America in renewable energy, to developing innovative new programs that make it easier to adopt electric vehicles, and supporting the nonprofits who strive to ensure our communities thrive.
Leading in renewable energy
SDG&E recently earned the nation's top designation for renewable energy sales. A national report, released by Ceres, shows that SDG&E is leading the utility companies responsible for much of the national surge in solar energy, wind power and energy efficiency programs.
Today, SDG&E provides more than 33 percent of its energy from renewable sources and is on track to deliver more than 40 percent from clean, renewable sources by 2018.
The company is expanding on this effort by adding more energy storage. Adding storage resources improves overall reliability of the grid, as it allows the system to accommodate greater amounts of renewable power and helps ease congestion. SDG&E proposes to charge the batteries during times when there is an abundance of solar or wind power and discharge them during peak usage times in the early evening.
In addition to advances in renewable energy and energy storage, SDG&E safely and reliably serves more than 90,000 private solar rooftops.
America's Finest "Plug-In" City
SDG&E believes cleaner transportation is a generation-defining opportunity for securing a clean, sustainable and prosperous future for America. In fact, the White House praised SDG&E along with several energy companies for leading the charge in installing electric vehicle charging infrastructure in their areas.
A highlight of this focus is the company's innovative "Power Your Drive" program—one of the largest electric vehicle charging infrastructure projects in the nation.
While many companies pledged to expand workplace charging to spur EV adoption, SDG&E was one of the first to commit in 2013, and today has installed 181 charging stations at company facilities, more than any other organization in San Diego. The company also boasts almost 300 EV-driving employees—which is more than halfway to the goal of 500 drivers by 2020.
Efforts to bring EV programs to San Diego help our region compete on a global stage and rise above all others toward making San Diego America's Finest "Plug-In" City.
Empowering our communities
Supporting San Diego's most critical non-profit organizations through volunteerism and financial support is important. These are the organizations that make it their mission to foster leadership in student's early years, deliver a future where our air and waterways are healthy, and provide the support America's service members and their families need before, during and after deployment.
At SDG&E, our employees are committed to investing in the nonprofits that continue to improve our communities every day. Learn more about SDG&E's giving and community engagement by visiting sdge.com/community.
As SDG&E increases renewable power capabilities, improves energy storage and expands EV adoption, Downtown San Diego will continue to receive reliable and safe energy solutions to power their businesses. For more information on these and other SDG&E programs visit sdge.com.
---
September 16, 2016

Member Spotlight

:
L2HP | Lankford & Associates, Inc., Hensel Phelps and HP Investors
The Team Behind San Diego's Emerging Downtown Innovation District, Makers Quarter
With a combination of local, national, and international talent, L2HP (Lankford & Associates, Inc., Hensel Phelps and HP Investors) offers the depth of knowledge with the experience necessary to implement the long-term vision for Makers Quarter—a six city block work/live/play district anchored by the East Village's most progressive makers, artists and innovators.
Under the direction of L2HP, Makers Quarter completes one of the final chapters of growth for East Village's dynamic urban downtown neighborhood. As an innovation hub for a millennial workforce to thrive within a creative environment, this new emerging district will usher in one million square feet of office space, 800 residential units, 175,000 square feet of restaurants, retail and entertainment, alongside 72,000 square feet of public parks and open space.
LANKFORD & ASSOCIATES, INC
Lankford & Associates, Inc. is a family owned and operated company rooted in San Diego since 1984.
By focusing on quality, we have developed a reputation for delivering projects to the community that engage the public. They have been a source of pride while also helping to promote and facilitate critical sectors in the San Diego region's economy. In the heart of downtown the Hall of Justice responds to the needs of civic service. Our cutting edge science building, Sanford Consortium for Regenerative Medicine, continues to receive awards for design and sustainability while providing top scientists with a home base for solving the toughest medical problems of our times. Here at the urban core of San Diego, we have created projects that focus on transit, walk-ability and livability that include places for businesses and most importantly, people to thrive. www.lankfordandassociates.com
HENSEL PHELPS
At Hensel Phelps, our job goes beyond building projects. We believe in building relationships that last for decades. Doing that takes a lot more than delivering concrete, steel and mortar. It means building the type of commitment, trust and partnership that give our clients real peace of mind. It means training our employee-owners to consistently provide unsurpassed expertise, processes and performance in everything we do. It requires leveraging innovative technologies that keep projects running smoothly, and looking for ways to add value at every turn.
Since 1937, we've been driven by the simple belief that, projects come and go but relationships are forever. That's The Hensel Phelps Way. www.henselphelps.com
HP INVESTORS
HP Investors is a family-held real estate ownership, investment and management firm, based in San Diego. HP Investors' principals have been active investors in downtown San Diego for over 30 years.
The firm invests with a focus on urban retail and hospitality properties, and currently manages more than 600,000 square feet of assets in San Diego, Los Angeles, New York, and other urban markets.  The firm has acquired more than 150,000 square feet in downtown San Diego retail in the past three years. The firm invests with the objective to create long-term value not only for our investors but also for the communities we invest in. HP Investors has offices in Oakland and San Diego. www.hpinvestors.com
 *** Visit Makers Quarter's at www.makersquarter.com. Follow Makers Quarter on Facebook, Twitter, Instagram and YouTube. ***
---
September 9, 2016
Member Spotlight:
G|M Business Interiors
G|M Business Interiors is a vertically integrated, full service & licensed dealership whose mission is to develop lasting client relationships by creating exciting workspaces that promote happiness, health & higher performance. G|M specializes in; office furniture planning, specification, procurement, project management, delivery, installation, reconfiguration and complete asset management.
G|M Business Interiors, a California Corporation, began as Arrowhead Office Equipment in 1944. In 1960, the business was incorporated as Goforth & Marti Office Supply, Inc. and in 1987, was purchased by William F. Easley. In 1989, Stephen Easley joined the firm as President and the Contract Interiors division was re-named G|M Business Interiors, a division of Goforth & Marti, also becoming a Herman Miller dealership.
In 2007 G|M opened the downtown San Diego Workshop Showroom and a warehouse off Miramar Road. This was followed by two downtown showroom expansions and the new 40,000 sq. ft. Client Experience Center in Sorrento Valley, San Diego. Locations in Riverside, Redlands and San Diego allow G|M to serve all of Southern California. Approximately 200 team members who reside in Riverside, San Bernardino, Orange, San Diego, Kern, Imperial and Los Angeles Counties are employed by G|M Business Interiors.
G|M is characterized as an industry leader in the Contract Interiors office furniture dealer segment, largely due to the quality of our team members, our refined service processes, advanced technology and in our ability to delight our clients. As a suggestion by the Federal Government, G/M instituted a comprehensive customer survey system in 2001, as a way of documenting our service and past performance history. After the completion of each project, our customer is asked to complete a fair and impartial analysis. On a scale of 1-100, G/M and their manufacturer on-time and complete delivery status is historically performing at 96.8% of a possible 100%. This has been calculated over hundreds of projects.
G|M is skilled in providing specialized products & services to our customers in government, healthcare, education and private enterprise. G|M's primary manufacturer partner is Herman Miller, a true leader in the office furniture industry and perennially named as
the Fortune 500 most admired office furniture company. G|M is Herman Miller's largest dealer in Southern California based upon sales and number of team members. Herman Miller is the largest provider of furniture and services to the Federal government and G|M has achieved status as Herman Miller's largest volume government dealership in the United States. G|M also holds the distinction as the third largest healthcare dealer for Herman Miller in the U.S.
G|M is a member of the US Green Building Council and has operated on an environmentally sensitive paperless initiative since 1998. G|M maintains millions of electronic documents instantly available for review, for our staff and our customers. Our proprietary operating software is unique in our industry, is paperless and manages our workflow and communications within our organization and with our customers. Other technology includes; state of the art visualization tools, proprietary client focused web-based software, intelligent furniture finding search engine and web-based asset management and procurement capabilities.
G|M's success continues because of the team of dedicated and professional employees, who espouse passion for excellent furniture design, operational excellence and most importantly, delighted customers. Customers trust G|M people to have integrity, pride of craft, responsiveness and to offer the most professional services & capabilities.
ABOUT US
G|M creates exciting & dynamic spaces for people to work, heal, learn & thrive in Downtown San Diego and all of Southern California. We solve the really tough problems facing organizations today including workflow, space utilization, collaboration and rightsizing. Our experience & knowledge make the difference, we listen, we execute and we have fun doing it! High performance organizations need every edge; our job is not complete until your team is happier, healthier and higher performing!
Giving Back to the Community "Tables for Tots"
Over the past eight years G|M Business Interiors has had the pleasure of bringing together the incredible talent of the Architectural and Design community, generosity of the local businesses and the individuals of San Diego to raise much needed funds for our local Ronald McDonald House Charities© of San Diego to help families with critically injured or ill children.
Each A&D firm is provided a child's table and two chairs to be crafted into an "adventure" for children. These incredible creations are then auctioned off at a yearly event after which all funds raised are given directly to the house.
The Ronald McDonald House Charities© of San Diego are responsible for raising the majority of their operating expenses themselves and over the past eight years, G|M has had the privilege of aiding their efforts, raising nearly $200,000 through this exciting and innovative event.
Contact Information:
Mike Akin – Vice President of Client Management
619-247-9986 / makin@gmbi.net
Website: www.gmbi.net | Instagram: @gmbusinessinteriors | Facebook: gmbusinessinteriors
---
August 19, 2016

Member Spotlight:
San Diego Convention Center Corporation
Benefiting the San Diego Region Since 1989
For nearly 27 years, the San Diego Convention Center has served as the region's premier gathering place for conventions, tradeshows and community events, which generate economic activity for the City of San Diego. In that time, the award-winning facility has been a part of some pretty memorable experiences for over 20 million guests from all over the world.
Almost weekly, the San Diego Convention Center facilitates the building of a small city for the most important event of a customer's year, then work with the customer's contractors to break it down and transform the facility all over again for the next client. Not intimidated by the challenge of hosting three full-facility events back to back to back, the team at the Convention Center recently completed a summer season for the record books, bringing big names and even bigger benefits to the City of San Diego. Within a 30-day period this summer, the facility served as host to over a quarter-million guests for the Esri User Conference, Major League Baseball All-Star FanFest and Comic-Con International.
These three events alone combined to bring San Diego the following benefits:
Click here to expand the infographic. 
The full-facility marathon began with the return of the Esri User Conference, an event that brings together mapping experts from around the world. See what it took to build a small city inside the San Diego Convention Center with this timelapse video of the exhibit floor build up for the 2016 Esri User Conference.
Immediately, the San Diego Convention Center team flipped the building and brought in the 2016 Major League Baseball All-Star FanFest, the world's largest interactive baseball theme park. The celebration of all things baseball was the largest FanFest by square footage in the events history and brought over 100,000 guests to downtown San Diego. Relive the excitement of the 2016 MLB All-Star FanFest with this video that includes an inside look at the fun and timelapse of the event break down.
In the eight days between the MLB All-Star FanFest and Comic-Con International, the team at the San Diego Convention Center once again tore down one city on the Convention Center's 525,700 square foot exhibit floor only to build another. The eyes of the world were once again on San Diego as Comic-Con International returned to the San Diego Convention Center to entertain us with celebrities, costumes and comic books at the internationally recognized celebration of pop culture. Experience the fun inside the event and hear why people love coming to Comic-Con International with this video recap.
Events at the San Diego Convention Center this summer brought a lot of positive attention to the region. For the team of local, hard-working men and woman at the San Diego Convention Center, it was just business as usual to keep a few of the 129 events (67 primary, 62 secondary) for 2016 running smoothly. The San Diego Convention Center's promise is to provide clients and guests outstanding service, consistently exceeding expectations, so that they want to come back over and over again, to invest further in San Diego. The Convention Center is a public benefit corporation that chooses to focus on that benefit – their success improves the quality of life for all San Diegans.
Stay up to date with San Diego Convention Center community, business and event stories by subscribing to the Convention Center Connection Blog and be sure to connect on social media.
Facebook: https://www.facebook.com/SDConventionCenter
Twitter: https://twitter.com/SDConventionCtr
Instagram: https://www.instagram.com/SDConventionCtr
For more information about the San Diego Convention Center Corporation's values, purpose and promise – visit their website: https://visitsandiego.com
---
August 12, 2016
MEMBER SPOTLIGHT: U.S. BANK
U.S. Bank is proud to be a member of the downtown San Diego community – a place we have called home for the past 16 years. Being in the heart of the city has so many benefits for our customers and employees and one of them is working with the Downtown San Diego Partnership as well as other vibrant organizations that create our distinct community. Our mission at U.S. Bank is to help our customers achieve their possible, whether that be purchasing a new home, financing an education or saving for retirement.
Earlier this year, U.S. Bank introduced a new corporate giving and volunteer program called Community Possible focused on three pillars: work, home and play. We believe the building blocks of all thriving communities where all things are possible include: stable employment opportunities, a home to call your own and a community connected through culture, recreation and play. In 2015, U.S. Bank provided $425.7 million in investments throughout the state of California and more than $100.4 million in investments to communities in the San Diego area, which provided affordable housing, encouraged self-sufficiency and fostered economic development. These investments include U.S. Bank Foundation grants, U.S. Bank corporate giving and nonprofit sponsorships as well as tax investments made through U.S. Bancorp Community Development Corporation (USBCDC). Additionally, U.S. Bank employees volunteered more than 2,700 hours for nonprofit groups in the San Diego area by serving on boards, committees and assisting with events.
"We are so grateful to be a part of this thriving downtown San Diego community," said Steve Stuckey, president of U.S. Bank in San Diego. "We are proud to partner with other strong businesses and associations to bring amazing free programs to downtown San Diego residents this summer and throughout 2016. Working with the Downtown San Diego Partnership on events that benefit not only our customers, but local businesses and residents is a win-win."
The Downtown San Diego Partnership and U.S. Bank have teamed up to launch a series of free events designed to encourage downtown residents and visitors to come together and enjoy the summer. In July, we hosted series of pop-up concerts featuring local artists outside of our downtown U.S. Bank branches. In August we will partner with Downtown San Diego Partnership and the California Apartment Association to host a downtown living event including free music, food and information for downtown residents. Finally, we are partnering with Broadway Athletic and Swim Club to host a series of pilates classes at our downtown San Diego U.S. Bank branches throughout 2016.
"I have the great fortune of working directly with the Downtown San Diego Partnership organization as a board member and we are so grateful for all work they have done to make downtown San Diego an even better place to live and work," said James Nigro, senior vice president Commercial Real Estate at U.S. Bank. "This is home for so many U.S. Bank employees and clients and I know we have benefitted greatly by the programs and community gatherings the Downtown Partnership has organized. Look for many more exciting and fun opportunities throughout 2016 and we hope to see you at an event soon."
For more information about U.S. Bank's upcoming events including dates and locations, please visit downtownsandiego.org.
About U.S. Bank
U.S. Bank operates 80 branches and employs nearly 800 people in the San Diego area. U.S. Bancorp (NYSE: USB), with $438 billion in assets as of June 30, 2016, is the parent company of U.S. Bank National Association, the fifth largest commercial bank in the United States. The Company operates 3,122 banking offices in 25 states and 4,923 ATMs and provides a comprehensive line of banking, investment, mortgage, trust and payment services products to consumers, businesses and institutions. Visit U.S. Bancorp on the web at www.usbank.com.
Philanthropic support through the U.S. Bank Foundation and corporate giving program reached $53 million in 2015. Visit www.usbank.com/community.
---
July 22, 2016
 PACIFIC GATE BY BOSA BRINGS SUPER PRIME RESIDENCES,
AMENITIES AND SERVICES TO DOWNTOWN SAN DIEGO
Cities on the international stage offer beauty, culture, and authentic lifestyle combined with a thriving business sector. These cities are further distinguished by Super Prime residential real estate, which is defined by location, breathtaking views, iconic architecture, exquisite interior design, and exceptional amenities and services.
In one of the boldest architectural statements Downtown San Diego has ever seen, Pacific Gate, the latest luxury residential building located at the emerging gateway to the city, will be the first Super Prime building to arrive Downtown.
Pacific Gate redefines Downtown San Diego's skyline with its architecture, and evolves luxury residential living by applying the Super Prime "lens" to curate the best Southern California offering.
Pacific Gate residents will have access to amenities that have been curated especially for luxury waterfront living in Southern California and designed to enhance a resident's lifestyle. Just before Uber announced its first yacht share program, Pacific Gate announced its residents will have use of a private boat share program, as well as a luxury car fleet, chef concierge services, a 24 hour attended lobby and porter services. Other features include a double height residents' lounge with full kitchen, screening room, conference/meeting room, business center,  a guest suite, steam/sauna room, pool terrace, poolside cabanas and an outdoor pet retreat.
Nat Bosa, president and founder, states, "We found that our buyer values time over anything else and that led us to create amenities and services that allow our owners to maximize the quality time they have to spend with their friends and family or to conduct business. We are evolving luxury condominium living in Downtown through the best and most thoughtful services and amenities that mean the most to our owners."
The Sales Gallery provides an in-depth look at the growth of Downtown San Diego and why it is emerging on the world stage. A four-foot tall architectural scale model of Pacific Gate illustrates its iconic architecture and connection to the area. The gallery also includes a model residence kitchen, living area, master bath and bedroom illustrating exquisite finishes and craftsmanship.
Pacific Gate will be 41 stories tall and contains 215 residences ranging from 1,276 to 2,608  square feet. Two-bedroom residences are priced from the $1.1 millions and three-bedroom Estates are priced from the $2.8 millions.
The building is designed by renowned New York-based architectural firm Kohn Pedersen Fox, who created a landmark design that will evolve the San Diego skyline. Interiors are designed by industry-leading Hirsch Bedner Associates (HBA).
The building is comprised of two double-nested curved glass towers that will rise as a single column from a three-story ground floor retail podium.  Each residence features expansive windows, bright open layouts and breathtaking views. The residences will feature HBA custom-designed kitchens and kitchen hardware, quartz counter tops and state-of-the-art appliances. Spacious master bathrooms are complete with polished stone floors and stone mosaic walls, and an invigorating immersion shower system. Additionally, Smart Home technology allows residents to automate environmental controls through their phone or tablet.
The Sales Gallery, located at 700 First Avenue at the corner of G Street, is open daily from 11am to 5pm.
To learn more, visit www.PacificGatebyBosa.com or call 619.795.3612.
###
---
July 5, 2016
Free Wi-Fi Hotspots for Downtown in July
By Lori Weisberg, The San Diego Union-Tribune | June 21, 2016
Come July when tens of thousands of people will be flooding downtown for Comic-Con and Major League Baseball's All-Star Game, there's one area that will be decidedly congestion-free: the Internet.
Thanks to a partnership between Cox Communications and the city of San Diego, the public will be able to log onto more than 100 Wi-Fi hot spots throughout downtown San Diego. Sharing a video of a Hollywood celebrity sighting at the Con or a homerun by a Major League all-star should presumably be more frustration-free with what Cox says will be a robust connection on its network.
The free Internet access will start July 8 and run through July 24, the last day of Comic-Con. Normally, the newly installed hot spots would be available only to Cox Internet customers. The additional hot spots will not be accessible inside the Convention Center during Comic-Con.
"Anyone who's hanging out downtown will be able to get on a super fast network," said Sam Attisha, vice president of business development for Cox in California. "Just find a Wi-Fi enabled device and look for a 'CoxWiFiFree' wireless network."
Cox officials say the download speed will be as high as 15 megabits per second, which they said is significantly higher than the Internet speed one could expect at the typical Starbucks.
While July is typically San Diego's busiest during the summer tourist season — 4.4 million visited last July — it will likely be even more so next month, with the All-Star Game coming to Petco Park. Add to that the robust Comic-Con fan base that is an especially heavy user of social media, and the potential for broadband overload is particularly high.
"Anyone who's been to Comic-Con knows there's a great deal of interactive communication among our attendees," said Comic-Con International spokesman David Glanzer. "Fans and professionals alike are sharing their experiences, breaking news and all of the goings-on in and around the convention center. And now they'll be able to connect for free at various locations throughout downtown San Diego."
Attisha said the 100 additional hot spots downtown are part of a much larger, multi-million-dollar effort to expand its Wi-Fi network for its customers. In all, the company is building 400 hot spots on top of the 300 to 400 it already has, Attisha said.
"We're leveraging what we've already spent under the ground, which has been billions of dollars," he said.
While the new Wi-Fi access points will no longer be complimentary after July 24, Attisha said those who are not Cox Internet customers will be able to have free access for one hour a month.
http://www.sandiegouniontribune.com/news/2016/jun/21/free-wifi-hotspots-downtown-july-comic-con-all/
To learn more about Cox WiFi Hotspots, click here.
---
June 27, 2016
Behind The Scenes of Ace Parking With Owner & Managing Partner Keith Jones
Keith B. Jones is the Owner & Managing Partner of Ace Parking.  Founded in 1950, Ace Parking is the largest and most prestigious family owned parking company in North America. Mr. Jones has led the corporate strategy, operations and moral compass for Ace Parking since 2004. Jones is responsible for the strategic and creative vision of the company, along with ensuring the company's growth and profitability. Keith B. Jones is passionate about honoring and improving his family's business for Ace's clients and valued team members.
We interviewed Keith about his experience growing Ace Parking and we're sharing his responses here today.
ParkingExec (PE): Your grandfather started Ace Parking over 60 years ago. Did you always want to get involved in the family business?
Keith Jones (KJ): From the time of elementary school onward, I have been involved with my family's business: Ace Parking.  Back then, I would separate tickets by color and rate.  I guess you could say that I was a Parking Auditor!
Throughout the remainder of my schooling years, I worked at large special events like MLB, NFL, NBA and NCAA games at facilities for which Ace Parking had the parking management contracts.
My passion for managing the flow of people into & out of places came from my grandfather and father who taught me how to study and improve upon the art of special event parking.
PE: Based on what I've read on your personal website you like to stay involved in the day-to-day operations of the company. I see that you even have your personal contact information listed on the company website. Why is it so important to keep yourself accessible?
KJ: Being approachable, available to, and reliable for my team and clients are among my top priorities.  I believe that this accessibility sets the tone for the type of leader one is.  Company culture is very important to me.  If I expect my company and facilities to be approachable, available, and reliable, then I better be as well!
Lead by being the leader you would want to have and conduct yourself as you would want your team to conduct themselves when they are wearing their Ace branded uniform.
As a family company that started in Southern California back in 1950, over time we've learned that there truly is a difference when you have an owner who is involved and hands-on.  Nowadays, my competition in the parking industry across North America are all faceless companies interested in their stock price and financial returns for their investors.
My goal is simple – be the best in the parking industry and pass this business onto my children.
PE: What does an average day of work look like for you?
KJ: My days are always busy.  I love to work and be involved.  I wake up early, go to the gym, then play with my daughter and am then in the office before 8am. My day is 100% focused on taking care of my clients, as well as clearing obstacles that are interfering with my team from executing their goals and responsibilities at Ace Parking.
I spend a lot of time on the road as well, as Ace Parking has operations in almost 30 markets from coast to coast across North America.
PE: How would you describe your management style? What can other parking leaders learn from you?
KJ: My management style is always evolving, as I am always learning how to become a more dynamic leader and business owner.  I love to read, listen and learn about the latest innovations and technologies so that I can apply them at Ace Parking.  My objective for myself is to be always gracious, ethical and humble.
PE: Something that makes Ace Parking unique is that you partner with over 50 philanthropic organizations. How has that program developed over time?
KJ: My family believes it is important to be good stewards of the communities in which we do business and to be a good corporate citizen.  Ace Parking is involved with many philanthropic organizations, as I wish to continue the tradition that both of my grandfathers and my father taught me to put community before self.
It's an honor and a privilege to be able to use the platform and visibility of Ace Parking as a way to bring awareness to important causes.
PE: What is one philanthropic partnership that you are particularly excited about? Why?
KJ: Since 2014, a cause that Ace Parking has embraced is called PARK FOR PINK.  It's intended to continue as an annual program designed to raise awareness, generate funds and motivate the community to help find a cure for cancer and support those who are struggling with the disease.
This public campaign began with a private struggle, as PARK FOR PINK was actually inspired by my own family's fight against cancer, as well as the many team members in our larger Ace family who are either directly or indirectly affected by this disease.
PE: I also see that environmental sustainability is very prominent on the Ace Parking website. What is the biggest Green initiative you are working on currently?
KJ: Innovative and environmentally progressive facility maintenance programs are important to Ace Parking.  We are routinely offering new options to our clients and facilities to embrace environmentally sustainable practices.  Ace Parking has an internal company-sponsored committee focused on green initiatives and how best to incorporate them into our parking operations.
We focus on innovative and environmentally progressive elements companywide to make a positive impact, such as with our uniform choices, cleaning methods, lighting, and paper products.
PE: The parking industry is experiencing a technological boom, with new hardware and software developing constantly. How have you successfully leveraged new tech in your operations?
KJ: Ace Parking is leading the parking industry through creative thinking and innovation implementation.  Over the past five years, we have more than quadrupled our IT resources and budget.
This purposeful focus on creativity and innovation has distinguished Ace Parking as the technologically advanced parking company in the industry.
We have developed and deployed new modern systems that focus on cash collection controls, internal and client reporting methods that make it easier to be transparent in real-time, online marketing and monthly parking options for our facilities that have increased parking income and make it easier for our customers to access parking stalls.
Our efforts to pursue, develop and embrace new technology are an intentional and daily focus.
PE: Do you feel like there are still those who are resistant to the shift towards technology in the parking industry? How would you respond to them?
KJ: Most parking companies don't live up to their promises of technology.  They just produce a bunch of glossy photos that their marketing departments generate.  It's too bad, but it's true!
PE: What do you think will be the biggest change in the parking industry in the next five years?
KJ: Changes in our everyday culture will continue to affect and dictate changes in the parking industry.  Mobile based GPS, payment, and access will continue to broaden the way we park.  Gates and tickets will slowly become a thing of the past.
PE: What piece of advice would you give someone just starting their career in parking?
KJ: Come and work with a family-owned parking company that is dedicated to preserving and improving its legacy of being the best parking company in the industry.  You can have a real career at Ace Parking.  If you promise to live up to our company motto of "Every Thank You Earned," I promise to be the best leader you will ever work with and for. Together, a tight-knit team is unstoppable.
http://parkingexec.com/behind-the-scenes-of-ace-parking-with-owner-managing-partner-keith-jones/
For more information on Ace Parking visit: www.aceparking.com
---
June 17, 2016
NRG  – Who We Are
NRG is the country's leading integrated competitive power company with a diverse generation portfolio that includes natural gas, coal, nuclear, wind and solar. From this base springs an equally diverse range of energy approaches to power all types of businesses forward — reliably, efficiently, sustainably, and, most of all, affordably. For NRG, it's not about delivering one type of power, but the right type of power – power backed by an equally flexible range of financing and installation options to ensure that what's recommended becomes what's delivered.
Energy solutions as efficient as they are reliable
The NRG family offers a portfolio of energy solutions that include a growing variety of efficient and reliable distributed energy facilities. This range of possibilities includes NRG Energy Centers and combined heat and power (CHP) plants. Both have a strong track record of success, yet each is unique in configuration and services offered.
District Energy Centers
District energy systems are energy-efficient, highly reliable and environmentally sound methods of heating and cooling buildings. These systems employ emission controls that help improve air quality, with no need to store fuels, chemicals or refrigerants on-site. In fact, buildings located on district energy systems are safer for the environment.
NRG and the city of San Diego
In California, the mission of a district energy system can be seen at NRG Energy Center San Diego. Here, we supply district cooling to buildings in a 4-square-mile service area in the city's central business district.
It's a mission we deliver seriously … not to mention efficiently, reliably and flexibly. The result is a comfortable, air-conditioned work environment for San Diego businesses since 1971. Our newest customer is the new 704,000-square-foot San Diego Central Courthouse – one of nearly 20 different buildings we serve.
The story of NRG Energy Center San Diego is tied to the fabric and dreams and commerce of the city. And like downtown, it's a story that continues to evolve and grow.
Simply put, it's how our energy is focused on you.
For more information on NRG visit: http://www.nrg.com/
---
May 16, 2016
The Downtown San Diego Partnership is thrilled to welcome the San Diego Union-Tribune back to Downtown San Diego. The Union-Tribune first moved Downtown in 1870, when Alonzo Horton constructed a two-story building on the corner of 4th and Broadway for several companies. The newspaper returns to Downtown San Diego today to begin operations at 600 B Street.
U-T Back Downtown
Newspaper returns to its roots after 43 years in Mission Valley
By Roger Showley | 6 a.m. May 16, 2016 | Updated, 10:51 a.m.
Today, The San Diego Union-Tribune will complete its move from Mission Valley, its home since 1973. Much has changed in the newspaper industry and the city.
Computers have replaced typewriters. Digital has replaced film. There's a website, Spanish-language publications called Hoy San Diego and Vida Latina (both in vidalatinasd.com) and a series of community papers. The Union and Tribune merged in 1992, leaving the city with one major daily. Today, the U-T is printed in Los Angeles and owned by Tribune Publishing based in Chicago.
In the same period, downtown has been revitalized by tony high-rises and meticulously restored historic sites. Thousands of urban-minded renters and condo owners have turned it into a vibrant community reinventing itself as San Diego's high-tech, innovation hub.
The newspaper staff is excited by a change of place.
"While San Diego is now much bigger and far more decentralized, returning to the center where we can immerse ourselves in its day-to-day operations will result, I believe, in more thorough, colorful news coverage and more insightful commentary," said columnist Diane Bell.
Bell started her career at The San Diego Union in the early 1970s as a trainee at the U-T's building at Second Avenue and Broadway, just west of the newly expanded Horton Plaza park.
Her colleague and sports columnist Nick Canepa delivered papers as a youngster from his home in Little Italy and joined the Evening Tribune in 1971.
"It's great for a newspaper to be downtown," he said. "The only problem is parking and it was certainly a major problem at the old building."
He said staffers used to hunt and peck for parking spaces and racked up hundreds of parking tickets when they forgot to feed the meter.
"I remember we had a copy kid spend a weekend in jail because he hadn't paid them," he said.
In those days, Tribune writers would knock off at 3 p.m. and head for The Press Room bar across Second Avenue in the Spreckels Theatre Building.
Since 1983, it's been the home of the much more upscale Dobson's Bar and Restaurant, known for its "mussel bisque en croûte."
David Cramer, the U-T's longest-serving employee, started in June 1970 as an 18-year-old part-timer while working his way through San Diego State University. By the time he went full-time in 1974, he and the rest of the staff had decamped to 350 Camino de la Reina at the crossroads of Interstate 8 and state Route 163.
"We were excited because it meant we'd have a roof that didn't leak, parking we could just pull into and it was really nice," Cramer said. "It was closer to where I lived (in La Mesa). " Everybody was pleased to be moving into a new building. We had push button phones!"
But now, after a week in the new location downtown, Cramer, coordinator of circulation field support, is glad to be back.
"Mission Valley parking was nice, but pretty much once you were in the building, you were just in the building, dealing with other employees," Cramer said. "And now downtown, you walk out the door and you've got all society around you: lawyers, business people, homeless — just quite a flow of people and traffic and everything. It's kind of nice, in a way. I like it."
READ THE FULL ARTICLE:
 http://www.sandiegouniontribune.com/news/2016/may/16/union-tribune-downtown/
---
May 5, 2016
Horton Plaza Park Hosts Grand Re-Opening
Iconic city-owned facility to be managed and programed by Westfield
The highly anticipated grand re-opening of Horton Plaza Park took place on May 4, 2016 to officially launch Downtown San Diego's newest and most exciting outdoor venue. Located in the heart of Downtown San Diego adjacent to Westfield Horton Plaza Shopping Center, Horton Plaza Park will serve as a dynamic urban plaza where San Diego residents and visitors can gather or rent for major celebrations and events.
"The expanded Horton Plaza Park is going to be a true civic treasure." said Mayor Kevin L. Faulconer.
The grand opening featured a two-part celebration, highlighting the start of a 25-year public-private partnership between the City of San Diego and Westfield. The afternoon portion consisted of a ribbon-cutting with the Mayor and community leaders, followed by a larger community celebration in the evening. The community celebration included live music, art and entertainment, featuring an internationally renowned performer and artist.
Horton Plaza Park will be a highly visible and utilized public resource for both visitors and residents to enjoy. Open seven days a week, free of charge, the 53,000-square-foot city-owned facility will be programed and managed by Westfield, who will be responsible for activating the Park with 75 events initially, growing to more than 200 events each year. Daily activities will range from lunch time concerts to cultural festivals, holiday celebrations, weddings and movie screenings. To kick-start programming at the Park, Westfield will launch two programs – "Plaza Play" and "Park Unplugged." "Plaza Play" will feature life-size games and will encourage community members to engage with each other through friendly competitions and challenges. "Park Unplugged" will feature local musicians performing in the Park.
"This is not a 'park' in the traditional sense, rather a world-class urban plaza and entertainment destination in the heart of the Gaslamp," said Westfield's Vice President of Development Kim Brewer. "Westfield is committed to working with local organizations to ensure the Park celebrates San Diego's diverse culture, spirit and community traditions."
The 53,000-square-foot park contains a number of first-class amenities, including:
Three food and beverage pavilions, with partners including Starbucks and Sloan's Ice Cream (as well as a trellised patio and seating at each Pavilion)
The Irving Gill Fountain, one of San Diego's oldest civic landmarks that has been restored to its original condition from the early 1900s
An amphitheater perfectly suited for live performances, an interactive pop-jet fountain and eight iconic 23-foot tall color-changing light sculptures
Horton Plaza Park will play host to recreational, cultural, educational and promotional events for the community, with a capacity of more than 5,000 people. In addition to being a public facility, Horton Plaza Park will be available to rent for private functions. Westfield has launched an events calendar reservation system on its website to manage requests. Westfield and the city are finalizing a non-profit rate program to encourage local civic and community organizations to utilize the venue.
For the latest news and information, please visit www.hortonplazapark.com, call 619.544.8180 or follow Horton Plaza Park at Facebook.com/HortonPlazaPark and on Instagram at @HortonPlazaPark.
---
April 29, 2016
 BNIM San Diego Moves to East Village
Designers of Makers Quarter Create Laboratory for Innovative Workplace
San Diego, Calif. (April 25, 2016) — BNIM, a national architecture and planning firm located in San Diego, has announced its relocation to San Diego's East Village. The move to the Legend Building, adjacent to Petco Park, quadruples the firm's office space to address growth and expansion in the San Diego region.
The 4,900 square foot office provides three zones: social gathering and event space with an open work café that is the heart of the space; collaborative space with six meeting areas, each one providing a different type of meeting environment; and focused space where employees, all on laptops, can work in a benching environment or smaller "focus" rooms.
In the spirit of giving back, BNIM San Diego donated a portion of their workplace to house the office of the San Diego Green Building Council as an incubator for collaboration and research opportunities between the two organizations.
"This space spoke to us immediately because it allows us to host industry and community partners for events. Our employees can step outside the front door to take advantage of the green space to have lunch, throw a Frisbee, and hear the cheers of a ballgame," says Matthew Porreca, Principal and Director of the San Diego office. "It's a space that is very connected to the pulse of San Diego, which is where we want to be."
The firm sought to find a workplace that would act as a laboratory for testing principles related to the firm's expertise in human-purposed design and the design of resilient workplaces. Employees are wearing bracelets that sense the impact of daylight on their performance and vital signs. The results of this project are being evaluated as part of a research partnership with the Salk Institute to test the effects of daylight on human health and wellbeing.
In addition, the space has many sustainable features, such as a dedicated outside fresh air system, overhead fans, night purging exposed thermal mass, water-minimizing fixtures, occupancy plug load devices, 100% LED fixtures to reduce the lighting density by 58% below Title 24, access to daylight and views, as well as daylight and occupancy sensors to manage energy use. The workplace environment has been designed with attention to employee wellness. The office is designed to be agile in order to adapt to new technologies and test new ways to work; it includes a "design lab" for testing the latest workplace furniture solutions from manufacturers.
The new location will also accommodate growth for BNIM San Diego, which has grown by almost 60% in the last year and now employs 16 people locally. The firm's current projects include: several projects at the transformative Makers Quarter with L2HP, including the Maker's Quarter Master Plan, Block A Mixed Use Development, Block C Superblock and Block D Collaborative Office Hub; the Housing and Community Development Offices; the Juvenile Court District Attorney's Offices for the County of San Diego; Palomar College Maintenance and Operations Building (aiming to achieve Net Zero Energy); and the recently completed Pacific Center Campus Development, which received the People's Choice Orchid Award from the San Diego Architectural Foundation.
BNIM is operating at the new address of 797 J Street, San Diego, Calif. 92101. BNIM signed a 6-year lease with Bosa.
About BNIM
BNIM is one of the most important design firms working to redefine practice and building performance in architecture today. As early pioneers of sustainability in the building industry, BNIM continues to shape the national and global design conversation on design excellence and delivering transformational results for clients. The firm received the 2011 AIA National Architecture Firm Award for their work. In San Diego, the firm is working on transformative projects that touch the fields of architecture, planning, landscape, education and workplace design. The firm has offices in San Diego, Calif.; Los Angeles, Calif.; Kansas City, Mo.; and Des Moines, Iowa; and is incubating offices in Washington, DC and Madison, Wis. For more information visit www.bnim.com.
Pacific Center Campus Development
BNIM led the campus master plan and conceptual design process for the Pacific Center Campus Development, a pedestrian-centered development for a Fortune 500 tech company. As part of the master plan, BNIM designed two buildings for the campus.  The Research and Development Building contains office and dry laboratory space for collaboration and prototyping, and the Amenities Building provides catering/café, health center, lecture hall, multi-purpose learning, and conference space to its employees. These buildings are designed to optimize passive design strategies to achieve high-performance results and provide a high-quality interior workplace environment to boost employee productivity. The buildings are designed to harness daylight and utilize natural ventilation; a high-performance façade design controls heat gain and glare. The new buildings are integrated into an overall campus environment that is organized around sensitively scaled public spaces, public amenities, and circulation systems that connect the buildings to the canyon amenities beyond the immediate site. The campus experience is a dynamic social environment fostering a spirit of community on the new Pacific Center Campus.
Makers Quarter™
Makers Quarter™ is both a place and a collective ethos inspired by the Maker Movement, which provides a creative environment to inspire entrepreneurs and artists to challenge convention and achieve new heights in innovation. This 5-block development in downtown San Diego will become a community with the conscious development of lifestyle, residential, and business properties, designed to reflect the artistic integrity of the neighborhood. BNIM completed the overall Makers Quarter master plan and conceptual design for Block A, Block C and Block D. Block A is a 35-story mixed-use building, comprised of residential, commercial, retail, and entertainment spaces. Block C is the linchpin of this new cultural hub. It is composed of 29-story office tower that provides 700,000 SF of creative office space atop 48,800 SF of ground-level retail space, including the historically significant Coliseum. In creating an authentic, dense, and sustainable urban space, the project also uses 45,000 SF of the ground level as a dedicated public space and cultural hub, which amounts to three quarters of a standard San Diego City Block. Block D is scheduled to break ground summer 2016 and was designed as an innovative collaborative office hub. The 6-story structure will complement the other high-rise structures that will contain ground-floor retail and flexible upper-level offices. Block D is also being designed to achieve LEED Platinum certification and Net Zero energy office suites, which will be the first in downtown San Diego. This innovative project incorporates natural ventilation and active sunshades to promote daylighting and minimize solar heat gain to promote a highly productive and innovative workplace environment.
---
April 22, 2016
Rudolph and Sletten Tops Out New San Diego Central Courthouse
Rudolph and Sletten, Inc celebrated the topping out of the new San Diego Central Courthouse on Wednesday, April 20, 2016. The celebration recognized the exceptional work of the construction crews and project partners as the 25-story, $555 million project was assembled to its full height.
When occupied in early 2017, the new Courthouse will combine several of the Superior Court of San Diego County's spaces and offer a full-service facility for criminal, civil, probate, family, and small claims matters, with space for court administration, security operations, and holding areas.
Howard Mills, LEED AP, DBIA Professional, Project Executive for Rudolph and Sletten, Inc, says, "A project of this scope has hundreds of subcontractors and craftsmen who provide outstanding workmanship from the grand design to the smallest detail. The topping out is our opportunity to recognize all of their hard work in making this project come to fruition." For more information, visit: www.rsconstruction.com.
---
March 24, 2016
San Diego Mayor Commemorates "EMMES Realty Day"
City of San Diego Mayor Kevin Faulconer presented EMMES Realty Services Chairman and CEO Andrew Davidoff with a proclamation that marked March 21, 2016 as "EMMES Realty Day" in honor of the company's significant contribution to real estate investment, improvements and economic opportunity in downtown San Diego.
Additionally, EMMES showcased its latest investment – 701 B Street's renovated lobby and upcoming Crunch Downtown Fitness Center.
EMMES has renovated and established more than 1.45 million square feet of premier office space in Downtown San Diego through a real estate portfolio that includes the following properties that house 139 companies in a wide array of professions and offer unique amenities geared to the workplace of the future:  701 B Street, 707 Broadway, 1 Columbia Place and 2 Columbia Place.
For more information about EMMES, visit www.emmesco.com.
---
February 5, 2016
Local Husband-and-Wife Team Opens a PostNet Center to Serve Local Small Businesses
With the opening of their PostNet Neighborhood Business Center, located in Downtown San Diego at 600 West Broadway, June and Will Green are on a mission to help local small businesses.
PostNet provides custom graphic design services, small and large format printing, marketing/promotional materials, and shipping services all under one roof. They cater to small-business owners, entrepreneurs, and busy local consumers. In addition to digital design and printing, their professional business services include document finishing, private mail boxes, and granting their customers the freedom of choice as an authorized shipping outlet for FedEx, UPS, DHL and the U.S. Postal Service.
June, Will, and their staff take a consultative approach in working closely with each client to identify their objectives, build upon their ideas, and develop the best solutions to meet their needs. "We can design your marketing collateral, print your presentations, and handle your packing and shipping" says Will, "Everything a new start-up or existing business needs to get in front of potential customers."
Will is currently in the Navy Reserve and has served with the Marine Corps and Navy for almost 26 years. Nearing retirement from the military, he and his wife June set out to open their own business. June's professional and educational background prepared her to run her own business. She has a degree in business and has experience managing hotels in Korea and Australia, among other roles including interpreter and paralegal.
They chose the Downtown area because, "while living downtown in the 90's I'd seen so many positive changes…changes I wanted to be a part of" said Will. As the Downtown improved he saw a need and opportunity for small businesses to thrive. Unfortunately, while researching various business opportunities, they learned of the many headaches and challenges small businesses face. The pair quickly came to understand the need for a concept like PostNet and decided to open one to help small businesses in their community get back to their passion rather than having to deal with the marketing, printing, and/or shipping aspects.
"Whether entrepreneurs are seeking design, printing, or shipping solutions, we're filling the void for quick convenient services at a fair price…services that are essential to the success of small businesses," says June. "It's rewarding to know that we are helping to build economic prosperity and entrepreneurial growth in our local business community."
For more information on PostNet, visit http://www.postnet.com/san-diego-ca260
---
January 27, 2016
"Murals Celebrate an Urban Tech Future"
The 18-story office tower at 707 Broadway that opened in 1962 as a bank headquarters is morphing into a techno-hub.
The new owners, EMMES Realty Services, which bought the building two years ago for $37.6 million, are spending $3 million in improvements. They include such millennial-attracting amenities as a basement game room and fitness center, a ground floor with a souped up patio and lobby, a trendy sandwich shop, 30 electric vehicle charging stations and bike storage space in the garage. A Chase bank branch remains in business.
But for passersby the big change is a series of future technology-themed murals by local artist Christopher Konecki that signal the shift in direction for what was originally called Home Tower — "a fine example for a financial center," as one of the speakers said at the grand opening 54 years ago.
"We wanted something that mirrors the exciting things that are happening in East Village," said EMMES Vice President Jordan Johnson. "The urban transformation really resonates more with innovation-based firms."
Konecki, 29, who has curated art projects in the Makers Quarter section of East Village, said he wanted to include allusions to technology of the past — such as a TV, radio shop and phonograph — and possibilities in the future, such as replaceable limbs and borderless communications.
"I'm asking the question, what does it really mean to be human," the Golden Hill resident said.
Covering 9,300 square feet on three sides of the building's garage, the $35,000 mural project is expected to last for about 20 years. It consists of:
▪ "Connected," 5,610 square feet on the north side of the rotunda between Seventh and Eighth Avenues. A section of the San Diego-Coronado Bridge symbolizes connectivity between people, Konecki said. "The idea is that the whole cityscape is floating and not really dependent on physical locations."
▪ "Unveiling," 1,875 square feet on the Seventh Avenue side of the garage, where a female figure's robotic arm reaches into space, just as Michelangelo's "Creation of Adam" at the Sistine Chapel reaches out to God, Konecki said. But in this case, the figure is reaching out to the possibilities of technology.
▪ "Age Old Question," also 1,875 square feet, on the Eighth Avenue side. The male figure looks through a periscope as if he is looking inside himself for the meaning of life.
In a further effort to rebrand the building, a giant "707" and "Seven 0 Seven" appear at the top of the building with a supergraphic diamond pattern spilling down the side. LED lighting bathes the building in changeable colors at night. In response to last month's December terrorist attacks in Paris, EMMES ordered up a red, white and blue lighting homage to the French flag.
In other older cities, tech companies set up shop in "cool" brick-and-timber buildings. But San Diego has relatively few such structures, leaving building owners to attract the companies through other means.
According to Cushman & Wakefield leasing agent Steve Center, the 707 building is getting tenant attention for its physical transformation, its dog-friendly policy and a tenant improvement package that accommodates open-beam-ceiling concepts, as well as the new amenities. Adding exterior murals can remove the "sterile" feeling of modern high-rises.
"These companies are forward looking in nature and they see the future and want to get in early," Center said.
The building is currently 64 percent occupied and the posted asking rents average $2.31 per square foot per month, up from the sub-$2 level previously, according to the CoStar Group's building analysis.
One tech company that is sold on 707 Broadway is CPC Strategy, an 8-year-old digital marketing company whose 52 employees are set to move from Mission Valley at the end of March.
"The reality is that to attract a workforce in their early career and mid-career, downtown has a lot more amenities in the ease of transportation, food options — it's a lot more vibrant than Mission Valley," said Nii Ahene, chief operating officer.
He said 707 Broadway appealed because it was at the edge of East Village and the Gaslamp Quarter and had large column-free, 9,200-square-foot floorplates that suit CPC's open-office, collaborative workplace philosophy. The new features represented a "pleasant surprise" and the company signed a lease that was comparable to other Mission Valley rates except for parking. But the company is subsidizing its employees' parking charges.
"It was an economic decision like everything else," he said.
As for concerns about homeless encampments at the nearby post office and nearby former Central Library, Ahene said about 20 percent of staff already lives downtown and the remainder are familiar with the problem.
"If you're in an urban area, you have to deal with it and the hope is (downtown leaders) can find creative solutions to address that over the next couple of years," he said.
About EMMES:
EMMES is the second largest commercial office landlord in Downtown San Diego.  The Downtown EMMES Portfolio is comprised of 701 B, 1 Columbia Place, 2 Columbia Place and 707 Broadway (known as "707").  EMMES Realty Services LLC is a member of the EMMES Group of Companies.  Founded in 1992, with offices in New York and California, the EMMES Group of Companies and its affiliates are engaged in principal real estate investments, funds management and real estate services.  For more information about EMMES, visit www.emmesco.com.
---
November 20, 2015
"EMPOWERING PEOPLE TO DO EXTRAORDINARY THINGS"
Woodbury University, founded in Los Angeles in 1884, announces the arrival of a new president with a distinguished record of achievement in academia and international business as well as the launch of two new master's degree programs at the San Diego-Barrio Logan site of its School of Architecture. Both events are unfolding against the background of an emerging commitment to expanding in the bi-national mega-region encompassing San Diego and northern Baja California.
On November 16, Dr. David M. Steele-Figueredo became the university's new president after serving for seven years as dean of San Jose State University's Lucas College & Graduate School of Business. Prior to his academic career, Dr. Steele-Figueredo held a variety of senior positions at Chevron, culminating in his appointment as president of Chevron Latin America. He later joined Online Resolution as interim CEO, followed by service as dean of business at Fairleigh Dickinson University and the Florida Institute of Technology.
At San Jose State University, Dr. Steele-Figueredo was instrumental in raising almost $40 million in its recent capital campaign.
MASTER'S DEGREES IN LANDSCAPE AND INTERIOR ARCHITECTURE
The new, progressive Master of Landscape Architecture (MLA) degree, scheduled to enroll students in San Diego in 2016, will train practitioners to design for climate change and a transforming urban landscape. The curriculum will provide tools to work with the cultural and ecological landscape and address issues between society and nature. The program will focus on rising sea levels, water and resource scarcity, severe weather patterns, wildlife displacement, human health consequences, and related challenges.
The MLA joins the established Master of Architecture (MArch) program and the upcoming Master of Interior Architecture (MIA) degree in San Diego, along with a new San-Diego-based Master of Leadership program.
For more on the MLA and Woodbury education, follow this link: https://vimeo.com/145958080.
Join us for the MLA launch reception from 5 to 7 p.m. on Saturday, December 5 at Woodbury University San Diego, 2212 Main Street, San Diego, in Barrio Logan. To confirm, please e-mail nina.reyes@woodbury.edu.
WOODBURY UNIVERSITY IN THE BI-NATIONAL REGION
In a historic departure, Woodbury University has begun pursuing plans to expand significantly in the bi-national region by diversifying academic programs beyond architecture and increasing enrollment fivefold or more from its current base of approximately one hundred. Working since 2014, it has laid the groundwork with frequent study visits and by building a network of friends, allies, and collaborators in civic, business, governmental, educational, and other entities on both sides of the border. The university aspires to develop a strong orientation toward the international border as a phenomenon in itself, bi-national relations in the region, and with Mexico and Latin America. Earlier this month it became active partner with Tijuana Innovadora in helping to showcase the city's outstanding culture and business economy.
A LIBERAL ARTS-BASED PROFESSIONAL SCHOOL
Woodbury is a fully accredited, non-profit institution of higher education—the oldest in southern California after USC—with graduate and undergraduate degrees in business, architecture, transdisciplinarity, and media, culture, and design. Last year, its business school earned the highest possible level of international accreditation.
It currently offers undergraduate majors in accounting, animation, architecture, communication, fashion design, fashion marketing, film making, game art and design, graphic design, interdisciplinary studies, interior architecture, management, marketing, media technology, politics and history, and psychology.
Woodbury established a location of its School of Architecture in San Diego in 1998 and moved to a skillfully remodeled industrial building in Barrio Logan in 2008. More than 500 Woodbury graduates have studied at the San Diego location, with more 100 working in San Diego County at present.
For a light, quick look at Woodbury University San Diego today, please click here:
For further information, do not hesitate to contact Vincent Blocker at (818) 252-5229 or vincent.blocker@woodbury.edu.
---
November 13, 2015
The Miller Hull Partnership's design reputation is based on simple, innovative and authentic designs. Since its inception in 1977 the firm has pursued a rigorous logic in its design approach in the belief that architectural programs are best solved directly and efficiently. Throughout the firm's history Miller Hull has received over 200 design awards and has been published in numerous national and foreign design journals. Miller Hull's design philosophy centers around two essential architectural ideas. One is to use a building's structure to create a significant place within a site, and the other is to be sensitive to climate and to respond to environmental demands with the form of the building. Miller Hull is a firm that will always work within the modern tradition, and recognizes modern ideology as evolving and not static. Miller Hull strives to make a significant contribution to a better modernism.
IDEA 1
The $90 million project is a pivotal development in the area bringing a mix of apartments, live/work lofts, restaurant and retail options, and creative office space built around The Hub, an open communal gathering space. IDEA1 occupies a full city block, bounded by E, F, Park and 13th Streets where construction barricades have been erected featuring an original artistic design composed by Visual Asylum and brought to life by students from the City College Graphic Design program, Urban Discovery Academy and the NewSchool of Architecture and Design. Construction on IDEA1 will be in full-swing by mid-November.
IDEA1 will be a mid-rise, six-story complex featuring 295 studio, one- and two-bedroom apartments with 25 ground floor live/work lofts and 13,000 square feet of commercial space. Designed by The Miller Hull Partnership, IDEA1 will integrate into the existing neighborhood while enhancing the community character with its approachability, creativity and transparent and colorful design elements. IDEA1 will create a more inviting pedestrian experience in the area, provide new restaurants and retail and communal spaces that will benefit IDEA1 residents and its neighbors.
San Diego Zoo, Africa Rocks
As the San Diego Zoo approaches its centennial in 2016, it is planning the largest expansion in the organization's history: Conrad Prebys Africa Rocks. This 9-acre exhibit complex will transform Dog and Cat Canyon, one of the oldest areas of the Zoo, into an engaging adventure through many of Africa's most extraordinary and diverse landscapes. Leopards, zebras, African penguins, several species of lemurs, hamadryas baboons, ground hornbills and many more animals will live in habitats that resemble their native homeland. Africa Rocks will cost $68 million to build and is fully funded by private donations. Africa Rocks will be a unique experience for children and adults alike. It will provide them with amazing opportunities to explore the wonders of Africa.
www.millerhull.com | Facebook | Twitter
Caroline Kreiser, AIA, Principal, ckreiser@millerhull.com
Amber Mauer, Business Development Director, amauer@millerhull.com
---
November 6, 2015
Banner Bank
AmericanWest Bank Merges with Banner Bank
On October 1, AmericanWest Bank merged with Banner Bank. The blending makes Banner Bank the 12th largest publicly held bank on the West Coast (NASDAQ GSM: BANR). With nearly $10 billion in assets and more than 200 branches in a five-state region, Banner Bank is well positioned to meet the financial needs of businesses, families and individuals.
The Banner brand is new to California but the bank is celebrating its 125th anniversary and we are excited to introduce this well-respected bank to the region. With the AmericanWest Bank branches becoming part of Banner Bank, we now have 37 locations in California, including 11 in the San Diego area—all with the same great bankers serving you.
In fact, our highly-experienced bankers continue to offer uninterrupted service to our clients, including our signature consultative approach to helping clients reach their financial goals. We are utilizing our strong capital position to continue meeting the capital needs of the region.
The merger united two banks with long histories of contributing funds and volunteering thousands of hours each year to improve the quality of life in the communities they serve. In 2014, more than 80% of employees for the combined organization volunteered more than 52,000 hours in their local communities and that commitment will continue.
For information and banking solutions for your business, contact Commercial Banking Manager Steve Espino at 858-625-8860. His office is located at 4445 Eastgate Mall, Suite 110, San Diego.
Member FDIC
www.bannerbank.com
www.facebook.com/bannerbank
Longtime Downtown Banker Remains Committed to Region
For DSDP Board Member Steve Espino, the development of Downtown San Diego has been an exciting parallel to his more than 25-year career as a commercial banker in the region. From the construction of Horton Plaza to opening day at Petco Park, Steve has enthusiastically supported San Diego's progress and innovation. That dedication has only grown now that AmericanWest Bank has merged with Banner Bank, where Steve serves as Commercial Banking Manager.
"I am eager to take part in the next phase of San Diego's growth with the support of Banner Bank's strength, stability and commitment to the communities we serve," Steve said.
---
October 1, 2015
Dentons
McKenna Long & Aldridge merges with Dentons US
On July 1, 2015, Dentons US and McKenna Long & Aldridge merged, expanding Dentons' geographic reach and strengthening our talent base in the US. Dentons offers clients the full range of business and dispute resolution services through approximately 3,000 lawyers and professionals, 1,100 of whom are located in the US, delivering integrated, multidisciplinary cross-border solutions at any one of our 80-plus locations in 50-plus countries.
Although global in reach, the Firm's history reaches back more than 130 years in the San Diego region. Dentons' roots in the community date back to 1873, when Moses A. Luce opened his law practice and joined the bankers, builders and visionaries who shaped California's first city.
Dentons is driven to provide a competitive edge in an increasingly complex and interconnected world. A top 20 firm on the Acritas 2014 Global Elite Brand Index, we are committed to challenging the status quo in delivering consistent and uncompromising quality in new and inventive ways. With a legacy of legal experience that dates back to 1742 and builds on the strengths of our foundational firms—Salans, Fraser Milner Casgrain (FMC), SNR Denton and McKenna Long & Aldridge—the Firm serves the local, regional and global needs of private and public clients.
Dentons has no dominant national culture or single headquarters. This approach benefits our clients as they compete in their particular industries and in global markets, providing legal talent from diverse backgrounds regardless of geography.
While this polycentric approach may sound like some futuristic vision, it is happening today—in San Diego and elsewhere. Marketplaces that were out of reach only a few years ago are today eager to have San Diego usher in this new era of commerce. Witness, for example, how quickly our city's biotech sector has blossomed in a relatively short time period. According to a recent study, nearly 450 technology and life sciences startups were founded in San Diego just last year. These companies emerge here and quickly flourish on the international scene.
San Diego's development depends more than ever on attracting international partners to our city's collaborative, innovative culture and bi-national economic engine, and Dentons is excited to be a part of this growth. Earlier this year, the Firm launched NextLaw Labs—a collaborative innovation platform focused on investing in, developing, and deploying new technologies to transform the practice of law and benefit our clients.
Dentons is a global firm like no other, with a deep commitment to the San Diego business and cultural community. Our comprehensive US capabilities are second to none—now with North American offices in all major economic centers, across four time zones, in every legal discipline.
---
September 24, 2015
KCM Group
KCM Group Completes Urban Discovery Academy
Innovative Charter School Given Permanent Home in East Village
KCM Group, a leading construction management firm based in San Diego, recently completed work on the Urban Discovery Academy, an independent charter school that promotes project-based learning, community service, Spanish-language instruction, technology and the arts. Housed in temporary venues since its opening in 2008, the new $10.5 million campus provides a permanent home for this K-8 school.
KCM Group served as the Urban Discovery Academy's project manager. They handled all aspects of the bond funding, design management and construction management for the new school. This state-of-the-art, 36,000 square foot facility combined the renovation of an existing classic structure with new construction that is designed to inject a modern, architecturally unique design that makes its mark on the neighborhood.
Urban Discovery Academy is located in the I.D.E.A. district of San Diego's East Village neighborhood. I.D.E.A. stands for innovation, design, education and the arts, and the district was formed to promote projects that support the ability to live, work, shop and get educated in the walkable environment. Gordon Kovtun, Principal at KCM Group stated, "We firmly believe that this new educational facility will fulfill the demands of existing and future residential development in the East Village"
"KCM Group was invaluable to us on this project," said MaeLin Levine, president of the Urban Discovery Academy's governing board. "They handled everything from the bond financing to construction, and brought the project in on time and on budget. I highly recommend KCM Group. If/when we ever do another school, they are our first call. In my opinion they are exceptional, looking out for us at every step of the way. Delightful, smart, knowledgeable, I can't say enough positive things about them."
The school incorporates an open design, rooftop pavilion and outdoor playground that capture views of its urban environment. Bright colors and modern furnishings contrast with the vaulted ceilings and exposed brick of the original historic building to spur the creativity and innovation of both students and teachers.
About KCM Group
KCM Group is a full-service owner's representative and consulting firm based in San Diego.  Founded in 2000, KCM Group provides comprehensive construction management services for government, commercial, non-profit and residential clients.  KCM Group's multidisciplinary approach also includes specialized consulting services in the areas of environmental compliance, civil engineering and planning, construction claims (avoidance + resolution), forensic analysis and litigation support.  For more information on KCM Group please call 858-273-5400 or visit www.kcmgroup.net
---
September 11, 2015
Douglas Wilson Companies
Promotions at Douglas Wilson Companies Guide Firm's Expansion into Senior and For-Sale Housing
Signaling the Douglas Wilson Companies' eye on the future, the longtime San Diego real estate firm has promoted Nicholas P. Wilson to chief operating officer and Michele Vives to senior managing director.
"Staying true to our credo of being nimble enough to respond quickly to evolving markets, I felt it was important to promote and engage DWC's next generation of leadership in developing our changing vision," said Doug Wilson, who founded the company in 1989 and has successfully steered it through the shifting tides of the marketplace. "These new leaders take on added roles as we move into the senior housing arena and begin our first single- and multi-family residential projects in San Diego."
Wilson said the firm is embarking on a new product line of senior living communities with an assisted living and memory care focus, with the first local venture expected to break ground in early 2016. The venerable real estate firm is also expected to break ground next year on new single-family housing in West Chula Vista.
Wilson noted that he is particularly proud to watch his son's growth since he joined the company in 2011 as a director. Since then he has identified new development opportunities in the Southwest, managed client relations and overseen DWC's receivership group.
In his new role, Nich Wilson will lead the team seeking new opportunities in residential, hotel and medical office development. He also continues his efforts in commercial development, where he plays a key role in projects in the Tempe area where the Douglas Wilson Companies is building the $190 million One | Hundred | Mill in the area's downtown core.
Before joining the company Nich was involved in international sports and consumer marketing.
A graduate of the University of Colorado at Boulder with a bachelor's in economics, Wilson, at 32, recently became the youngest member of the San Diego Downtown Partnership's Executive Committee. He is also active in the local chapter of the Urban Land Institute and serves on the board of its Young Leaders. In addition, he is on the board of the San Diego Bankruptcy Forum and the San Diego Receivers Forum.
Vives, who joined DWC in 2014, steps up to senior managing director charged to oversee the senior housing projects on the company's horizon.  Among those is a new facility in Otay Ranch with 125 units that is set for a 2016 groundbreaking.  Michele also manages the firm's third-party fee development services group, overseeing development strategies, contract negotiations, entitlement, permitting and community outreach.
"Michele is leading the team to manage and grow our fee development practice, which currently includes several key projects in downtown San Diego," said Wilson. "Combining the credibility we've earned as a court-appointed fiduciary, with decades of real estate development, allows us to assist REITs, individual investors and others who do not hold these resources in-house."
Vives earned a bachelor's in industrial psychology from Illinois State University and a bachelor's in accounting at the University of Phoenix. Over the past decade in the real estate development industry she has built extensive expertise in public-private partnerships (P3) and third-party development services. She has been involved in projects totaling over 2.5 million square feet of space valued at more than $875 million.
Vives is the co-chair of the Downtown San Diego Partnership's Revenue Committee and was recently named co-chair of the Partnership's Planning and Public Policy Committee.  She is a member of the Urban Land Institute, the San Diego Policy Forum and Circulate San Diego.
About Douglas Wilson Companies
DWC was founded in 1989 to provide a wide range of real estate and problem resolution services. Our professional team has earned a unique track record of success with our diverse client base, which includes financial institutions, law firms, investors, state and federal courts, and property owners located throughout the country. With a seasoned team of business, real estate, and financial services professionals, DWC offers a level of specialized services not found elsewhere. With offices in Las Vegas, San Diego, San Francisco and Washington, D.C., DWC is one of the largest business entities of its kind. Focusing on our commitment to and relationships with our clients, we provide asset management, consulting, business planning, development, entitlement and construction management, receivership, and problem resolution services.
For more information, visit: www.douglaswilson.com.
---
August 17, 2015
Cox Communications
Cox Takes Downtown to the Next Level
Cox Communications is launching its gigabit Internet service for residential customers in San Diego. Marketed under the brand name "G1GABLASTSM", Cox will offer speeds 100 times faster than the average Internet speed in the U.S. today. Joined by San Diego Mayor Kevin Faulconer, City Councilman Todd Gloria, and Downtown San Diego Partnership CEO Kris Michell, Cox announced the launch of its gigabit Internet speeds at a special event in downtown San Diego near the Pinnacle, a new 45-story apartment building in downtown's East Village that is among the first locations in San Diego to receive the new service. Cox has been deploying gigabit speeds to businesses for more than a decade, and has committed to offering residential gigabit speeds in all of its markets by the end of 2016. Gigabit speeds enable customers to:
Run all of their devices at the same time (laptops, tablets, smart TVs, smartphones, gaming systems)
Download an HD movie in less than 60 seconds;
Download 100 songs in three seconds.
Cox Communications is a broadband communications and entertainment company, providing advanced digital video, Internet, telephone and home security and automation services over its own nationwide IP network. The third-largest U.S. cable TV company, Cox serves approximately 6 million residences and businesses.
Click the video link below to learn more.
---
June 12, 2015
Makers Quarter & L2HP

Makers Quarter: Makers Quarter™ is both a place and a collective ethos, that begins with what matters most: community. Over the past two years, we've actively cultivated a community of Dreamers, Artists, Makers, and Entrepreneurs, who've turned our neighborhood into San Diego's downtown hub for arts, culture, and innovation. Makers Quarter™is inspired by the Maker Movement, which has always been part of the fabric of East Village. From the original home of Jerome's Furniture, to the craft brewers at Monkey Paw, to the modern day Makers of Moniker Warehouse, Makers Quarter™ offers an environment that attracts creatives and entrepreneurs who want to be as inspired by their surroundings as they are by their community.As this last underdeveloped quadrant of downtown San Diego evolves, we'll preserve the Maker Spirit that thrives in Makers Quarter™, by consciously developing lifestyle, residential, and business properties that reflect the values and artistic integrity of the neighborhood. While the planning of Makers Quarter™ will change to meet the community's needs, the following principles will remain at the heart of everything we do:
Establish, enhance, and promote San Diego's core culture
Create a new technology-based employment hub for downtown and the surrounding region
Create an authentic, dense, and sustainable urban space
Foster a walkable neighborhood that encourages a healthy lifestyle.
Ultimately, we envision a neighborhood overflowing with artistic endeavors, ideas, resources, and creative learning opportunities, where San Diegans can live, work, play, and create. As we evolve, it's our hope that Makers Quarter™ will attract the talented workforce, companies, and residents required to sustain and strengthen San Diego's innovation economy, both now and in the future.
L2HP:
Combining local, national, and international talent, Lankford & Associates, Hensel Phelps, and HP Investors together comprise L2HP.  As L2HP, they offer the breadth of talent, experience, and knowledge required to implement the near, mid, and long term vision for Makers Quarter™.
Lankford & Associates is a family owned and operated company based in San Diego since 1984.  By focusing on quality, Lankford & Associates has developed a reputation for delivering projects to the community that engage the public and facilitate the growth of critical sectors of our region's economy.  From the Hall of Justice to the Sanford Consortium for Regenerative Medicine, Lankford & Associates is widely recognized for the quality of design and sustainability of it projects.
Hensel Phelps is a national firm with a strong San Diego presence, established in 1937 on the belief that relationships are the most important foundations of their work. As such, Hensel Phelps builds upon the commitment, partnership, and trust developed with clients, to deliver unsurpassed expertise, processes and performance in every project the firm undertakes.
HP Investors is a family-held, San Diego-based real estate ownership, investment and management firm, whose principals have been active investors in downtown San Diego for over 30 years. Focused primarily on urban retail and hospitality properties, the firm currently manages over 600,000 square feet of assets in San Diego, Los Angeles, New York, and other urban markets, and has acquired over 150,000 square feet in downtown San Diego retail space over the past three years.
---
June 5, 2015
U.S. Bank

U.S. Bank is here to help meet the financial needs of our customers and to partner with the Downtown San Diego Partnership and other vibrant organizations that create our distinct community. Banking is based on relationships and downtown San Diego is a community of people who care about creating a welcoming environment. Our mission as a bank is to develop lasting relationships with our customers and to anticipate their needs, creating a "banking home" for them.
As a city that hosts a wide range of arts and civic organizations, downtown San Diego is an environment of possibility. We have the opportunity to take advantage of that creativity in the way we engage with our customers and look for solutions to meet their needs.
Also, we enjoy the privilege of volunteering for some remarkable local groups and initiatives that enriches our understanding of our downtown community and creates new connections. U.S. Bank provides every employee up to 16 hours of paid time-off annually to volunteer in their communities. Last year, U.S. Bank employees volunteered more than 2,600 hours for nonprofit groups in the San Diego area by serving on boards, committees and assisting with events.  The South Bay District Manager, Jay Henslee and the U.S. Bank Kettner Branch Manager, Cameron Clarke both serve on the U.S. Bank San Diego Development Network Board, which helps employees volunteer with nearly 150 nonprofits in the community.
The Downtown San Diego Partnership and U.S. Bank have teamed up to launch a summer series designed to encourage downtown residents and visitors to show our appreciation and commitment to the downtown San Diego community. The four-month-long initiative officially kicks off on June 11 and will offer swing dance instruction on Broadway Pier, Pilates instruction at Lane Field, financial fitness courses at U.S. Bank and opportunities to enjoy summer in downtown San Diego. All events are sponsored by U.S. Bank, with the majority held at the Kettner Branch and are free to the public.
"This series is designed to help people learn fundamental financial basics and provide opportunities to stay active this summer," said Steve Stuckey, president of U.S. Bank in San Diego. "U.S. Bank is delighted to be a sponsor of the Kettner Summer Series in San Diego. We enjoy working with the Downtown San Diego Partnership on events that benefit not only our customers, but local businesses and residents as well. These ventures help make for a healthier and smarter downtown neighborhood and San Diego community."
For more information about U.S. Bank's Summer Series and for a list of events, dates and locations, please visit: www.downtownsandiego.org/us-bank-summer-series/. To find out more about U.S. Bank, please visit our branch at 1420 Kettner Blvd. or visit www.usbank.com.
U.S. Bank operates 80 branches and employs more than 900 people in the San Diego area. U.S. Bancorp (NYSE: USB), with $410 billion in assets as of March 31, 2015, is the parent company of U.S. Bank National Association, the fifth-largest commercial bank in the United States. The company operates 3,172 banking offices in 25 states and 5,016 ATMs and provides a comprehensive line of banking, brokerage, insurance, investment, mortgage, trust and payment services products to consumers, businesses and institutions.
---
May 15, 2015
Cavignac & Associates
Headquartered in Downtown San Diego, Cavignac & Associates has provided a broad range of risk management and insurance expertise to design and construction firms, law firms, real estate-related entities, manufacturing companies, nonprofit organizations and the general business community for the past 23 years.  In April, the company announced the formation of its new Personal Lines Department, which will cater to the needs of individuals.
"We recognized a growing need among our existing clients for personal lines of insurance coverage and their preference for having their insurance matters consolidated with one trusted advisor," said Cavignac & Associates president and principal, Jeffrey W. Cavignac, CPCU, ARM, RPLU.  "We've added a whole new dimension of risk management and insurance brokerage services to make it more convenient for business owners and managers to protect their personal assets."
Some of the lines of insurance that Cavignac & Associates will now offer are home, auto, valuables, umbrella, watercraft, aircraft, condo, renters, earthquake, flood, dwelling fire, farm/ranch, life, motorcycle and collector cars.  The firm plans to enrich its ongoing client education program with seminars and literature to support these lines.
Veteran agent Carolyn Konecki was recruited by Cavignac & Associates to head its new Personal Lines Department.  She brings to the firm 11 years of experience and extensive knowledge about protecting tangible assets such as high-value homes, luxury vehicles, collector cars, watercraft, aircraft and collectibles such as jewelry, wine, fine art and antique furnishings.  She will draw on her impressive background to build relationships, educate clients about their risks and options, and provide expert services.
"Carolyn comes to us with vast, up-to-date knowledge of personal lines, together with an excellent reputation for providing her clients with exceptional service.  We feel she is the ideal person to facilitate our expansion into this area, and we're very pleased to have her aboard."
For nine years prior to joining Cavignac & Associates, Konecki was vice president and personal lines manager of Konecki Insurance, providing expert counsel and insurance brokerage services to affluent individuals.  During that time, she set up the personal lines department and quadrupled the agency's sales volume.  In December of 2012, she sold the agency to Leavitt Insurance of San Diego and stayed on as vice president and personal lines manager.  While there, she was the company's top personal lines agent.
Konecki graduated magnum cum laude from the University of Southern California with a Bachelor of Science degree in business.  She holds a Property & Casualty license for the state of California.
Konecki is involved in numerous San Diego civic organizations, including the San Diego Women's Foundation, Professional Women's Fellowship, La Jolla Real Estate Brokers Association, ProVisors and Casa de Amparo. Currently she sits on the board of directors for the Professional Women's Fellowship and the San Diego Women's Foundation, and is co-chair of the 2015 Casa de Amparo "Crystal Ball Gala."
About Cavignac & Associates:
Founded in 1992, Cavignac & Associates is a leading risk management and commercial insurance brokerage firm providing a broad range of insurance and expertise to design and construction firms, as well as to law firms, real estate-related entities, manufacturing companies and the general business community. Company principals are Jeffrey W. Cavignac, CPCU, ARM, RPLU, CRIS, MLIS; James P. Schabarum II, CPCU, AFSB; Scott A. Bedingfield, AAI, CIC, CRIS; Patrick Casinelli, RHU, REBC, CHRS; and Matthew Slakoff, CIC, CRIS. The firm employs a staff of 45 at offices located at 450 B Street, Suite 1800, San Diego, Calif., 92101.  More information about the company can be found on the Web at www.cavignac.com.
---
April 17, 2015
Holland Partner Group
FORM15: A CREATIVE NEW MIXED-USE COMMUNITY OPENS IN SAN DIEGO'S EAST VILLAGE
Holland Partner Group (HPG), community and civic leaders from around the region celebrated the opening of FORM15 in East Village earlier this week.
The new mixed-use development, with more than 10,000 square feet of retail space and 242 residential units, is designed to attract tenants looking for an authentic living experience and a highly amenitized lifestyle. The development's iconic architecture design by Carrier Johnson + CULTURE, displays contemporary undulating forms and dramatic angles, while celebrating East Village's artistic heritage. Local art work is displayed throughout the development with elements inspired by Pannikin Coffee and Tea founder Bob Sinclair.
HPG chose Downtown San Diego to invest because of the growing trend among baby boomers and millienials to return to the urban centers, where amenities are plentiful, neighborhoods are walkable, public transit is accessible and there is a variety of cultural happenings.
"We are thrilled to see FORM15 finally come to fruition," notes Brent Schertzer, development director for Vancouver, Wash-based Holland Partner Group. "As a result of the groundwork laid by early pioneers, the incredible energy and creativity of the East Village continues to take shape, creating a neighborhood unlike any other in downtown San Diego. Some of the most innovative companies, entrepreneurs, culinary experiences, craft breweries, distilleries, and urban planning techniques are all locating in this culturally rich neighborhood."
Features and amenities include floor to ceiling windows, private patios and balconies, polished concrete floors or hard surface plank flooring, quartz kitchen countertops, pantries and built-in wine racks, washer and dryer, high speed data capability, best-in-class resident services, verdant outdoor retreat, large pool-centered lounge/community gathering area, outdoor fireplaces and grilling stations, and a lush roof top deck. Residents may choose from studio, one-bedroom, two-bedroom, three-bedroom, and live/work spaces in two color palettes, ranging from 586 to 1,535 square feet with rents from $1,640 to $4,125.
HPG is a fully-integrated real estate investment company based in Vancouver, Washington, with more than $4 billion in gross real estate value currently under management, representing over 24,000 apartment homes in five states. HPG accomplishes its investment objectives in strategic alignment with its capital partners through five integrated operating companies, including development, construction, acquisition, redevelopment and management.
---
April 3, 2015
5ifty & 5ifty

Who we are
Fifty & Fifty is a creative collective that designs and develops innovative websites and branding for social good organizations. It's their mission to engage the world in the worthwhile by helping do-gooders take up more of the popular culture space. Through ideation & strategy, branding & design, technology and — ultimately — partnership, their business model has fostered wildly creative and successful companies for the world's leading humanitarian efforts, such as World Vision, charity: water, United Way, and Invisible Children.
Why we are in downtown
The main reason for moving downtown was because it was where everyone wanted to be. When you spend 40 hours a week in one place, it's nice to be close to everything from other offices you work with, great places to eat, even spots to take breaks. Plus, it's centrally located for all our staff commuting in from Pacific Beach, Chula Vista, University Heights, Kensington… In summary, it's the best spot in San Diego for having everything at your fingertips with the opportunity to make your employees happy to come to work.