Let's make downtown San Diego more beautiful and cool, literally. It's simple, plant trees!
The Downtown San Diego Partnership and URBAN INTERVENTIONS have come together to launch Grow Urban, an initiative focused on planting trees and helping our Downtown tree canopy thrive. We're committed to improving the quality of life in our urban community through activation, art, and beautification.
Who doesn't love walking down a tree-lined street? Trees cool us when it's hot, improve our overall health and well-being, provide nesting and resting spots for local wildlife and create scenic corridors while driving, walking or biking in the city.
The perilous life of a street tree.
But it's not easy being a street tree. Cars and delivery trucks run into them, dogs pee on them, people abuse them, and sometimes they don't get enough water. They simply get no respect.
Over 130 million acres of America's forests are located right in our cities and towns.
In one year an acre of mature trees can provide enough oxygen for 18 people.
One mature tree has the same cooling effect as 10 room-sized air conditioners.
Planning urban landscapes with trees can increase property value, by up to 20 percent, and attract tourism and business.
That's where you come in.
How to get involved!
Donate! All money donated to the Grow Urban campaign through the Downtown Partnership's Downtown San Diego Public Spaces Foundation – a 501(c)(3) nonprofit – will be used to buy and plant trees of a size that have the best chance of living out a long life in our Downtown. Thank you to our certified arborists and partners Aztec Landscaping for helping us chose the right tree species for Downtown.
ART for TREES. Our partner in this effort, URBAN INTERVENTIONS, has donated a catalog of paintings to this effort. That way you can enjoy art on your wall, while contributing to the effort.
---
Thank you to our Grow Urban supporters!
Our Strategic Partner:

Our Major Donors:



Our Tree Nursery:

Our Tree Arborists: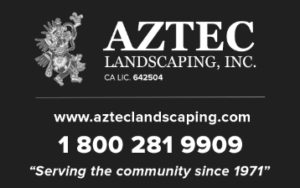 Our Generous Donors:
Basile Studio
Sandra Kulli
Jules Wilson Design Studio
The Miller Hull Partnership
Beth Callender & Pete Garcia
Eugenia Garcia & Jeff Carlson
Donna & Manny Garcia
Pam Hamilton Lester
Ann & Joe Kilrain
Gretchen Morgan
Carleton Management
Tree Species Planted:
Jacaranda
Liquid Amber
Bradford Pear
Podocarpus
Brisbane
Chinese Elm