The Downtown San Diego Partnership presents
City of Dreams Drive-In

An Installation Celebration featuring KevTalk and Special Guests
Tuesday, November 17, 2020
5:00 PM | Check-in
6:00 – 7:30 PM | Show
Petco Park Lexus Premier Lot – enter through Tailgate Lot
This is a socially distanced event. A streaming option will also be available.
Presented by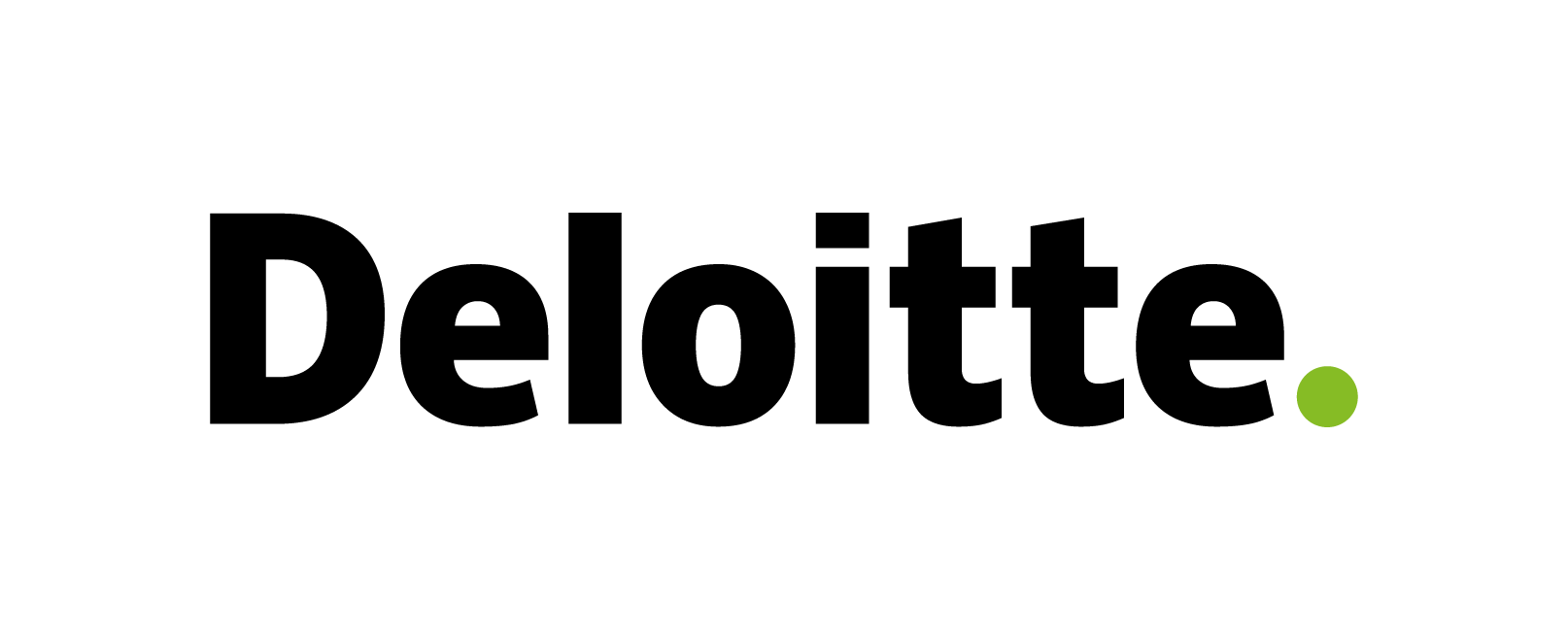 ---
VIRTUAL ATTENDEES
Check your email on Monday, November 16 for your link and password to stream the event live.
The show will begin streaming at 6:00 p.m.
---
DRIVE-IN ATTENDEES
In preparation for the City of Dreams Drive-In, we have compiled a list of tips to ensure the most enjoyable experience possible. Please read carefully:
The lot will open at 5:00 p.m. We ask that guests plan to arrive no later than 5:20 p.m.
Please have your digital ticket ready for scanning in the Tailgate Lot upon arrival. Digital tickets will be sent via text and email by Ticketmaster on Tuesday, Nov. 17.
The event entrance is located at Tailgate Lot (1301 K Street, San Diego, CA 92101). For a map and directions, click here.
There is no exiting or re-entry once in the lot.
Limit one person per seat belt.
Trucks and hatchbacks cannot be higher than 5.5′.
If you must leave your vehicle, a mask is required at all times.
Smoking, vaping, alcoholic beverages and pets are not permitted.
Portable restrooms are available in the South East corner of the parking lot.
Hand washing and hand sanitizer stations are available at the restrooms.
Surfaces will be cleaned on an ongoing basis and staff will be wearing proper PPE.
For your safety and that of our staff and other guests, we ask that you remain in your vehicle throughout the entirety of the event. Guests will be permitted to sit in closed truck beds and convertibles.
Tune in to FM radio station 98.3 to enjoy the show from your car.
You can purchase food and non-alcoholic beverages onsite via mobile ordering by scanning the QR codes on the menu in your gift bag. These items will be delivered to your designated parking space.
---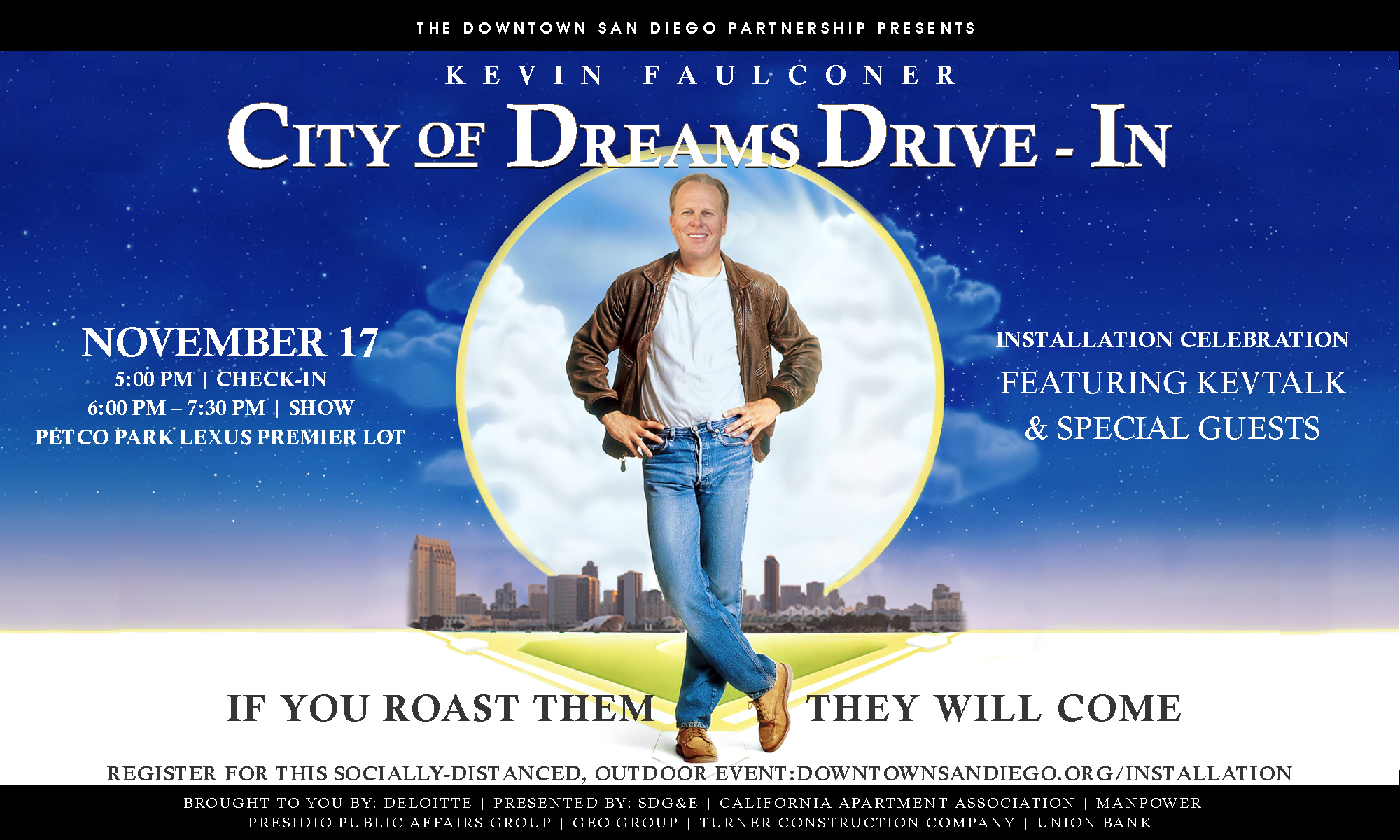 In a year when uncertainty is the norm, we're so lucky to be living, working, and playing in a City of Dreams. A city where there's still a strong sense of community, there's a shared excitement for what the future will bring, and the next big chapter in Downtown's story is just about ready to start appearing in the skyline.
Join us drive-in style for your favorite event of the year! You can expect an installation dinner like we've never done it before, but the laughs, inspiration, and levity are still guaranteed.
The program will include the long-anticipated final edition of KevTalk for some side-splitting roasts to take the edge off 2020. You can expect appearances from some very special guests from the incoming administration as we give Mayor Faulconer a cinematic masterpiece of a sendoff and celebrate the tenacity of our 2020 Board of Directors.
Other special features:
Our signature

installation

videos to entertain

and delight

Drive-in themed concessions

A surprise mus

ical

release that might just be the

next

Downtown hit

The roast we've all been waiting for to end 2020 with a laugh
Confirm your registration today for the exclusive premiere that's sure to be the talk of the town.
---
ATTEND THE EVENT
Visit downtownsandiego.org/installationtickets for a full list of benefits.
Community Partner Sponsor ($4,000)
3 car passes w/party packs, 1/4 page ad in program, inclusion on all marketing materials, recognition at the event, priority placement
Gold Sponsor ($3,500)
2 car passes w/party packs, recognition in the event program and during the event, preferred placement
Host Sponsor ($2,500)
2 car passes w/party packs, recognition in the event program and during the event
Car Pass ($350)
1 car pass w/party pack, option to purchase additional party packs for extra passengers
Digital Access Pass ($100)
1 digital access pass to stream the event live
---
BENEFITS OF SPONSORSHIP
This creative reimagining also comes with a variety of opportunities to highlight our sponsors. We're confident you're going to get excellent value and exposure among this high influence and high involvement audience in return for your commitment. Please take a moment to review the updated benefits included with your sponsorship.
---
FREQUENTLY ASKED QUESTIONS
What if I already secured a sponsorship?
All sponsorships secured for the original event (3/25/2020) have been automatically applied to the rescheduled event. If you are not sure whether you have secured or paid for your sponsorship yet, please contact Taylor Stahl (tstahl@downtownsandiego.org).
How many tickets do I get with my sponsorship?
You can find out how many tickets are included in your sponsorship by visiting the sponsor benefits page: downtownsandiego.org/installationtickets
How will you ensure our health and safety?
We will be working alongside a professional production company to ensure that the drive-in strictly adheres to all government guidelines including COVID and CDC guidelines. Guests will be required to stay in their cars during the event. We will also require guests and staff to wear masks when interacting.
Will the event be live or pre-recorded?
The Installation Celebration and KevTalk will be live segments. Our signature videos will still be incorporated!
How will I hear the show?
The show will be broadcasted through an FM transmitter as well as a professional sound system.
Will there be food?
Yes. Guests will receive 1 party pack per person containing snacks, water, and swag items. Additional snacks and beverages will be available for purchase via mobile ordering during the event.
Will I be able to get out of my car during the event?
In order to ensure the health and safety of everyone, guests will be required to stay in their vehicle for the duration of the event.
Can I tailgate during the event?
At this time, guests will be required to stay within their vehicles (seated inside, seated in a flatbed truck, seated in the back of a van, etc.)
Will there be assigned spots? Can I request to be parked next to someone?
We will do our best to place your cars in the same row, however, cars will be assigned to spaces on a first-come, first-serve basis. Please note larger vehicles (trucks, SUVs, etc.) will be placed in the back rows as to not obstruct others' view.
Will there be restrooms on-site?
Yes.
What if I can't attend the drive-in?
The event will also be live-streamed for those who are unable to attend in person. Confirmed guests will be given a unique, password-protected streaming link.
Can I request a combination of car passes and streaming tickets?
Yes, so long as you do not exceed 10 guests (i.e. if car #1 brings 2 guests, car #2 brings 3 guests, you can redeem 5 streaming links).
Will there be alcohol?
Alcohol will not be served at the event.
How long will the event be?
The event program will take place from 6:00–7:30 pm. We ask that guests arrive in their vehicles at 5:00 pm.
What if I need to leave early?
Guests will not be able to arrive late or leave early. Entry/exit will not be permitted between active event hours.
Still have questions?