Downtown Brainstorm
The last year, what's ahead and the exciting work of our members.
January 27, 2021
4:00 – 5:00 PM
Virtual Event
---
Event Recap
Welcome
Message from Union Bank
2020 Annual Report Highlight
Membership Highlight
Looking Ahead in 2021
Networking
---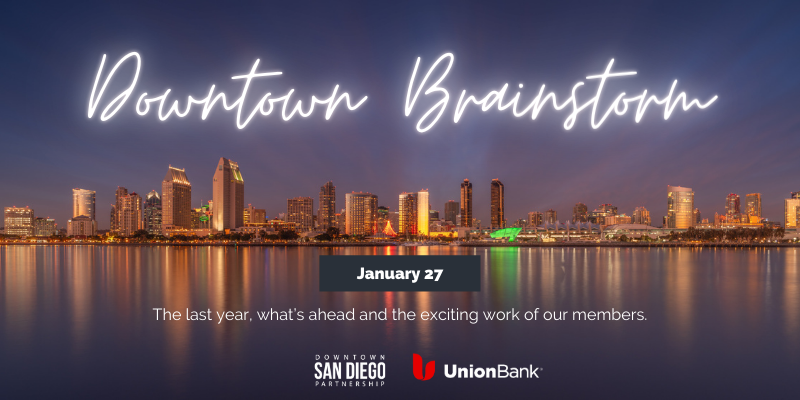 Join us for the first member networking event of the year!
As we all prepare our personal resolutions and goals, we know our members are also hard at work planning for the projects and initiatives that will define the coming year for Downtown. We invite you to connect with your fellow members for a dose of inspiration and the opportunity to potentially find new collaborations in this new year.
Our President & CEO, Betsy Brennan, will also share a high level year-in-review from the Downtown Partnership, including the programs and achievements made possible through the support of our members, and the various ways to engage and make the most out of your membership all year long.
---
Schedule of Events
Welcome
Message from Union Bank
2020 Annual Report Highlight
Membership Highlight
Looking Ahead in 2021
Networking
---
Thank You to Our Sponsor


About Union Bank
Union Bank is a full-service bank with a rich history of investing in our clients, communities and colleagues throughout the West Coast for more than 150 years. Union Bank provides a wide range of personal and business banking products as well as wealth management services. With more than 300 branches in California, Oregon and Washington, Union Bank remains committed to serving the needs of its local communities. As a member of the Mitsubishi UFJ Financial Group (MUFG), one of the world's largest financial institutions, Union Bank holds our clients' best interests to heart and remains committed to investing in their success.
Learn More
For all your banking needs – we are the bank where your details matter: https://www.unionbank.com
Business banking at Union Bank: https://www.unionbank.com/businesss
Commercial Solutions: https://www.unionbank.com/commercial
Private Banking at Union Bank: https://www.unionbank.com/private-banking
Contact
Rana Sampson
Community Relations Ambassador
Southern California and San Diego Divisions
Union Bank
Rana.Sampson@UnionBank.com