San Diego City Council moves forward with homeless action plan
October 14, 2019 | San Diego Union-Tribune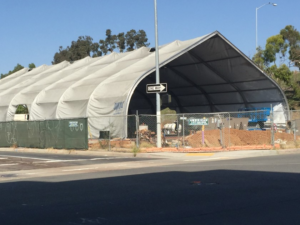 San Diego City Council members embraced an ambitious plan Monday that aims to get half of the city's homeless people off the street within three years and find permanent homes for thousands more in the next 10 years.
A broad range of supporters spoke in favor of the plan during the meeting. They included representatives from the Downtown San Diego Partnership, San Diego Chamber of Commerce, the Alpha Project, the Salvation Army, Father Joe's Villages, the Lucky Duck Foundation and San Diego Padres general partner Peter Seidler, who pushed for and helped fund the large tented bridge shelters that are keeping almost 700 homeless people off the street.
---
Cortez Hill residents participate in study to improve pedestrian, cyclist safety
September 23, 2019 | Fox 5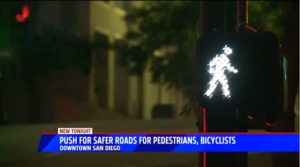 A coalition of three groups — Circulate San Diego, Downtown San Diego Partnership and Cortez Hill Active Residents Group — recently came together to study what people living in the downtown neighborhood of Cortez Hill wanted to be able to feel safer when getting around town.
---
Who dunnit? Case of the missing downtown San Diego trees.
August 9, 2019 | San Diego Union-Tribune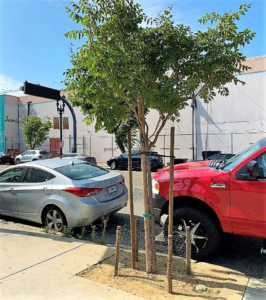 Trees have been disappearing from downtown San Diego. No Sherlock Holmes is needed to solve the mystery, though. The curbside carrotwood, magnolia, jacaranda, liquid amber and podocarpus trees have not been stolen.
But they have been hit by cars, clipped by bulky delivery trucks, strangled by drought, devoured by pests and poisoned by toxic waste from canines and others. So says Alonso Vivas, head of Downtown San Diego Partnership's Clean & Safe program.
The City of San Diego is 250! Instead of looking back, we asked experts to predict how our city will look in 50 more years.
While its slated 2021 completion date certainly isn't 50 years from now, UC San Diego's new downtown presence will transform our urban core into a center for ever-evolving sustainable innovation over the next few decades.
---
Downtown San Diego Partnership Reunited More Than 2,000 People with Loved Ones
July 1, 2019 | KUSI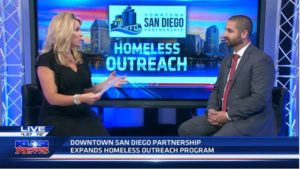 The Downtown San Diego Partnership has successfully reunited more than 2,000 people with supportive loved ones. With new funding from the city, the Downtown San Diego Partnership could help reunite more homeless people with their families.
Executive Director of the Clean and Safe Program, Alonso Vivas, told us the details live on the KUSI News.
The San Diego City Council voted unanimously to approve "Campus At Horton" on Monday. It's a redevelopment plan that would turn Horton Plaza into a tech hub.
Project advisor Jimmy Parker and CEO of Downtown San Diego Partnership, Betsy Brennan, met with KPBS Evening Edition Host Ebone Monet to talk about "Campus At Horton." Here are some of the highlights of that interview.
---
New High-Rise Building to Replace Old Downtown Courthouse
May 10, 2019 | ABC 10 News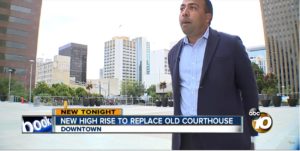 Sumeet Parekh, Chair of the Downtown San Diego Partnership Board of Directors, talks about one of Downtown's most recent developments.
---
Horton Plaza Project Would Breathe New Life Into Downtown
April 9, 2019 | Voice of San Diego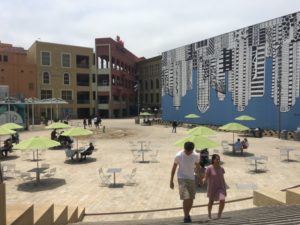 This past August, Stockdale Capital Partners 
announced its purchase of Horton Plaza and a plan
to breathe new life into the center of downtown San Diego. The new ownership aspires to transform the aging, nearly vacant retail mall into a vibrant office complex with entertainment, food, beverage and retail. Its energetic 2020 timeline capitalizes on current market trends and would immediately enhance both safety and security at Horton Plaza Park.
---
The Branding of Marina
March 1, 2019 | San Diego Downtown News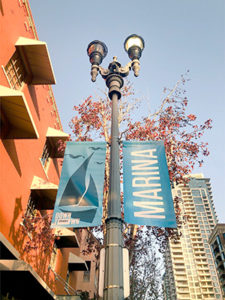 As you travel throughout Downtown, glance upwards at the numerous street lampposts flying banners along several specific corridors. The banners are an announcement welcoming one's entrance into well-defined Downtown neighborhoods, which serve as a gateway into the vistas of our beautiful city.
"In an effort to highlight the distinctness of our neighborhoods, Clean & Safe is implementing branding technics," Alonso Vivas, executive director of Clean & Safe, said. "Branding techniques will be used for the purpose of highlighting a neighborhood, mapping the neighborhood blocks for visitors, and to use for marketing purposes."
Volunteers, Officials Hit the Streets Around the County for Annual Homeless Count
January 25, 2019 | San Diego Union-Tribune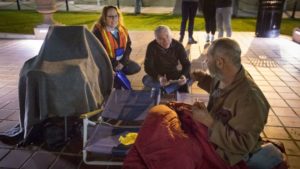 It was still more than an hour before sunrise, but Jill Kernes was chipper as she approached a homeless man sleeping under a blanket near the fountain at Horton Plaza early Friday morning.
John Ross peeked out from the blanket and recognized Kernes as a homeless outreach coordinator with Downtown San Diego Partnership. Sitting up, he lighted a cigarette and agreed to answer a 22-question survey in exchange for a $10 Starbucks gift card and some socks.
---
Roads and Public Transit Aren't Competitors
October 17, 2018 | Voice of San Diego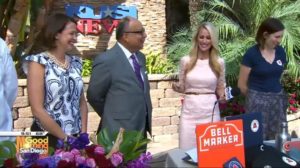 Betsy Brennan, CEO, Downtown San Diego Partnership
Diverse mobility options are key to a city's economic and cultural success, and a major reason so many businesses, restaurants, and residents choose to call Downtown San Diego home. Many employees in Downtown San Diego use transit, which helps reduce road congestion, frees up parking, and saves money. From dockless bikes and scooters serving the last mile, to trolley lines across the county, it is important for our workforce to have a range of commuting options and discover which option is best suited for them.
---
26th Annual Taste of Downtown Preview
September 11, 2018 | KUSI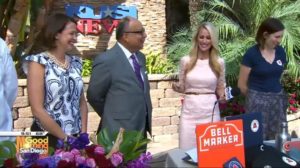 With so many options for your next meal out, it can be daunting to pick just one. On Thursday, September 13th, from 5:00 p.m. to 9:00 p.m., you don't have to!
The Taste of Downtown, sponsored by Banner Bank, offers you the chance to sample bites from 40 different restaurants throughout the Gaslamp Quarter, East Village, and the City Center. Lauren Phinney and Carlos Amezcua met with Kaitlin Phillips, Director of Membership at the Downtown San Diego Partnership, and Steve Espino, Senior Vice President of Banner Bank, to talk about the event.
---
FREE Yoga at the San Diego Convention Center
August 29, 2018 | KUSI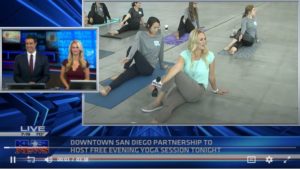 The Downtown Partnership has teamed up with the San Diego Convention Center to offer a free evening of yoga for all ages and skill levels.
Around 2,000 people have already registered for the event that is taking place under the newly-designed Sails Pavilion. KUSI's Allie Wagner has your preview.
---
Hotel Industry is Building on its Solid Metrics
August 7, 2018 | SDBJ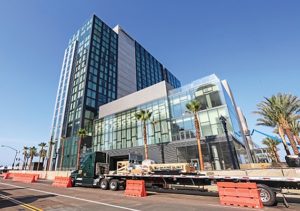 Overall, San Diego hosts more than 35 million visitors each year, with that number expected to increase by 3.5 percent in 2018. Betsy Brennan, president and CEO of the Downtown San Diego Partnership, adds that in the last several years San Diego has made strategic partnerships with other countries and various airlines, which have established direct flights from the county's airport. She also noted the anticipated convention center expansion as another major effort by the city to entice travelers.
"We, as a region, are working collaboratively together to plan for the future, and the convention center expansion is a good example of that," she said.
---
30 Tons of Trash Collected in Downtown San Diego Following Comic-Con 2018
July 23, 2018 | KUSI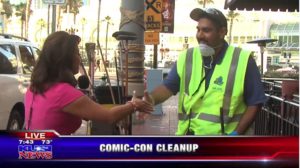 Comic-Con International 2018 may be over, but the cleanup continues. Elizabeth Alvarez was live downtown on Monday to check out the city's cleanup efforts. Maintenance teams and ambassadors with the Downtown San Diego Partnership have been sweeping, pressure washing, and mopping up the streets in the Gaslamp Quarter. Crews have also been scraping away stickers put on signs. Maintenance ambassadors said they take pride in making sure Downtown is clean.
Ambassador Rob Montez says it brought him great pride to present a clean city to tourists. "On behalf of our coworkers, we just wanted to make it a presentable event for them so that they can enjoy themselves without having get through litter, a big mess. We wanted to make sure make it the ultimate experience."
---
30 Downtown San Diego Is Booming. Here's Why
July 19, 2018 | Forbes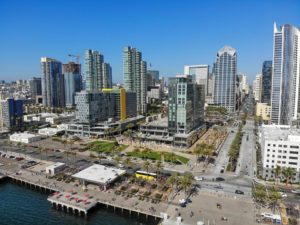 Downtown San Diego is booming with residential and commercial development. No longer is it the once sleepy navy town boasting the best climate in the country. The weather remains beautiful year-round while the city has reinvented itself as a dynamic place to live, work and play.
The Downtown San Diego Partnership's numbers confirm this. There are more than 37,000 residents, 81,000 employees and 4,000 businesses Downtown currently. In addition, more than 120 tech and innovation startups call Downtown home.
---
30 Boosters Ready to Put Columbia on the Map
June 10, 2018 | San Diego Business Journal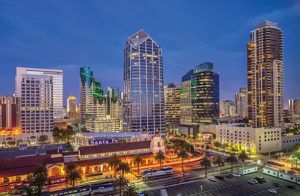 "We want each neighborhood to be vibrant, but in its own way," said Betsy Brennan, Downtown San Diego Partnership CEO.
"It's a wonderful opportunity to create energy and an identity for the Columbia District," Brennan said. "The stronger each district can be and the more vibrant, the better it is for the whole region of downtown. This was sort of a grassroots effort that a lot of the property owners were talking about, let's really activate this space."
Brennan said her group is working with the Columbia District to do what she called "pop-up action" such as quick, temporary restaurants and outdoor yoga classes that have worked elsewhere, "just to give them a sense of neighborhood."
---
New San Diego Law Aims to Make Commercial Districts More Lively, Colorful
April 23, 2018 | The San Diego Union-Tribune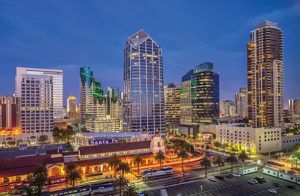 The new legislation will change that, said Alexandra Berenter, public policy manager at the Downtown San Diego Partnership.
"At the partnership, we look forward to spending less time worrying about permits and more time improving Downtown's economic health and sustainability," she told the council last week.
---
Dockless Bikes in San Diego Improve Transit Choices. Adjusting to Them is a Necessary Step.
March 15, 2018 | The San Diego Union-Tribune
Dockless bicycles and scooters can be a convenient solution to the first-mile and last-mile connection for commuters using public transit. They also offer yet another easily accessible mobility option for our urban community — one that can reduce our carbon footprint and ease road congestion.
However, without common sense by users, dockless bicycles and scooters can obstruct the pedestrian rights-of-way or become a nuisance to business owners. It is important that users act as considerate, law-abiding citizens. If you are wondering how you can be an avid bicycle and scooter user and a good neighbor, look no further. The Downtown San Diego Partnership put together a bulletin with some useful information for riders and community members. Additionally, rules of the road are conveniently provided on the dockless bicycle and scooter apps.
---
Bus Program Sends Homeless People out of San Diego to Live With Relatives in Other Cities
March 11, 2018 | The San Diego Union-Tribune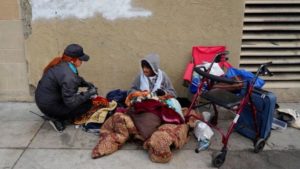 Run by the Downtown San Diego Partnership, it provides free bus tickets for homeless people to go live with relatives in other cities. If Bryant's story checks out, she could be on board that night and back in North Carolina in three days.
"It's a way for people to re-connect with their family support systems and start over," said Alonso Vivas, executive director of the Partnership's Clean & Safe team.
---
Introducing…CANVAS
February 2, 2018 | San Diego Downtown News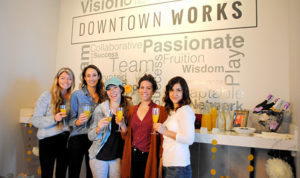 You might know the feeling. The one of hurrying down an urban sidewalk and suddenly finding yourself stopping, head turned in an upward gaze at a massive work of art. It can be awe-inspiring, encouraging, thought-provoking.
A mural leaves an impression, a sense of place. An experience like this shapes our memories of place — the sense that lingers with us when we walk away from the mural or visit a restaurant, boutique shop or gym.
---
How Many Homeless are There? Annual Count Takes Stock
January 26, 2018 | The San Diego Union-Tribune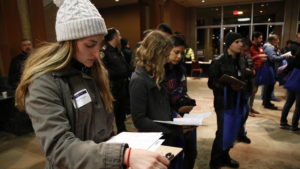 More than 1,600 volunteers hit the streets throughout San Diego County early Friday morning to search storefronts, canyons and other areas for the annual point-in-time count of homeless people.
"Today is very important to the community," Downtown San Diego Partnership President and CEO Bill Geppert said at Golden Hall in downtown San Diego, where many local, state and federal representatives and their staff members had gathered to conduct surveys.
"The data we collect through this morning's interviews is crucial to understanding the homeless population and effectively plan for services," he said.
---
New Chief Chosen for the Downtown Partnership
January 23, 2018 | KUSI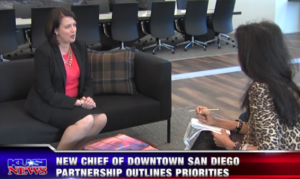 When it comes to planning and economic development city leaders look to other groups for input and guidance. One of those group is the Downtown San Diego Partnership, which has just named a new President and CEO.
42-year-old Betsy Brennan is no stranger to San Diego. She was once chief of staff to former San Diego State University President Stephen Weber and served as chief of staff to then San Diego City Council President Scott Peters.
---
New Downtown San Diego Partnership CEO is Former City Council Staffer
January 23, 2018 | The San Diego Union-Tribune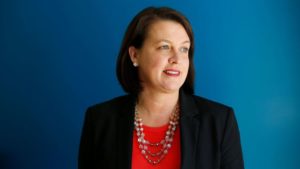 Betsy Brennan, 42, has been named CEO of the Downtown San Diego Partnership, a membership organization of downtown businesses. Brennan is a familiar face in San Diego government circles: She worked as a San Diego City Council staff member from 2002 to 2008 and as chief of staff to the San Diego State president from 2008 to 2011. She was one of 400 applicants for the job, as part of a national search to replace former CEO Kris Michell.
---
New Horizons for 'The Free Ride'
December 1, 2017 | San Diego Downtown News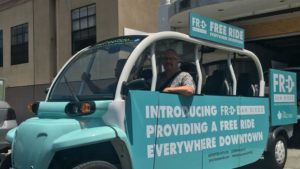 The 17 FRED vehicles currently traversing its streets and neighborhoods are just not enough to meet the increased demand of passengers.

Which is why we applaud the recent decision by Civic San Diego to approve increased funding that will not only expand the FRED fleet from 17 to 30 cars over the next three years, but also allow the company to invest in newer lithium batteries, which will double the operating time for the vehicles.
Full Article
The Downtown San Diego Partnership gladly welcomed the Kilroy news.
"It's encouraging to see these projects come forward after a decade-long drought in major multi-tenant office building development in our community," said spokeswoman Angela Wells.
---
Taking Art and Culture to the Streets
October 2, 2017 | HUFFPOST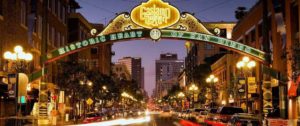 Kris Michell, President of the San Diego Downtown Partnership, which sponsored that Mr. Kent's visit, believes deeply that this aspect of urban space is what makes a city "livable" and a "destination" that retains, attracts and nurtures the kind of citizens San Diego wants and needs to be a true city of the future."
---
Hundreds Vaccinated for Hepatitis A in Downtown San Diego Effort to Curb Outbreak
September 21, 2017 | KUSI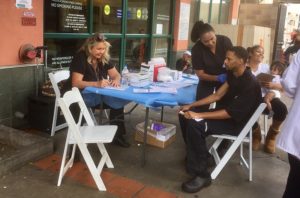 More than 250 people received shots against hepatitis A at a clinic in downtown San Diego Thursday, as efforts continued to contain an outbreak that has killed 16 and sickened more than 400. The event was hosted by the city of San Diego, Downtown San Diego Partnership and American Medical Response, which provides the city with ambulance services.
---
---
Downtown Construction Nears Record Levels
August 16, 2016 | The San Diego Union-Tribune
San Diego Launches Free Downtown Shuttle Accessible Via Mobile App
August 9, 2016 | Bisnow
FRED Downtown Free Shuttle Launching Tuesday
August 8, 2016 | The San Diego Union-Tribune
Free Ride, which operates in 10 cities in four states, had already been serving downtown with five vehicles. It was chosen from a variety of applicants to run a shuttle system sought by Civic San Diego, the city's downtown development agency. The Downtown San Diego Partnership business group also has been involved.
Comic-Con Trash Seven Times More Than Normal
July 27, 2016 | KPBS
The Downtown San D
iego Partnership reported Wednesday that workers on the organization's Clean & Safe team emptied around 6,720 bags of trash from Wednesday to Sunday — seven times more than a normal five-day period.
June 21, 2016 | KPBS
 The Daily Transcript: Top 40 Under 40
May 25, 2016
Imagining the Future
April 3, 2015 | San Diego Downtown News
More than two years ago, the Downtown San Diego Partnership asked communities throughout the San Diego region to "Imagine Downtown."
And, boy, did they ever.
Events Downtown During Padres Games
March 30 | KUSI
Padres Opening Day is just around the corner, and Kris Michelle, President and CEO of the Downtown San Diego Partnership, talks about all the other events, restaurants, etc to see while downtown.
AT&T Invests More Than $725 Million Over Three-Year Period To Enhance Local Network In San Diego Area
March 26 | MarketWatch
"The San Diego region is leading in science and tech, and our residents and businesses require constant connectivity in order to grow and thrive," said Kris Michell, president and CEO, Downtown San Diego Partnership. "With AT&T's on-going investment, residents and businesses have the tools necessary to compete and grow."
Working to Create a World-Class Downtown
March 24 | GlobeSt.com
Attracting San Diego investment and making the market appealing to Millennials, and therefore businesses, is key, Kris Michell, president and CEO of the Downtown San Diego Partnership, tells GlobeSt.com exclusively.
Downtown San Diego Construction Fueling 'Urban Renaissance'
March 17 | KPBS
Thirteen cranes are in the air working on building apartments, condominiums, hotels and offices, said Kris Michell, CEO of the Downtown San Diego Partnership, a downtown advocacy nonprofit.
Don't Block Civic San Diego's Process and Progress
March 16 | Voice of San Diego
For years, Civic San Diego has been held up as the model of government efficiency when it comes to approving development projects.
In fact, as Andrew Keatts found, Civic San Diego issued permits more than twice as fast as the city of San Diego's Development Services Department.
To Help Your Startup Succeed, Invest in Your City
March 13 | Entrepeneur
My company is a member of Downtown San Diego Partnership, a nonprofit organization committed to revitalizing downtown San Diego. Our work with this committee doesn't focus on our company, instead, it centers on important social issues, including combating homelessness, diversifying transportation options, activating open spaces and branding causes.
Rolling Stones to kick off 2015 tour in San Diego
March 12 | Fox 5
"It was an interesting dilemma we were in prior to all of this activity," said Kris Michell, CEO and president of the Downtown San Diego Partnership. The agency helped to renegotiate the agreement between the city and the Padres when it came to how Petco Park was used for non-game events.
Wide-Open Spaces
March 6, 2015 | San Diego Downtown News
Is Downtown San Diego a concrete jungle? Hardly. In fact, it's time to take a jackhammer to that old notion.
Open space — both large and small — will be opening up throughout our community in the coming year. Just look at what is on tap:
Mayor Faulconer Has Last Laugh
March 6 | UT San Diego
For anyone who wants to see Mayor Kevin Faulconer agree with what they say, the Downtown San Diego Partnership's annual dinner was the place to be on Thursday.
Despite mayor's hands-off approach, Civic San Diego may face increased oversight
March 6 | San Diego CityBeat
"For Downtown, in particular, AB 504 would be especially devastating. Just as we are seeing our local economy rebound, this would upend Civic San Diego's development process, which has long been touted as a model of efficiency," said the group's president, Kris Michell, in an email.
Civic San Diego showdown
March 11 | San Diego CityBeat
Kris Michell, president of the Downtown San Diego Partnership, an influential nonprofit representing business interests, released a statement immediately following the announcement that called the bill "devastating" and predicted that it would "scare off developers who want to invest in our urban communities."
Spotlight on Parking App for Its Launch
March 6 | San Diego Business Journal
Scores of San Diego residents voted last month via Facebook for one of four proposed names for an app that will make it easier and quicker to find parking downtown.
Downtown Draw
March 6 | San Diego Business Journal
According to data from Civic San Diego and the nonprofit Downtown San Diego Partnership, downtown as of December 2014 had 2,109 apartments and condos under construction. That number is greater than the total 1,695 units completed in 2010, 2011, 2012, 2013 and 2014 combined — and in 2011, no apartments were completed.
'Quartyard' turns wasteland into playland
March 6 | UT San Diego
Kris Michell, CEO of the Downtown San Diego Partnership business group, called the Quartyard an example of "creative collision," in which entrepreneurs try something new that breathes life into urban dead spaces, like parking lots.
Downtown San Diego Celebrates Recent Success
March 6 | San Diego 6
The Downtown San Diego Partnership swore in its new board of directors, but the highlight of the evening was Mayor Kevin Faulconer making fun of his fellow council members, and of himself.
Solutions in Works to Meet Downtown Parking Demand
March 6 | San Diego Business Journal
As downtown welcomes more mixed-use projects that bring with them more residents, more consumers and more businesses, there remains a daunting challenge: finding a place for all those people to park.

Old San Diego Library Becomes East Village Eyesore
February 18 | KPBS
Christina Chadwick, spokeswoman for the Downtown San Diego Partnership, said the group is paying attention to the fate of the old library.
"Certainly, the downtown library is a prime piece of real estate and is going to drive economic growth," Chadwick said.
Port Studying Options, Leaves Ride Proposals Up in the Air
February 13 | San Diego Business Journal
Questions over timing and priorities came to the fore as port commissioners reviewed five proposals to put Ferris wheel or observation tower attractions on the downtown San Diego waterfront.
Downtown San Diego: On the Rise
February 6, 2015 | San Diego Downtown News
Want to know a quick way to gauge the economic health of our Downtown? Just look to the sky and count the cranes. Not the birds, of course, but the construction cranes.
Downtown currently has more than a half dozen cranes dotting our skyline, with many more on the way.
Downtown Partnership Seeks to Raise Profile of Digital Prowess
January 16 | San Diego Business Journal
The Downtown San Diego Partnership is tapping into the expertise of local firms to raise city's national profile as a hub for companies that do online marketing.
Lighting up Downtown's Life
January 2, 2015 | San Diego Downtown News
Things are looking a lot brighter for Downtown San Diego.
That's thanks to the Downtown San Diego Partnership's Clean & Safe program, which has instituted a comprehensive decorative tree-lighting program throughout Downtown.