REDUCING HOMELESSNESS IS OUR TOP PRIORITY
Downtown San Diego Partnership's Clean & Safe Program has created a comprehensive and compassionate program to reduce the number of homeless individuals on the streets of Downtown. Since 2010, our team has collaborated with multiple Downtown stakeholders and service providers to help connect more than 1,700 people with housing and supportive services.
Some of these collaborative successes include…
Current:
·       Family Reunification Program – 1,000+ Participants
PATH – Waiting for updated numbers
Past projects for reducing homelessnes:
·       2010-2011 Registry Week – 146 Housed
·       2012 Blitz Week – 107 Housed
---
MAKE CHANGE COUNT
 "Make Change Count" is a donation-based program that serves as a fundraising umbrella for Downtown's homeless initiatives. The red donation station meters that you see throughout Downtown accept coin, credit, and debit card donations. The meters are designed to discourage aggressive panhandling* and provide the public with an opportunity to donate to programs that effectively address and reduce homelessness. This program is generously sponsored by Cox Communications and IPS Group Inc. which repurposes and donates meters for this effort.
*As defined in the San Diego Municipal Code: http://docs.sandiego.gov/municode/MuniCodeChapter05/Ch05Art02Division40.pdf
---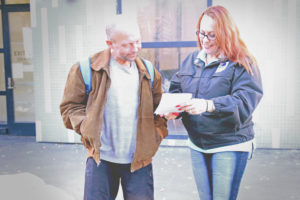 Family Reunification Program
Through its integrated homeless outreach efforts, the Clean & Safe outreach team identify homeless individuals who will be best served by traveling back home to loved ones and then provides the needed bus ticket. Family and friends are contacted to ensure that the person will have a place to stay and the support they need to get back on their feet. To help instill a sense of responsibility and dignity, eligible participants also work a shift with the Clean & Safe maintenance team in exchange for their travel back home. Since 2011, more than 1,000 people have been helped through the Family Reunification Program sponsored by Sharp HealthCare  – 536 in 2017 alone. We thank Sharp HealthCare for their sponsorship and support of this program!
Sponsored by San Diego Housing Commission and Sharp HealthCare

San Diego Meal Service Program
Help Make a Difference by Providing Meals
to Those in Need
Make Change Count
Support the Downtown San Diego Partnership's Make Change Count program by dropping some change
Donate With Dignity
Help Make a Difference by Donating Your Clothing and Goods to a Local Service Provider