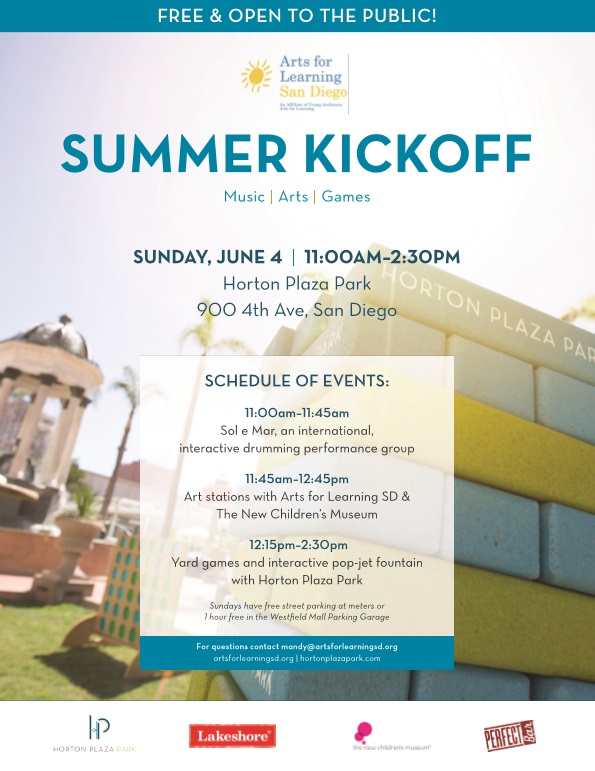 This summer, Horton Plaza Park and Arts for Learning San Diego have partnered again, and this time they are bringing fantastic performances and visual arts events for families and residents to enjoy in the Park. Why? As Horton Plaza Park celebrates its one year anniversary this May, they continue to create fabulous ways to draw people to their park and participate in events. This time, arts education non-profit, Arts for Learning San Diego and Horton Plaza Park have created an event not to be missed.
The Summer Kick-Off event is Sunday, June 4, 2017 from 11:00 am to 2:30pm. The event will take place at Horton Plaza Park, located at 900 Fourth Ave, San Diego, CA 92101. Guest are encouraged to park at City street meters which are free on Sundays or may park in the Westfield shopping center parking structure where parking is free for the first hour, after that time regular garage rates will apply. We want to make sure that families have access to free, quality arts programming, so come make a day of enjoying this event and then explore the downtown area.
​
The event will begin at 11am with the Afro-Cuban Drumming Performing Artists, Sol e Mar. They enliven a sit-down crowd to get up and move. This is also an interactive performance. Not only will the beats get the crowd moving, but Sol e Mar is one of Arts for Learning San Diego's professional performance artists. They have an arts educational component for the participants! This means that kids, parents, and anyone else, can get hands-on practice drumming and following the beat with instruction from these great drumming artists! Sol e Mar will perform promptly at 11am. We encourage you to come early, find your spot and settle into the Amphitheater of the Park.
Next will be hands-on arts activities delivered from Arts for Learning San Diego and partner, The New Children's Museum. Both non-profits are known for their quality arts education programming. For this "festival" style event, kids and families are encouraged to join the art table and create at their own pace. The arts portion will take place from 11:45am- 12:45pm.
Lastly, Horton Plaza Park's Park Activities Coordinator will host games such as giant jenga, corn hole and lawn darts for all to enjoy.  The Park's interactive pop-jet fountain will be turned on at 12:15pm. Kids can play, cool off in the fountain, and continue to make art. The games and activities will overlap and all festivities will conclude at 2:30pm.
Below please find the schedule of events:
11:00am-11:45am – Sol e Mar, an international, interactive drumming performance group
11:45am-12:45pm – Art stations with Arts for Learning SD & The New Children's Museum
12:15pm-2:30pm -Yard games and interactive pop-jet fountain with Horton Plaza Park
Organized together by Horton Park Plaza and Arts for Learning San Diego, it's notable that the Park has made a complete donation of their time, facilities, and coordination along with Arts for Learning San Diego. Give-away items have been generously donated by The New Children's Museum, The Perfect Bar and Lakeshore Learning. As a special surprise, there will be a visit from a Faery to inform the participants of a Faeries in the Garden, Saturday, July 1st event at the Water Conservation Gardens! Also of note, the second Horton Plaza Park event in partnership with Arts for Learning San Diego will take place on Sunday, August 6, with a similar schedule celebrating the Dog Days of Summer!
You can find more event details here: http://www.artsforlearningsd.org/horton-plaza-park-summer-event-seri